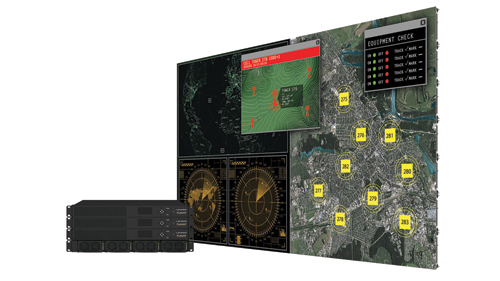 INTERNET OF THINGS
LED video wall system adds advanced processing, management capabilities
Leyard and Planar have introduced the Leyard DirectLight X LED Video Wall System, adding video processing and management capabilities into the product.
Per the companies, "The award-winning Leyard DirectLight LED Video Wall System, introduced in late 2016, delivered unique value in the areas of front-mounting, thin profile, precise alignment, front service access, low power consumption, hot-swap off-board power and refined image performance. Leyard DirectLight X builds on this foundation adding the latest 4K video standards, signal extension, multi-source processing, system monitoring and modern web-based graphical control software. The result is a complete system that reduces dependence on external processing systems while making the video wall easier to operate and monitor."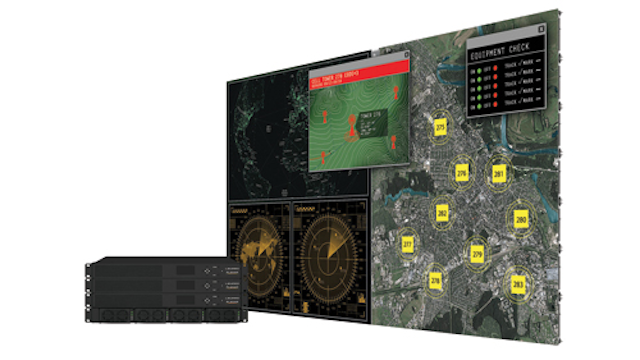 Leyard DirectLight X comes with the Leyard Video Controller, making it the first LED video wall system on the market to integrate a remote power supply and advanced video processing directly into the product, according to the companies. The Leyard Video Controller supports multiple 4K at 60Hz inputs and the latest video standards including HDMI 2.0, DisplayPort 1.2 and HDCP 2.2. It provides a built-in video signal extension over Category 6 and optional fiber-optic support for longer video runs and greater signal security.
Rack-mounted Leyard Video Controllers can scale to support nearly any size video wall, and allow for scaling, windowing and picture-in-picture to give customers flexibility as to how and where sources are displayed. The Leyard Video Controller includes Planar's Big Picture Plus video wall processing capability, which can scale sources across the entire video wall or across sections of the video wall. It also incorporates Leyard WallSync, providing precisely synchronized video playback and genlock across the video wall.
Company vice president Steve Seminario commented, "We incorporate, in the box, the 4K standards compliance, video processing and modern UI that allow more flexible and compelling video wall installations."
SOFTWARE-DEFINED NETWORKING
Corning introduces software-defined LAN infrastructure
Corning Incorporated recently announced the launch of its Optical Network Evolution SD-LAN solution, which the company says "applies software-defined technology benefits of adaptability, scalability, and intelligence to the in-building local area network."
The solution "decouples hardware and software layers, creating a flexible platform for deploying traditional Ethernet or passive optical LAN using the same hardware at the edge," Corning explained. "By leveraging the inherent benefits of fiber- and power-deep topologies, network managers can realize significantly reduced up-front and future upgrade costs."
Furthermore, the infrastructure topologies that can be deployed via the SD-LAN solution "enable future-ready connectivity inside buildings with the ability to converge multiple technologies over a single, simplified infrastructure that supports LAN, WiFi, cellular, audiovisual, security, building automation, and more over the lifetime of the building with little to no new cabling," Corning said.
Key components of the SD-LAN solution are the software-defined data plane, composite cabling, and software-defined access node.
"The platform is technology-neutral," the company added, "supporting active Ethernet deep into the network and passive optical LAN over a software-defined network architecture. Since the software does all the heavy lifting, it's easy for administrators to manage traffic and customized upgrades to the network, quickly and efficiently from one centralized location. This intelligent solution reduces switches, which can help speed up network performance, and minimizes overall network complexity. A smarter network equals improved productivity, reduced costs, and a happier network administrator."
The company also stated that Optical Network Evolution topologies already have been deployed at hundreds of customer sites.
MULTI-GIGABIT NETWORKING
Sonnet's 10GbE PCIe networking card delivers 10GBase-T, NBase-T copper connectivity
Sonnet Technologies has launched its Solo10G PCIe Card as the latest product in the company's line of 10 Gigabit Ethernet (10GbE) solutions. The Solo10G card adds 10GbE network connectivity to any Mac, Windows, or Linux computer with PCI Express (PCIe) slots, and to Mac and Windows computers with Thunderbolt ports when the card is installed in a Thunderbolt to PCI Express card expansion chassis.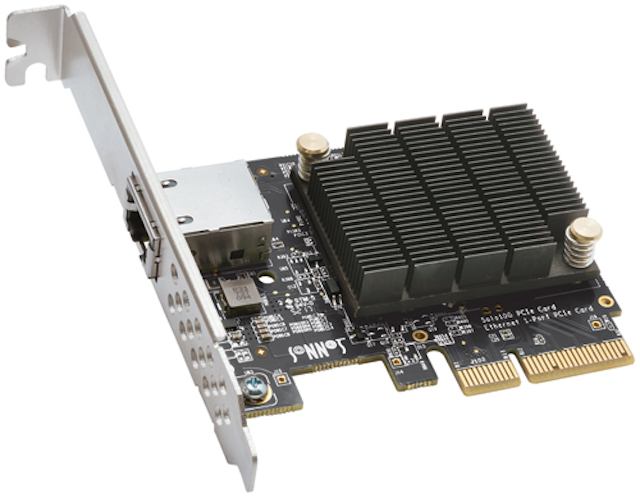 Per the company, "The Sonnet adapter card enables users to easily connect their computers via copper cables to high-speed network infrastructure and storage systems using the 10GbE standard, while its performance, wide compatibility, and simple setup make it ideal for use in a variety of workflows and environments. The Solo10G PCIe Card is equipped with a single RJ45 port, enabling 10Gb Ethernet connectivity via Category 6 or Category 6A copper cabling at distances of up to 55 or 100 meters, respectively. The Sonnet adapter card also supports NBase-T technology, a recent Ethernet standard that enables 2.5- and 5-Gbit/sec speeds on existing Category 5e and better cabling at distances of up to 100 meters.
"This capability enables organizations with older infrastructure to simply update to multi-gigabit Ethernet switches and to use Sonnet's Solo10G PCIe Card to boost network transmission speeds up to 500 percent without the need to rewire."
"We are committed to bringing 10-Gigabit Ethernet connectivity to market at the lowest possible price while maintaining our high standards for quality and performance," says Robert Farnsworth, chief executive officer of Sonnet Technologies.
OUTSIDE PLANT
UL third-party tests Berk-Tek's OSP cables
Berk-Tek recently announced that all its outside plant (OSP) copper cable products have been third-party tested by Underwriters Laboratories (UL) to meet the ANSI/ICEA S-107-704-2012 water penetration test requirements.
When announcing the third-party testing, Berk-Tek described the ANSI/ICEA S-107-704-2012 test as "one meter of cable connected via a valve to the bottom of a one-meter-high vertical PVC tube filled with water. The valve is opened and the cable under test must withstand the water pressure from passing through the cable for one hour. If water emerges from the opposite side of the cable within the hour, then the product fails. If this happens, then a second, one-meter cable sample can be cut from the same reel and the test repeated. If the second sample fails, then the product fails the test requirement."

Berk-Tek further explained that the test "illustrates what can happen if water penetrates the cable jacket or enters through one of the cable ends and is wicked up through the cable into the electronic equipment."
Brian Simmons, Berk-Tek product manager, stated, "This is exactly why Berk-Tek adds a flooding compound inside every OSP cable to prevent the water from wicking through the cable." If water wicks through the cable, it can be at worst a potential safety issue and at best an expensive lesson if equipment needs to be replaced, the company added.
"Some competitive designs take a different approach and offer flame-rated indoor/outdoor cable with no water-blocking compound added and therefore can't meet ANSI/ICEA S-107-704-2012 test requirements," Simmons said. Berk-Tek contends that by eliminating the water-blocking compound, other cable designs have a better chance of meeting indoor smoke and flame requirements, and therefore will not require a transition point. "While this does provide cost savings to the installer, the problem with this approach is that it assumes the cable jacket will never fail and that water will never seep through one of the ends," Berk-Tek explained. "Additionally, these cables are very expensive to produce, which often negates the savings gained by not needing an outdoor-to-indoor transition point."u
TESTING
Fluke's Pro3000F Filtered Probe removes interference for clearer cable tracing amid power, lighting infrastructure
Fluke Networks has announced its Pro3000F Filtered Probe. As the latest iteration of the Pro3000 Tone and Probe family, Fluke Networks says Pro3000F features an advanced filter that removes signal interference at 50 or 60 Hz and their harmonics. This filtering allows technicians to easily find the cable or wire they are tracing even when noisy external sources, such as power cables and lighting, are present.
"The Pro3000 has long been our top selling toning tool, combining a budget-friendly price, features such as a 10-mile range, a loud speaker that allows toning through drywall, and all with the quality and reliability people expect from Fluke Networks," comments Harley Lang III, RCDD, director of marketing for Fluke Networks. "We're proud that over 400 customers have given the product a 4.4 out of 5 review on Amazon. We take our customers' opinions seriously. That's why we added a filtered version to our tone and probe lineup—it was the most requested enhancement. The filtering abilities of the Pro3000F are a game-changer in terms of performance."
Per Fluke Networks, "Tracing and toning cabling is an integral part of a cabling technician's workflow for both new installations and the maintenance of older networks. Technicians can use tone generators and probes to verify continuity, identify problem links, and keep the cabling organized. In certain environments, such as a building renovation, sources of signal interference including power tool power supplies, lighting, and fans can overwhelm the tone being sent by a standard tone generator. This noise usually has a frequency of 60 Hz or its harmonics, 50 Hz in areas outside of North America, which can hinder the technician's workflow or make it impossible for them to trace cabling accurately."
"Toning cables in the presence of unwanted noise can be time consuming; it takes practice and patience," asserts John Seger, principal technical specialist and applications engineer for Leviton Network Solutions. "Probes with the ability to filter out AC interference makes jobsite work much easier and more efficient for field techs."
The Pro3000F Filtered Probe is sold individually or with the Pro3000 Tone Generator, which features Fluke's SmartTone technology that provides five distinct tones for exact pair identification. The new probe is also compatible with existing analog generators, as well as those built into Fluke Networks products such as the MicroScanner2, CableIQ, and DSX CableAnalyzer series.
WIRELESS
Greenlee adds air time and spectrum analysis to AirScout WiFi test system
Greenlee recently announced the addition of Live Pro to its AirScout line of wireless analyzers. "This easy-to-use, engineering-grade WiFi troubleshooting tool gives technicians the ability to quickly and easily identify the root cause of performance issues on 2.4- and 5-GHz wireless LAN networks," Greenlee said. "Utilizing air time analysis and spectrum analysis, AirScout Live Pro produces a live depiction of channel congestion, interference and utilization."
Mark Barmettler, Greenlee Communications' general manager, stated, "The market demands a highly capable yet easy-to-use WiFi troubleshooting tool that delivers detailed, real-time feedback of wireless network performance. AirScout Live Pro delivers the advanced testing capability technicians need while highlighting important details and removing the clutter to deliver unparalleled ease of use and effectiveness."
The company added that the addition of spectrum analysis to AirScout Live Pro offers technicians a real-time graphical representation of WiFi and non-WiFi signals that can degrade network performance. This allows technicians to quickly troubleshoot and analyze network interference and utilization trends over time. When used in conjunction with air time analysis, Air Scout Live Pro can accurately pinpoint critical issues preventing reliable WiFi.
"Air time analysis provides a live, granular multidimensional view of network utilization, giving technicians the ability to immediately troubleshoot congestion issues," Greenlee said. "Air time analysis depicts a detailed view of utilization across the entire channel, at the access point level and at the individual client level."
This new release adds to AirScout Live's capabilities, which include 802.15.4 optimization, in-range AP characteristics including signal strength and security to radio capability, and rogue access points.
WORKPLACE SAFETY
Excavations damaged more than 400,000 utility lines in 2017; bad practices most common cause
The Common Ground Alliance (CGA) recently released a report that concluded approximately 439,000 instances of underground utility lines being damaged by excavations in 2017. That is up 5.5 percent from the CGA's 2016 report, but the association says that when considering the increased excavation activity in 2017, damage incidentss effectively plateaued from 2016.
The CGA describes itself as "dedicated to protecting underground utility lines, people who dig near them and their communities." The alliance calls its annual report the Damage Information Reporting Tool (DIRT) Report. "The 2017 DIRT Report includes an analysis of when damages occur, by month and day of the week, leading to several findings that can help damage prevention stakeholders best target their public awareness messages," the CGA added. Specifically, the report found that damages occurring on a weekend were nearly twice as likely to have involved hand tools like shovels and post-hole diggers, than those that occurred on a weekday. Additionally, half of all reported damages occurred between June and September. And August was the month with the most total damages.
"Among all damages reported with an identified and known root cause, the majority—52.2 percent—occurred because of insufficient excavation practices, continuing a trend from recent years where this was the top identified root cause," the CGA said. Other identified root causes included failure to make a notification (23.5 percent), insufficient locating practices (16.8 percent), miscellaneous (6.5 percent), and insufficient notification practices (1 percent).
Sarah K. Magruder Lyle, the CGA's president and chief executive officer, commented, "CGA is constantly evaluating the statistical models we use to ensure we are producing the best possible report to guide our public awareness, education, and training efforts in the damage-prevention industry. The latest DIRT Report shows that our collective challenge to reduce utility damage is increasing as excavation activity increases. CGA stands ready to support all damage-prevention stakeholders in addressing this challenge through public-awareness campaigns. We are ready to support all damage prevention stakeholders through best practices, regional partnerships, promotion of new technologies and offering resources to educate state policymakers on the importance of balanced and effective enforcement laws."u
TESTING
Pocket-size coaxial cable continuity tester
Klein Tools recently introduced the Pocket Continuity Tester for Coaxial Cable, which the company says "enables simple tracing of coaxial cable." Klein continues, "Features include visual LED and audible indicators to help easily identify and test continuity, short faults and location on both loose cables and completed installations."
Karen Aplan, product manager at Klein Tools, commented that the Pocket Continuity Tester "is a new go-to tool for professionals working on coaxial cable installations. Its pocket-sized design saves space in tool bags, enabling simple, compact tracing of coaxial cables with visual and audible indicators."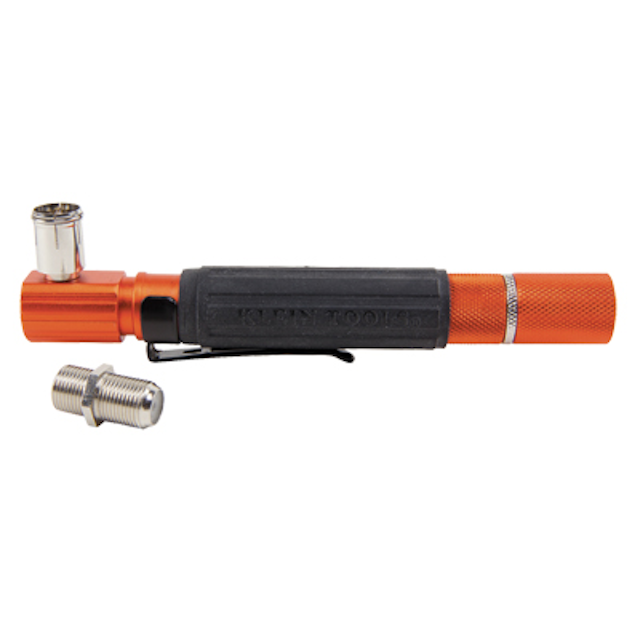 The Pocket Continuity Tester joins other coaxial-cable test tools in Klein's portfolio, including the Coax Explorer 2 Tester, which tests and maps coaxial cable using a push-button operation.
Klein lists the characteristics of the Pocket Continuity Tester for Coaxial Cable as follows.
Compact design enables simple

wire tracing




Audible and LED indicators help identify and test cable drops for pass, short faults,

and location




LED indicator lights green to signify a correctly made cable or red for

short faults




Remote contains audible indicator for easy location id

entification




F-adapter (included) enables testing of loose cables and installe

d cable runs




Non-slip cushion-grip handle provides comfortable and

secure grip




Docked remote automatically powers tester off to conserve

battery life




Pocket clip secures tester to

shirt pocket




1 AAA batter

y included




CABLING INSTALLATION
Aspiring cabling installers win national championships
During the SkillsUSA National Leadership and Skills Conference, held in Louisville, KY in June, the Electronics Technicians Association (ETA) sponsored the Telecommunications Cabling Championships. It was the ETA's 14th consecutive year sponsoring the "Tcom Cabling Championship." Competitors were students from secondary (high school) and post-secondary schools. The ETA said it continues to sponsor the competition "to reward students for excellence, to involve industry in directly evaluating student performance, and to keep training relevant to employers' needs." The ETA also pointed out that the competencies and hands-on skills on which competitors are assessed, are part of the association's Data Cabling Installer and Customer Service Specialist certifications. "The Tcom Cabling contestants are high school and post-secondary students interested in voice and data network cabling and installation who excelled at their local and state competitions," the ETA stated.
Contestants demonstrated skills in fiber and copper cable termination, pulling and mounting cable, patch panel installation and termination, installing jacks, testing and troubleshooting cable, and providing customer service. "Both copper and fiber-optic cable are represented, and the contest stresses safety in all activities," the ETA said. "This competition tests to worldwide industry standards related to cabling for data and voice connections, physical and logical networks, and signal transmission.
"The contests are planned by the Skills Technical Committee and designed to test the aptitude needed for successful entry-level performance in the field. The National Education Team and the Technical Team from industry developed the Tcom Cabling Championships content, built and set up the rotation areas, as well as conducted both orientation and competition."
Championship performances were turned in by: secondary gold medalist Donovan Tames, Blackstone Valley RVTHS, Upton, MA; secondary silver medalist Mason Brown, Paso Robles High School, Paso Robles, CA; secondary bronze medalist Hunter Casteel, Dennis Technical Education Center, Boise, ID; post-secondary gold medalist Jacob McGonigle, Tennessee College of Applied Tech-Crossville, Crossville, TN; post-secondary silver medalist Gavin Ginn, North Central Kansas Tech College, Beloit, KS; post-secondary bronze medalist Steven Casimir, Orange Technical College, Mid-Florida Campus, Orlando, FL.
Members of the national technical and educational committees for the Telecommunications Cabling Championships were Bill Phelps, Dymo (co-technical chair); Teresa Maher, ETA International (co-technical chair); Dede Starnes, Corning Optical Communications; Richard Darnell, retired; Brandon Crump, Stanly Community College; and Jeff Swaringen, Stanly Community College.
Judges were Jim Steel, Amatrol; Wayne Rager, Bland Technologies; Bryan Little, Corning Optical Communications; Mark Damiter, Corning Optical Communications; Richard Darnell, retired; Richard Booth, Empire High School (AZ); and Paul Neukam, SiteWise Systems.
The ETA also acknowledged the support of the following contributing organizations: Dymo, Corning Optical Communications, CWA, Panduit, Fluke Networks, Cisco, Greenlee Tools, Ideal Tools, International Wireless Communications Expo, Kobalt Tools, Light Brigade, Keysight Technologies, Southwire, Milwaukee Tools, Wiley Publishing, Bland Technologies, Klein Tools, and BICSI.
NETWORK CABLE
Category 6A with 0.25-inch outside diameter
Superior Essex introduced an improved version of its 10Gain XP Category 6A plenum cable with an outside diameter (OD) of 0.25 inches. "The smaller diameter provides an improved cable pathway fill ratio, a smaller bend radius, and increased airflow efficiency in data centers," the company said.
The company further explained that the 10Gain XP's "segmented tape shielding is the only design able to provide real UTP systems with the total interference protection of shielded cabling systems without the hassle of a costly continuous shield and the 'bond-and-ground' process."
Amir Sekhavat, director of global product management for premises copper, stated, "The smaller-diameter 10Gain XP Cat 6A plenum cable offers significant size advantages in tight spaces and less environmental impact without compromising on performance or safety. Our new design uses approximately 20 percent less material than the typical Cat 6A cable."
NETWORK CABLE
UL verifies GameChanger cable's 200-meter 1-Gig, PoE Plus capability
Paige DataCom Solutions recently announced positive results from UL's independent performance evaluation of Paige's GameChanger cable. "The UL assessment evaluated the performance of the award-winning GameChanger cable technology, and verifies the claim that it delivers 1-Gbit/sec performance and PoE Plus over 200 meters," Paige announced. The company added that GameChanger is "designed to significantly exceed the reach of traditional category cable."
David Coleman, vice president of business development for Paige Electric Co., LP, said, "We are thrilled that the leading independent testing facility verifies that GameChanger delivers this type of performance at over twice the standard cable length. These results independently document that Paige's GameChanger cable really lives up to its name. With a reach that far exceeds traditional cable, it can save integrators and end-users an enormous amount of time, money and hassle across many different applications."
The GameChanger cable "extends the reach for any Ethernet application including high-definition video and PoE Plus to 850 feet without a repeater, making it ideal for replacing CCTV and for use in applications that are beyond the 100-meter reach of a traditional category cable," the company said. "This cable eliminates IDF requirements and the need to install repeaters or transceivers, which are costly."
AUDIO VISUAL SYSTEMS
AV systems available as-a-service
GreatAmerica Financial Services recently announced AV AMP (AV As a Monthly Payment), which the company describes as "a new financial bundling product that incorporates monthly service fees into invoices from systems integrators and contractors."
The company developed the program with help from the National Systems Contractors Association (NSCA) and says AV AMP "simplifies the often-confusing AV market transactions that separate the equipment purchase from the service agreement on separate invoices. Moreover, AV AMP helps those who aren't consistently selling service agreements get started."
NSCA executive director Chuck Wilson commented, "Technology is bought and sold through monthly payments, and that now includes AV. Financing is beneficial not just for integrators, but also for their customers. The program gives NSCA members a new way to help their customers access the latest AV technology while benefitting from recurring revenue."
GreatAmerica has long-standing similar programs with resellers of office technology like copiers, printers, business communications and networking equipment.
Wil Meggers, vice president and general manager of GreatAmerica's unified communications and IT group, said, "We've seen the results as-a-service models provide in other industries and we want integrators and their customers to share these benefits too. We're looking forward to learning more about the market and how to best serve integrators as they transition to AV AMP."
FIBER-OPTIC CABLING
ConnectorMax solution tests MPO polarity, continuity, connector cleanliness
EXFO recently introduced the ConnectorMax MPO Link Test Solution, which it describes as "an automated test solution that combines testing of polarity, continuity and connector cleanliness—the critical tests needed to validate multifiber push-on links."
The ConnectorMax test solution pairs a light source at one end of the cable with a fiber inspection probe for analysis at the other end. "Additionally," EXFO says, "it is the only all-in-one solution that provides a clear pass/fail diagnosis of MPO-12 and MPO-24 links in a single report … Not only do field technicians benefit from the MPO inspection tool that eradicates the number-one cause of network failures—contaminated connectors—it now enables them to check polarity and continuity in just about the same time as inspection alone."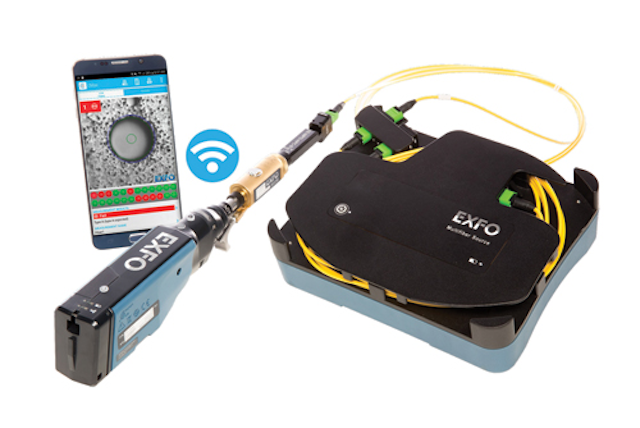 When introducing the test and analysis system, EXFO explained that many telecommunications companies are reconfiguring their central offices into data centers and in doing so, are deploying MPO cabling with 12 and, increasingly, 24 fibers. "When not properly tested, multifiber links can put the entire health of a network at risk," the company notes. "Traditional solutions often fall short on design or price, can't perform all three critical tests or don't offer analysis and reporting capabilities. Customers are left choosing between solutions that are either too much for what they really need—and too expensive—or lacking in features and fit." Users often use multiple tools to accomplish these tasks, EXFO adds.
Stephane Chabot, EXFO's vice president, comments, "The ConnectMax MPO Link Test Solution provides a fit-for-purpose solution that helps our customers test and turn up networks right the first time—making deployments faster, more efficient, and cost effective."