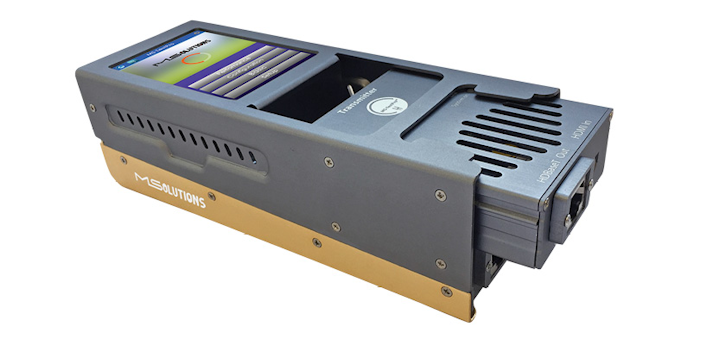 Answers to key questions you didn't know you had to ask vendors before installing HDBa
se-T devices
By Ariel Marcus and Eliran Torem, Med
ia Solutions
With the development of audio-video (AV) technologies and the increasing consumption of quality content, common cable standards such as VGA and HDMI, which cannot support data transmission over more than 30 meters, became insufficient. The answer to the need for high-capacity, superior-quality transmission was found when the HDBase-T protocol came into the world. Its initial purpose was to bring both AV and Ethernet to a device on a single cable and support progressive AV technology, which rapidly became ever-more in demand, particularly in large-scale venues and buildings like conference rooms, university halls, stadiums and malls. The new protocol, HDBase-T, was designed to deliver HDMI in the most successful way, with the best quality and "as-is," using standard Category 5e cable.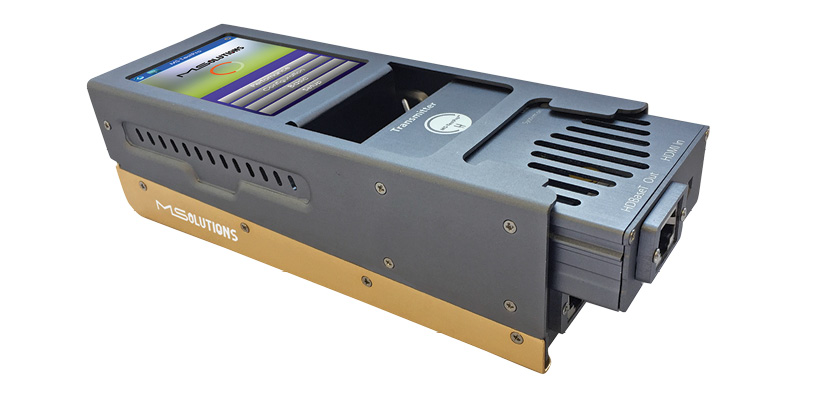 Media Solutions Ltd. offers the MS-TestPro, a handheld tester that supports HDBase-T transmit, receive, and Power over HDBase-T functionality. It can certify the readiness of an HDBase-T infrastructure for 4K content streaming quality.
As we enter into the Internet of Things (IoT) era, HDBase-T is an essential communication channel for smart home technology, because many IoT devices cannot deliver quality content over standard or high-speed WiFi broadband without compression. Where standard VGA and HDMI are either a partial, or ineffectual, answer for IoT needs, HDBase-T supplies an efficient, comprehensive solution.
HDBase-T is playing a leading role in almost every conceivable technological venue. Even in the field of smart vehicles and autonomic cars, which are dependent on quality high-definition visual and data content transmission, HDBase-T is playing a major role. HDBase-T is leading the IoT revolution to new innovative phases, implementing complex technology using simple standard Category X cable. The revolution accrued not only in the residential arena, but also in the business world with skyscraper office buildings, smart factories, and smart shopping experiences. All these environments are demanding high-quality experience, and because most of the Ethernet infrastructures in business cabling architectures already exist, upscaling to HDBase-T is both easy and intuitive.
Getting ahead of the HDBase-T game
Because it appears that HDBase-T is here to stay and prosper, we would like to help you as professionals get ahead of the game with some inside tips. Many installers working with HDBase-T ports or links consider them to be plug-and-play. But this common characterization does not encompass the whole story. In this article we will bring you a deeper level of understanding of HDBase-T, and provide some practical tools for deploying it.
Every HDBase-T port has its own specification, which professional installers and integrators must be aware of. The HDBase-T protocol supports 5Play features: power, Ethernet, A/V, USB, and control. Each of these can be operated in variousconfigurations.
Many professional installers and integrators do not know how to evaluate the performance of HDBase-T connections (it is particularly difficult in 4K resolution), and are unaware of possible compatibility/interoperability issues when connecting different HDBase-T ports. These problems can affect the overall functionality and system quality. They can cause serious technical malfunctions, such as control failure or inability to support high-resolution broadcasting quality such as 4K. Communication standards of utmost quality and maximum performance place extreme demands on both equipment and installers. Slightly less-than-perfect installations that can sometimes pass as acceptable in standard VGA and HDMI systems will ultimately fail in today's high-tech world.
As executives at Valens, we contributed to the development of HDBase-T technology and semiconductor products for the distribution of ultra-high definition (UHD) content for the AV and automotive industries. Before we give you five tips that will help to enhance your HDBase-T installations, we will provide these three reasons you should be testing cables and ports in every HDBase-Tinstallation.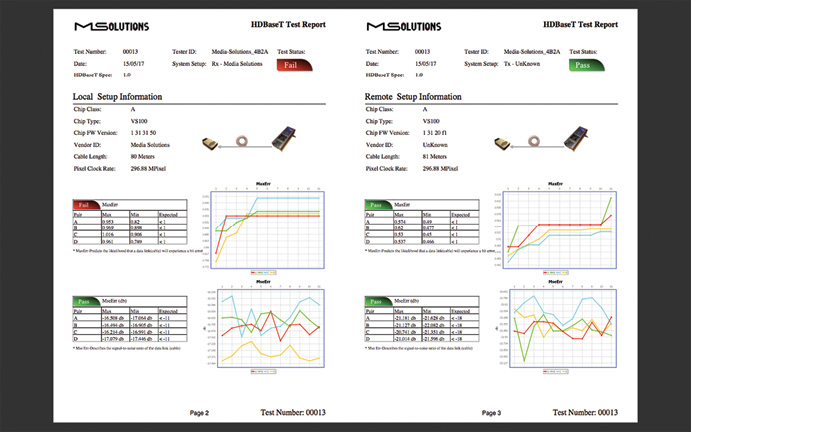 This HDBase-T test report, produced by the MS-TestPro, provides customers with documentation of the installation.
Channel quality. Verify the transmission line quality for both uplink and auxiliary channels. Look for the uplink data that transmits the video content. And check the Aux channel showing the return signal from the Ethernet. Because HDBase-T is a non-symmetric channel, the signal to noise ratio (SNR) is different for each of the transmutation directions. It is much more sensitive at the uplink, and that is why the installer should be aware of the MSE (mean square of residual error) parameters. The higher the absolute value of the MSE, the better the quality of the HDBase-T reception (i.e. -19.8 is better than -18.3). Installers need to ensure that the SNR is high and immune to external interferences. In order to avoid line failures it is absolutely necessary to determine the correct domain for each specific HDBase-T device.
Changes in transmission. With the growing demand for 4K-resolution content, we need to transmit four times the data. Currently HDBase-T is limited to a throughput of 8 Gbits/sec. To quadruple the bandwidth, HDBase-T transitions to Pulse Amplitude Modulation with 16 levels (PAM-16) instead of 8 levels (PAM-8), increasing the possibility of error.
Interoperability failures. Many AV and IT professional integrators and installers are unaware of the 5Play HDBase-T port features, and therefore, they are not aware of their responsibility to take a closer look at each and every HDBase-T port—to examine the port technical specifications and whether or not those specifications are supported by the remote side. HDBase-T base display that supports RS232 serial communication might not work with any HDBase-T-based B-Ray with an RS232 port due to configuration discrepancies. In other words, even if it is the same HDBase-T port with the same HDBase-T 5Play feature supported, the configurations defined in the HDBase-T protocol are not completely visible and may cause incompatibility issues.
Maximizing your HDBase-T installation
Knowing why it is important to test cables and ports, and what to look out for in the way of technical pitfalls, is just half the battle. To help you make every HDBase-T installation as easy and complete as possible, here are our five tips to maximize line quality. We can't promise that if you use these procedures it will guarantee perfect installation quality, or that all your data will be transferred without errors. But if you do use these procedures, at the very least you will be sure that the line and all the connections are sound. Here they are.
Cable shielding—Regardless of the type of shielding used on your cable, it is imperative that you check the power supply connected to the HDBase-T system to define appropriate shielding connectivity of the c

able shield.



System configuration—To prevent interoperability problems, when connecting two HDBase-T ports it is necessary to verify the manufacturer-supported feature of the 5Play element for each HDBase-T port. You can usually find the relevant definitions in the users' guide supplied by the manufacturer, on the manufacturer's website or printed on the de

vice itself.



Check device performance at critical levels—To check the resilience of the line and the transmission quality it is important to check the performance of the system at critical levels. One way of doing that is to broadcast UHD transmissions in the completed installation and check the performance results. There are a number of tools available for making a test of this kind. One of them is an HDMI generator, sold commercially in stores for

about $800.



Protect your HDBase-T components—So as to protect the system components and their performance levels, it is important to install and update debugging software, as well as determining that you are using the latest version of HDBase-T software that is updated and right for the transmitters and receivers (as defined by their manufacturer). Keep your HDBase-T

up to date.



Check out the entire installation at once—Test technology is now available that allows you to either confirm the complete integrity of the system or indicate what problems exist and identify their exact location. A tester can support HDBase-T Tx, Rx, and Power over HDBase-T functionality, providing a highly efficient testing platform for HDBase-T source and sink devices, powered devices, and up to 100 meters of Category 5e or better cabling. A handheld tester can certify the readiness of an HDBase-T infrastructure for 4K content streaming quality, which is more sensitive to errors as it transmits four times more data on a limited 8- to 16-PAM channel. For less than $1600 an installer can own a handheld tester that provides complete, detailed information on newly installed and existing HDBase-T links, and produces a test certification report for eachi

nstallation.

Currently HDBase-T is limited to 8-Gbit/sec. To quadruple its bandwidth in order to support 4K, HDBase-T transitions from PAM-8 to PAM-16, which increases the possibility of error. The MS-TestPro adjusts testing criteria while switching from 1080p to 4K resolution in order to meet the required transmission quality.
The days of HD are behind us. Today, demand is for instantaneous communication, higher and faster data transfer, with maximum quality and no tolerance for errors. HDBase-T technology is becoming much more popular and prevalent in the AV industry, and in smart homes. In the near future, the devices all around us will both import and export data and content, from and to outside sources.
This article has endeavored to introduce you to tools and methods for dealing with problems associated with HDBase-T installation, and to allow you to immediately begin checking line integrity easily and efficiently. The tools and techniques discussed will be useful in advancing complicated and ambitious projects with complex architectures. We also believe they will serve as the basis for correctly structured work techniques that are essential to achieve and preserve the highest line integrity possible in an era of ever-growing high-quality datatransmission.
Ariel Marcus is co-founder and chief technology officer at Media Solutions Ltd. He previously served in director-level capacities at Valens Semiconductor. Eliran Toren is co-founder and chief executive officer of Media Solutions Ltd. He previously was vice president at Valens Semiconductor.