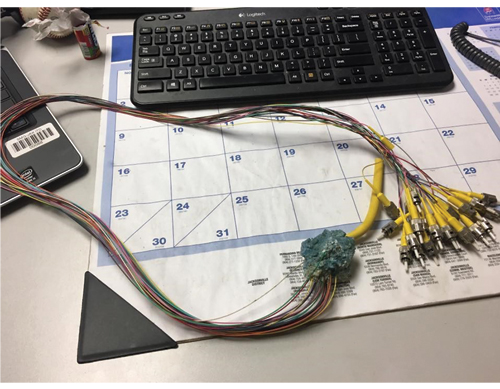 SMG is one of the world's foremost companies in the private development and management of public assembly facilities, including stadiums, arenas, theaters, and exhibition-and-convention centers.
Patrick Renz, an information-technology support specialist with SMG Jacksonville (jaxevents.com), sent us the highly interesting cabling-fail photos on this page. The photo captions are his comments on each.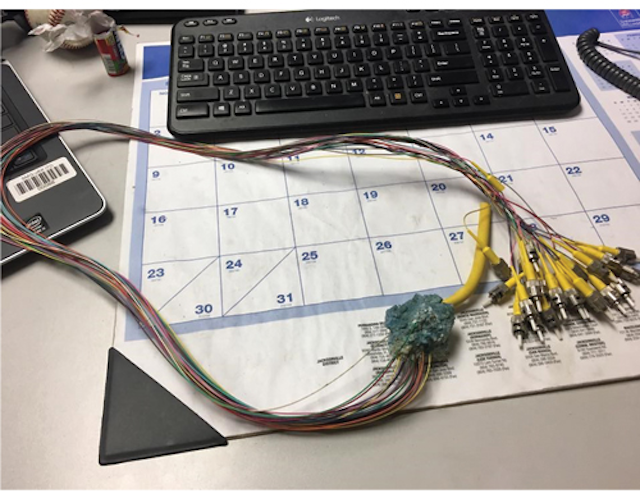 "I found this fiber last year while troubleshooting one of our camera positions at TIAA Bank Field."
Calcification buildup in outdoor fiber enclosures is an ugly thing—and evidently one that can creep up on you. Thank you for sharing, Patrick.
In its"Reference for Fiber Optics"document, which can be found online, the Fiber Optic Association teaches, "Cables installed outdoors require protecting the fibers from water. Either a gel or as is becoming more common, absorbent tape or powder, is used to prevent water from entering the cable and causing harm to the fibers.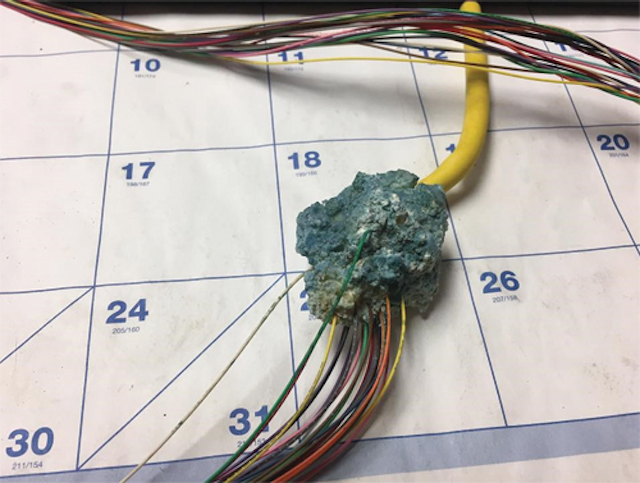 "I couldn't pass good light, and the OTDR shoot was dead at the connectors. So I thought, maybe a rat chew? Nope."
"Generally, this applies to loose tube or ribbon cables, but dry water-blocking is used on some tight buffer cables used in short outdoor runs, such as building-to-building on a campus or to an outdoor wireless antenna or CCTV camera."
Now it's your turn. Snap a photo of any notable cabling masterpieces or messes that you find on the jobsite, and send them to mattv@pennwell.com for inclusion on this page and/or in our Must-See Photo gallery at cablinginstall.com.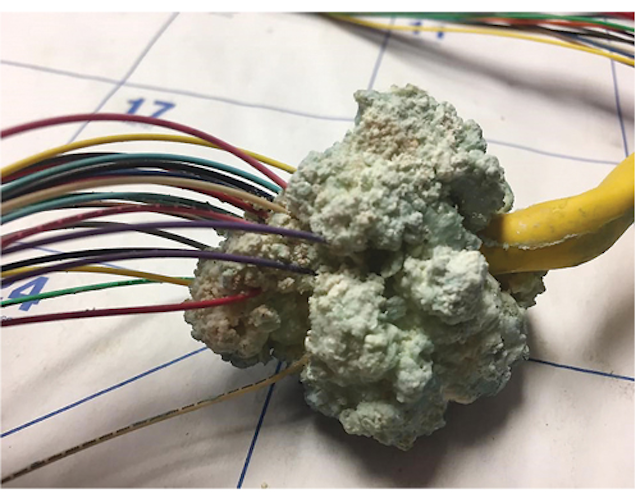 "It was strange, and I then realized that the jacket of the cable had to have a cut or tear somewhere, and moisture was getting into the fill. It was pulling the moisture into the LAN interface unit like a wick."