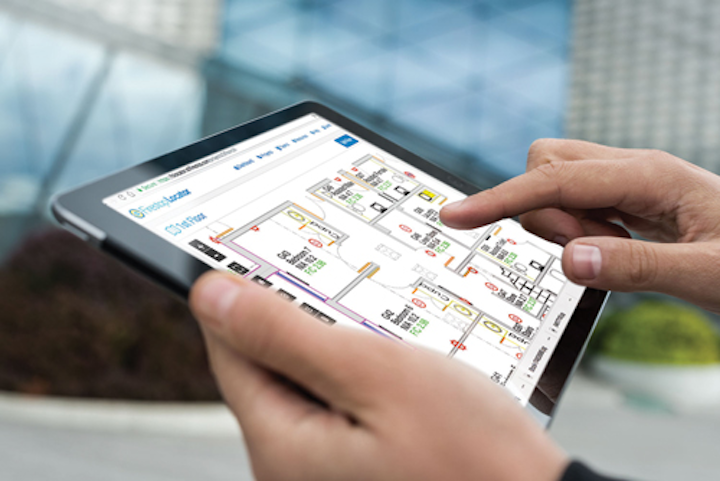 Firestop Locator App imports drawings, locates and updates firestop penetrations
Specified Technologies Inc. (STI) recently launched the Firestop Locator App for mobile, tablet and web use. Available from multiple app stores, the app is compatible with iOS and Android operating systems.
"This new app allows the user to easily import plan-view drawings and achieve a fully interactive experience, pinpointing specific firestop locations to streamline the firestop tracking process," said David Samuel, software development lead for STI. "In fact, it can reduce that time to under a minute."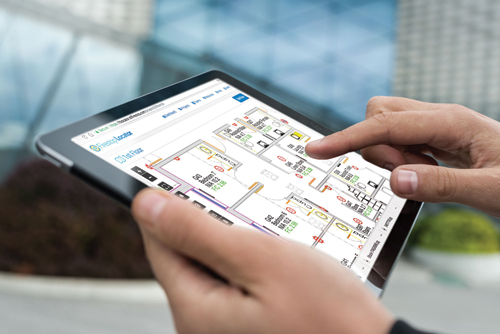 When announcing the Firestop Locator App, STI pointed out that it helps installers, contractors, designers, architects and facilities teams quickly track penetration firestop systems, construction joints, and doors and dampers. "It allows full collaboration for all team members with notification updates when connected to the internet," STI explained. "The app also can be used even if offline, in a remote location of the building with a weak or no connection. Simply reconnect to the internet and the app updates all of the new content."
James P. Stahl Jr., vice president and general manager for engineering and emerging businesses with STI, added, "It was important for us to develop a program that speaks to all team members in real time. To comply with the International Building Code, Section 1704.2.4, as well as ASTM E2174 and E2393, it is imperative that the facilities team, contractor and AHJs [authorities having jurisdiction] have immediate information shared within 24 hours of any deficiencies found during inspection. Our program will digest these updates and send out notifications at the end of the same day."
In addition to providing notifications, the app "includes a robust number of detailed reports," Stahl said, "such as corrective action reports. It's very important for teams to have a high level of transparency. Even the labels to be placed at the firestop locations contain a preprinted QR code accessible to all team members."
New cabling standard, TIA-568.2-D, recognizes 28-AWG patch cords
The Telecommunications Industry Association's (TIA) TR-42.7 Copper Cabling Systems Subcommittee recently approved for publication a revision to the 568 cabling standard that will recognize 28-AWG patch cords. The ANSI/TIA-568.2-D Balanced Twisted-Pair Telecommunications Cabling and Components Standard was authorized for publication during the TR-42.7's meeting the week of June 11-15, 2018. It will replace ANSI/TIA-568-C.2.
Panduit introduced 28-AWG patch cords, was instrumental in driving the adoption of 28-AWG solutions, and participated in the development of 568.2-D standard. The company released a statement announcing the standard approval and the relevance of including 28-AWG patch cords in the document.
"This represents the culmination of two years of work by a broad spectrum of companies and individuals," said Frank Straka, Panduit product line manager and member of TR-42.7. "The industry has adopted 28 AWG and sees the value. It's nice that we have a new standard that reflects that."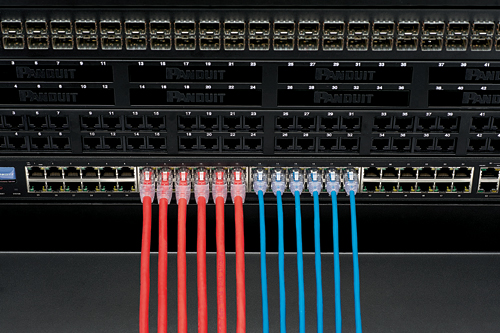 Panduit added that the inclusion of 28-AWG cords in the standard means two things: "Patch cords can be made from 28-AWG cable," and, "Maximum channel length must be de-rated from their maximum 100-meter length when using 28-AWG patch cords. For example, 10 meters of AWG patch cord can be used with 82.5 meters of horizontal cable for a 92.5-meter channel."
Panduit points out that horizontal cable with 28-AWG conductors is not included in the updated standard. Cable gauges of 22-24 AWG will still be required for standard-compliant horizontal cable.
"Panduit launched the first 28-AWG patch cords to the market in 2011," the company added. "Since that time, the market has quickly adopted the reduced-diameter patch cords, which have met all performance standards, but were considered non-compliant because of the wire gauge."
Tom Kelly, vice president of enterprise business for Panduit, commented, "We are excited to see the industry formally recognize 28-AWG patch cords. Our customers have long understood that the true value of 28 AWG isn't the small size, but what the size means in the TR—higher cable densities, improved cable management, better air flow, and easier installation and management. Standardizing 28 AWG ensures that our customers will continue to be able to deploy these cables knowing they meet industry-recognized performance requirements."
Panduit added that the 568.2-D standard "also recognized modular plug terminated link [MPTL] as being standard-compliant. MPTL refers to permanent links where a plug is directly terminated to horizontal cable and plugged into a device. These modular plugs, including Panduit's Field Term Plug, simplify the connection of devices such as security cameras and wireless access points."u
Mounts enable the use of cable ties on curved and angled surfaces
HellermannTyton recently introduced FlexTack, a line of adhesive cable-tie mounts designed to adhere to curved and moderately angled surfaces. Available now, FlexTack mounts enable installers to route cables, wires, and hoses along areas that were once considered off-limits, the company said.
"The mounts incorporate a high-bond acrylic adhesive pad on one side and a four-way cable tie channel on the other," HellermannTyton said. "FlexTack is designed to work with 18- to 50-pound cable ties."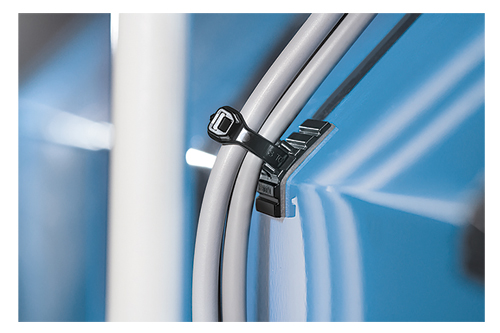 The mounts are designed for use on varnished, powder-coated, bare-metal or plastic surfaces. They are made of heat-stabilized PA66 nylon, HellermannTyton added, and are available in black and white.
Jessica Leverance, associate product manager for HellermannTyton, said, "We've made it possible to mount bundles nondestructively in places where, traditionally, only a screw mount would do the job."
Minus-1U patch panels combine fiber management, active equipment in single rack unit
Wirewerks, manufacturer of network infrastructure solutions including the NextSTEP fiber management system, recently introduced the NextSTEP Minus1U Patch Panel, so named because it "consolidates fiber management and active equipment into a single U of rack, space, saving or freeing up 1 U in any standard 19-inch rack or frame," the company explained.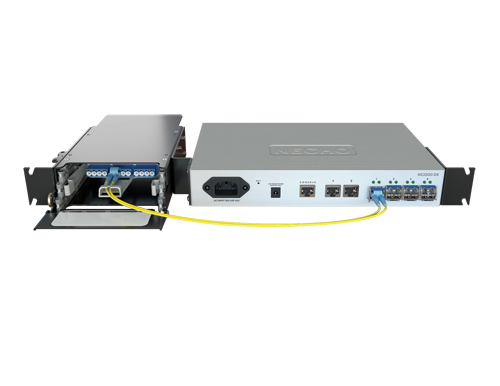 The NextSTEP Minus1U Patch Panel is available in two models.
The Switch Specific Model (pictured) integrates a two-slot, stepped fiber management mini-chassis with a model-specific third-party switch as a structural element spanning t

he 1U space.

The Universal Tray Model provides a two-slot stepped fiber management mini-chassis with an integrated tray that accepts virtually any third-party hub/switch/router for universal applicat

ion support.
"Both models are precision-engineered and manufactured with superior quality materials for robust, reliable, maintenance-free installations with extended operational lifespans," Wirewerks noted. "The integrated NextSTEP two-slot mini-chassis accepts up to two NextSTEP Fiber Modules in any combination providing application flexibility and high fiber capacity at the same time."
The Switch Specific Model comes complete with a set of custom mounting ears that attach directly to the existing boltholes in the cabinet of the third-party switch without any modifications.
Edouard Tabet, Wirewerks' head of engineering, explained, "The custom mounting ears are precision-engineered to match the bolthole pattern of each supported switch model for fast, problem-free installations. The Universal Tray Model supports virtually any model of switch less than 1U high, providing unlimited flexibility along with fast, simple installations."
Wirewerks commented that installing the NextSTEP Minus1U Patch Panel is "like getting a free U in every box."
The patch panels are available from Wirewerks authorized distributors throughout North America.
Wirewerks' NextSTEP systems are high-density optical fiber solutions featuring the company's "stepped" modular design.u
Milliken introduces 3-pathway HDPE conduit
Milliken recently announced the 3-cell Vis Divide, a segmented high-density polyethylene (HDPE) rigid conduit that provides three dedicated pathways for the placement of multiple cables in a single conduit. Previous versions of the Vis Divide have two available pathways.
"Our 3-cell Vis Divide is a direct result of the problem-solving attitude that this company is built on," said Dale Willis, general manager of Milliken Cable Management. "With three pathways, we are giving customers, who would normally install one cable into a conduit, more flexibility for future growth and expansion. We're committing to staying in tune with the industry to provide smart, practical solutions that increase productivity and efficiency."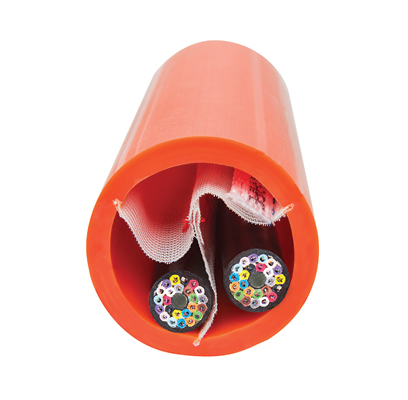 Milliken explained that the fabric divider molded into the Vis Divide conduit helps improve efficiency by using all the available space within the conduit while avoiding the risk of cable-over-cable damage. "The extra pathways in the 3-cell Vis Divide allow for ease of futurization by eliminating the need to install new conduits," the company added. "The installation of Vis Divide is similar to a traditional HDPE conduit, requiring no special equipment or training. For installation ease, each pathway in Vis Divide comes with color-coded Vis pulling tape already installed."
The 3-cell Vis Divide is available now.
Milliken characterizes its Vis Divide Rigid Conduit product line as "the new solution in conduit optimization. This segmented HDPE rigid conduit allows for the placement of more than one cable in a single conduit without the worry of damage to the cables, offering distinct competitive advantage over other HDPE conduits." It improves efficiency in applications like direct-bury and boring, Milliken says.u