Hybrid optical cable offers two benefits in one
Fiber has become an attractive medium for structured cabling systems because of its ability to support the widest range of applications at the fastest speeds for the longest distances. Data rates continue to increase for current and developing applications. System designers can make accommodations for these higher data rates by installing optical-fiber cable in place of other media. Optical fiber increases the prospect of compatibility with future applications, and installing both multimode and
Nov 1st, 1998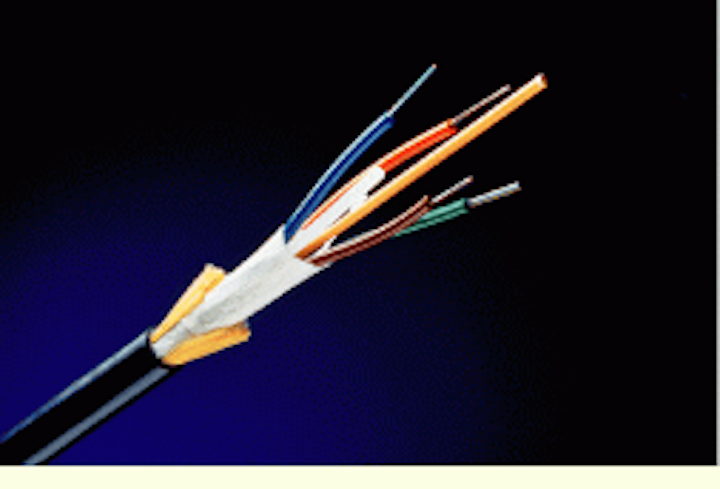 Combining multimode and singlemode fiber in the same sheath offers effective structured wiring.
Herb Congdon, Tim Summers,
Siecor Corp.
Fiber has become an attractive medium for structured cabling systems because of its ability to support the widest range of applications at the fastest speeds for the longest distances. Data rates continue to increase for current and developing applications. System designers can make accommodations for these higher data rates by installing optical-fiber cable in place of other media. Optical fiber increases the prospect of compatibility with future applications, and installing both multimode and singlemode fibers provides the greatest flexibility for a cabling plant.
In general, multimode fiber is best-suited for premises applications where links are short (less than 2000 meters) and there are many connectors. Singlemode fiber is best-suited for longer-distance applications or applications requiring extremely high data rates. Cabling standards recommend the use of 62.5/125-micron multimode and singlemode optical fiber. Those standards include ANSI/TIA/EIA-568a, the Commercial Building Telecommunications Cabling Standard of the American National Standards Institute (New York City) and the Telecommunications Industry Association and the Electronic Industries Alliance (TIA/EIA--Arlington, VA), and iso/iec-11801, the Generic Customer Premises Cabling Standard of the International Organization for Standardization and the International Electrotechnical Commission (iso/iec--Geneva). While singlemode fiber is usually relegated to the campus backbone, emerging higher data rates are providing a strong argument to install singlemode optical fiber in the building backbone as well.
The cabling and electronics industries have standardized on the use of 62.5/125-micron multimode optical fiber and singlemode fiber. Ethernet, Fast Ethernet, Token Ring, Fiber Distributed Data Interface (fddi), Asynchronous Transfer Mode (atm), and developing Gigabit Ethernet applications all support the use of these fiber types. Some applications may use another multimode fiber size, such as 50/125-micron, for certain combinations of system-length bandwidth requirements and total system cost. In any case, installing singlemode fiber with multimode fiber should eliminate any future recabling concerns.
Network architectures
Each of the four established network architectures--Ethernet, Token Ring, fddi, and atm--operates somewhat differently from the others, but all are interrelated. Some are designed for data transmission only. Others can carry voice, video, and data signals simultaneously despite the huge difference in the transmission rates required for these three signal types.
Ethernet is a bus-based network and the most widely employed of the four. It originally began with coaxial cable as the primary bus cable, but optical fiber has replaced coaxial cable to extend the usable distance. Used primarily for data transmission, the Ethernet system was standardized as the ieee 802.3 standard by the Institute of Electrical and Electronics Engineers (ieee--New York City) and has a "one transmit, all receive" operational method. Ethernet versions using fiber include 10Base-F (10 megabits per second) and 100Base-F (100 Mbits/sec), as well as the developing 1000Base-SX and 1000Base-LX (1 gigabit per second) for short- and long-wavelength applications, respectively.
A ring-based network also used for data transmission, Token Ring operates at 4 or 16 Mbits/sec. Token Ring uses a virtual "token" to pass data between stations; only the station with the token can transmit data, and the token is passed from station to station. The ieee 802.5 standard allows both shielded twisted-pair and unshielded twisted-pair wires or optical fiber as the transmission medium.
fddi operates as a dual, counter-rotating ring and has a token-based fiber network architecture for data transmission. It was designed to accommodate higher data rates over longer distances with increased reliability compared to previous applications. This architecture operates at 100 Mbits/sec using two rings--one ring carries the signal and the other serves as a backup in case of a node or cable failure. fddi was originally written for 62.5/125-micron fiber at 1300 nanometers only, but a version has been developed for singlemode fiber. fddi`s high speed makes it ideal for use in the backbone to connect two or more networks operating with Ethernet or Token Ring.
atm is designed to allow the efficient transmission of high-data-rate streams between networks. If a user multiplexes low-rate voice, medium-rate data, and high-rate video signals over the same system, it must be capable of handling the signal that requires the highest information rate--usually video. atm efficiently uses the available bandwidth by "packaging" the inputs from the different sources into a series of 53-byte packages--5 bytes for addressing and 48 bytes for the information itself--for transmission and switching at a rate that is compatible with the connecting network. atm can operate at different speeds using the same packet system. It automatically adjusts to the network speed of the addressee. As system requirements change, so can the data rate to meet those requirements. The data rates range from 52 to 622 Mbits/sec; higher data rates (up to 2.5 Gbits/sec) are under development.
Selecting a fiber type
The tables summarize the uses of 62.5/125-micron multimode fiber and singlemode fiber. While these charts focus on data communications, some manufacturers make voice and video products that operate over ANSI/TIA/EIA-568a-recognized singlemode and 62.5/125-micron multimode fiber.
For campus-backbone networks, our company recommends using hybrid cables containing both singlemode and 62.5/125-micron multimode fiber. These hybrids allow users to operate at slower speeds--155 Mbits/sec or less--for up to 2000 meters using lower-cost multimode transceivers, with the capacity to move to higher data rates--622 Mbits/sec and greater--for distances from 300 meters to 40 kilometers on singlemode fiber.
We recommend the use of 62.5/125- micron multimode fiber for intrabuilding backbones, horizontal cabling, and centralized cabling. This type of cables allows users to operate the network at speeds to 622 Mbits/sec for a distance of at least 300 meters using low-cost transceivers. Standards are still under development for speeds greater than 622 Mbits/sec over 62.5/125-micron fiber. However, for horizontal distances up to 100 meters, 2.5-Gbit/sec speeds are technically possible using low-cost transceivers. Installing singlemode fiber in the building backbone can improve the flexibility of the cabling plant to support a variety of applications and data rates with fewer limitations.
Regardless of the fiber type chosen, the designer should specify the attenuation and bandwidth at both operating windows (850 and 1300 nm) for multimode fiber and the attenuation at 1310 and 1550 nm for singlemode fiber. Specifying these values simplifies the process for considering upgrades in the future.
The standardization of optical-fiber type and optical performance of cabling systems will ensure a long-lived cabling plant that supports the applications of today and those of the future as system requirements change.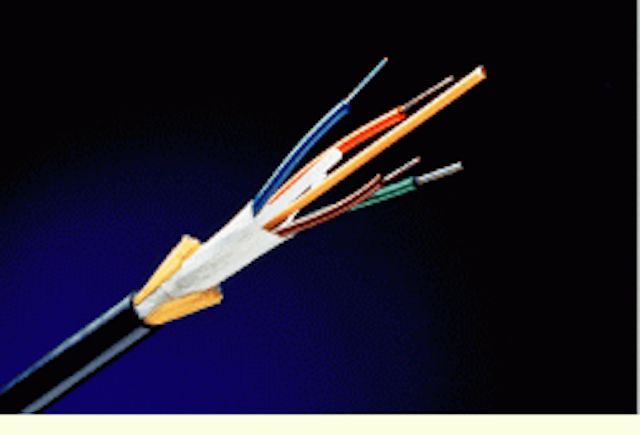 Click here to enlarge image
Altos cable from Siecor Corp. combines multimode and singlemode fibers within the same sheath.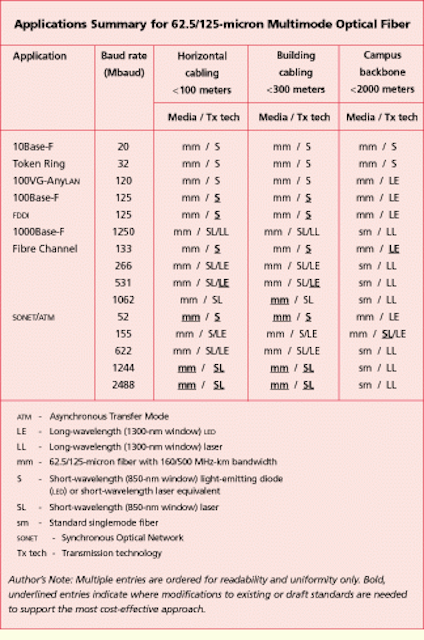 Click here to enlarge image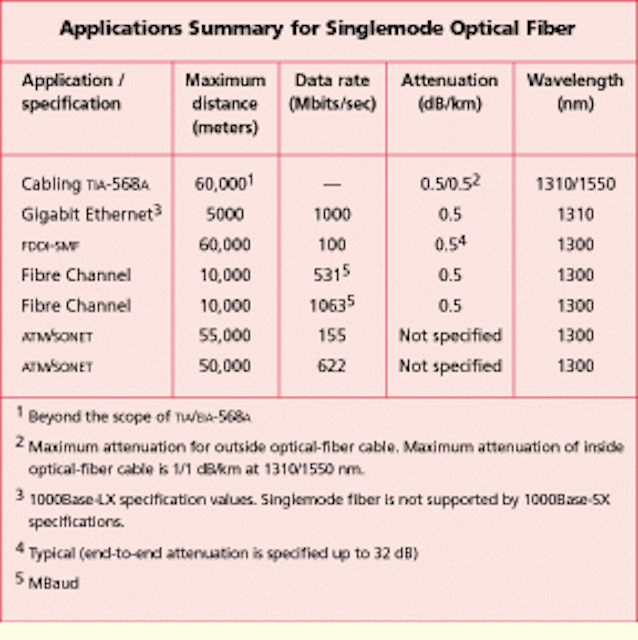 Click here to enlarge image
Herb Congdon is supervisor, applications engineering, and Tim Summers is product manager, both at Siecor Corp. (Hickory, NC).