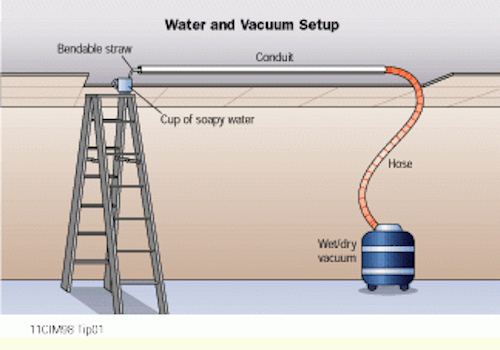 Carl Varga,
Easton Hospital
Problem
The use of some inferior cable lubricants during cable pulls can cause trouble when cabling technicians try to remove lubricated cable from conduit years later. Often, the dried lubricant acts more like glue than lubricant, adhering the cables inside the conduit and making removal difficult.
Solution
Soapy water will loosen the cables from the dried, sticky lubricant. To make sure the soapy water is spread throughout the conduit, set the soapy water at one end and a wet/dry vacuum cleaner at the other end and use the vacuum to suck the water through the entire length of the conduit.
Procedure
1) Affix the hose of a wet/dry vacuum cleaner to one end of the conduit, using tape if necessary.
2) Place a cup of soapy water with a bendable straw at the other end of the conduit.
3) Turn the vacuum on and allow the end of the straw to stick into the conduit. The vacuum should suck the water through the straw and into the conduit.
4) Once water has made it to the end of the conduit where the vacuum is, turn off the vacuum and put it away.
5) Wait 10 minutes, then pull the cables out of the conduit. They should come out without much effort.
Safety precaution: When using water inside conduit, be certain that you are not dealing with any live wires or cables and make sure that working conditions are safe.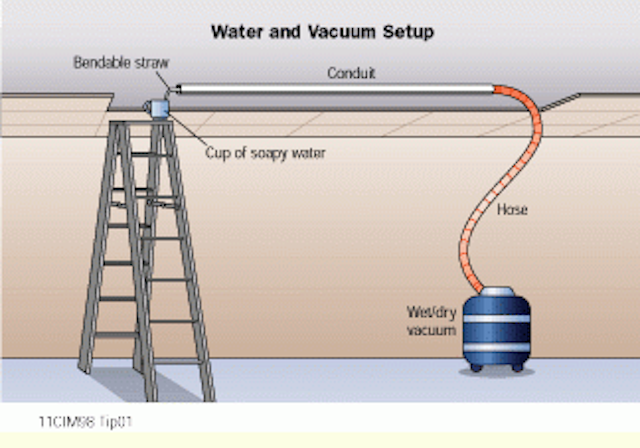 Click here to enlarge image
Set the cup of water so that the straw sticks into the conduit.
Carl Varga is a network and telecommunications technician with Easton Hospital (Easton, PA).