Cable cutters come in all shapes, sizes, and capabilities
When Derrick Givens embarked on a career as a cable installer 16 years ago, he was introduced to a tool that he swears by to this day.
Sep 1st, 1998

Mark A. DeSorbo
When Derrick Givens embarked on a career as a cable installer 16 years ago, he was introduced to a tool that he swears by to this day.
That tool was a pair of electrician`s scissors, which he used as both a cable cutter and a cable stripper. "When I came into the field, the tools we were using to cut cable were the electrician`s scissors and the diagonal cutter, or `dike` as we call it," says Givens, service manager at U.S. Premise Networking Services (Plymouth, MN). "I would cut everything with a pair of electrician`s scissors--up to 25 pairs. That was my main cutting tool. They look just like a pair of household shears, but they are very strong--strong enough to cut through a coin."
Givens, however, is quick to point out that what worked for him in the field may not work for the next technician. In fact, choosing and using the right cable cutter depend on preference as well as what type of installation the technician is handling.
Cable cutters come in all shapes, sizes, and capabilities for a variety of jobs, whether the jobs involve copper, aluminum, telephone, TV, or coaxial cable. Each cable-cutter manufacturer has found its own niche, focusing on special design, strength, or versatility. No two pairs of cable cutters are alike.
Cable cutters generally fall into four categories. There are shear-action, handheld types that offer strength in a compact package and resemble a pair of pliers. Longer-handled, two-handed cutters look more like hedge-clippers and cut larger cable. There are ratcheting cable cutters that possess a unique gripping mechanism that allows you to make clean cuts through multipair cable with little elbow grease. Then, of course, there`s the power-assisted cutter that slices through a thick cable like a hot knife through butter. If that isn`t enough to choose from, there are combination devices, such as two-in-one and four-in-one tools that cut, strip, crimp, and grip. "Convenience plays a strong part in this labor-intensive industry," Givens adds. "I don`t want to grab a cutter and then have to grab a stripper. I would like a tool that can do both jobs for me."
Regardless of the type and capability, cable cutters are vital tools for installers to have in the field. "Without a reliable pair, the installer will have some difficulties. Then, he or she has to improvise. I have actually had to use a hacksaw to cut cable," says Givens, who oversees a department of 22 technicians.
Ken Hagemeyer, director of product management for Greenlee Textron, says the 727/31291, one of the company`s smaller handheld cutters, is constructed of forged steel and cuts copper of up to 50 square millimeters and aluminum up to 35 mm2. One of Greenlee Textron`s better ratchet cable cutters, labeled the 764/35516, has fiberglass handles and two thick blades that are ground flat to reduce breakage potential. The tool can slice through 750-metric-circular-mil copper cable and 795-mcm aluminum cable. For cables up to 13/4 inches in diameter, Greenlee makes Gator battery-powered cable cutters. Gators average about 120 cuts per battery charge. The pistol grip provides control and balance and can make a cut in 22 seconds.
"All three of these cutters are targeted for electrical contractors, electricians, electrical maintenance, and data-cable installers. The 764 and the battery-powered cutter are meant for the electro-utility market," Hagemeyer says. "A typical electrician would have all three of these cutters, but the utility market may tend to rely more on the battery-operated tool."
Paladin Tools, a division of Connectool Inc., also manufactures a variety of cable cutters. The company is best known for its ratcheting cable cutters, a product Paladin has been producing for more than 20 years, says marketing director Dennis Behling.
"Ratcheting cutters are our primary focus," he says. "There are a zillion kinds of standard and handheld, non-ratcheting-type cutters out there, and it would not make any sense for us to compete against domestic and import companies."
The CT35, KT45, and KT60 are three of the company`s top-selling ratcheting cable cutters. The CT35 and KT45, Behling says, are suited for inside- and outside-plant jobs and feature one-handed operation. The KT60 is meant for just outside-plant work and is an extremely powerful two-handed cutter. The CT35 slices through 500-mcm copper and aluminum, while the KT45 nips 1000-mcm copper and aluminum cable. The KT60 is even more powerful, slicing through 1500-mcm copper cable and 2000-mcm aluminum cable.
What distinguishes Paladin ratchet cable cutters, Behling says, is that they are manufactured from German-made steel. "[This steel] is far superior to what domestic manufacturers use. It`s hardened steel, and the actual blade design is unique as well. It has a multiple contour that lets it cut instead of crush the cable," he says, adding that the blade design is patented. Paladin also has a lifetime warranty on its ratchet cutters.
The cutters, Behling explains, are well-suited for tight spaces, and they are one of only a few cutters that let an installer cut cable with just one hand. "They also have a release cycle that allows you to release the blade just in case you start to cut the wrong cable," he adds.
Another heavy hitter in the cable- cutter manufacturing arena is Klein Tools Inc. The company produces many types of diagonal-cutting pliers, shear-type, and ratcheting cutters. "Some of the features of our diagonal-cutting pliers are the heat treatment of the blades and the induction- hardening of the rivet," says Todd Zimmerman, Klein`s marketing services manager. "The advantage is that other cutters that resemble pliers sometimes come apart. The steel gets soft. With induction hardening, our cutters will always be accurate and stay together. We design our handles so they absorb the snap of the cut, so your hand doesn`t."
In its line of shear-type cutters, Klein`s utility cutter, number 63035, cuts up to 350-MCM copper and aluminum. Two types of standard cutters slice through thicker cable. The 63041 cuts copper cable up to 500 MCM and aluminum up to 750 MCM. The 63045 handles copper cable up to 1000 MCM and aluminum cable up to 1200 MCM. Klein`s heavy-duty ratcheting cutter can rip through copper and aluminum cable up to 750 MCM.
For installers who rely on a multipurpose tool, Evera Communications Inc. manufactures four-in-one and two-in-one modular crimp tools. "These tools are for patch-cable makers and customized patch cabling," says Evera product manager Jackie Chen. "With the four-in-one, they can work with plugs that have four, six, or eight contacts, and with six modified modular plugs (MMP), which are used in digital systems. The two-in-one can handle two types of modular plugs--six and eight MMP. With both of these tools, you can cut, strip, grip, and crimp. They also can cut 22- to 26-gauge wire."
Adam Bristol, owner of Current Concepts (Orford, NH), says there are some general things to look for when seeking out the perfect cutter for the job. For the handheld types, he says it should be easy to use and cut cleanly a 2- to 400-pair cable. For the power- assisted type, Bristol says to make sure it is easy to set up and is compact for getting into tight areas. The bottom line, he says, comes down to this: "Price times quality equals value."

Click here to enlarge image
Greenlee Textron`s 727 cable cutter is used to slice through heavier copper and aluminum. The device is made from heavy-duty forged steel and is heat-treated for long life.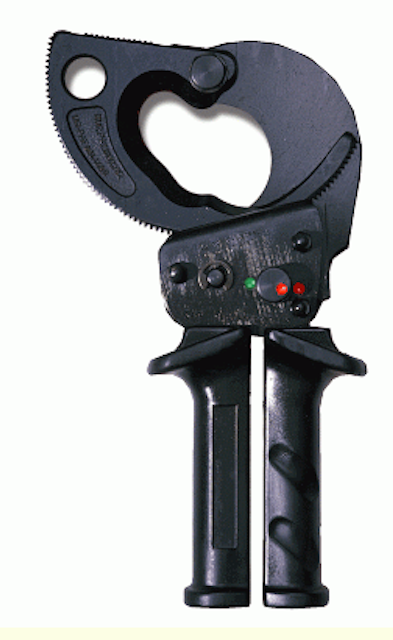 Click here to enlarge image
The KT45 from Paladin Tools cuts stranded and flexible copper and aluminum cable up to 1000 MCM.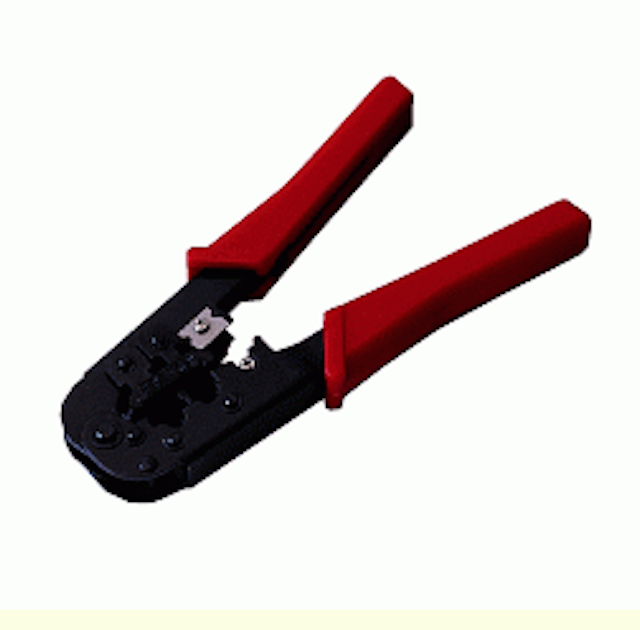 Click here to enlarge image
Crimping is just one of the tasks a two-in-one modular tool from Evera Communications performs. The tool also cuts, strips, and grips frayed cable and can handle six and eight modified modular plugs.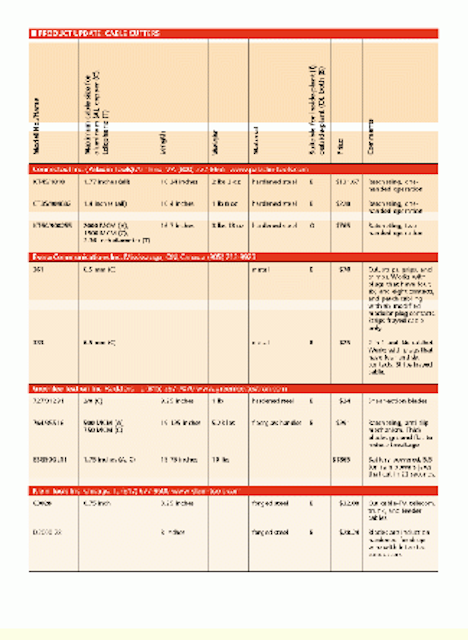 Click here to enlarge image