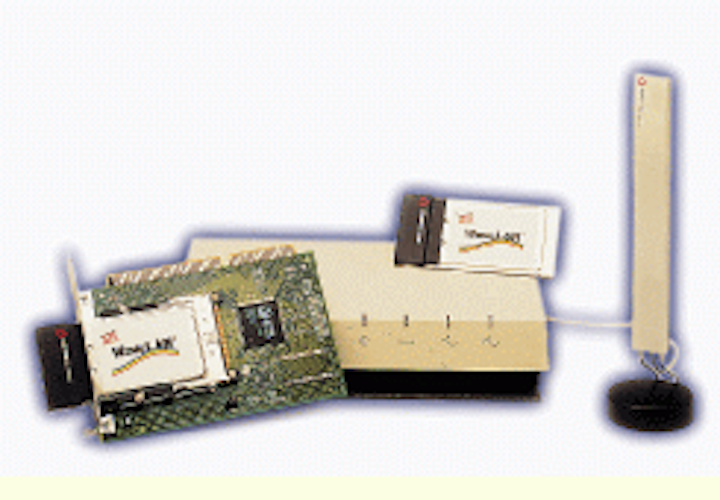 Wireless technology rides the mobility wave
A year after standardization, vendors look toward interoperability and wider deployment.
Patrick McLaughlin
By most accounts, an increasing number of users will deploy wireless local area network (LAN) systems in the coming years. Research firms estimate that the U.S. market for wireless lan products will approach $1 billion over the next few years, and some chart the market`s growth at 40% to 60% annually.
In general, wireless systems are seen as extensions of, rather than replacements of, wired networks. "Wireless systems aren`t meant to replace wired networks," says Duncan Mills, wireless product marketing manager with AMP Inc. (Harrisburg, PA). He adds that either building issues or logistical issues can contribute to the decision to choose a wireless system. "Some buildings include spaces where cabling cannot be installed. An example is a historical structure, where you cannot drill holes through walls or otherwise disturb the building`s structure. Another example would be a building that has asbestos or other hazardous materials in the walls, so you cannot penetrate those walls."
He says logistical issues that lend themselves to wireless-lan deployment include the desire to establish workstations for new, temporary, or outside workers who must use a workstation for short periods. Wireless is also deployed at trade shows, he says, and other places where a workstation is set up, used briefly, then broken down.
"Wireless is complementary to existing wired infrastructures," comments Mack Sullivan, director of the Wireless lan Alliance (WLANA), a group of wireless-product vendors that was founded to generate awareness of and interest in wireless LAN technologies. "That`s evidenced by the fact that access points plug into existing Ethernet devices."
Four significant factors contribute to the technology`s market growth, according to Sullivan. One factor is the increasing popularity of laptop computers and mobile computing in general. Many workers who use laptop computers require network connectivity, so implementing wireless networking capability is a viable option for them.
Another growth contributor is the increasing number of applications that seem natural fits for wireless networks, Sullivan adds. Wireless systems have traditionally been used in inventory and warehouse-management environments, and Sullivan says the technology has recently expanded into such areas as health care and is likely to gain use in small-business and residential applications as well.
Third, pricing has come down. "A few years ago, wireless adapters sold for close to $700 apiece," Sullivan says. "Prices for these products have gone down 30% to 40% in a short time."
One of the reasons prices have come down, and perhaps the most significant contributor to the expected boom in wireless use, is the ratification of a standard by the Institute of Electrical and Electronics Engineers (IEEE--New York City). The ieee 802.11 Wireless lan Media Access Control Physical Layer Specifications was ratified in June 1997 after seven years in the making. Sullivan says that years of debate within the committee regarding which technology approach to use was the primary reason the standard was so long in development--and not because the committee that drafted it labored over how to make the technology work. In fact, spread-spectrum technology was used as far back as World War II. With the debate now over, he adds that the reassurance that comes with buying standard-compliant products will help push the market forward. "Customers feel more comfortable purchasing when they know the products comply to an established standard," he says. "And as vendors develop standard-compliant solutions, consumers have more products from which to choose."
Standards and standard-compliant products
Lucent Technologies (Murray Hill, NJ) is one company that offers 802.11-compliant products. The 802.11-compliant Wavelan product line was introduced in May and includes a PC card for laptop, portable, and handheld devices, an interface card for desktop computers, an access point, and a range- extending antenna. A Wavelan network offers an indoor range to 1200 feet, depending on layout, and the optional antenna can add 20% to that range.
Proxim Inc. (Mountain View, CA) also introduced a set of 802.11-compliant products this past May. The Rangelan802 product line includes access points and PC cards as well as modules designed for original-equipment-manufacturer integration.
In addition to the recently introduced Rangelan802 line, Proxim offers the Rangelan2 product line. "The Rangelan802 products offer slightly higher speeds and 802.11 compliance," says Brian Button, Proxim`s vice president of sales and marketing. Available since 1994, the Rangelan2 line predates the 802.11 standard but complies with what is known as the OpenAir standard.
The OpenAir standard was developed by another vendor group, the Wireless lan Interoperability Forum. The forum based its OpenAir standard on Proxim`s Rangelan2 product line because it was the most widely deployed 2.4-gigahertz wireless system. Also, "Rangelan2 technology has been recognized as having the best combination of features for mobile applications," according to information provided by the forum.
Proxim continues to offer the Rangelan2 product line, positioning it as a solution that provides better scalability to support multiple applications and a large number of users.
Product interoperability
One of the most noteworthy differences between the OpenAir standard and the ieee 802.11 standard, at least according to proponents of the OpenAir standard, is the extent to which the two specifications permit product interoperability. Some vendors say that the 802.11 standard does not ensure complete interoperability among all 802.11-compliant products.
"You see many vendors offering complete wireless systems today," says amp`s Mills. "Part of the reason for that is that the 802.11 standard does not guarantee interoperability among all standard-compliant products." In a wireless network with multiple access points, for instance, users may experience interrupted service when roaming from an area in which one vendor`s access point is used to an area with another vendor`s access point. amp`s products are OpenAir-compliant, but not 802.11-compliant. The OpenAir standard, Mills continues, does guarantee interoperability.
"The technical specifications between the two standards are close," he says. "A major difference is the data rate. The 802.11 standard provides 2-megabit-per-second transmission, with 1-Mbit/sec transmission in harsh environments; the OpenAir standard specifies 1.6 Mbits/sec in good conditions and 0.8 Mbit/sec in harsh environments."
He further explains the difference in signaling between the 802.11 and the OpenAir standard and why some claim OpenAir products are more scalable. Both employ carrier-sense multiple-access collision-avoidance signaling. "The electronics transmit a signal and if a collision occurs, the protocol essentially backs off in much the same way Ethernet does. With 802.11 products, the electronics back off for a period of time, then try to transmit again. With OpenAir, the more times a signal experiences a collision, the higher priority it gets. So it backs off for a shorter period of time. This provides much fairer access to the wireless medium, especially as wireless lans grow and more collisions occur."
The wlana is a technology-, product-, and vendor-neutral alliance, and its director agrees that the 802.11 standard alone does not ensure vendor interoperability at the access-point level, a situation that has mandated cooperation among wireless lan vendors. And he says that`s exactly what has been happening since the standard was ratified. "A number of vendors have gone to independent testing labs, working to ensure interoperability among their various products. In the last six months, significant progress has been made on that front."
Meanwhile, the IEEE is working to update the wireless lan standard. This time, the specification will call for higher-speed transmission. "A 10-Mbit/sec standard is being formulated now," Sullivan notes. "Proposals are on the table and are being voted on. Although committee approval of a higher-speed standard may occur in 1998, projected finalization of that standard is the second half of 1999. Once that standard is approved, a new wave of products will hit the marketplace."
"Interoperability, aggressive pricing, flexible packaging, improved performance, and range are key to speeding up market acceptance of wireless lans," says Laurie Pasmooij, lan research analyst at International Data Corp. (Framingham, MA), a high-technology market research and consulting firm. "Information-technology professionals and business managers should feel comfortable installing a wireless solution that is compatible with other products and can be adapted as new technologies reach the market."
Established and emerging markets
Traditional markets in which wireless technology has succeeded include warehousing and inventory-control applications, where workers are mobile and documentation of incoming and outgoing stock is essential. Medical facilities also have installed wireless systems for several practical reasons. For example, a wireless network allows bedside data collection and retrieval without having to put a computer in every room. A hospital`s antiseptic environment also can be a decision-making factor, according to amp`s Mills. "Many hospitals choose not to run any more cabling than they have to because such projects often interfere with the facility`s sterile environment." He adds that wireless systems in hospitals also allow doctors to roam and still be connected to the network--a virtual necessity.
Sullivan says, however, that a couple of markets present themselves as possible areas where wireless systems may be chosen in lieu of wired systems.
"Some small businesses will likely decide that a wireless network is flexible enough for their needs. This will be particularly true in companies with smaller physical facilities that will require fewer access points, or none at all," he adds.
Those who network computers in their homes might also choose wireless lans, he says. "Currently, 15 million homes in the United States have multiple PCs, and that number is growing. One of the key benefits people will gain from wireless networking in the home is that multiple users will share a single telephone-line connection to the Internet." Sullivan says that without networked PCs, users will incur extra expenses for multiple Internet connections.
A wireless network also represents a less-intrusive means by which to connect multiple PCs in the home because by definition, no wires or cables need to be strung throughout the house. Because of a home`s small physical area, access points will not be required. Instead, PCs connected wirelessly will communicate with each other on a peer-to-peer basis within a single cell of coverage.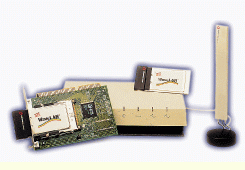 Click here to enlarge image
The 802.11-compliant Wavelan product family from Lucent Technologies includes an interface card for desktop computers; an access point; a PC card for laptop, portable, and handheld devices; and a range-extending antenna.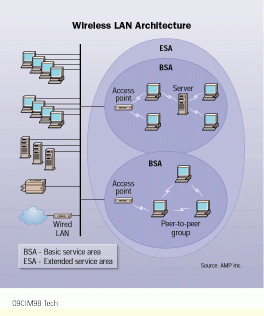 Click here to enlarge image
A wireless LAN`s architecture includes basic service areas (BSAS), each with its own access point, and an extended service area (ESA), which includes a number of interconnected bsas.