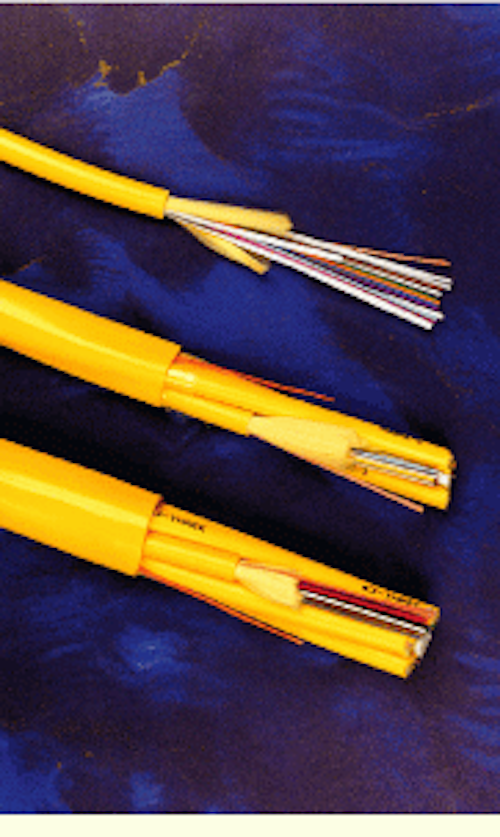 Mark A. DeSorbo
It was as early as the mid-1980s when you could find singlemode fiber-optic cable in digital telephone transmission systems, operating at 417 megabits per second and carrying more than 6000 calls at a time. By the end of 1992, the rate had grown fourfold when capacities skyrocketed to 10 gigabits per second and managed 130,000 simultaneous calls.
And here it is, just weeks before 1999, and singlemode fiber is the same as it ever was--in a holding pattern. The growth and popularity of singlemode fiber-optic cable have never been contingent on a new and improved fiber. In fact, the performance and power of singlemode fiber--whether it is used in telephony or for cable-TV distribution--is limited by the capabilities of the electronics to which it is linked. "We`re waiting for the cost of lasers to become equal to light-emitting-diode drivers," says Richard Scheer, sales manager for Northern Lights Cable, a Prestolite Wire Co. "When that happens, it will be plug and play for higher data-rate applications."
Ten years ago, Scheer helped gte Corp. engineers in California introduce the practice of placing singlemode alongside its slower sibling, multimode, within the same backbone cable. "At that time, it was unheard of, but we thought it would be a good standard for future protocols," he adds. "Now, people who installed singlemode along with multimode back then are glad they did, and people still want it to futureproof their network. They terminate it and leave it dark in the patch panel for future use."
That future use is the long-awaited fiber-to-the-desk, an application that has already debuted and will likely become a staple soon in hospitals and health-care facilities. Singlemode is also expected to surpass multimode as the fiber chosen to meet the demands of bandwidth-eating applications such as computer-aided imaging and design (see Product Update table, page 86).
"From the data side, singlemode is starting to creep inside. As data rates increase, there is a need for higher bandwidth," says Bill Beasley, manager of applications engineering for Sumitomo Electric Lightwave Corp. "The full bandwidth capability of singlemode hasn`t been fully exploited."
The most common deployment for singlemode has been in outside- plant applications as the backbone for interbuilding networks on college campuses and military bases and in businesses or industrial parks. Network designers tasked with selecting the right brand of singlemode fiber-optic cable may have a difficult time because the method by which optical fiber is made varies slightly from manufacturer to manufacturer. Singlemode optical fiber is only made by a handful of companies: Lucent Technologies (Murray Hill, NJ), Corning Inc. (Corning, NY), and SpecTran Specialty Optics Co. (Avon, CT). Beasley admits that it`s tough not to say that fiber manufacturers are all making the same thing. "Many refinements have been made to ensure the quality of fiber, but the basic way that it is made hasn`t changed," he adds. "The only thing that has really changed is in the preform process--how the hunk of glass that fiber is drawn from is manufactured--and how the fiber is actually drawn from the preform. It varies from company to company."
The fiber for Sumitomo`s singlemode cable is manufactured by Litespec Inc., a joint venture between Sumitomo and Lucent, which neighbors the Sumitomo facility in Research Triangle Park, NC. As for fiber, companies are finding niches in creating cable that is versatile and easy to terminate. Take Sumitomo`s ribbon cable, Litepipe, for example. The non-plenum cable is all-dielectric, armored for burial, and can be used as indoor riser. Beasley says the ribbon fiber "stands the most proud" out of the three types of singlemode that Sumitomo makes. "We were the first to provide it in the United States. One of our competitors made a ribbon cable, but because of issues surrounding the access of individual fibers, it didn`t take off," he explains. "Ours is peelable, so you can access any one of the 12 individual fibers within the cable or you can splice or terminate 12 fibers at a time. It allows you to quickly turn up your network."
Sumitomo`s singlemode fiber-optic cables, Beasley says, are mostly intended for outside-plant applications. "Most of what we make is armored, rodent-resistant, and higher-compression strength for direct-burial. The unarmored cable can be placed in trays or in duct," he adds.
Some singlemode fiber-optic cable can be used both outside and inside. Jean-Francois Cauchon, product line manager for nordx/cdt, says the company manufactures a Loose Tube (Campus) series that is suited for direct-burial, lashed aerial, or underground conduit. It is also suitable for interbuilding duct and indoor/outdoor riser-rated constructions. Available in 62.5/125-micron multimode and 8/125-micron singlemode fiber compositions, the Campus series can also handle applications with medium-to-high-fiber-count requirements.
nordx/cdt also manufactures the Distribution and Breakout series of cable. The Distribution series is designed for medium-to-high-fiber-count inside-plant horizontal or backbone installations and offers flexibility for backbone and horizontal applications. Made with 900-micron buffered fibers, the cable is available in multimode format as well as in a combination-type format. Also suited for inside-plant horizontal and backbone cabling, the Breakout series can be used for office wiring. Each of the tightly buffered 900-micron fibers is jacketed with polyvinyl chloride.
All nordx/cdt fiber-optic cable, Cauchon says, is sent to Intertek Testing Services (Cortland, NY) for etl certification. The company also color-codes the jacket, depending on what type of cable the application calls for. "Most companies manufacture cable that complies with standards, but many do not have their cables tested at an independent lab," he says. "We also make our cables easy to identify with color-coding the jacket. Other manufacturers just have a little band of color for identification or use numbers."
The most important aspect of nordx/cdt singlemode fiber, Cauchon points out, is the optical fiber. "Overall, the type of glass is very important," he says. "We specify Corning because it has a specific requirement in performance."
Like nordx/cdt, Northern Lights prefers to use Corning fiber for the singlemode fiber-optic cable it makes. One of those cables is the Thrifty-bit Simplex, which Scheer says is easily stripped, suitable for simplex and zipcord, and can withstand installations through tight bend radii. The company also makes a low-smoke, zero- halogen, tight-buffered indoor/outdoor building cable. Available in fiber counts from four to 24, it is suitable for direct burial and can be placed in duct and cable trays. Northern Lights says it also produces the smallest simplex cable in the world. At a diameter of 900 microns, its Micro Cable is easily stripped and can be used with micro patch cords in a crowded cable tray and high-fiber-count distribution units.
While many singlemode manufacturers back their product with warranties, Scheer claims Northern Lights goes one step further: "We are the only company that guarantees optical attenuation and bandwidth for cabled fiber," he says, noting that the guarantee has been published in the sixth edition of the Northern Lights catalog.
Bandwidth is apparently where the future of singlemode lies. "Hundreds of channels can be stacked on a fiber, and more channels are continually being crammed onto a fiber," adds Sumitomo`s Beasley. "When that will end, I don`t know. There is still a lot of capacity there to tap. The end is way away. Right now, there just isn`t any limitation for singlemode."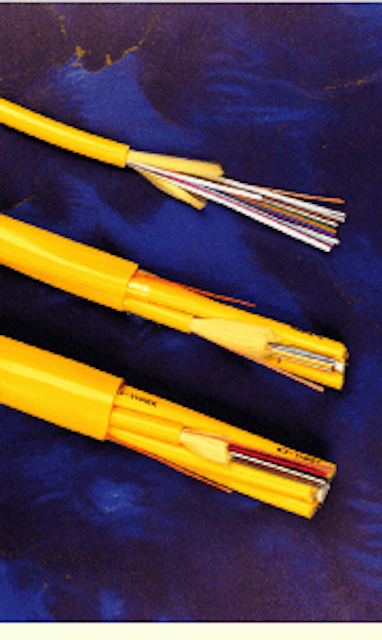 Click here to enlarge image
Superior Cable manufactures distribution, loose-tube indoor/outdoor, and outside-plant singlemode fiber-optic cable. Here are three types of singlemode for premises applications.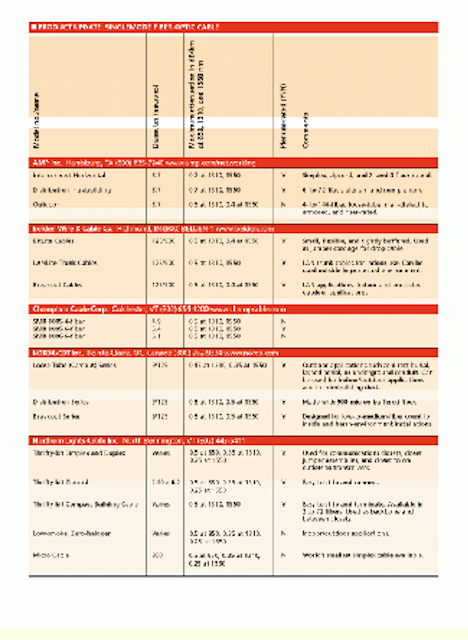 Click here to enlarge image