The cost of identifying cables and components is small, but the payoff can be huge.
Catherine Varmazis
As networks become larger and more complex, network planners, installers, and end-users are becoming convinced of the importance of good cable-identification practices.
Despite its importance to the administration of network infrastructure, however, the labeling of cabling and associated hardware is one of the most tedious tasks in an installation project. Even in networks that require thousands of labels, some users still have these labels keyed in by hand. Numerous labeling products exist to help make the job easier, but some installers would like to see the job made even more automated and less time-consuming.
Brien Christopherson, industry manager for the Identification Solution Div. of Brady Worldwide Inc. (formerly Brady usa Inc.--Milwaukee, WI), says, "We`ve done a lot of research and talked to users. What we`re hearing is: `We like the portable printers and software you`re doing, but what we`d really like to see is some of that technology configured into cable-management software [cms] to make the job easier.` Whether going into an existing installation to identify everything or working in a new location, installers want to be able to set up a labeling scheme, program the information, and then download and print the labels."
While conceding that there is more of a demand for integrated cable-management and cable-labeling software than there was several years ago, John Troy, president of installation company Connectivity Inc. (Hudson, NH), says, "People are not beating down our doors for it." He has encountered the request only in larger projects, with 1200 or more drops.
That statement does not contradict Brady`s findings. "The smaller installers that do the job once and don`t get the moves, adds, and changes [mac] contract usually look for the least-expensive way to go," says Christopherson. "Since tia/eia-606 doesn`t force them to identify the cable, some say that`s the next guy`s problem [see "A standard with a lot of leeway," page 22]. But the guys who know they`ll have the maintenance contract, they`re the ones we hear from to take cable labeling to the next step."
An ounce of prevention
The cost of labeling an installation is small--from 1% to 5% of the entire project. "People don`t save money initially; in fact, they see it as an extra expense," says Christopherson. "But down the line, labeling will save them a lot of time and money."
Proper identification can also spare the end-user big headaches down the road. Troy explains, "We occasionally go into sites where nothing has been labeled and we have to tone out and identify the entire cabling plant." Expensive experiences like this are making users more sophisticated about the need for cable labeling and documentation.
As businesses employ a plethora of new productivity tools, they must upgrade existing cabling and add new cabling, including Category 5, Category 6, and fiber-optic cables. To facilitate this constant revision of very high-density cabling in the modern office, it is essential that each component of a cabling system be identified and that the system be documented. "It`s not just the initial cost. Five years down the road, there are huge cost savings," comments Dave Morrison, product manager for computer-printable products at Panduit Corp.`s Identification Div. (Cumming, GA). "A properly labeled and documented cabling system allows orderly future revisions as opposed to the need to replace the entire system."
Christopherson adds, "You`ll see cost savings much quicker on large jobs, but we recommend that installers use printed labels across the board; over time they will see savings. On smaller jobs, they`re not buying cms, they`re just buying a $100 software package. You can use the computer and printer you`re using in the office. The only other cost is that of the labels."
Customized schemes
Despite the tia/eia-606 administration standard of the Telecommunications Industry Association/Electronic Industries Alliance (tia/eia--Arlington, VA), cable-labeling schemes can be as different as the people who create them. Many end-users prefer to specify their own, and often these work well. "Generally, we meet with a client before the installation to determine the logical layout of the facility," says Troy. "At a recent project we did at the Army Corps of Engineers, each office had a space number printed on each door frame. That was a terrific reference point to provide a cable identifier, at least for cable in that workspace. Then from that, we developed a unique identifier for each outlet, cable, patch panel, and rack. It all starts with space identifiers."
However, the lack of a universal labeling scheme can be especially problematic in pre-existing networks when there are frequent macs, according to Bruce Demaine, computer information systems manager at PennWell`s Advanced Technology Div. (Nashua, NH). The company`s rapid growth has necessitated a move into a larger building, which is currently under construction. Referring to the cable-labeling scheme in use at the current facility, Demaine says, "It`s handwritten and not terribly well thought out. The numbers originally referred to a room or cubicle, but we have reorganized and moved people umpteen times. When they were put in originally, the numbers made sense, but they are now meaningless." Lack of proper documentation compounds the problem.
Christopherson agrees: "If you`re constructing a new building and installing new equipment, it`s easy to specify how it should be done. But when you have systems that are already set up, and different people installed them and there is no identification or just hand-labeling, then you switch installers and they don`t understand the whole scheme, they either need to start over or try to figure out what the previous installer was doing. It becomes a big expense." In such cases, tia/eia-606 recommends that you start slowly and identify everything from the closet to the cubicle. "The key is that everything be documented," continues Christopherson. "They don`t care if you start with `1` as long as the next person coming in will understand what you were using so he can just work off of that."
More-integrated capabilities
A range of products meets the needs for more automation and ease-of-use. Some, such as Planet cms from Network & Communication Technology (ntc--Park Ridge, NJ), support the labels of particular vendors. Users of Planet can automatically create labels on Brady and Panduit label stationery using data stored in the cms.
In addition, pan-mark for Windows label-printing software from Panduit can import data from any spreadsheet or database software that has an open database connectivity (odbc) driver, such as Microsoft Access or Excel. "As long as the user is using a third-party database, he can use our software to get that data and print it to labels," explains Panduit`s Morrison. "We can also integrate data from Visio, Crimp, and other cms that has an odbc driver, but it`s neater to do it through a spreadsheet program because you can make quick `drag and drop` changes." The program can also do multiple alpha and numeric serializations as well as combinations of the two.
Tagprint for Windows from Tyton Hellerman (Milwaukee, WI) also lets users import a database from another program and output labels. With its Table feature, it can store numbers for all wires from each floor and print all or portions of the data to labels. Todd Fries, manager of identification systems at Tyton Hellerman, says a cable-labeling software`s ability to import information from a database is a big selling point. "If your database is done in Excel, for example, you click on Copy and paste the entire document into Tagprint. It drops all the numbers in and lets you print labels," explains Fries. "Tagprint can be used with any database or spreadsheet program that is Windows-compatible."
Exan Technologies (Sterling, VA, and Bournemouth, UK) offers both cable-management and labeling-software products with the ability to integrate the two. Jerry Owen, managing director of Exan, says the company "provides a feature within our Etec cms that prints labels from records in its own software, but you can print them to any manufacturer`s stationery. Once you`ve defined a set of dimensions, you can create a label style for a particular manufacturer`s label, save it, then call it up from the template next time and print it." The vendor`s latest labeling software, Finito!, offers an automatic number generator and prints to labels from any manufacturer.
The Windows-based version of Brady`s LabelMark/win software simplifies label-making with the use of simple icons and extensive editing capabilities. The product includes an automatic serialization feature, random label printing, and pre-print testing. Data can be entered directly into the software or imported from other database programs.
For smaller jobs, labeling does not have to be as sophisticated because different-colored cables are often used as identifiers. In such cases, stand-alone products offer some degree of automation for the smaller budget. Tyton Hellerman`s 606basic is a complete package containing 20 sheets of laser-printable labels and a disk with labeling software. Designed for labeling 48-port patch panels, outlets, and 110 blocks, the software includes an automatic serialization feature.
Kroy Inc.`s (Scottsdale, AZ) label and bar-code printer, the K2000-PC, comes with software that creates, edits, and saves a variety of labels. When connected to a personal computer running a Windows application such as Microsoft Word or Excel, the printer can print labels from data stored in those programs.
With these and many more automated labeling products available, keying in labels one-by-one could soon be just an unpleasant memory.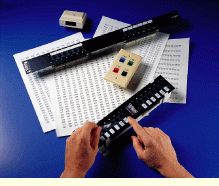 Click here to enlarge image
Tagprint labeling software from Tyton Hellerman allows random data and wire lists to be stored and printed. The user can enter the wire number once but specify how many times that label should be printed before going on to the next number on the list.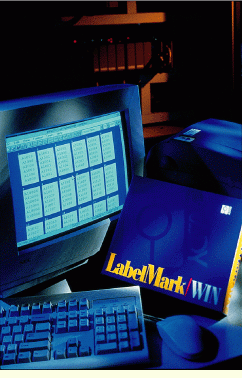 Click here to enlarge image
Updated from a dos to a Windows version, LabelMark/win labeling software from Brady Worldwide lets users view many labels at a time for easy file creation and label formatting.
A standard with a lot of leeway
The ratification in 1993 of the tia/eia-606 Administration Standard for the Telecommunications Infrastructure of Commercial Buildings was official recognition by the Telecommunications Industry Association/Electronic Industries Alliance (tia/eia--Arlington, VA) of the need for a logical means of labeling all the components of a network.
So why don`t all installers follow the standard? Unlike the National Electrical Code (nec), the tia/eia-606 standard is simply a recommendation--a set of guidelines. "In the electrical industry, you must follow the nec," says Brien Christopherson, industry manager for the Identification Solution Div. of Brady Worldwide Inc. (formerly Brady usa Inc.--Milwaukee, WI). "An inspector comes out and, if you don`t meet code, it`s up to you to solve the problem." Because telecommunications cabling does not involve life-safety issues, compliance to the standard is not mandatory.
Todd Fries, manager of identification systems at Tyton Hellerman Corp. (Milwaukee, WI), offers this explanation: "tia/eia-606 is actually pretty simple; people think it`s more complicated than it really is. All it states is that you need to identify your wire and cable, starting point, wallplates, patch panels--everything has to be identified so someone coming back in later can easily trace your work and make repairs as needed."
Although there is no penalty for not following tia/eia-606, the marketplace sometimes exerts its own pressure to comply. Bill Spencer, president of Network & Communication Technology (Park Ridge, NJ), says, "In large companies, the telecom manager writing rfps [requests for proposals] can either specify how he wants the labeling done, or he can write an rfp and refer to the tia/eia-606 standard. We`re finding that the telecom manager who wants job security will refer to the standards as the foundation of his rfp. The contractors get these rfps, and they`re responding to them in their bids. If the telecom manager defines the labeling scheme himself and it doesn`t work, he could lose his job."