Illinois home showcases high-tech cabling
People increasingly want the high-tech infrastructure they use in the workplace designed into their homes.
Dec 1st, 1998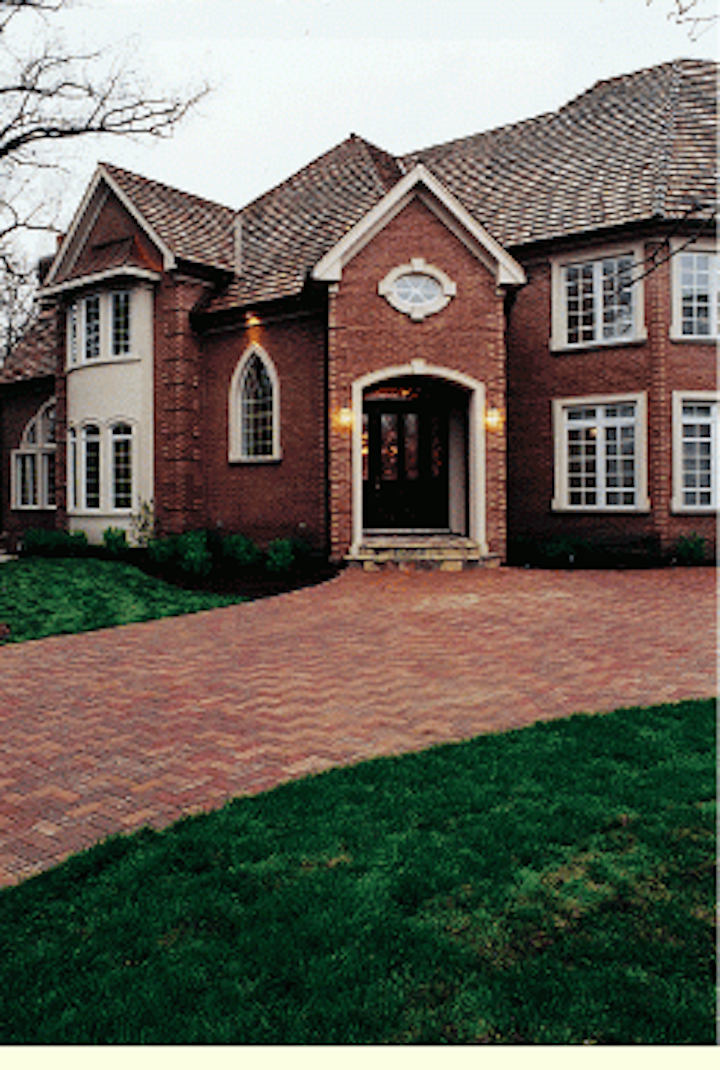 People increasingly want the high-tech infrastructure they use in the workplace designed into their homes.
Richard S. Kaplan
GS Metals Corp.
A custom-built home in the Chicago suburbs offers a look at the kind of cabling infrastructure that is becoming more common as we approach the next century. Dubbed the "Millennium Home," the million-dollar house was cabled by Audio Video Environments (Chicago, IL), a design and installation firm specializing in residential data, telecommunications, and video-distribution cabling. According to Dennis Mariasis, the company`s president, progressive homebuilders are adding value by installing a cabling infrastructure that meets the communications needs of their customers.
"Homes of the future are going to have to be fully compatible with the high-speed data and telecommunications available in the modern workplace," says Mariasis. "Right now, the vast majority of homes would be considered bottlenecks for electronic data and telecommunications technology. We`re at a stage where it`s a bit like trying to pass an elephant through the eye of a needle. You can do it, but it`s a slow process and what you get on the other side no longer much resembles an elephant.
"Progressive homebuilders know what`s coming because they realize that virtually every client is currently or potentially a computer owner," Mariasis continues. "Home location, appearance, and physical comfort will, of course, remain critical components for housing customers. But more and more, homes are going to have to work, and that means being fully functional with high-tech telecommunications and data-transmission technology, which will in the future have to comply with [Federal Communications Commission] standards.
"Homebuilders can`t treat high-speed data, telecommunications, and coaxial cabling as an afterthought. If they do, they`re going to find themselves making profit-eating adjustments that could have been avoided by taking into account customer needs in advance--long before any design-limiting building occurs," he adds.
During the planning stage of the Millennium Home, Mariasis and his employees were able to "shadow" the home`s buyers to get a feel for their lifestyle and how they use technology. The company was then able to incorporate that lifestyle information into a structured-cabling infrastructure plan.
"From the lifestyle investigation," Mariasis says, "we knew that the owners wanted a number of things that would have to be supported by a structured-cabling infrastructure. On the computer side, direct PC satellite feed and local area network [lan] access would be needed in the first-floor library, third-floor office, and in the kitchen, where the wife intended to maintain the couple`s schedule for access throughout the network. On the entertainment side, they wanted whole-house audio capability as well as satellite-fed, surround-sound television in both a great room and a separate media room. Secondary television units required cabling extended to a workout room, master bedroom, and second bedroom. Additional cabling would support the home`s basic telephone system access points. Also, cabling would be required for a voice-prompted alarm system and an infrared remote-control system network.
"Actually, by our standards, the owners of the Millennium Home are not high-tech people," Mariasis adds. "They did not want high-tech elements imposing on living space, so it was our job to hide the support system so that it would basically look like a regular home and not flaunt all the technology involved."
Cable-management system
One of the first decisions made on the cabling project was to select a cable-management system that would handle any currently available cabling protocol, plus provide access for future expansion of the system. The cable-management system was of critical importance to Mariasis because it would dictate the ease or difficulty of the installation and the system`s adaptability for future expansion.
"One of the unique challenges of working with [this house] was the density of mechanical systems present," Mariasis relates. "This is a home that is built to the extreme for creature comfort and convenience. And that requires a large amount of mechanical system support. Consequently, going into this project, we knew that we were entering an environment where mechanical systems had top priority for installation and, consequently, they`d be in place before we got our own installation opportunity. That meant we would have to work around them to supply necessary cabling support.
"Just like any contractor or installer, we weighed the various factors that ultimately determine a job`s profitability. We looked at each cable-management system option and estimated the cost of material and the time required for installation. Because of the numerous obstacle-avoidance requirements, most cable-management systems were eliminated because of all the special parts and pieces required in making bends, drops, etc. Those special parts and pieces get very expensive in environments where many have to be used. And then the time to install such parts and pieces can add to the labor cost of a job. To do such a job profitably, we had to have a cable-management system that was extremely flexible and simple to install, without jeopardizing the integrity of the cable it would support."
The need to get in and get out quickly with the cabling infrastructure work was compounded by the fact that some walls were left open for installation of the cable-management system. It was important that the installers put the system in place quickly so that drywall could be put up. Any unforeseen delays imposed on drywall installers due to cabling problems could cause expensive scheduling headaches.
Mariasis selected the Flextray cable-management system from GS Metals Corp. (Pinckneyville, IL) to create both the cabling trunkline pathways and cabling-distribution network. The system fits perfectly with Audio Video Environments` recommended Total System Integration (tsi) protocol, which matches system components to client needs. Mariasis believes the tsi protocol is a better alternative than trying to cram specific needs into typical off-the-shelf protocol packages.
"The Flextray system provides unquestioned cabling support for sensitive, high-speed cabling," Mariasis says. "Large bandwidth, high-speed data cabling is not telephone or electrical supply cabling. If you abuse it by pulling on it too hard or drape it around an obstacle with a tight radius, you`re asking for performance problems."
The Millennium Home project required Enhanced Category 5 copper cabling, rated at 350 megahertz for data transmission, compared to standard Category 5 cabling rated at 100 MHz. The video-transmission cabling used in the project was extended-frequency coaxial cabling rated at 2 gigahertz instead of the standard 1-GHz cabling.
"The cable-management system was installed and did whatever it took to get around obstacles without ever jeopardizing cabling support for the extremely sensitive cabling products," Mariasis says. "Heating, ventilation, and air-conditioning components, electrical components, and the home structure itself were never a roadblock. Unexpected adjustments to the system--because of a beam, ductwork, or electrical conduit--could be made by simply snipping the wire mesh with an offset side-bolt cutter and bending it into the desired pathway shape.
"Solid tray systems could have been used in the project, but they would have doubled the installation time because of specialty parts required for the installation. With the Flextray system, there aren`t any specialty parts needed to create directional changes. Snip-and-bend adjustments to the rigid wire-mesh product can be made in seconds, speeding installation time. As it was, we were able to install 200 feet of the system in essentially one day with no more than two people ever working at one time."
The Millennium Home required two standard tray widths--6- and 8-inch--in standard 10-foot lengths. Trunkline runs were constructed with the 2-inch-deep, 8-inch-wide system. Distribution runs were made from the 6-inch-wide system. The system can further reduce to a 2-inch-deep, 2-inch-wide standard size suitable for conduit-like tasks without detriment to the total enclosure.
"Once we had the basic cable-management system in place," Mariasis explains, "we had our cabling foundation ready for installation. Specialized cabling for telephony, video distribution, alarm system, whole-house audio, infrared remote control, and direct-broadcast services was simply laid into the cable- management system and delivered wherever it was needed.
"Even though this house uses quite advanced data and telecommunications cabling today, it will require upgrading to keep up with the wired and wireless protocols of the future," Mariasis says. "The great thing is, we have an accessible, basic cable-management system in place that will handle those changes. And it`s all tucked away in a workmanlike manner outside of living-space sight."
In addition to meeting the Millennium Home`s cabling needs today, Audio Video Environments also built in room for future growth. A 21/2-inch polyvinyl chloride chase reaches from the home`s downstairs mechanical room up into the attic, where additional cabling can be installed to meet any future needs for direct-TV, direct-PC, and terrestrial broadcasting systems.
Not just for the upscale
Because this is a very high-profile project, some might dismiss such an infrastructure as only necessary for the homes of the very well-to-do, but Mariasis warns, "The truth is that data, telecommunications, and video-distribution cabling is not just a concern for upscale, custom-built homes. Middle-class and upper-middle-class homebuyers are already at the stage where they will soon, more often than not, need a professional cabling infrastructure in their homes.
"These people are working with computers every day in a small-office/home-office environment," Mariasis says. "They`re going to want and need the electronic services that cabling brings into the home."
Residential communications is about to take a giant leap with the availability of ever-newer technologies, according to Mariasis. He says that dedicated T1 (1.554-megabit-per-second) lines and Integrated Services Digital Network (isdn) lines are just a step away from the homeowner`s front door, and a low-earth-orbiting satellite (leos) network that is being put in place will ultimately be available to residential customers. The leos network could potentially offer services generally delivered by T1 and isdn lines and do it as well, if not better. Residences will have to be prepared to accept this technology and others that are yet to be born.
As residential cabling exists today, Mariasis says, new homebuyers are finding that they`re buying mud roads in an age of information superhighways. Right now, homebuilders aren`t feeling much heat for their lack of foresight. But that will change.
"If you were buying an average new home today and a homebuilder showed you a display model with window air conditioners sticking out, what would you think?" asks Mariasis. "In the not-so-distant future, homebuilders who don`t install an adequate cabling infrastructure are going to find themselves in the ludicrous position of selling new houses with the communications equivalent of window air conditioners."
The message that Mariasis would like to get across to fellow cabling-system designers and installers is this: The need for residential cabling is here right now and those homebuilders who recognize it will reap the benefits from satisfied homebuyers. Cabling-system designers and installers can play a valuable role in building a positive relationship between the homebuilder and homebuyer. First-rate designers and installers who develop these relationships through expertise and performance will be highly valued by homebuilders as they`re forced by the marketplace to turn dirt roads into smooth superhighways.
Richard S. Kaplan is manager of marketing communications at GS Metals Corp. (Pinckneyville, IL).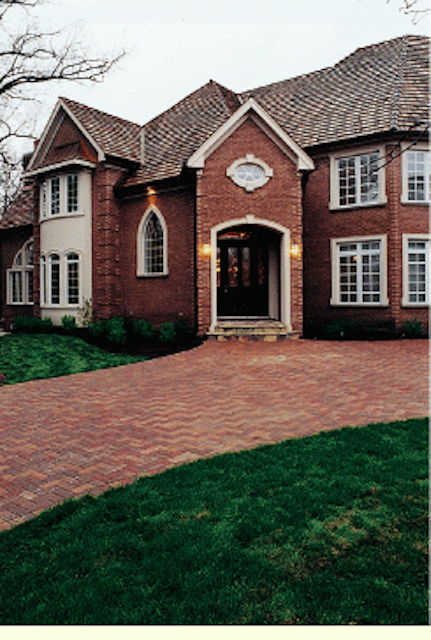 Click here to enlarge image
The Millennium Home in Lincolnshire, IL, features state-of-the-art residential cabling, including Enhanced Category 5 and coaxial cabling for telecommunications and security needs.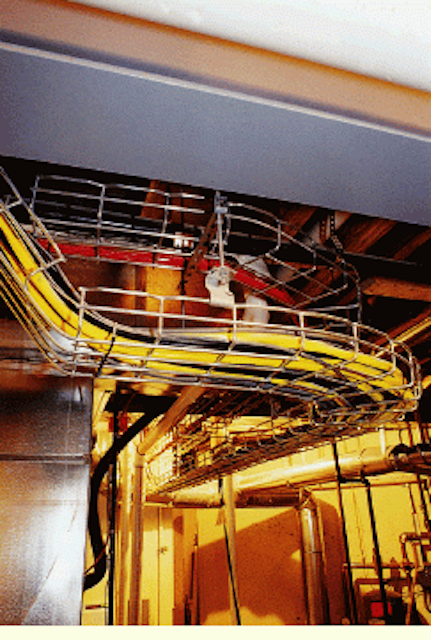 Click here to enlarge image
The Flextray cable-management system from GS Metals can be configured to minimize bending of fragile cabling.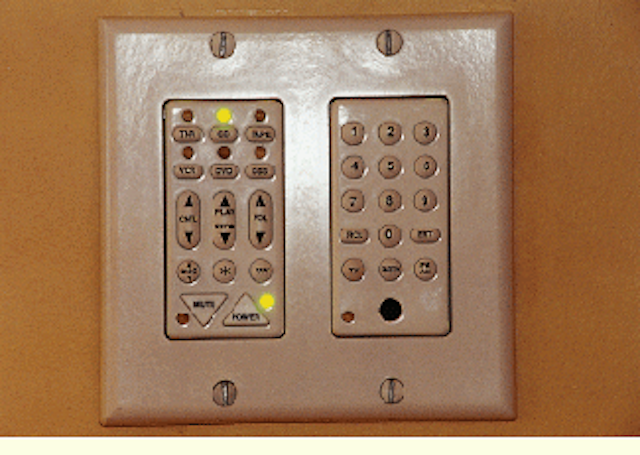 Click here to enlarge image
Multimedia outlets offer consolidated plug-in points.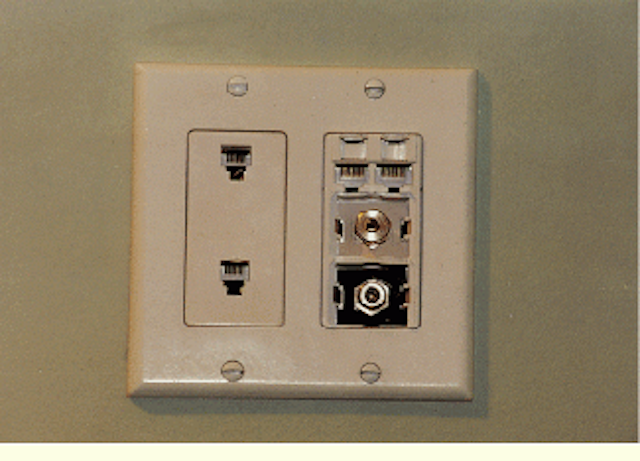 Click here to enlarge image
An integrated control pad provides access to the home`s various systems, including computer hookup, tv/vcr operation, and telephone.