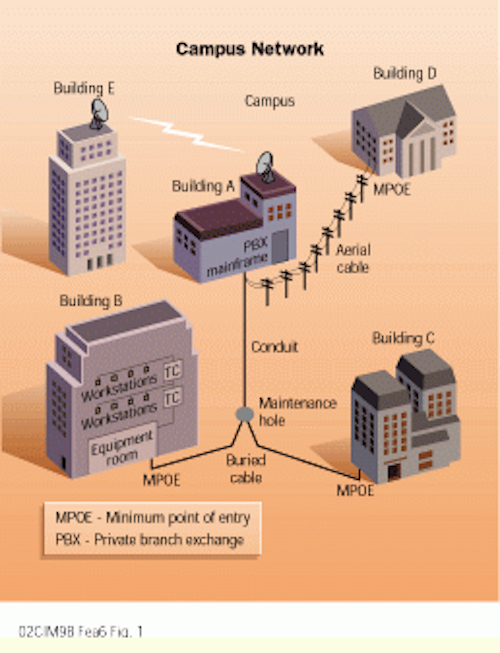 Designing a campuswide communications network requires artistry as well as understanding.
Anthony T. Minichiello / Maximis Communications Consultants
A telecommunications consultant can be described as a collaborator who assembles diverse technical knowledge about planning, design, and hardware and composes it into an artistic whole for existing and prospective purchasers of telecommunications systems.
The goal of composing a campuswide system is to ensure the proper design, integration, and functioning of a telecommunications network that connects multiple buildings together into a single, operational system. Voice, data, and video can then be distributed over a broad geographic area, using wireless signals as well as copper and fiber-optic cables.
The generic classification "campus" is not limited to colleges and universities. Other environments that use campus telecommunications systems include airports, hospitals, military establishments, industrial complexes, business parks, and commercial condominiums.
By definition, an outside-plant network includes all cable and wire that extends outward from the private branch exchange (pbx) mainframe protectors, as well as supporting structures such as conduit, maintenance holes, or poles necessary to connect communications equipment to the minimum point-of-entry protectors of all buildings on the campus.
Before designing an outside-plant telecommunications system, the consultant must determine the project`s size and scope. A typical purchaser of this type of system might be a university, with a campus of approximately 15,000 students and 150 buildings, including classroom and administration buildings, and residential buildings that range from one to fifteen stories in height and from one to one hundred years old.
The topography of this prototypal campus could range from level ground on a main street, to buildings placed on steep hills, with soil conditions ranging from sandy gravel to granite ledge. Also, the weather conditions may vary from 30oF with snowfall in winter to 100oF during the summer.
Our hypothetical campus has a network of aging underground steam pipes, narrow tunnels, and maintenance holes. It also maintains a private water system, a private underground and aerial electrical system, and a five-year-old underground network of natural-gas pipes.
The first step in designing the campus network is to identify and understand the needs of the occupants of each building on campus. Such needs are usually categorized as "plain old telephone service," data, video, and special circuits such as T1, T2, and T3. Needs can be subdivided into present, proposed, and ultimate requirements.
Once assembled, this information can be organized as follows:
- Media used--copper cable, fiber-optic cable, coaxial cable, video cable
- Trunk routes--large-size cables originating at the switching center and associated with underground maintenance-hole and conduit-carrying plant
- Branch routes--small cables designed to serve a building for its expected life
- Legal issues--environmental guidelines for pole placement, disposal of fill, and maintenance-hole water pumping; Occupational Safety and Health Administration regulations; building codes; rights-of-way (municipal, state, and federal); tree removal; and property boundaries (including encumbrances)
Using a site plan, you can now lay out the campus interbuilding trunk and branch routes connecting all buildings to the pbx origination point. Note in the figure the recommended type of underground and aerial carrying plant required to support the cable-plant media on the site plan. Final determination of the type of equipment required for the installation is then made based on field review of the topography.
With the interbuilding routes and types of cabling tentatively identified, the sizing of trunk and branch routes can be determined, based on the customer`s estimated requirements.
Planning of a typical campus telecommunications system must include the following:
- Plans--Make a site plan of present and proposed buildings, including architectural, electrical, mechanical, utilities, roadways, and other elements.
- Building entrances--Identify all existing and proposed branch-route entrances by cable size and type (entry, underground, or aerial).
- Main switch--Identify present and proposed location, including the regional Bell operating company`s cable-entry facility or competitive wireless or radio interface.
- Trunk routes--Identify proposed trunk routes, designating branch-route splice points in maintenance holes.
- Branch routes--Identify branch routes to each building, showing the splice point from the trunk route in the maintenance hole.
- Carrying plant--Identify each type of carrying plant to be used for present and future use, including maintenance holes, conduit, buried trenches, aerial pole lines.
- Transmission--Identify the boundary of the overall campus facility to establish requirements for copper gauge and fiber attenuation; add linear distance from main switch location to each maintenance hole, building, and significant network element.
- Field review--Review overall campus design with the customer, as well as with municipal, federal, and other involved authorities.
After all parties approve the schematic design, the next step is to size the media-carrying plant to meet present and planned transmission requirements. Part of this step is to recommend the type of carrying plant to be installed.
For underground applications, recommend the type and size of maintenance holes and handholes. Specify poured or precast concrete, or other material type, including racking and maintenance-hole apparatus.
Where conduit will be used, recommend the type and size--for example, 4- or 3-inch--and whether the conduit will be plastic or concrete. Specify a concrete overlay, if needed. For trunk routes, base conduit-run size on expected use, including spares for future growth. For branch routes, specify conduit runs to each building, and again, provide spares for future use. For innerduct, specify fiber-optic cable, including planned expansions.
Recommend the width and depth of the trench that will contain buried cable. Also, specify whether the cover will be soil or concrete, and consider placing spare conduit for future use. Recommend a joint-trench option with other utilities if the applicable safety codes permit it.
When pole lines are to be used, recommend the types of aerial cable and strands to be strung, depending on cable weight, span length, pole height, guying needs, and separation from electrical cable required by the building code. Consider using poles jointly with electric-power utilities if the voltage carried permits sharing. Also, review pole-use agreements as well as applicable rights-of-way and licensing paperwork.
The final step in planning an outside-plant network is to recommend the type and size of cable media for different locations, stipulating whether it is to be buried, aerial, or run in conduit.
You can determine the size of the media needed by examining information provided by the customer. That information should include voice pairs per station for each building, data pairs per station per building, cable-TV connections per building, and special circuits per building.
When determining the type of medium--copper, fiber- optic, or coaxial cable--make sure to provide separate cable for each application; do not commingle types of cabling. Also, eliminate all bridge-trap and multiple-pair assignments in cables. Identify cable taper points and splice locations that could affect home runs into buildings.
Topology affects planning
The topology planned for the network will affect your planning. A star topology is typical for trunk-and-branch networks, with the placement of cable resembling spokes running from a central hub. A ring topology is commonly used in Fiber Distributed Data Interface networks. This topology joins buildings in sequence, finally arriving back at starting point, so no central hub is involved. A hybrid topology combines star and ring formats and is considered by many to be the ideal solution for campus systems.
Another consideration when you are designing an outside-plant network is the information that will be transmitted. Voice transmission usually requires one type of medium, while data transmitted at higher rates requires a different medium and probably a different topology as well. The distances different media can run uninterrupted are specified by standards and circumscribed by manufacturers` design limits.
You may find it worthwhile to consider using an interface and digital-loop carrier system to divide the trunk network from the branch distribution network.
Electrical protection is still another factor to consider. Employ bonding and grounding to meet the requirements of different types of cabling media and carrying plant, making sure to comply with applicable electrical and municipal codes.
This procedure for designing a campus telecommunications system has been field-tested and has proved to be cost-effective. It should translate into a network that is simple to design and construct. The design that results ought to minimize cost and maximize customer satisfaction.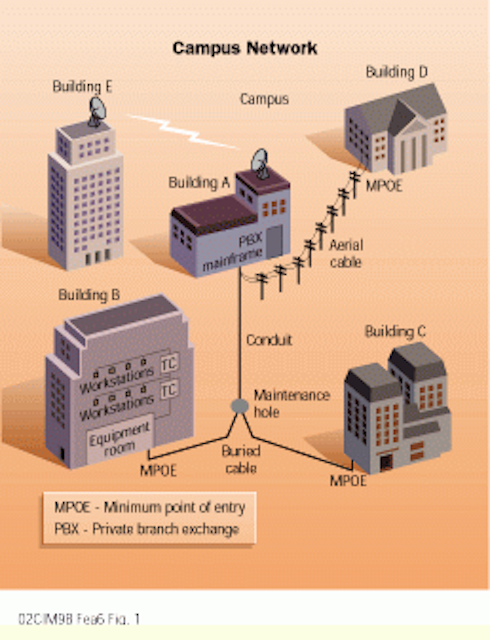 Click here to enlarge image
Customer-owned outside-plant infrastructure is defined as the cabling media and carrying plant that connect the minimum points of entry of the buildings on a campus. Excluded are the inside wiring and components joining equipment or computer rooms, telecommunications closets, and workstations within buildings.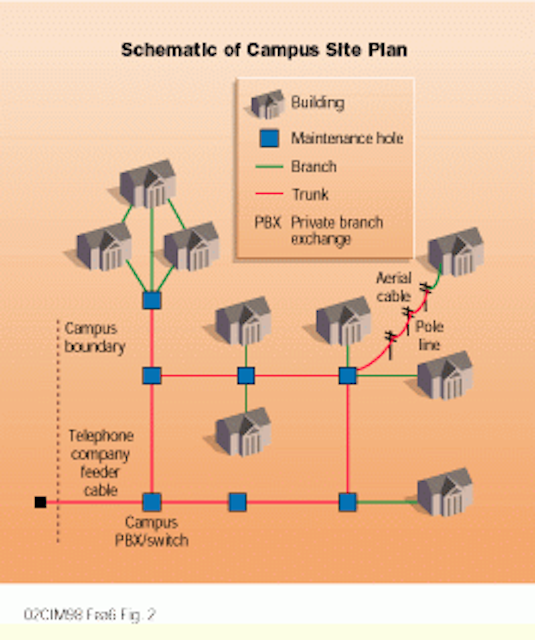 Click here to enlarge image
A schematic design should incorporate all the elements of an outside-plant communications system, including buildings, aerial cable, maintenance holes, and switches.
Anthony T. Minichiello is the principal of Maximis Communications Consultants Inc. (Concord, NH). An honorary life member of bicsi (Tampa, FL), he sits on that organization`s governmental relations and publications advisory committees.