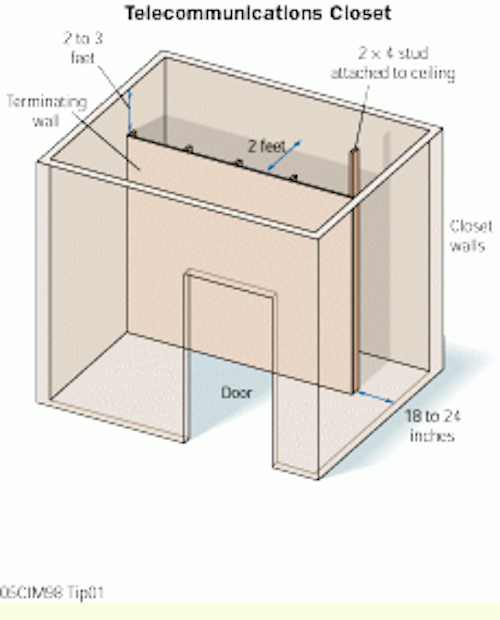 Jim Slaymon, usa Group
problem
In telecommunications closets, most terminating walls are made of plywood and built using 2 x 4 stud framing. Most are also located within inches of the closet wall. Dropping and routing cables through the back side of the terminating wall can be time-consuming and can create problems when you try to access these cables. Installing additional cables after the original installation can also take considerable time because of space constraints. Separating cables is difficult, and when you pull a cable through the terminating wall, you can easily damage its protective sheath. Also, if you drop a tool behind the terminating wall, it will very likely be gone forever.
solution
Build your terminating wall approximately 2 feet away from the closet wall. You can use the same 2x4 construction you normally would, but do not construct your terminating wall to be the same length as the closet wall. Instead, make the terminating wall 18 to 24 inches shorter than the closet length to allow you access to the cables behind the terminating wall. When you route cables through the wall from behind it, you run a much lower risk of damaging them than you do when you pull cables through from the other side. Also, with this setup, adding cables after the original installation takes only minutes. Finally, you do not run the risk of losing your favorite pen or tool behind the wall.
procedure
1) Measure 24 inches out from the closet wall and construct your 2 x 4 frame the way you normally do. Remember to stop your wall at least 18 inches from the side wall to allow access. The height of the terminating wall should be specified by the end-user. Typically, a terminating wall is 7 to 8 feet tall, allowing access to cables and cable-management hardware above the wall if necessary.
2) Because you will not anchor the frame to the closet wall, install a 2 x 4 stud that is tall enough to reach the ceiling on the access end of the wall.
3) Anchor this 2 x 4 stud to the ceiling to provide stability to your terminating wall.
4) If your closet does not allow sufficient space to build the terminating wall away from the closet wall, then at a minimum, use 2x10 studs instead of 2 x 4 studs when constructing the wall. While not ideal, this solution does provide some additional space for post-installation additions and limited access behind the terminating wall.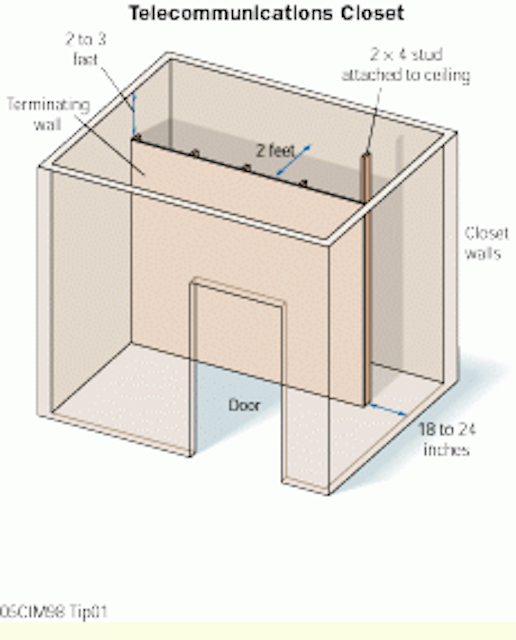 Click here to enlarge image
This top view of an empty telecommunications closet shows the terminating wall standing approximately 2 feet away from the closet wall. The terminating wall is also shorter in length than the closet wall, allowing cabling installers and technicians access behind the terminating wall.
Jim Slaymon is special projects consultant in the network services department of the usa Group (Indianapolis, IN).