Years-old cabling carries end-users toward future
It is no accident that case studies describing the cabling plants at colleges and universities frequently appear in the pages of Cabling Installation & Maintenance. Academic institutions often encompass several areas of cabling and cabling-plant management that we believe you, our readers, can benefit from reading about, including buildings with multiple telecom- munications closets (TCs), cabling runs that span several buildings, and environments that are subject to frequent moves, adds, and ch
Jul 1st, 1998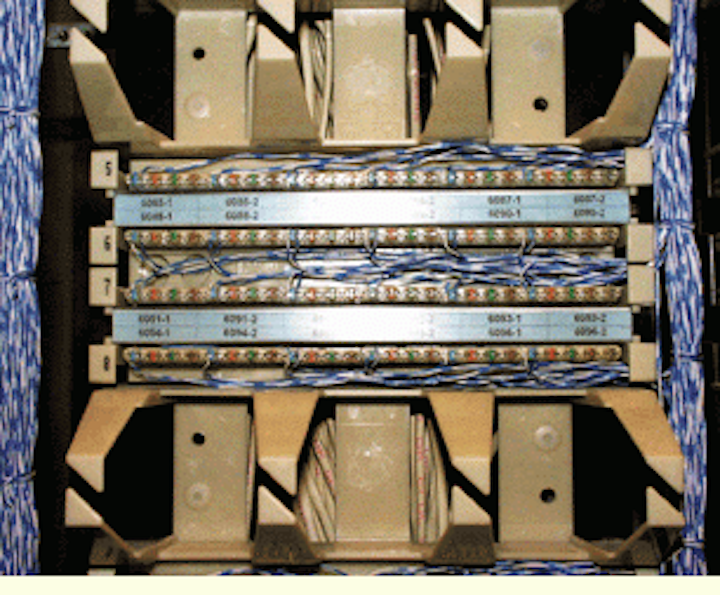 A university library and a software company do their homework and reap appropriate rewards.
Patrick McLaughlin
It is no accident that case studies describing the cabling plants at colleges and universities frequently appear in the pages of Cabling Installation & Maintenance. Academic institutions often encompass several areas of cabling and cabling-plant management that we believe you, our readers, can benefit from reading about, including buildings with multiple telecom- munications closets (TCs), cabling runs that span several buildings, and environments that are subject to frequent moves, adds, and changes. On the other hand, business and industry environments have communications-infrastructure needs that frequently differ from those of academic institutions. So over the course of a year, we offer you stories that describe cabling in several different environments.
However, if you`re involved in a cabling project, whether or not you`re on a college campus, the term "homework" is likely to come up. That`s because if you`re going to get the most out of your cabling, then you will have to use forethought and put in some up-front effort before the first cable is pulled. Two installations that we featured in our early years of publication--one at a university and the other at a software company--demonstrate that an initial investment of time and energy can pay hefty dividends.
What we learned at the library
We first told you about the wiring system within the Central University Library at the University of California, San Diego (ucsd), about five years ago (see "Standards-based wiring system ensures networking flexibility," October/ November 1993, page 15). Before the building was cabled, ucsd staff members designed the library`s voice and data systems. By purchasing all cable, connectivity components, cable-housing equipment, and network electronics directly, ucsd saved money because it didn`t have to go through a middleman.
ucsd chose cable from amp Inc. (Harrisburg, PA) that incorporates four unshielded twisted-pair (utp) copper wires, and for a few workstations, cable that also included four multimode fibers. The school also chose amp communications outlets that accommodate two or four adapter inserts at each wall or desk location.
Earl Balch, network and programming services manager with the ucsd libraries systems department, reports that the communications infrastructure has met the university`s needs over the years. "We`ve used the facilities to our advantage and have not changed anything significantly," Balch says. "We continue to employ these standards in this and other library locations."
He says that presently, fiber cabling links main equipment rooms to TCs and also links TCs to one another. "We`ve pulled almost no fiber to the desktop and are not yet using it there," Balch continues. "We use copper to connect desktop locations back to the distribution frames, where the network electronics and dial tone exist."
The standard wiring supports voice and data, analog and digital telephones, an Ethernet protocol for workstations and servers, and terminal-to-terminal server data connections. Balch praises the amp communications outlets. "The amp system allows us to terminate 4-pair cables and then use the various inserts to configure the wire for whatever service or combination we need," he points out.
Most users within the ucsd library system use 10-megabit-per-second Ethernet, Balch says. "We`ve used some 100VG-Anylan and plan to use some Fast Ethernet in the near future." The libraries on campus are linked in a Fiber Distributed Data Interface configuration, with some other campus buildings connected by an Asynchronous Transfer Mode (atm) network. "We plan to move to atm switches for backbone service and may eventually bring atm to the desktop for some special purposes," Balch concludes.
The office is the manufacturing plant
BMC Software Inc. (Houston, TX) has data-communications needs that vary greatly from those of ucsd, but the firm, much like the university, has found that good choices early in a cabling project can pave the way for smooth transition and expansion later.
Featured in this magazine in late 1994, bmc is a growing developer of software for database-management and data-communications systems (see "Planning: The key to tackling large installations," December 1994, page 29). The company is growing so much, in fact, that it recently finished construction on a nine-story building that accompanies the twenty-story building featured in our December 1994 issue. And while our initial story emphasized the necessity and benefits of planning and preparation in a cabling project, the recent construction at bmc is testament to the value of a high-performing cabling system and high-quality installation.
Blake Collignon, a senior telecommunications analyst with bmc who oversaw the cabling installation in both the original and new building, had enough confidence in the initial system to recommend the same products for the second installation. bmc`s cabling system of choice was called at&t systimax at the time of the initial installation; at&t is now Lucent Technologies (Murray Hill, NJ), and the system is called systimax GigaSpeed.
"The nine-story building is GigaSpeed, top to bottom, with a fiber backbone and copper in the horizontal, just as in the original building," Collignon says, adding that about 1800 feet of singlemode and multimode fiber-optic cable run between the two buildings. "The structured cabling system here has been perfect for our environment. We`ve run everything from Ethernet to Token Ring, both low-speed and high-speed, that we originally planned to run on the cable, with no problems at all. The cabling plant has been very beneficial because all the needs that we had and we anticipated when we specified the job years ago have been met."
He recalls that in 1993, bmc`s network performed at 2 Mbits/sec. Today, he says, the company runs 100-Mbit/sec Fast Ethernet. "That`s quite a jump in speed," he says, "and the fact that we don`t know exactly what protocol we`ll be using or how fast that protocol will run four or five years from now was a good selling point when I was cost-justifying the GigaSpeed system for the new facility.
"With respect to the network and cabling, there`s no reason to balk at the price of a high-level system," he explains. "We`re a software company. We don`t deal with boilers or production lines. The network and the cabling are the manufacturing plant. That`s not an area to start cutting expenses because that`s the whole lifeline of the company."
In fact, Collignon says that bmc has chosen the GigaSpeed system as the standard cabling infrastructure for all its facilities worldwide. The company has recabled several sites, including those of companies that bmc has acquired, that did not have the GigaSpeed system in place.
Collignon also comments that the selection of Electra Link (Spring, TX), the installation firm that worked on the 20-story building, also turned out to be a good choice. Electra Link worked on the original building, and bmc contracted with the firm to cable the second Houston building.
Collignon says the two bmc buildings in Houston can be considered a success story. "Things have gone well with the cabling here," he reports. "We`ve put two, and in some cases three, people in a single office because of company growth. And the cable plant has accommodated the growth. The offices in the new building will also be double-occupancy, and the cabling we put in there will be able to handle that as well."
Click here to enlarge image
The handiwork of Spring, TX-based cabling-installation firm Electra Link is shown at this connecting block in bmc Software`s new nine-story building.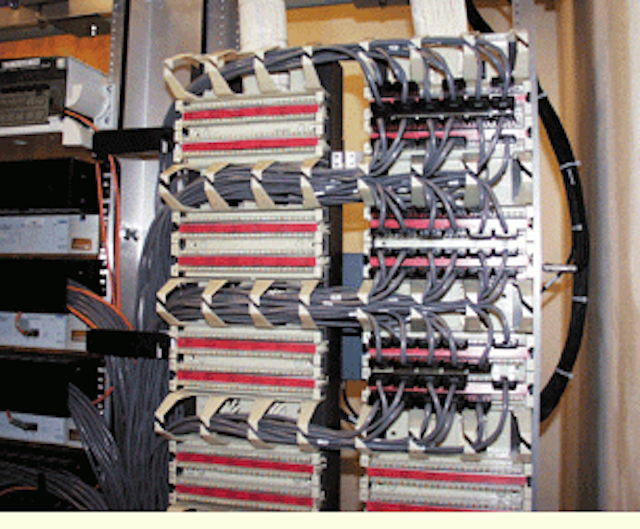 Click here to enlarge image
BMC Software has chosen Lucent`s systimax GigaSpeed system, shown here inside a crossconnect in bmc`s new building, as the network infrastructure for all its facilities.