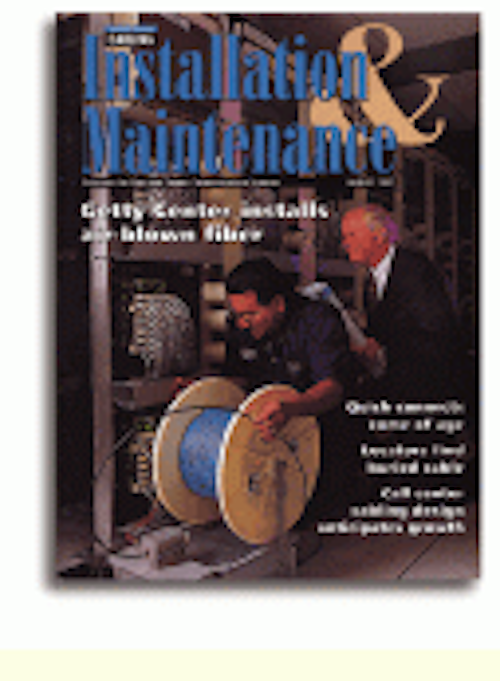 Arlyn S. Powell, Jr.
One of the themes running through last year`s issues was a heightened awareness of business trends, culminating in December in a special report that looked at the cabling market over the next decade. A key factor in this growth is sure to be fiber-to-the-desk, which was the subject not only of half a dozen regular articles in the magazine but also of a series of special reports solicited from the tia`s Fiber Optics lan Section (fols).
In addition to fiber-to-the-desk, several other technologies are either contributing to market growth today or are expected to do so in the near future. Central among these technologies is what is now being called enhanced Category 5 utp, whose cable and components are designed to perform above Category 5`s 100-megahertz performance limit. In addition to enhanced Category 5, Category 6 and Category 7 performance standards are now under consideration by the tia`s TR-41.8 subcommittee.
The highest of these categories is expected to call for screened or shielded cable (sctp or stp), versus utp, and so manufacturers of these products, particularly in Europe, where shielded cable is already widespread, are positioning themselves for growth in the U.S. market. Coaxial cable, which is also shielded and provides higher bandwidth than utp, is also seeing something of a rejuvenation, particularly in the hybrid fiber/coaxial-cable networks being constructed by cable-TV companies. Today, however, the campus and premises wiring market remains essentially two-media: optical fiber and utp copper wire.
Another medium that has received some attention but has not yet come into widespread commercial distribution is plastic optical fiber (pof).
If cable management was a theme in the magazine in 1996, it was followed in 1997 by a related topic: patch cords and patch-cord management. Patch cords are essentially the final link in the transmission chain to be examined by the tia`s standards-setting committees, and they represent big business for a number of cable manufacturers. It`s no wonder, then, that the debate has at times been heated.
A final business trend that began to take shape in 1997 was a surge of growth in the residential-cabling market--and especially in what is being called the small office/home office market. There has been little demand for cabling and networking products in the home in the past, but with the increases in outsourcing by businesses and telecommuting by employees--coupled with the migration of digital and computing technologies into residences--that situation is changing rapidly. Many of the major cabling and connector manufacturers have recently introduced residential low-voltage wiring product lines.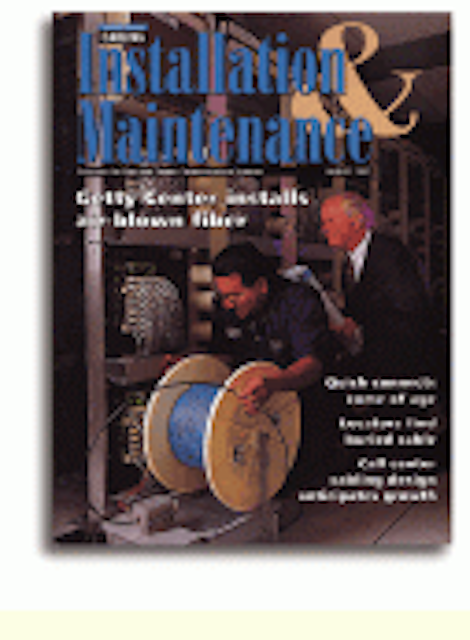 Click here to enlarge image
At the Getty Center in Los Angeles, CA, project foreman Gary Juarez of aidco Inc. prepares to blow in air-blown optical fiber while project designer Patrick Gorrell looks on. This photo appeared on the cover of the August 1997 issue.
Highlights from 1997
Memorable thoughts
"The next generation of fiber technology will change the wiring industry for installers and end-users."--Robert H. D. Lacey, 3M Telecom Systems Div.
"Documentation simplifies network-problem location, saving countless hours of troubleshooting." --Lisa Schwartz, Microtest Inc.
"The time from ignition to flashover in a typical basement recreation room fire was roughly three minutes in tests."--Joseph R. O`Brien, Nelson Firestop Products
"Devising a recovery plan, and informing staff members of that plan, are the most important steps in preparing for an outage."--Scott Bowman, Liebert Global Services
"It is the responsibility of installers and end-users to oppose installation requirements that they believe to be impractical in the field."--Dennis Mazaris, PerfectSite Inc.
Candidates for the CI&M Hall of Fame
"The reality of patch-cord management" --Dennis Mazaris, PerfectSite Inc.
"Zone cabling increases flexibility in open offices" --Tony Beam and Ken Hall, amp Inc.
"The coming revolution in residential wiring" --Frank Murawski, ftm Consulting
"What cabling installers need to know about building fires"-- Joseph R. O`Brien, Nelson Firestop Products
"Designing telecommunications for small offices and home offices"--Ernest F. Brosch, Cable Engineering Services
"Office design for knowledge workers"--George Weller, Steelcase Inc.
Historical oddity
"Today marine mammals perform before large audiences at Sea World. In the future, when the theme park installs videoconferencing equipment, they will also be able to communicate long-distance with each other."--Sally Smith Crocker, Siecor Corp.