1995--Business issues come to the fore
Cabling Installation & Maintenance`s third year began with the emergence of two important business issues and closed with the announcement of a third. Early in the year the magazine looked at the 15-year and other extended warranties that manufacturers were starting to offer for end-to-end installations performed by vendor-certified installers. Readers also heard from Jeffrey S. Deckman of Synet Inc. (Coventry, RI), who reported on his experience with state licensing of telecommunications instal
Jul 1st, 1998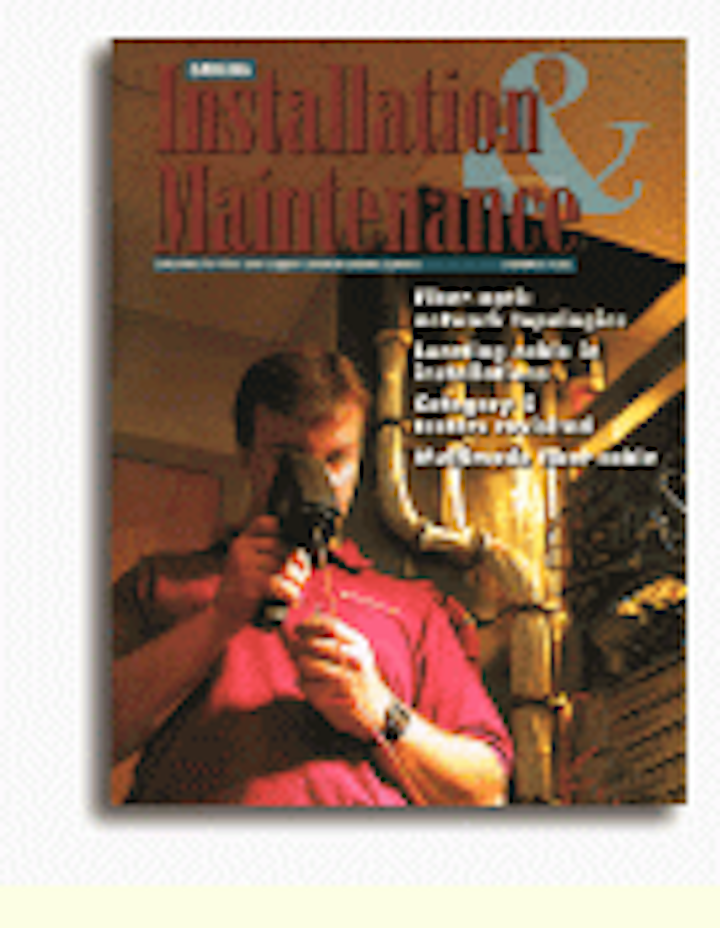 Arlyn S. Powell, Jr.
Cabling Installation & Maintenance`s third year began with the emergence of two important business issues and closed with the announcement of a third. Early in the year the magazine looked at the 15-year and other extended warranties that manufacturers were starting to offer for end-to-end installations performed by vendor-certified installers. Readers also heard from Jeffrey S. Deckman of Synet Inc. (Coventry, RI), who reported on his experience with state licensing of telecommunications installers. The licensing issue is very much alive today and has spread to other states, including Connecticut and Massachusetts.
In 1995, bicsi, a professional association that had hitherto focused on the design end of data-communications and telecommunications distribution systems through its rcdd program, announced that it was extending its attention to installers as well. The following year, bicsi`s Installer Registration and Training Program was born, debuting at the first Cabling Installation Expo, an event cosponsored by bicsi and Cabling Installation & Maintenance.
That year saw the first discussions in print of the shortage of fluorinated ethylene propylene (fep), a cable jacketing material manufactured by DuPont that has been essential to Category 5 plenum cable`s passing fire tests. The fep shortage, which is with us again this year, led in 1995 to substitute jacketing materials being used in one or two of the pairs of 4-pair cable offered by some vendors. The substitute materials contributed to differences in signal propagation time along the wire pairs, creating a delay-skew problem that was addressed by the Telecommunications Industry Association (tia--Arlington, VA).
Just as the first serious mentions were being made in print of the imminent introduction of enhanced Category 5 utp cabling, the makers of Category 5 lan testers were squaring off over analog versus digital technology. With Fluke Corp. (Everett, WA) entering the highly competitive lan tester market with a device based on digital signal-processing technology, the stage was set for an analog/digital "shootout," which appeared in the July issue.
However, if a single technical topic characterized 1995, it had to be open-office cabling. With the tia trying to standardize on technologies to address the complicated problems associated with modular office furniture, the pages of Cabling Installation & Maintenance were filled with debates about zone cabling, centralized network administration, consolidation points, and multiuser telecommunications outlets. Two of the more thoughtful contributions on this issue were penned by George Weller, who is involved in research and business development at modular furniture manufacturer Steelcase Inc. (Grand Rapids, MI).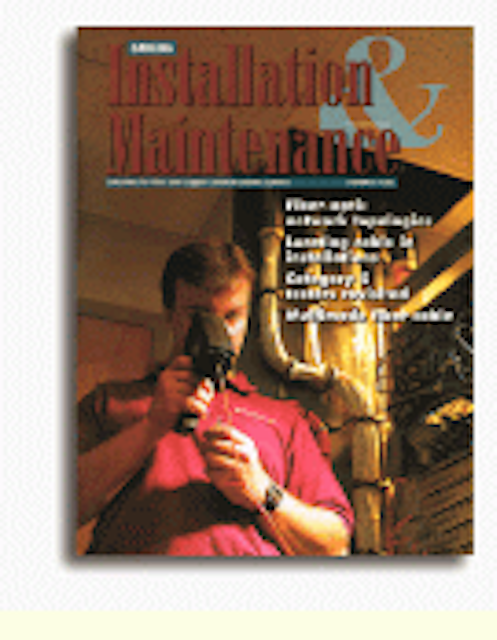 Click here to enlarge image
Chris Beaulieu of Trellis Communications Corp. (Manchester, NH) examines a fiber-optic connector endface with a fiber microscope at a job site in the Wentworth-Douglass Hospital (Dover, NH). This photo appeared on the cover of the January 1995 issue.
1995 on parade
Memorable thoughts
"We listened to our employees and customers when they suggested ways to do things better." --Russ Oliver, then of Comlink, now of WilTel
"Trend predictions give contractors and end-users alike a sense of control over the future."--Arlyn S. Powell, Jr., editor
Candidates for the CI&M Hall of Fame
"Horizontal network topologies for optical-fiber cable systems"--Tony E. Beam, then of Siecor Corp., now of amp Inc.
"Installing fiber-optic cable in premises applications"--Lisa Bechtold, Berk-Tek Inc.
"Installing and testing fiber-optic cabling plant" --Jim Hayes, Fotec Inc.
Historical oddities
"High-performance utp cables that offer enhanced crosstalk values will be able to carry the high-speed network signals currently on the market or under development."--Lisa Bechtold, Berk-Tek Inc.
Then why do we need enhanced Category 5, Category 6, and Category 7?--Ed.
"Help is on the way to meet the increased demand for Category 5 plenum cable"--article by Barbara E. Thompson, formerly associate editor
Following a lull, the fep shortage is very much with us again, as DuPont predicted it would be.--Ed.