Fiber boosts competitive computer gaming
Competitive computer gaming is a relatively new sport that is being given a big boost by fiber-to-the-desk networking. Because of the graphics-intensive nature of computer games, fiber`s bandwidth and transmission speed are critical to the success of the sport.
Oct 1st, 1998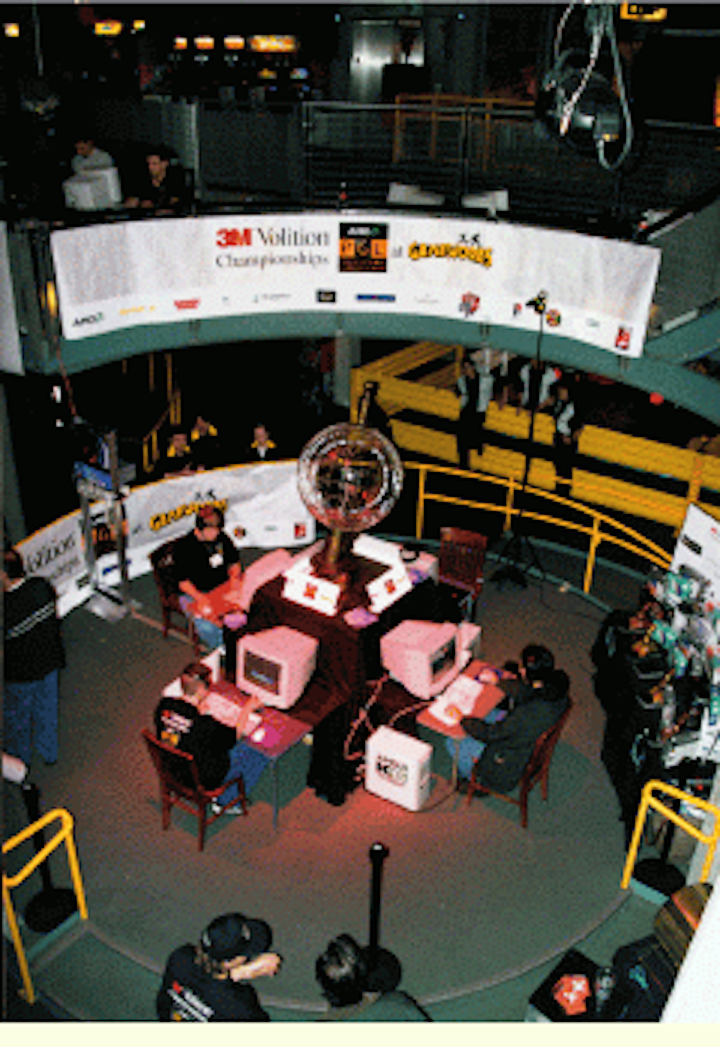 Fiber supports complex graphics applications such as the games played in pgl tournaments.
John Riccard,
3m Telecom
Competitive computer gaming is a relatively new sport that is being given a big boost by fiber-to-the-desk networking. Because of the graphics-intensive nature of computer games, fiber`s bandwidth and transmission speed are critical to the success of the sport.
Expert players now compete in tournaments before spectators in arcades and at expositions, special events, and trade shows. Superstars can bank thousands of dollars in tournament winnings and paid public appearances, and some are being offered sponsorship deals worth tens of thousands more.
All this is made possible through a new professional gaming league that uses a state-of-the-art fiber-optic network to ensure top performance at each tournament. The amd Professional Gamers` League (pgl), a pioneer in competitive multiplayer computer gaming, understands how important it is that these professional gamers show off their skills on a level playing field. For the pgl championships, this means state-of-the art computers and the most advanced fiber-optic network available.
"This is the first real professional league for the sport of computer gaming," says Erik Lundberg of the pgl. "We need to put our best foot forward on every level--particularly on the technical side. That`s the area that most directly affects the players."
Title sponsor amd provided computers equipped with its newest processor, the amd-k6-2, for the tournament. The processor is optimized for maximum three-dimensional performance and realism. "The graphics and action were truly outstanding," says competitor Danny Alires, who won the Quake II action-game competition at the Season II Finals in Atlanta, GA.
The tournament`s physical network was the Volition fiber-optic system from 3M Telecom Systems Div. (Austin, TX). The system erased latency, or transmission delays, often experienced in Internet gaming. "On the Internet, you have to deal with delays because of the slow communication speeds," says gamer Sean Flanagan, winner of the Total Annihilation finals. "Players with better equipment have an advantage. But in Atlanta, the fiber-optic network leveled the playing field. Everything worked perfectly, so I was able to forget about the underlying technology and concentrate on playing the game and winning."
The amd pgl was launched on the Total Entertainment Network in November 1997. Like other professional sports, the pgl conducts pre-season, regular season, and post-season play. "When they reach the finals, it`s particularly important that these competitors be able to concentrate on playing the games, not the performance of the computers and network," Lundberg explains. "The challenge is to eliminate latency, which is why the tournaments are played in face-to-face venues with everyone using exactly the same high-performance equipment."
"Conducting our championships without the best available systems would be like playing the Super Bowl on a muddy, rock-strewn field," says Lundberg. "The competitors couldn`t really show off their skills. And it wouldn`t it be much fun to watch."
The amd pgl`s first-season live championship competition took place in January 1998. The venue was GameWorks` 30,000-square-foot gaming arcade in downtown Seattle. The Season II Finals were held at the Electronic Entertainment Expo in Atlanta in June.
Installing in 100oF-plus temperatures
Temporary venues such as the Georgia World Congress Center can cause a network installer real headaches. The network must be installed in a very short time--often just hours--and space for running cabling is limited. Completing the required terminations can take hours of exacting work. Crosstalk due to electromagnetic and radio-frequency interference can be an issue in temporary copper-cable implementations when network wiring is installed before lighting is in its final location. And maximum length restrictions for copper cable (90 meters, or 300 feet) cause problems when wiring must run around traffic areas and through small overhead conduits. All of these potential difficulties that installers face in a temporary implementation became non-issues with the Volition and other fiber-optic systems. And the Volition system`s duplex plug-and-socket connectors made setup at the tournaments nearly trouble-free.
According to Joe Van Allen, who single-handedly installed, tested, and monitored the network at the Season II Finals, his biggest problem was working in the high humidity and temperatures in the show hall. "They don`t cool this convention center during setup, and it was literally 110oF both afternoons during installation," Van Allen says. "Even so, I installed and tested an 18-node local area network [lan] in two days without a problem. Everything worked great for the entire tournament. In fact, the network really screamed, and we were only using about 2% of its bandwidth."
The competitors, who were accustomed to playing on the Internet, found the live-tournament venue very much to their liking. "Competition in Atlanta was a big step up from competition on the Internet," says Flanagan. A student at the University of North Dakota, he took home a new amd computer and $7500 in prize money.
Alires, winner of the Quake II action-game competition in Atlanta, also won $7500 and a new computer. In an action game like Quake II, performance of the system can have a huge effect on the outcome, he says. "At home, I connect with a 56-kilobit-per-second modem, and that limits who I can play. I can`t compete with the guys using cable modems because of the difference in bandwidth. Their response time is just too much faster than mine."
This handicap changed at the tournament, says Alires, and he thinks it made a big difference. "The speed and smooth performance of this fiber-optic lan were big improvements, especially for people like me who are used to playing with the slower connections. I think it helped me win."
Unlike copper wiring, a fiber-optic local area network (lan) installed today provides enough capacity to support new, more bandwidth-intensive applications for years to come. New connector designs, cabling, and electronics simplify installation, improve durability, and reduce costs for fiber-optic networks. For example, the Volition system from 3M Telecom Systems Div. (Austin, TX) uses a two-part plug and socket, called the VF-45, which is similar to an RJ-45 style modular jack used for copper-wire lans. The socket is made of molded plastic and provides a low-cost, higher-density alternative to traditional ferruled fiber-optic connectors.
The connector`s V-groove configuration replaces the costly and complex ferrule technology used in traditional fiber-optic connectors, and it can be field-terminated. The V-groove plug-and-socket combination simplifies installation without compromising precision. Fiber endfaces in the plugs are beveled, which prevents wear by allowing the fibers to glide smoothly down the V-grooves and align with the stationary fibers of the socket. When the plug snaps into place the fibers bow, creating forward and downward pressure to optimize fiber-to-fiber contact. Unlike multiple fibers in a ferrule connector, the plug fibers move freely and adjust independently and automatically. The plug and socket shapes only fit together one way to ensure that reversed polarity cannot occur.
The system outlets allow integration of the VF-45 and 8-pin modular jack copper terminations for compatibility and ease of use. The outlets and wall adapters fit standard outlet boxes, providing maximum flexibility for a variety of applications.
The Volition interconnect assembly`s cost is a fraction of that of traditional ferruled connectors. This is primarily because the interconnect assembly has far fewer parts than the standard ferruled connector and does not require precision parts such as ferrules and alignment sleeves. The duplex Volition connector replaces two SC connector assemblies and a coupling required for an outlet in both the closet patch panel and workstation outlet. The Volition connector is half the size of the SC connector and as a result requires much less mounting space in racks.
The precision connection formed with V-grooves significantly reduces labor costs as well. Installation is further simplified with the Volition Socket Termination Kit. This kit, which fits into a small pouch that can be carried on a technician`s belt, consists of such termination tools as strippers and cleavers, polishing fixtures, inspection viewer, socket assembly fixtures, and lapping film. The system allows installation of a full-duplex connection in less than 2 minutes instead of the 10 to 15 minutes typical for traditional ferruled fiber-optic connectors.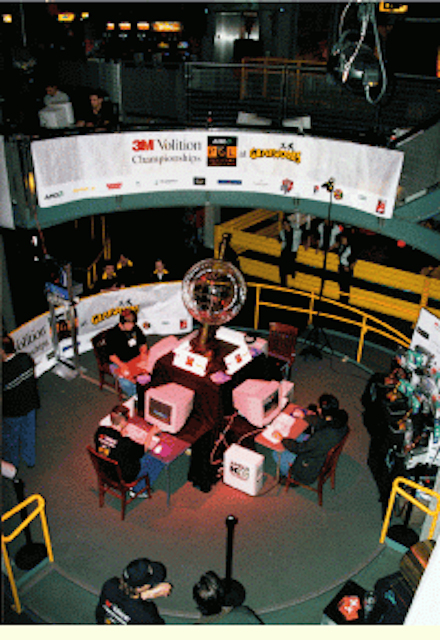 Click here to enlarge image
The first-season live championship competition of the amd Professional Gamers` League took place in January 1998. The venue was GameWorks` gaming arcade in downtown Seattle, WA.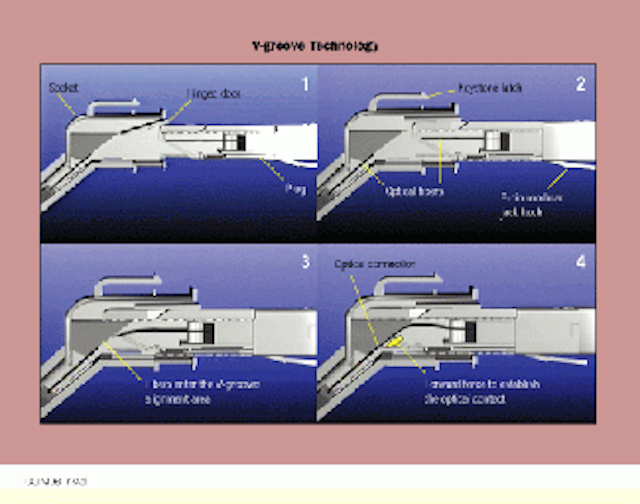 Click here to enlarge image
The V-grooves in the VF-45 socket align the fibers to make a precise optical connection. No ferrules, alignment sleeves, or adhesives are required.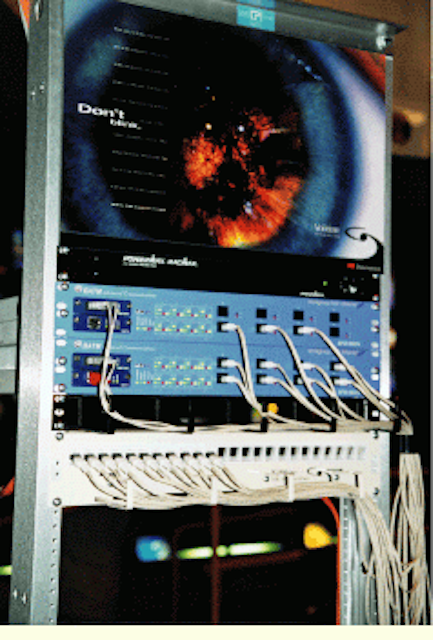 Click here to enlarge image
The seasonal finals of the pgl championships were played over a fiber-optic lan. On the rack at the Season I Finals in Seattle, VF-45 sockets by 3M Telecom Systems plug into two 100-megabit-per-second switches for the 10-node tournament network. An additional 16-node lan served as a practice arena. During 28 hours of multiplayer gaming on the practice lan, 9.6 billion bytes of data passed through the fiber-optic network.
John Riccardi is Volition system global business manager at 3M Telecom Systems Div. (Austin, TX).