Many products introduced to the cabling industry over the past year will be showcased at Expo `98.
Patrick McLaughlin
Attendees of Cabling Installation Expo `98 who want to find out which products represent the latest innovations in the cabling industry will find what they are looking for on the show floor. During exhibit hours Monday, Oct. 12, through Wednesday, Oct. 14, attendees will get the opportunity to see, feel, and use some of the newest products to come onto the market.
Aigner Index Inc. (New Windsor, NY) will display its new Port ID label holders for patch-panel designations. The holders are available in top- and side-loading styles, and in lengths custom-cut to customer specifications.
gigalite will be featured in Berk-Tek`s (New Holland, PA) booth. Berk-Tek, an Alcatel company, designed the gigalite multimode fiber-optic cable to support such protocols as Gigabit Ethernet and Asynchronous Transfer Mode. Multimode gigalite cables extend the maximum distance of Gigabit Ethernet over 62.5/125-micron fiber to at least 500 meters at both the 850- and 1300-nanometer operating windows.
bicc Brand-Rex Co. (Willimantic, CT) plans to feature its Turbolan 350 unshielded twisted-pair cable. The cable has a guaranteed 18-decibel attenuation-to-crosstalk ratio (acr) at 100 megahertz, a guaranteed 10-dB acr at 155 MHz, maximum time-delay skew of 15 nanoseconds, and 100% fluorinated ethylene propylene insulation on conductors.
A through-penetration firestop product from csd Sealing Systems (Melrose, MA) will also be on display. The fsp firestop system is designed to make cable-tray firestop installation and alterations quick, simple, and economical. csd says the system provides a unique method for firestopping multicable penetrations and is appropriate for initial installations and ongoing maintenance. It consists of a two-piece steel enclosure and nontoxic, halogen-free sealing materials. It can be installed before or after cables are in place.
Microtest (Phoenix, AZ) will feature new test equipment. The company will display both its omniscanner 300-MHz copper-cabling tester and its CertiFiber fiber-optic cabling test tool. In addition to the tests necessary to certify Category 5 performance, the omniscanner tests return loss and equal-level far-end crosstalk, which are necessary for verifying a system`s ability to transport Gigabit Ethernet. It uses a frequency- domain digital-signal processing technology. The CertiFiber provides a one-button autotest function; the manufacturer estimates the tester saves as much as 75% of test time over the use of a manual power meter.
MPHusky Corp.`s (Greenville, SC) Centray cable tray simplifies the support and routing of cables. A single hanger rod is used at each support point, facilitating installation by reducing support requirements and eliminating the need to pull cable through trapeze-style supports. Cables can be laid in on both sides of Centray.
roxcorp. (Tulsa, OK) will feature firestopping products. The company will display its csf 16 firestopping system, which is a cabinet seal. One of the csf 16`s main features is its multidiameter technology, which makes it possible to fit the firestopping modules to various cable and tube diameters. The system enables the installation of as many as 30 cables in a cable-penetration area of just over 9.44 by 3.54 inches. The unit comes either with a predetermined number of modules mounted in a frame or with an empty frame in which the desired number of modules can be placed.
Scope Communications (Marlborough, MA) will promote software Version 5.0 for its WireScope 155 cable analyzer and Fiber SmartProbe. The software supports Gigabit Ethernet media as well as emerging addenda to the tia/eia-568a cabling standard. The addition of this software enables the WireScope 155 to test both copper- and fiber-based Gigabit Ethernet systems.
Power tools will be the focus of Seatek Co. Inc.`s (Stamford, CT) display. Specifically, Seatek will demonstrate its new MM-175 Mighty-Miter, a reciprocating saw accessory that cuts any material at a right angle. Materials, including round, square, and rectangular tubing; wood; plastic molding; and threaded rods, are fair game for the MM-175 Mighty-Miter.
Wonderful Wire & Cable Co. (Torrance, CA) plans to display its Elite350 plenum and non-plenum bulk cable, which comes in flat and round constructions. The company says both cables are characterized to 350 MHz. Also highlighted will be the company`s Elite350 stranded patch cords with molded snag-free boots.
A manufacturer of racks, cabinets, and other cable-management systems, Zero Stanton/pft (Monon, IN) will showcase its Quicksilver cabinet, Contracktor series relay rack, swing-out wall-mount rack, and enhanced ladder-rack line at Expo.

Click here to enlarge image
bicc Brand-Rex`s Turbolan 350 cable was tested in real-world environments, terminated to connecting hardware from a number of manufacturers, by Intertek Testing Services (Cortland, NY). Test results showed positive power-sum acr figures approaching 200 MHz.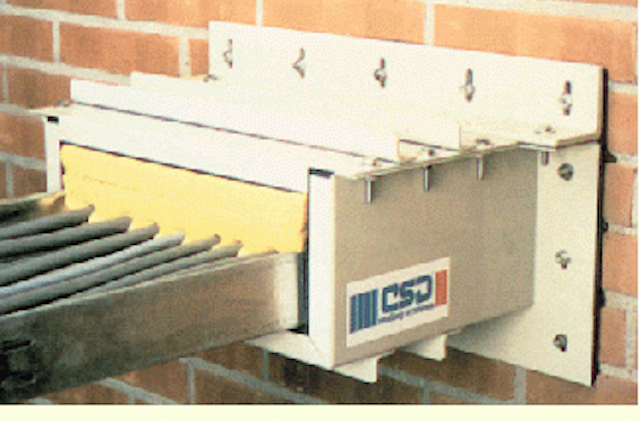 Click here to enlarge image
The fsp firestop system from csd Sealing Systems is designed to make firestop installation and alterations easy. Shown here packed, the system can be reconfigured by removing a few bolts and making necessary adjustments.