Bucket-truck safety training saves lives
Many different industries have used personnel lift trucks in a wide range of applications for nearly 50 years. What often gets overlooked is operator training for safe operation of a unit as well as for the correct application of a particular machine.
Oct 1st, 1998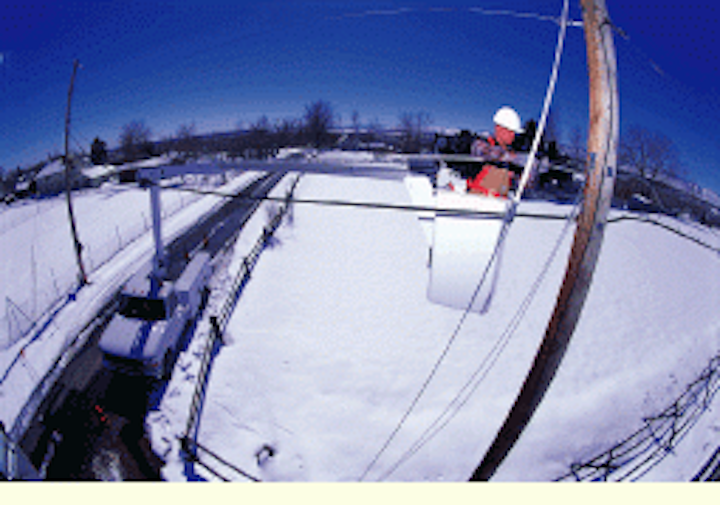 Proper methods and correct equipment make the job safer and more productive.
Bob Young,
Many different industries have used personnel lift trucks in a wide range of applications for nearly 50 years. What often gets overlooked is operator training for safe operation of a unit as well as for the correct application of a particular machine.
When telecommunications companies do not commit sufficient resources to operator training--either because they have reduced or eliminated training departments--training is left primarily to local in-house staff, performed on-the-job. This form of training is not necessarily inadequate but when it is the only form of training, a lot of old, bad habits get passed on to the trainees.
Our company`s involvement with comprehensive training programs started as a response to safety issues related to aerial lift operation. Another issue was increased equipment damage attributed to misuse or abuse. Equipment damage is an indicator that an operator has been exposed to an increased safety risk but was lucky. The increase in equipment damage that we have witnessed is a relatively new trend. Ironically, what has changed in recent years is that operators, supervisors, and management are increasingly accountable for complying with safe work practices. These practices have been outlined through the American National Standards Institute and Occupational Safety and Health Administration standards that deal with bucket-truck safety. Fines can be levied on both the management and user--depending on circumstances--for lack of compliance to the safety rules.
Operators feel compelled to get the job done, no matter what. And they usually do, no matter what the safety issues or the consequences to the equipment. Usually when the equipment gets damaged or someone gets hurt, it is the result of improper method selection or using equipment in a manner for which it was not intended--for example, using the wrong lift for the job.
In the telecommunications industry, bucket trucks are designated for specific purposes: light duty, medium-duty support, and heavy-duty construction applications. Stationary work such as cable splicing at working heights up to about 36 feet is considered light duty. The medium-duty class of aerial lift trucks is for maintenance work and construction support. Both the medium- and heavy-duty class of machines can be certified for towering applications or moving the truck with a person in the bucket.
If proper methods are selected and the correct equipment is properly used, the job is easier to do and the work more productive, without risk to the equipment or personnel. This principle applies to the use of any equipment, whether it is a backhoe, a digger derrick, or an aerial lift truck. In other words, it can be very cost-effective and efficient to safely use a piece of equipment for what it was intended. Deviations from this course can be costly in terms of accidents, equipment damage, and productivity.
Supervisors and management must be an integral part of achieving a safe environment and reinforcing good behavior in the work force. When management is involved with the training, positive results quickly become apparent.
Ranking near the top of the list of accidents are those involving operators falling out of baskets--a result of not wearing a safety lanyard. Other common accidents include electrical shock or electrocution. Most of our observations can be categorized as "accidents waiting to happen" or near-miss accidents. They include
- working in a towering unit with an inoperative intercom system
- stringing cable through a defective fairlead--a set of rollers that serves as a guiding device for cable at the basket end of the beam
- towering with a lift truck not certified for towering
- using a light, non-towering unit to string cable or for other mobile applications
-using an aerial lift truck to do derrick functions
- exceeding the limitations of the machine
- selecting incorrect work methods
- not being properly tooled up for the task
Most disturbing is the discovery that some of these practices have been accepted for a long time. Most often, neither the operators nor the supervisors are aware that they are doing anything wrong.
Operator safety training should be an ongoing part of the job and be provided not only by the equipment manufacturer but also the operating company.
Click here to enlarge image
Off-road repairs are done from a Telsta A37 bucket truck from Mobile Tool International Inc. The manufacturer`s training program provides familiarization with and in-service training on a particular piece of equipment--in-depth operator training that is usually considered the responsibility of the operating company.
Bob Young is northwest district sales manager at Mobile Tool International Inc. (Westminster, CO).