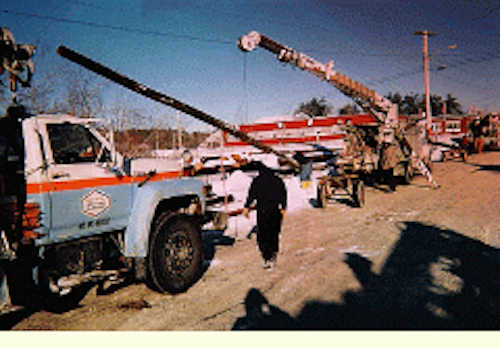 Last winter`s devastating ice storm in the Northeast raises many cable-planning questions.
We can blame El Nino for heavy rains, mud slides, unexpected snowfalls, and droughts, but what about one of the worst ice storms ever to hit the northeastern United States and Canada? The unthinkable happened just barely into the new year, when one stormy night turned into a series of disasters for homes and businesses. Trees and branches that had withstood decades of severe winters could carry only so much ice and snapped like twigs, collapsing their full weight onto electric and telephone lines. From Maine to Ontario, Canada, the lights dimmed on hundreds of thousands of people, many of whom went without power and communications for days and weeks.
It was impossible to predict the amount of devastation that occurred during this winter ice storm, but future cable-planning strategies can minimize the effects of a future disaster--even as widespread as this one--and can help expedite a recovery. Planning for disaster--natural or otherwise--is just as important as sales or operations planning.
What would you do if a catastrophe occurred? Your planning depends on your critical needs. Telephone and electric companies think in terms of networks, and their planners study what was critical and what helped during previous disasters. Then they plan accordingly. Disaster planning can work for you, too.
What can be learned from this disaster? First, network designers need to plan their networks so their most critical facilities--in this case, the central offices (COs) and remote-terminal sites--can be restored. They also need to have diverse routing for their networks so that no building`s loss can affect more than its immediate area.
Take a bank, for example. Nobody expects business as usual when a building is surrounded by mud, ash, or water. The more serious disaster for such a site, however, is when nobody can work in the bank because some other building is in trouble. It is possible for a bank to be connected to more than one CO, so if there is any communication available, the business will be connected. It is also possible to "mirror-image" computers in distant locations so that work can continue even if one or two COs are down.
What can you do for your most critical building? Planning starts by gathering the relevant facts. Which of your buildings is critical to the rest of your company`s operation? Draw each of them on a map, then add the cables that each depends on: power and communications. Get your staff to brainstorm the most likely problems and determine the most critical weaknesses. If your most important building has emergency power, will the phones work, or do they depend on commercial power? Find out how to keep your most critical building online.
What can you do for the people who work in your critical buildings? What can you do if the building is running and online, but they can`t get there? Planning starts by identifying who you need and what can be done to make their skills available, even if they can`t get to work. What can be done from homes or from remote sites?
The most critical minicomputers, for instance, can be accessed through secure, hardwired terminals at remote locations; if any system administrator can reach one of those locations, it`s business as usual. Less-critical minicomputers can be accessed by dialing in from anywhere. Planning includes security measures such as dial-in to log on but the system can only dial back to a previously approved phone number before the computer is accessed.
News coverage of last winter`s ice storm showed one more thing you can plan for your buildings: contingency plans for what your own people can`t handle. Many companies were able to rush technicians and equipment to the ice-storm disaster area because they were certain of payment for their services. Even tiny local phone companies were prepared with arrangements to verify and pay other companies that supplied and placed poles. Long-distance companies with cables down switched to protection routes owned or leased before the storm.
Whether you`re responsible for one or several buildings, can you plan for the most critical people to do their jobs, even if they can`t get to work? If your network relies on three or four pieces of equipment, can you separate them a little now and a little more later? Once you have found architects to plan your building, can you find help to start planning your disaster recovery? Can your suppliers offer assistance with their expertise to aid in your planning? Can you work with your suppliers to plan for emergency priority and equipment delivery? Can you work with your utilities to plan for alternate cable routings so no one manhole problem affects all your buildings? If your buildings are all in one industrial park or campus, can you plan to involve your next new building or addition in assisting your overall disaster recovery plan? For instance, can you plan nine small computers at three locations, instead of three large computers in one corner of a room?
It`s obvious that disaster planning begins long before the disaster. Like every other kind of planning you do, disaster plans have to be kept up-to-date. Like all other planning you do, the people responsible for carrying out your disaster plans have to know about the plans and have the equipment and authority to carry them out.
Disaster and adventure are like depression and recession. It`s only a disaster if you weren`t prepared. Otherwise, it can be an adventure. Disaster planning makes the difference. The choice is yours.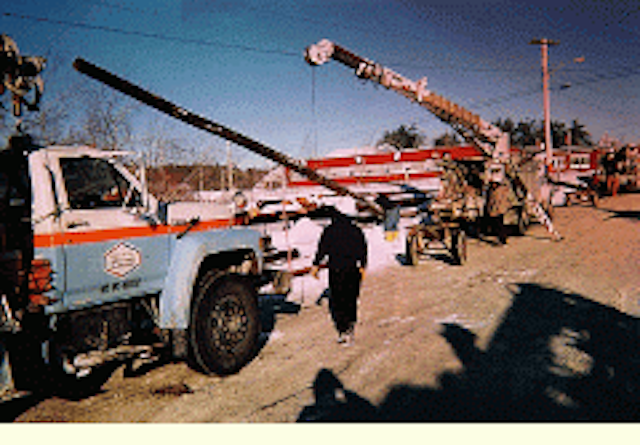 Click here to enlarge image
Trucks and cranes carried power poles during disaster-recovery efforts in Maine.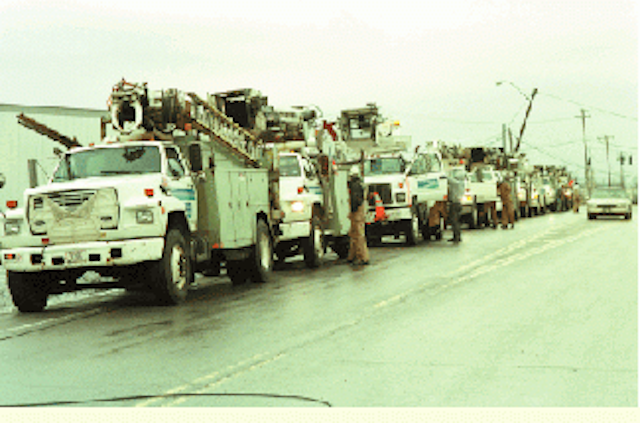 Click here to enlarge image
Preparing to restore communications to thousands of homes and businesses in New York, Bell Atlantic bucket trucks line up as far as the eye can see.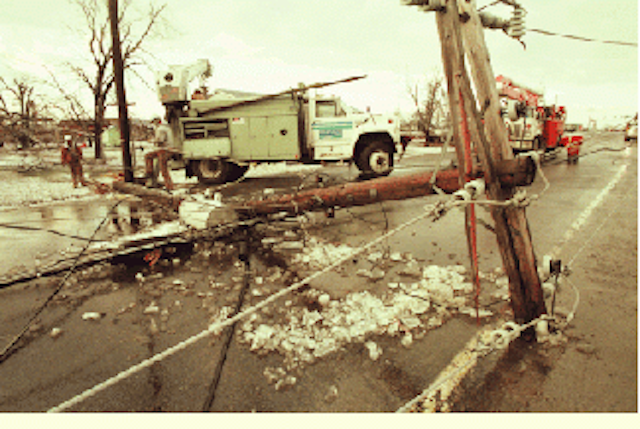 Click here to enlarge image
Ravaged poles and cables had to be restored one at a time following the ice storms that devastated the Northeast.
Why aren`t lines underground?
In New England, the reason that telephone and electric-power lines are above ground is simple: money. Underground construction wasn`t economical in the 1960s, when the utilities made a major effort to use it, and it still isn`t economical today. No question that it can be done. The development of directional drilling, polyethylene innerducts, and jelly-filled cables would be better options than the older polyethylene-insulated cable and the even-more-ancient jute-insulated cables. Vibrating plows allow direct burial of cables without the cost of trenching, and fiber-optic cable is being placed inexpensively in innerduct along canals and highways around the country. But that`s not enough to shift the balance.
These improvements and advancements pale in comparison to the primary expense: the trench. In the 1960s, it was thought that air-core, polyethylene-insulated cable would serve as well underground as in aerial construction. Now, we know better. If directly buried cable could be plowed in for a couple of hundred feet at the same cost as a pole can be set every two hundred feet, why not? It isn`t that simple, unfortunately.
First, there is extra cost associated with oversizing the cable to the maximum number of pairs that is expected to be needed, because there`s no way to add cable later. Second, cables buried jointly with power lines require a lot of extra caution, and if the power company goes with aerial construction, there isn`t much savings in having the cable be underground. Third, underground cable can be protected from weather and tall vehicles, but it`s open to danger from rodents and plows. Whether it`s for sewer construction, drainage, water mains, or gas lines, someone is always digging by the side of the road. Thirty years later, then, the most costly factors haven`t changed.
Four concrete-encased ducts, which can include 12 to 16 protected innerducts, can be built for less than a dollar per foot. That would just about break even when compared to costs for pole-line construction. In the rocky Northeast, where pole-setting often requires a rock drill, trenching is going to be expensive. And the economics are slightly worse for the electric companies. As power-transmission needs increase, so do voltages--and heat. Where streetlights are needed, there will be poles, and once again, there goes the all-underground concept.
Harry R. Nelson is editor-at-large of Cable Foreman magazine, another PennWell publication. Parts of this article were excerpted from his story on outside-plant disaster recovery, which appears in the April 1998 issue of Cable Foreman.