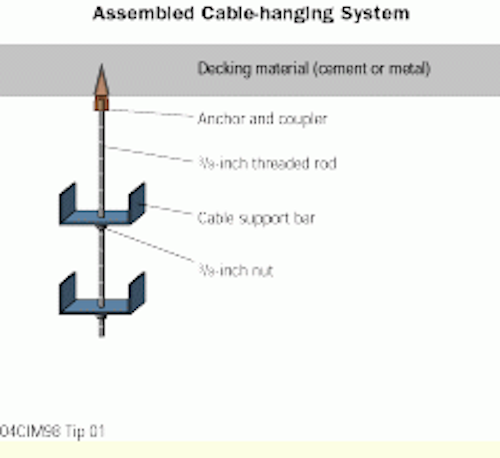 Bob Northime, Saturn Communications
Problem
In buildings with concrete-floor or steel-deck construction, cable management can be difficult because many cable-hanging systems will not attach to concrete or steel.
Solution
Using a threaded rod, an anchor, a coupler, a 3/8-inch nut, and cable-support bars, you can build a cable-support system that hangs from the cement or steel decking.
Procedure
1) If the decking is made of steel, install the anchor into it using a pneumatic device, such as a nail gun. If the decking is made of cement, drill a hole into it, and then tap the anchor into the drilled hole using a hammer.
2) Install the male/female threaded rod coupler into the anchor by hand.
3) Cut the 3/8-inch threaded rod to the desired length.
4) Install the threaded rod into the coupler.
5) Screw the cable-support bar onto the threaded rod. Once the bar is in the position you want it, screw a 3/8-inch nut onto the threaded rod until the nut is flush with the bottom of the support bar.
6) Repeat the previous step as many times as required.
The cable-support bars are made of aluminum and have beveled edges. They are approximately 1/4 inch thick and are available--through manufacturers and distributors--with 3/8-inch center holes for installation in applications such as this one. This type of setup is flexible in that the cable-support bars can easily be adjusted up or down the threaded rod.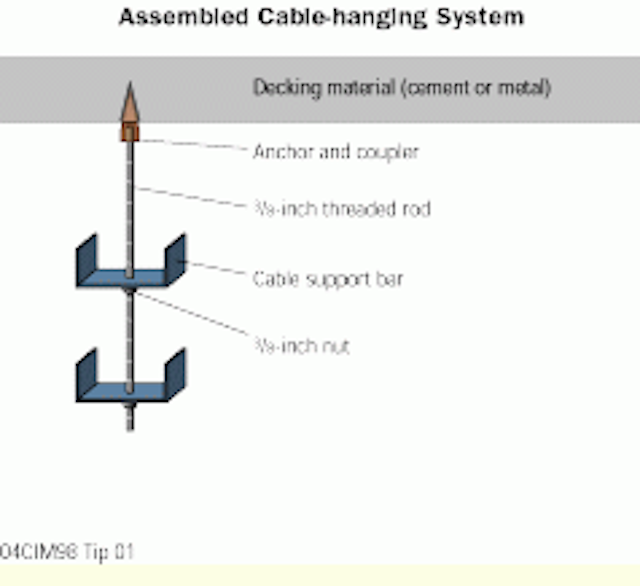 Click here to enlarge image
Cable-hanging systems such as this one can support several cable-support bars, and the bars can be moved up or down the center rod with relative ease.
Bob Northime is a network specialist with Saturn Communications (Charlotte, NC). This tip was submitted for the Cabling Installer Tips Contest at Cabling Installation Expo `97, held in Charlotte, NC, last October.
Quick tip
Wear latex gloves beneath work gloves
John Zamecnik
In colder months, installers often have to endure having cold hands because the fine-motor-skill tasks that they frequently do forbid the use of heavy gloves.
However, if you wear latex gloves beneath your jersey gloves, you may be surprised at how well the latex gloves keep your hands warm when you have to take off your jersey gloves. Also, you will still be able to handle fine instruments with the latex gloves on. Your hands will be much warmer with the latex gloves on than they would be if they were exposed to the elements.
John Zamecnik is a cabling technician from Salina, KS.