Use raceways to eliminate hazards in your telecommunications closet
When laying out an equipment room or a telecommunications closet, whether in an existing building or for new construction, designers generally specify electrical outlets to be placed 12 to 18 inches above the finished floor. Equipment that requires power, such as hubs, routers, and computers, is usually installed in racks or shelves with clearance behind it to allow access from the rear. This almost always results in power cords being draped across the access aisle behind the racks. Tripping ove
Apr 1st, 1998
Bill Ward,
County of Mecklenburg, NC
Problem
When laying out an equipment room or a telecommunications closet, whether in an existing building or for new construction, designers generally specify electrical outlets to be placed 12 to 18 inches above the finished floor. Equipment that requires power, such as hubs, routers, and computers, is usually installed in racks or shelves with clearance behind it to allow access from the rear. This almost always results in power cords being draped across the access aisle behind the racks. Tripping over these cords can result in bodily injury and serious problems with the electronic equipment.
Solution
Most equipment racks are at least 7 feet tall. Often, a section of ladder-style raceway runs from the top of the rack to a plywood backboard or wall to provide a cable pathway and support for the rack. Install a horizontal power raceway on the wall behind the rack. The raceway should be installed at about the same height as the rack.
A single rack may need only a quad outlet. The power cords can run from the top of the rack along the ladder-style raceway to the power outlets. For large installations, run the power raceway the length of the walls or around the entire equipment room with outlets on 2- to 4-foot centers and multiple circuits to accommodate many pieces of equipment.
Procedure
1) Use 12-inch ladder-style raceway from the top of the rack to the wall. This raceway will provide adequate separation of power and other cables.
2) If your racks are 7 feet tall or shorter, place the power raceway just above the ladder-style raceway. If your racks are 8 feet tall, install the power raceway just below the ladder-style raceway brackets (at about 6 to 61/2 feet above the floor).
3) Tie-wrap the power cords to the bottom of the ladder-style raceway, maintaining as much distance as possible from communications cables.
4) If you use multiple circuits for adequate power distribution, alternate outlets among the circuits using different colored duplex outlets, such as black, white, and brown, to facilitate identification. Also, label breakers should correspond to the outlet colors.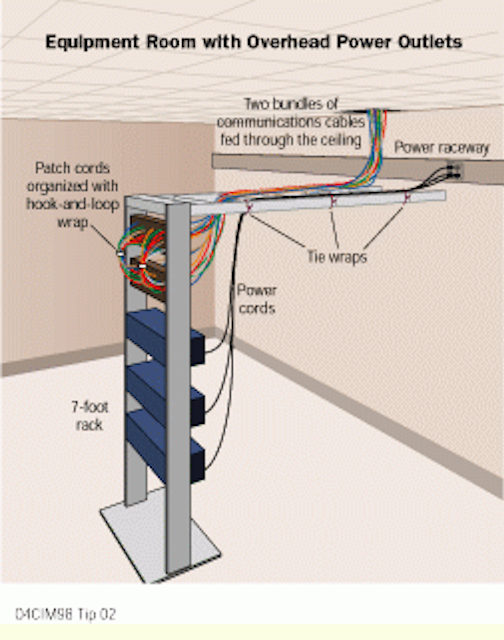 Click here to enlarge image
With the power raceway installed at approximately the same height as the equipment rack, power cables can be run to the top of the rack, then across the ladder-style raceway, and into the outlets on the power raceway. This setup will allow for maximum separation between power and communications cables and will also eliminate the possibility of power cords creating a hazard.
Bill Ward, registered communications distribution designer (RCDD), is a communications specialist for the County of Mecklenburg, NC. This tip was submitted for the Cabling Installer Tips Contest at Cabling Installation Expo `97, held last October in Charlotte, NC.