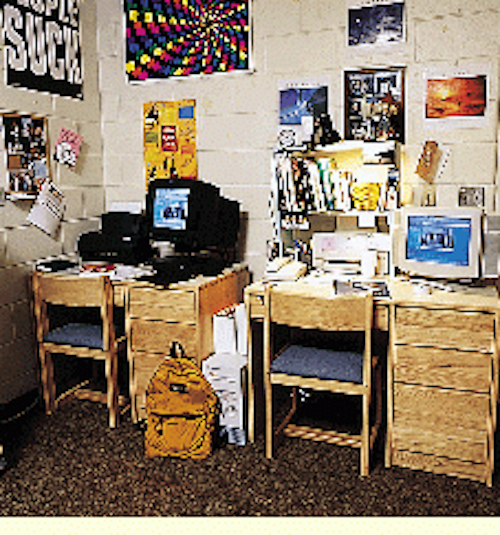 Widener University uses both metallic and nonmetallic raceways in its forward-looking network.
James Burke/ Interlink Technologies
With more than 8000 students, eight schools offering degrees ranging from associate to doctorate, and campuses in Chester and Harrisburg, PA, and Wilmington, DE, Widener University is a diverse educational institution. Looking to the future, university officials realized that they needed to be prepared to take full advantage of emerging information technology. Specifically, they envisioned a network that would facilitate student/faculty chat groups and allow access to live or videotaped presentations.
"We wanted a system that enhances the educational environment and prepares our students for the type of information technology that they will encounter in their careers," says Gary Habermann, Widener`s director of technology. "Because we had an opportunity to rethink the role that information technology plays in education--now and in the future--we also had to devise a network that would deliver enhanced services virtually anywhere on our campuses."
Designed for the future
Like many colleges and universities, Widener had a network that no longer kept up with student, faculty, and staff demand, or with rapidly changing technology. On the main campus in Chester, for example, the existing network served only seven of the fifty-five buildings and provided approximately 500 connections. Habermann says that rather than trying to expand this old system, they decided to bring the information-technology system up to standard across the board with all new cabling everywhere.
The solution was to design, develop, and install a pervasive, enhanced Category 5 network. "We opted for enhanced Category 5 over standard Category 5 to give us room to grow," Habermann recalls. "Critical issues for us were ensuring maximum flexibility and access, and guaranteeing sufficient bandwidth to meet current and future needs."
Working with representatives of Interlink Technologies, a Wiremold Co. (Broomall, PA) and Prestolite Wire Corp. (Southfield, MI), Habermann and his colleagues developed specifications for an Asynchronous Transfer Mode network with an optical-fiber backbone and enhanced Category 5 cable serving approximately 5000 Ethernet ports. According to Arnold Harris, president of Electronic Interface Associates, an Interlink Technologies representative, "Compatibility with the higher speed of enhanced Category 5 required complete documentation on all cable and connectivity components, which the Interlink/Prestolite team was able to provide."
As a supplier of cabling-connectivity systems, Interlink Technologies provided a full range of standard and custom connectivity components, including Category 5 and optical-fiber panels, patch cords, dual 8-pin modular jack inserts, and coaxial-cable television connections. "The key to an enhanced Category 5 system that would meet Widener`s needs, with sufficient headroom for current and future applications, was to have every one of these components provide superior electrical performance above Category 5 levels," Harris explains.
Wire and cable management
The infrastructure that supports a structured cabling system must be flexible enough to meet current needs and accommodate future changes. Conventional "behind-the-wall" cabling does not provide the kind of fast, convenient access required for constantly changing space requirements and evolving technology. To reconfigure conventional wiring, contractors must penetrate walls, pull cable, and install new devices--often a time-consuming, disruptive, and costly process. Wire and cable-management systems allow cable to be located where it is needed and facilitate later relocations and upgrades.
To achieve flexible, accessible cable management and to ensure that its installation would meet future requirements, Widener specified surface raceways from The Wiremold Co. (West Hartford, CT). In high-volume applications, metallic raceway provides ample cable fill, security, and accessibility. In other locations, Uniduct one-piece latching nonmetallic raceway offers easy access and long-term durability in a low-profile design. The Uniduct system is equipped with bend-radius fittings that allow cables to be routed through corners, elbows, and tees without being subjected to tension or strain. Approximately 40,000 feet of raceway was installed on the Chester campus.
In residence halls, classrooms, laboratories, and offices, device boxes provide room for connecting devices, which are installed at a 45o angle. "We now have connectivity at every staff member`s desktop and in every classroom," says Habermann. "In the residence halls, there is one connection for every pillow--a double room has two, a triple has three, and so forth."
Installation challenges
"The biggest challenge of this installation was working around the students and their schedules," says Joe Duplaga, former director of telecommunications for Microage, the contractor that installed the Chester-campus network. Duplaga is now vice president of technology services for Vircom Technologies Group, the firm that maintains the Chester network. Vircom will also install structured cabling systems at Widener`s Harrisburg and Wilmington campuses. "The project required a high degree of coordination and efficient installation techniques to meet tight deadlines," Duplaga adds.
Faced with these tight deadlines, Duplaga wanted to minimize the number of suppliers. "One of the advantages of working with Interlink Technologies was the availability of the full range of voice, data, and coaxial inserts, as well as all the face plates and device boxes--from a single source," he recalls.
In a typical building with 700 drops, installers were in and out in approximately two weeks--a schedule made possible by installing cabling in raceways rather than behind walls. "Another significant factor in reducing installation time was the availability of system components," says Duplaga. "Interlink, Prestolite, and Wiremold had everything there when we needed it, which was critical to meeting our deadlines."
Still another factor was the cable itself. "Prestolite`s 350-megahertz cable is very easy to work with and, because it is not pair-bonded, we were able to speed the installation and lower costs," Duplaga says.
"This project went smoothly because everyone developed a very strong relationship," Habermann adds. "Interlink worked very closely with us to implement a solution that really meets our needs."
When students arrived on campus in the fall of 1997, they connected to a new network that offers convenient access to e-mail, the library catalog, file-transfer capability, and the Internet. In the future, the network will accommodate innovative services, such as interactive video, without significant alterations.
With the work on the main campus now complete, Widener University is installing similar systems at its Harrisburg and Wilmington campuses. In each case, Interlink Technologies and Electronic Interface Associates will play a central role. "The partnership has worked out very well," Habermann concludes. "The team really wanted to support us and, as a result, we knew we could count on them."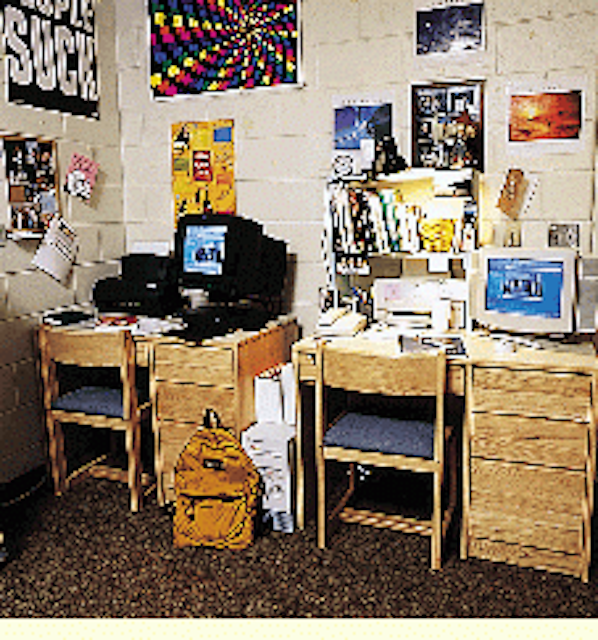 Click here to enlarge image
Every residence-hall room at Widener University`s Chester, PA, campus is wired for Internet, e-mail, and library-catalog access.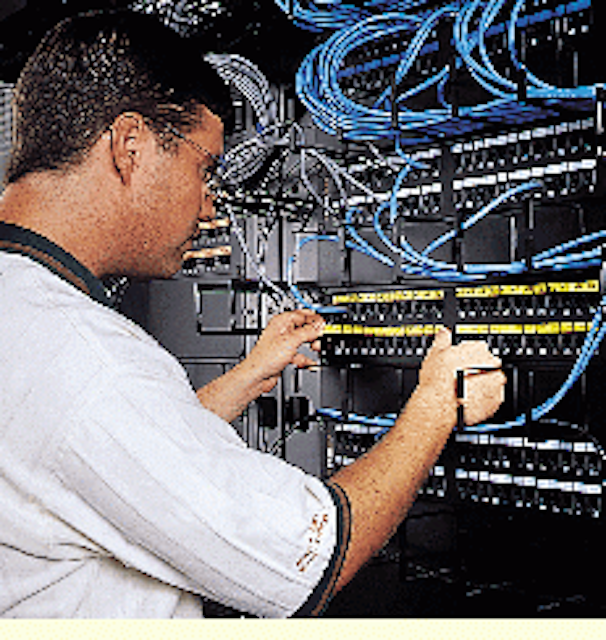 Click here to enlarge image
Interlink Technologies` Ray Rodden affixes preprinted labels to a patch panel.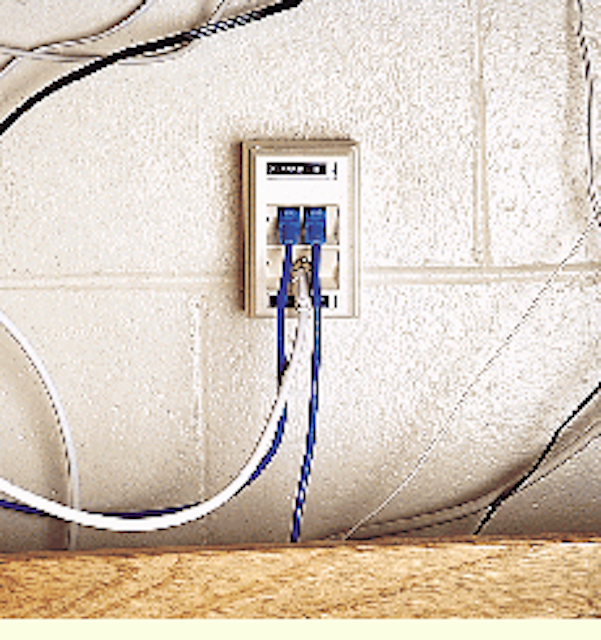 Click here to enlarge image
This multimedia outlet from Interlink Technologies supports both enhanced Category 5 cables for data and coaxial cables for cable TV.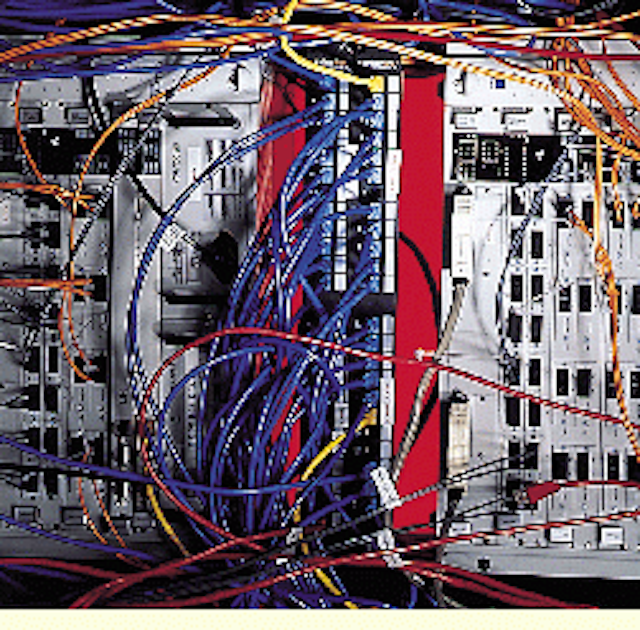 Click here to enlarge image
A fiber-optic Asynchronous Transfer Mode network is converted to an Ethernet topology over enhanced Category 5 cables at this telecommunications closet.
James Burke is manager of marketing for Interlink Technologies, a Wiremold Co. (Broomall, PA).