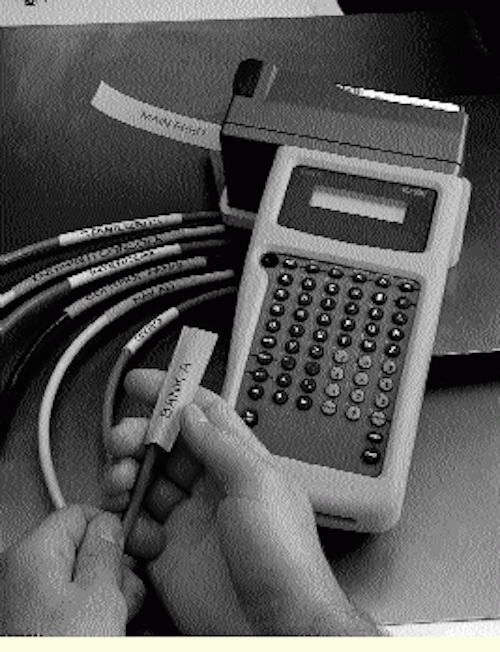 Karen Graziano
efore the proliferation of cable marking and labeling equipment, the Sharpie pen was the only identification used by most installers. Installers quickly scribbled numbers on both ends of a cable--a method that was fast, inexpensive, and as installers found out, unreliable.
"Unfortunately when you`ve got 10 different people working on pulling cable, some people`s handwriting is not legible--especially when you`re trying to write on a piece of cable that is a quarter of an inch wide," explains Roy Willcut, registered communications distribution designer (rcdd) and local area network specialist, and field operations manager at the Compel Corp. (Santa Fe Springs, CA). "And many times," he adds, "pulling the cable would rub off part of the number that was written with a Sharpie."
While some give the release of the tia/eia-606 standard--which establishes guidelines for identifying cables and other components--as one of the primary reasons for the upsurge in the design, manufacture, and purchase of cable marking and labeling equipment, others believe that necessity prompted the emergence of new methods and equipment. Installers, according to this second group, needed improved products that would make cable and equipment identification easier, installation faster, and reliability greater (see Product Update table, page 80).
Labeling methods also had to change to keep pace with jobs that were becoming more intricate. "The degree of sophistication in marking wires has increased from that of 10 to 15 years ago," says Alfredo De Barbieri, general manager of Miromar llc. "And because of growing complexity and automation, wires are identified using more and more characters. In the past, there might be AB1, AB2, AB3, AB4. Now you have I/050002AB. The identification is much longer, and that`s the reason you have to have more-sophisticated ways of marking them."
When companies began to manufacture cable marking and labeling equipment, they developed practical products specially designed for varying information needs, job sizes, and environments. Louis Chompff, vice president of A`n D Cable Products Inc., explains, "The main issues were to make it easier for installers to do the identification right there when they are done with the job. And the other one was to make sure that the way you identify it is highly visible." Manufacturers focused on faster and more-efficient products for indoor environments and more- reliable products for outdoor and hostile environments.
In fact, there are so many options available to installers today that selecting products has become difficult. Installers, for example, can choose from computerized labels, ties with tails, tie wraps, and sleeves. They can select colored or numbered tapes, or bar-coded labels.
Products currently being introduced include the following features: write-on dispensers, permanent marking pens, cutting devices, sequential numbering, and self-lamination. Installers can print labels individually with a handheld printer or dispenser on the job site, or they can print out labels using computer software and a printer in the office. The needs of the particular job, the environment, the customer, and installer preference determine what product will be used.
Each labeling system has features that make installation more efficient for particular types of jobs. By knowing what features are available, installers can quickly choose labeling equipment to match the task.
Write-on tag dispensers
Dispensers are user-friendly and portable. "Dispensers are really slick to use," explains Compel`s Willcut. "They have a handle that fits down into the palm of your hand. You can write on the label while it`s still in the dispenser and then pull it out and place it on the cable."
3M Telecom Systems Div. manufactures two dispensers: one to create tape markers and another to create slip-on tags, according to Vineeth Ramnarayan, marketing specialist at 3M Electrical Products Div. The 3M ScotchCode std Tape Dispenser is a compact, carry-along device that holds 10 rolls of 8-foot non-smear polyester adhesive tape. Numbered and colored tape is available, and you can cut the tag to any desired length. The dispenser hooks onto your belt or tool pouch.
The 3M std-tag Dispenser creates slip-on tags. "It is a write-on tag dispenser that has a continuous-feed design for easy use," explains Ramnarayan. "You mark the tag with the permanent marking pen that comes with the dispenser." The dispenser is refillable and holds two cartridges of marker tags in two sizes. You can carry the device in your shirt pocket or hook it onto your tool belt. The smp Permanent Marking Pen withstands extensive exposure to ultraviolet light, and a wide range of temperatures, humidity, water, and many industrial solvents.
Snap-on cable tags
Unitag, the snap-on cable and wire identification tag manufactured by A`n D, holds more information than do most tags, according to Chompff, designer of the Unitag. "The Unitag has a marking surface that is larger than most, and it comes in four different colors so you can color-code," he says.
The Unitag accommodates the growing need to put more information on tags. Now you can "actually use one Unitag rather than having to strap two, three, or sometimes even four of those tiny little ones of the same size on the cable," Chompff explains. There is enough room on the Unitag to write two lines of information. It is 5/8 inch wide and up to 21/2 inches long, whereas most tags measure 1/4 inch wide by 1/2 inch long, according to Chompff. A`n D designed the tag to fit a standard word-processing program that creates Avery labels. Chompff adds that there are many companies out there doing the same thing that his is: making their products computer-friendly.
A`n D designed the Unitag to remedy problems reported with flag ties. An engineer showed Chompff how flag ties scratched his hands and urged him to create a marking system that would not cause bodily harm. "When you cut the end of the tail of a flag tie, you end up with a sharp point," says Chompff. "When you have a whole bunch of these in a cascade of cables, and you have to work around them or behind them, you can end up scratching yourself badly."
A`n D designed the Unitag with rounded corners and no sharp edges. There is nothing to cut, and no tools are required to attach it. The device snaps onto the cable and is reusable. To reuse, simply unsnap the tag or put a new label on it. The marking surface rotates 360o after it is attached to the cable, which makes the tags easy to read while in place.
Stainless-steel tags and sleeves
Hazardous and hostile environments call for special labeling products. Band-It Idex makes tags resistant to acids, burial underground, long-term exposure, and hazardous environments. "Our cable ties and tags are unique because they are made of stainless steel," says Ron Angotti, marketing manager of Band-It Idex Inc. "They`ll last far longer than a paper or other type tagging system will." Ultraviolet radiation and environmental factors attack and destroy nylon and plastics, according to Angotti, but won`t harm stainless steel.
The benefits of this tag, Angotti adds, are "the life cycle of the tie itself and the fact that it can go in any environment. By and large, we`re able to do more with our stainless-steel cable tie than with a standard plastic or nylon one, but on the flip side, we`re more expensive too. If you`re using plastic and it`s doing an adequate job now, you`re probably not going to opt for twice the money to buy a stainless-steel cable tie."
You can imprint on stainless-steel tags and cable ties with the portable imprinter from Band-It Idex, which weighs 29 pounds. "You turn the large dial to what you want, push the lever, and it imprints and self-advances," says Angotti. It can print on stainless-steel identification tags of these dimensions: 3/4 inch x 2 inches, 11/2 inches x 2 inches, and 3/4 inch x 3 inches. You can also choose from five different character sizes.
If visibility is a problem, you can select the Band-It Easy Read AE by Band-It Idex. With this product, you slide stainless-steel letters, numbers, and symbols onto a larger identifier. You can see the marker in a dim-lit or inaccessible environment.
Plastic sleeves are another option for adverse-environment applications, says Miromar`s De Barbieri. Since the marking elements are snugly housed in a clear plastic recess, "the identification will always remain legible and well-protected. You can use our sleeves to mark any size wire, from very small to extremely large. Our marking system also allows you to identify terminal blocks, relays, flat surfaces, bundles or cables, and any other electrical component."
The plastic sleeves are transparent and have two recesses. You slide the wire through one hole and insert the marking elements in the other one. "Our marking system is ideally suited for adverse-environment applications," adds De Barbieri, "because the sleeves become integral parts of the wires they identify, unlike adhesive markers that may come off the wire or become illegible. Our markers will stay on practically forever, and they will always be legible regardless of whether it`s -20o, -30o, or +120oF, or whether you have dust, high humidity, or bone-dry weather conditions." To add versatility, this identification system comes in different color combinations, and the sleeves hold up to 15 characters.
Computer-generated labels
Computer-generated labeling systems are suited for larger jobs, where you may be labeling hundreds or thousands of wires and cables. Many end-user companies specify that installers use a computer-generated labeling machine, such as the PTouch by Brother International Co., for such large jobs. Clients know how much longer it takes to hand-generate labels, adds Compel`s Willcut. "They know that when you do a connecting block with hand-generated labels, it can take 5 to 15 minutes per connecting block. But if you`re using the PTouch for every jack, you can figure just 2 min for every label." Devising the numbering plan for jacks and blocks using software also saves time and money. "I can be more competitive with my customers now," says Willcut.
Computer-generated labels can be produced at the job site using handheld labelers or in the office using a dot-matrix or laser printer. Many of the handheld labelers have memory, so you can do consecutive number labeling without running to your word processor first to create a whole page or sheet of labels, according to A`n D`s Chompff.
Most jobs now require both dispensers and computer-generated labels, because labeling has become a two-step process. "At Compel, we do large jobs, and on any one day, we would use both items," says Willcut. "Each of these products has a specific purpose.
"The dispensers are used when we initially pull the cables. Rough labels identify the cable end-to-end before it`s placed in the ceiling and ease identification throughout the entire cable-pulling process," Willcut continues. "Then the customer says that he or she wants that little piece of tape pulled off and a full-fledged machine-generated label put on.
"When it comes to identifying cable," adds Willcut, "you not only have to identify the cable end-to-end but you also have to identify the equipment that it`s terminated on. The numbering has to be done in a certain way, showing the pair count of the cable, and to be able to do that, you`re looking at a computer-based program to do all of the connecting blocks."
Hook-and-loop wraps
Companies are also developing products that make adds, moves, and changes faster and easier. A`n D`s Cable Wrap and Cable Wrap Light are products designed to identify and manage cable bundles. Hook-and-loop products are replacing cable ties, says Chompff, because cable ties have a locking mechanism that cannot be reused. You have to cut off the ties and throw them away when you need to make changes, he explains. "With a hook-and-loop product you just unwrap the tie, make your changes or adds, and wrap it back up again. There`s no waste and it`s also a lot faster," says Chompff. Even though the initial outlay is a little higher for this type of product, in the long run it makes for a neater job because hook-and-loop ties are easier to work with and reduce labor and future materials cost.
Bar coding labels
Another labor-saving trend in this area is bar coding. "I think bar coding will become a standard," says Angotti. With all the different types of telecommunications and data-communications cables and uses, you are going to have to somehow be able to tell instantly what these cables are for and that is what a bar code will do," adds Chompff.
"We have a lot of customers, distributors, and end-users who are beginning to ask for bar coding," says Angotti, whose company has included bar codes on its products for six years. "Now we`re looking at actually incorporating it to be used in different ways."
However, some installers think that rather than making the job faster, bar coding will slow down the process and cost time. One problem with bar coding is that each technician must carry a bar code reader. Willcut thinks carrying a reader is cumbersome. "With bar codes, you`ve got to have something to be able to read the numbers off the bar codes," he says. "You`re adding another tool that has to be carried around."
"When you`re installing cabling in our industry," continues Willcut, "you`re usually going pretty quickly. You need to be able to pull up a cable, look at it, and say, `OK, that`s cable B15.` You do not have to go, `OK, I`ll get out my little tool and check the bar code.` "
Computer programs in the future
The future of cable marking and labeling lies in improving existing automation. "When I have a million-dollar job going on," says Willcut, "what I`m really looking for is a computer-generated program that will allow me to create 10,000 cable labels. I want to be able to go in and format the first label, then let the program automatically print out all the rest of the labels on a peel-off sheet." In such a case, installers can simply peel stickers off and put on the labels, instead of hand-generating every label at the jack.
Installers should sit down with the makers of this type of equipment and specify a comprehensive software package that includes a format for all of the different types of blocks and jacks, according to Willcut. Installers want to be able to pull up a file that shows all of the jacks, connecting blocks, and different problems, and that then allows them to fill in all the blanks. "Right now, when you get label-making software, you end up designing that portion of it first that identifies all of your cable-plant components. I don`t have the time to do that; I want it done for me," explains Willcut. "I want to be able to put in the first number and have it sequentially order the rest of the jacks. If I could find something like that I would be extremely happy. The time saving would be immense if I could sit down, put the information in, and print it out on a printer. Then I could do 10,000 labels in an hour."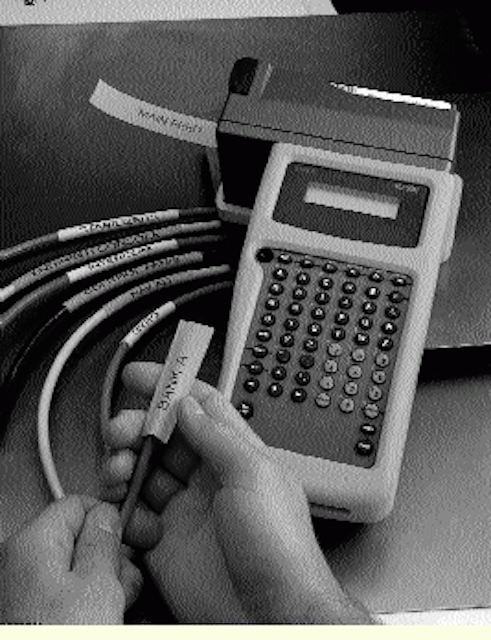 Click here to enlarge image
The Kroy K2500 battery-operated portable printer creates bar codes and labels.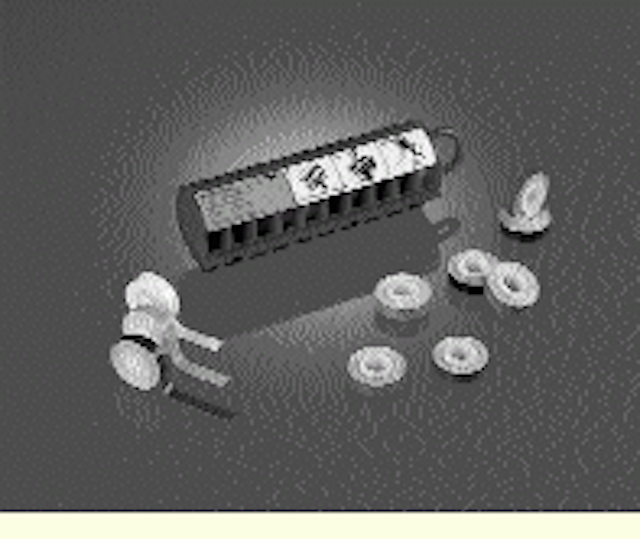 Click here to enlarge image
The ScotchCode std Tape Dispenser from 3M is a compact dispenser that carries 10 rolls of 8-foot, colored, non-smear polyester tape.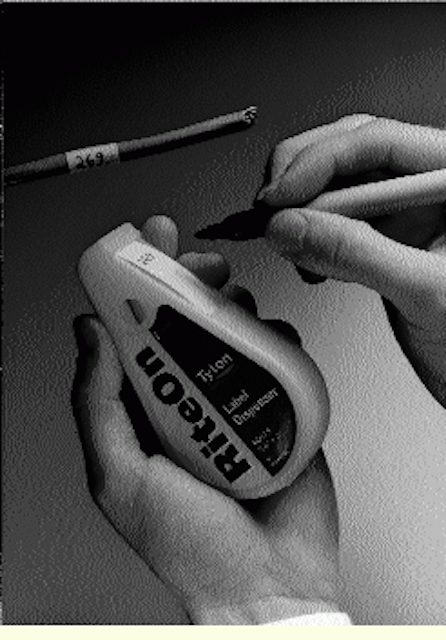 Click here to enlarge image
The Tyton Rite-On Marker is a reusable dispenser loaded with self-laminating or pre-printed labels.