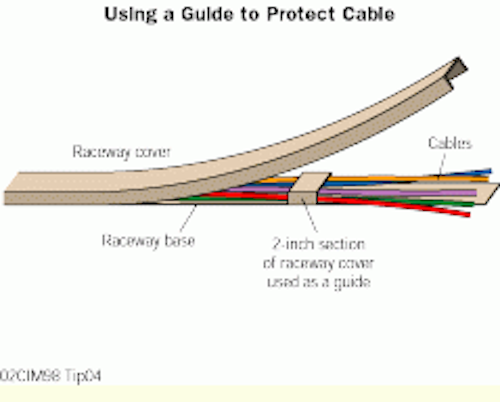 Problem
When you are placing the cover on a plastic raceway system, it is often difficult to keep the cables parallel and to avoid pinching them.
Solution
Use a short section of raceway cover as a guide to hold the cables in place while you install the cover on the raceway system.
Procedure
1) Cut a 1- or 2-inch section of the raceway cover to use as the guide.
2) Snap this guide onto the raceway base to hold the cables in place.
3) As you secure the cover to the raceway system, keep the guide a few inches ahead of the point at which the raceway cover will meet the base. The guide will keep the cables parallel to each other and will ensure that they are not pinched when the cover is attached to the base.
You can cut additional 1- or 2-inch pieces of raceway cover and place them at intervals throughout the length of the raceway system.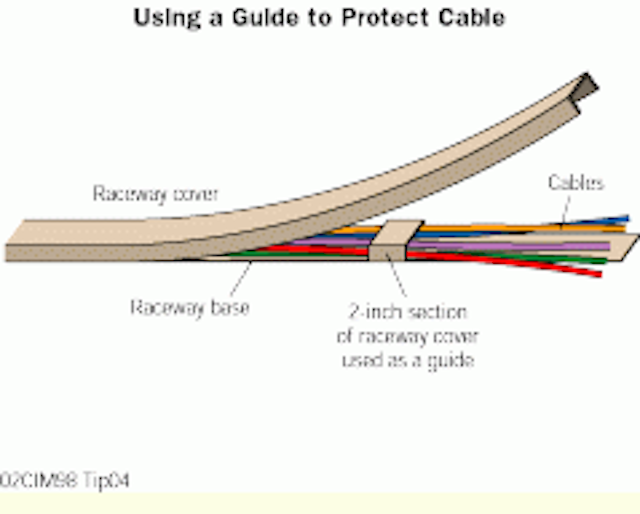 Click here to enlarge image
A short piece of raceway cover can be used to hold cables in place as the full cover is attached to the base.
Michael R. McGinley is a cabling contractor and an electrician at Double M Service (Chippewa Falls, WI). This tip was submitted for the Installer Tips Contest at Cabling Installation Expo `97, held last October in Charlotte, NC.