Cable-management software can remedy network headaches
It is 9:01 AM and urgent e-mail is waiting. There are problems on the network that need immediate attention. This is a daily scenario for network administrators who diagnose and resolve such problems. Network administrators try to identify problems quickly, but the methods they commonly use, such as relying on computer-aided design (cad) drawings marked with scribbled corrections, incomplete Excel spreadsheets, and fleeting memory, are inefficient, unreliable, and costly ways to manage and organ
May 1st, 1998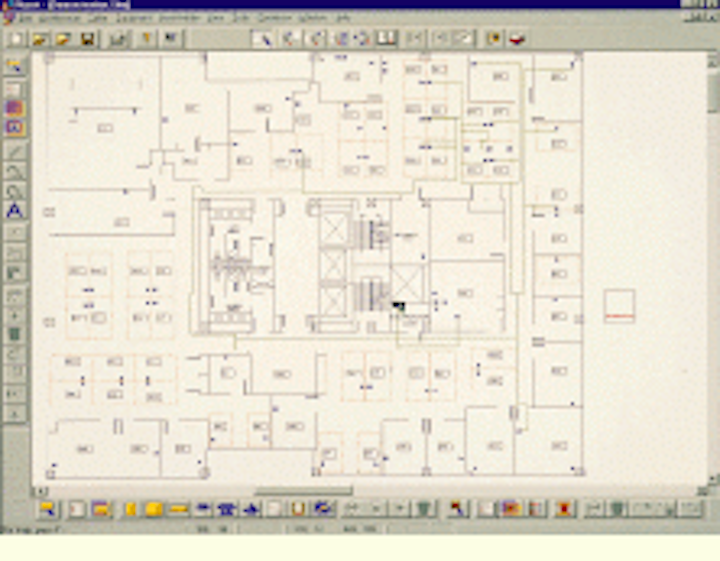 Karen Graziano
It is 9:01 AM and urgent e-mail is waiting. There are problems on the network that need immediate attention. This is a daily scenario for network administrators who diagnose and resolve such problems. Network administrators try to identify problems quickly, but the methods they commonly use, such as relying on computer-aided design (cad) drawings marked with scribbled corrections, incomplete Excel spreadsheets, and fleeting memory, are inefficient, unreliable, and costly ways to manage and organize cabling systems. Administrators lose time, businesses lose money, and employees inevitably lose their composure when the network is down.
To better navigate the sea of network pitfalls, manufacturers have created cable-management software (cms) that integrates voice and data network information to provide weary administrators with relief from the constant onslaught of networking problems (see Product Update table, page 80). cms gives network administrators control of their systems. Instead of putting out fires--a costly and time-consuming activity--administrators can use cms to confront network challenges at the beginning of the process. This software can be used to locate problems and prepare trouble tickets so technicians can make repairs before clients and employees even find out that the network is down. "Organi- zations know that downtime is a huge problem, and to circumvent problems, they need to proactively maintain their networks," says Bill Spencer, president of Network & Communication Technology Inc.
cms sometimes sounds too good to be true, in that it saves time, money, and headaches--but it comes with a high price tag. Not only is the cms costly, but it also requires organizations to change their structure and provide a dedicated person to run the system. "The up-front costs of cms do not compare to how much network downtime costs an organization," explains Spencer. "But administrators must understand that cms is a process, not just a project. Installers and network administrators must also incorporate the long-term costs of having cms."
Individual design
Cable management means different things to different network administrators. Individually designing cms to fit an organization`s needs is the first step. "When we talk about cable management, administrators must address a laundry list of questions," says Spencer. "What does the organization want to do? Where is it going? Who wants to control the system?"
Integrating voice and data is the first organizational issue. "When there`s a head of data operations and a different head of private-branch-exchange telephony, organizations are likely to run into problems. Voice and data applications must merge, with one person responsible for the system. The desire to keep track of everything requires having a central way of managing and maintaining information, and this means designating a central person," says Rush Jeffrey, product manager of Telco Research Corp.
"You need a dynamic tool that records online the `spaghetti syndrome` in the wiring closet. You want to know about each cabling failure before employees call and complain," says Motti Kleinmann, president of rit Technologies Ltd. "With the cms PatchView, all connectivity changes are immediately reported to the management station so you can instantly respond and reduce the number of these unpleasant calls. This will dramatically reduce ongoing maintenance cost and network downtime."
Organizations must first define their objectives, implementation plans, type of system, documentation plans, and project scope. "Once you define what is in your system," says Spencer, "then you want to set up an identification scheme equivalent, which is equivalent to a chart of accounts in a financial accounting system. It is the foundation of a relational database, so you need to spend a lot of time up front working on it. [Our company`s] Planet [NT/95] cms system will build the database for you. Just set up the identification scheme." Most software vendors will advise companies how to implement these systems successfully.
Tracking information
"To some people, just keeping track of cable means cable management," says Spencer. Adds Telco`s Jeffrey, "Customers can track whatever they need to. If someone wants to track every pin on a block, then he can." Network administrators decide how specific they want their tracking features to be. Telco Research`s tru server, for instance, divides the client/server environment into five classes: terminating equipment, crossconnects, transmedia, information outlets, and electronics. "Using these five classes, customers can enter phone types and fiber, as well as set paths for tracking private branch exchange straight to the phone," explains Jeffrey. tru server has no limit on how many elements it can track. "In addition to tracking the cable," he adds, "tru server bills back for installation and maintenance."
After these parts of the process are completed, then the network administrator can design the network and make changes to it with just the click of a mouse. "You can define a cable to have 100 pairs and the cms will automatically generate the 100 pairs," says Jeffrey. The automatic line-assigning feature will also recommend the cables and spare parts that should be used to build new connections. The line-assigning feature in The Angeles Group`s Cable-Master system, for example, instantly documents and retrieves information on the entire cabling system, including equipment, work-order activity, and circuits. The user can ask the system which routes are available to and from a component, and he or she can automatically assign a component to a specific routing preference within seconds.
Accurate record-keeping is a necessity for network administrators. "As companies grow, facilities managers are expected to accurately document the cabling system," says Charles Highfill, registered communications distribution designer (rcdd) and president of lan Systems Design Inc. (Cornelius, NC). "Managers are notorious for not having all the information, but this is a bad business practice. Tracking cabling-system information manually does not produce accurate records because information isn`t always recorded after a change is made or incorporated into the database. cms alleviates many of these problems because it automatically tracks parts and repairs using real-time management."
rit`s PatchView system features paperless work-order procedures. Administrators can create an automatic work order that will travel over the network to the appropriate wiring center. No printed instructions are required because at the wiring closet, each move, add, or change (mac) is identified by light-emitting diode (led) indicators built into rit`s intelligent patch panels. The patch-panel led indicators guide the operator in sequence through every step of the mac. For example, when a patch cord is to be removed, blinking leds mark the ends to be disconnected. When all unwanted patch cords have been removed, the system guides the technician through the reconnection sequence. When a new patch cord is to be inserted, the correct ports are indicated by illuminated leds. When a connection is completed correctly, the management station is updated automatically. This ensures that all changes are immediately and accurately recorded.
Remote management and security
One of the most important recent advances in cms is remote control of the network and physical layer. "More than 50% of network problems are related to the physical layer of networks," reports Philippe Labrosse, nordx/cdt`s cabling-management software product manager, "so you can significantly reduce time spent and money lost by using the system to incorporate both physical and network layers." nordx/cdt`s DynaTraX remotely executes all macs, manages user connections to the hub and switches, and by using a Test Card component, diagnoses physical network problems.
Some systems now incorporate security features to protect the network`s integrity. The cms system can automatically make changes or dispatch work orders to a technician. Users can also contact the application and report a problem or request a change. "This is important because 35% of network failure results from macs, and the system acts as an audit trail," says Spencer.
"cms`s elaborate drawing-import functions make it easier for administrators to manage cabling systems because they interface with difficult programs such as Autocad that require specialists," says Labrosse. Using the imported drawings, administrators can produce floorplans and layouts quickly and easily. Paper-based cad drawings, on the other hand, do not fully detail connectivity and are expensive and time-consuming to modify and reproduce. A cad-based cms can make changes quickly because it lets administrators download floor plans, drawings, and photos.
The Angeles Group`s Cable-Master integrates Autocad drawings. It provides a visual description of the entire network and shows every level in telescopic detail. You can search for, view, and quickly locate a work- station, equipment, and network connectivity with a direct link to the associated database. This feature lets users generate graphics and text-based reports on demand.
"With [our company`s] Planet [NT/95] you can easily document a single building or an entire campus. You can see a 10-story building in one view," says Network & Communication Technology`s Spencer. The company has written a cad program specifically for cabling systems. "You don`t need to be a cad engineer to use the program," he says, "because we incorporate drawing functionality similar to that found in Microsoft Office-type products. And you can import cad drawings by using dxf [drawing interchange file format]."
cms can also play a key role in labeling. "cms systems have databases that can incorporate identification information and from that they can create labels and then bulk-produce them," explains Spencer. LabelMark software by Brady accommodates a variety of label sizes and permits multiple type sizes on a label. You can enter information directly into the LabelMark or import it from other databases to create the labels, which you can serialize or print randomly.
Network & Communication Technology Inc.`s Planet can bulk-produce laser-generated labels for faceplates, telecommunications outlets, connecting hardware, and patch panels, covering the entire infrastructure. This labeling option enables administrators to easily identify cables when the technician is completing a move, add, or change.
Training
"Training is a very large part of cms," says rit`s Kleinmann. The company`s four-day seminar devoted to PatchView training certifies employees as qualified PatchView consultants. The seminar, which details system configurations, platforms, and maintenance, begins with basic concepts and types of interfaces, moves to network-management concepts and map functions, and advances to hands-on segments that illustrate how to install PatchView.
"You can`t just buy the software off the shelf and expect it to work," adds Labrosse. "It is a framework that an administrator must follow and, at the end of the day, it depends on the people using the system."
"There is definitely a training requirement on the customer`s part," Spencer concurs. "If the customer wants to purchase the software without investing in a dedicated person or changing organizational processes, then we don`t believe a cms will work for him. You need to have a physical layer accountant or bookkeeper for the system." He warns that without these changes, the system won`t work: "Don`t be too ambitious if your organization won`t support the software and make the necessary changes beforehand," he cautions.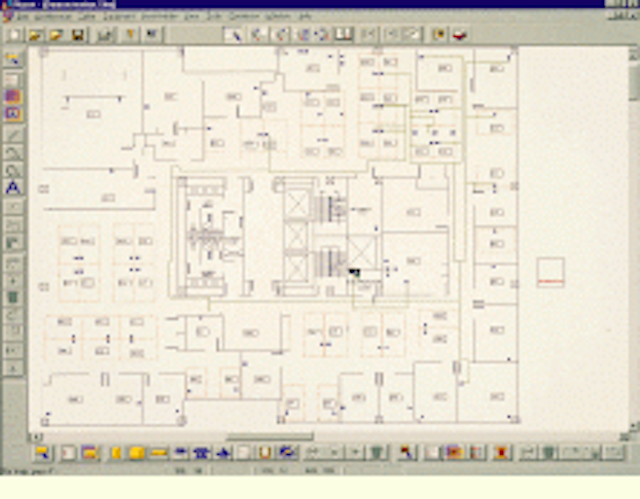 Click here to enlarge image
Using a cad program, Planet NT/95 by Network & Communication Technology Inc. provides a graphical view of fixed and modular walls, telecommunications closets, and riser, pathway, cable, and equipment locations.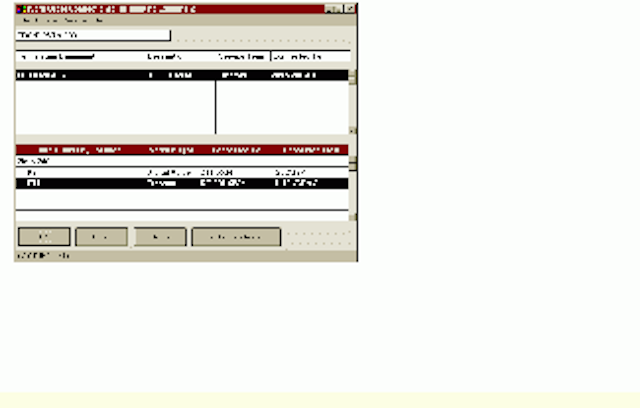 Click here to enlarge image
Telco Research`s tru server work order function generates icons to represent each type of equip-ment. In a single work order, you can install or remove multiple equipment items.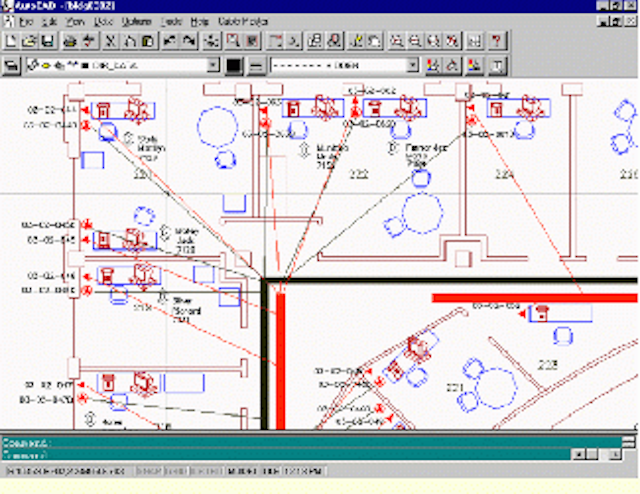 Click here to enlarge image
The Angeles Group`s Autocad Integration lets you view your voice, data, and network topology representing cables, ports, channels, pairs, routers, hubs, and other associated equipment in real-time bidirectional mode.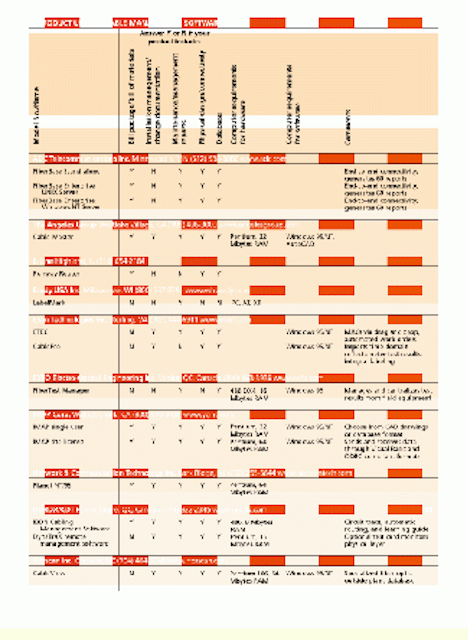 Click here to enlarge image