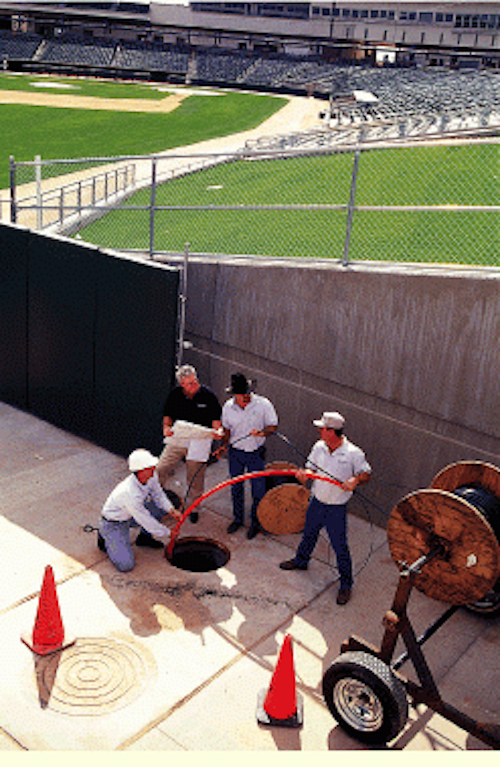 A new Arizona baseball complex hits a home run and gets a comprehensive fiber backbone.
Carol Everette
When the brand-new Arizona Diamondbacks and century-old Chicago White Sox went through their spring-training rituals of batting, throwing, and running the bases, they probably were not even aware of the high-speed network operating behind the dugouts and beneath the adjoining fields of the new Pima County Kino Veterans Memorial Stadium complex in Tucson, AZ.
"The new ball fields were the driving force for the installation of the all-new fiber backbone and cabling infrastructure," emphasizes Joe Keaney, telecommunications manager of the Pima County facilities department. Pima County had purchased private land next to Kino Hospital to provide facilities for not just one but two major-league baseball teams during spring training as well as for the county`s own everyday community services. Known as Veterans Sport Park & Community Center, more than half of the allotted 280 acres house Kino Veterans Memorial Stadium and adjoining clubhouses, spring-training ballparks, and 16 practice fields for the county`s springtime residents, the Diamondbacks and White Sox. County facilities, including parks and recreation, a community center, a teen center, a juvenile legal center, and an adult probation facility, occupy the remainder of the land.
The requirements for voice, data, and video capabilities ranged from wiring simple telephone lines to high-speed data cabling. County planners also had to review their future planned applications such as surveillance and high-definition broadcasting. Since Tucson also was in the process of rewiring all its downtown complexes, the county`s cabling designers decided on fiber-optic cabling. "Because of the wide array of applications and the distances between all these facilities, we specified a fiber composite cable," explains Dennis Manes, southwest district manager for Fibertron (Tucson, AZ), a full-service stocking distributor. "This would be more than enough bandwidth capability to provide communications access for their needs today while giving them the expansion capabilities of tomorrow without having to go in and rip up and replace."
Getting to first base
In planning the lay of the fiber-optic cable, designers had to look at the existing location and facilities, the proposed facilities and ball fields, future plans for the additional land available, and centralization of hubs. Two of the three main hubs are located in the Ajo Way complex and Mission Road area, which include the main jail, a work-release facility, and a series of transportation facilities. The centralized hub for certain types of communications is in the downtown complex that encompasses Superior Court; the administration, health, and welfare building; legal services; and the public-works building.
The installation of the fiber-optic cabling between complexes includes routing through new and existing conduits, under existing roadways, and through older facilities. "We wanted to centralize some voice and communications functions and therefore had to run all cables between each building and then back to the main telecommunications closet in the adult probation facility," explains Keaney. Future plans include fiber-optic cable to the downtown complex and Mission Road facility.
The first step was to install 17,000 feet of backbone conduit, which was handled by Mountain Power Co. (Tucson, AZ). Diversified Telecommunications (Tucson and Phoenix, AZ), a full-service telecommunications installation company that handles design, trenching, installation, and service, completed the fiber-optic cable installation. "We cross-train our crew of 70 to be able to handle all facets of data, telephone, and cable-TV installation and service for both inside and outside the plant," says Diversified Telecommunications owner Tony Frighetti. "For an installation of this size we used two full line crews to complete the installation of the cable in one week and the splicing in three days."
Diversified hand-drilled down to the conduit to chart it and plan for the innerducts. "In one 4-inch conduit, we pulled three innerducts," notes Diversified`s project manager, Geoff Graves. "We also pulled copper alongside the innerducts. Copper feed cables had been requested for analog lines where fiber is not required and where cost savings could be realized. In addition, we had to put in nine manholes for easier maintenance and troubleshooting."
For the majority of the backbone cabling, Pima County selected a hybrid fiber-optic cable from Chromatic Technologies Inc. (Franklin, MA). "The reasoning behind the hybrid fiber-optic cable was for expanding future uses," explains Fibertron`s Manes, who worked closely with Chromatic and Pima County engineers to design and orchestrate the timely installation of all the cable products.
"We supplied a variety of fiber counts in a composite cable construction, depending on the cable lie and application," reports Chromatic`s western regional manager, Dale Oliver. "This included 12-fiber multimode/6-fiber singlemode for interbuildings as well as 72-fiber cable backbone consisting of 48-strand multimode and 24-strand singlemode.
"The cable that Chromatic Technologies provided was a fully flooded, loose-tube construction," Oliver adds. "The loose tube protects against water penetration and allows movement and flexibility in the tube. In addition, the buffer tubes are surrounded by a moisture-resistant gel for additional protection. Pima County`s selection of a hybrid multimode/singlemode gives them the choice of applications such as voice and data [communications] over multimode and broadcasting capabilities over singlemode."
"After we laid the fiber-optic cable," adds Diversified`s Graves, "we tested the splices and terminations. We had no problems and no failed fiber."
Home-run cable layout
All the backbone cable comes back to the main switch located in the adult probation facility. From there, it stems out to the splice vault, where it is then routed through conduit to 180 fiber terminations. The 900 drops of Category 5 station cable are designated for high-speed voice and data. There`s also a variety of 50- to 600-pair copper-feed cable between buildings used for voice only. The copper and fiber-optic feed cables give the county the greatest flexibility in selecting telephone equipment.
"We were able to utilize some of the existing conduit," says Pima County`s Keaney, "but we had to pull up old armored cable that had been previously installed so that we could lay the conduit like a plumbing system. We had one major problem in installing the new cable: routing the cable through a very complex conduit system."
Because this area is not noted for harsh changes in temperature or environmental disasters, underground conduit was the most logical selection. "The only disaster for installed fiber-optic cabling is the chance of its being dug up by equipment," says Fibertron`s Manes. "To protect against that, we placed tracer wires in the conduit to be able to locate them. In addition, 18 inches above each conduit is a marker tape to warn that there is fiber-optic cable installed."
All the terminations are in the communications room. The main backbone comprises 1000 feet of the 72-fiber hybrid cable that was installed from the main splice boxes located in the adult probation facility to the Veterans Memorial Park splice vault (or manhole). From the vault, more than 10,500 feet of 18- or 12-fiber multimode/6-fiber singlemode is routed to each building, to both teams` clubhouses, and even to the practice fields.
"Our goal is to tie all communications at this complex with fiber, which should be achieved this year," notes Keaney. "With the completion of the fiber-optic backbone, these facilities will be linked to each other and in the future to the downtown county office complex and other off-site county locations, making it possible for communications to be managed and routed from one main downtown home-run hub in the future."
Future grand slam
Currently, there is an old Rolm switch located in the existing juvenile complex. "This is the largest pbx [private branch exchange] working there today, and it will be replaced this year," says Keaney. There are smaller pbx systems located in the adult probation facility, teen center, and community center. A new Rolm pbx will be located in the stadium with the main switch in the adult probation building. After the new facilities are completed, all locations will work from a new Rolm pbx, and these will all be linked together with fiber-optic cable and tie all networking and voice applications for all buildings.
"Communications are vitally important to the growth of Pima County," says Keaney. "That`s why we put fiber and copper for voice and data applications at every location. We also wanted to ensure that the new cabling infrastructure would meet our needs for the future."
Affirms Manes, "Since cabling requirements are not static, but growing and evolving with the changing needs of users, we made sure that Pima County could easily accommodate fast and accurate moves, adds, and changes and [that we could] speed up and simplify troubleshooting while increasing network reliability and uptime."
Expansion plans in the area include a new golf course and other community facilities. And the ball fields will have the capability to use the fiber for surveillance, teaching, and broadband applications. "We specified to Chromatic Technologies to factor in redundancy in the strands to each location," says Manes. "The splice vault has room to expand. This should give them more fiber to satisfy every known application now and in the future."
"Future-proofing is a networking manager`s dream. This project has become my `field of dreams,` " enthuses Keaney.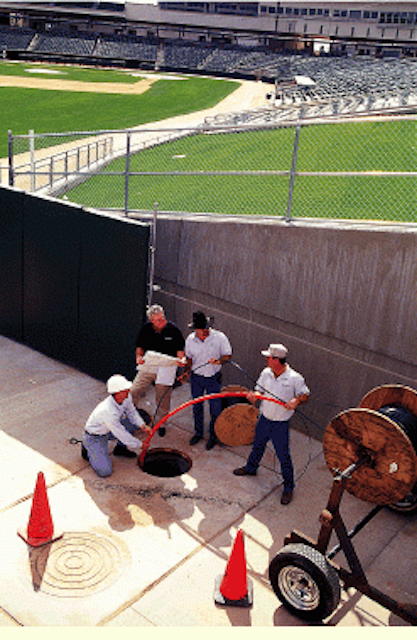 Click here to enlarge image
Hybrid fiber-optic cable from Chromatic Technologies is installed by (from left) Larry Lang, Dennis Manes, Tony Frighetti, and Dan Neff into conduits beneath brand-new Kino Veterans Memorial Stadium in Tucson, AZ.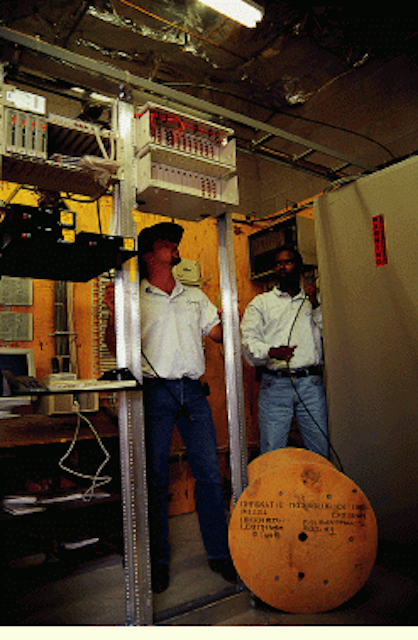 Click here to enlarge image
Diversified Telecommunications` Tony Frighetti (left) and Anthony Wright terminate fiber-optic cable into the main telecommuni-cations closet located at Pima County`s adult probation facility.
Click here to enlarge image
Larry Lang (left) and Anthony Wright of Diversified Telecommuni-cations place more fiber-optic cable into underground conduits beneath facilities at Veterans Sport Park & Community Center.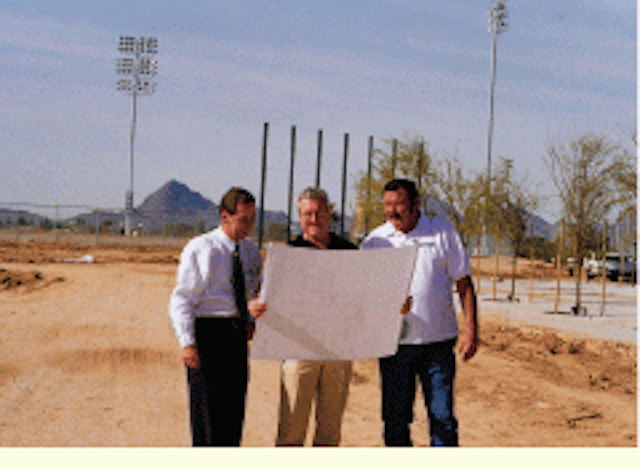 Click here to enlarge image
Reviewing cabling layout routing during construction of Arizona Diamondback practice fields and clubhouse are (from left) Dale Oliver of Chromatic Technologies, Fibertron`s Dennis Manes, and Ron Mayhew of Sunglo Telecom.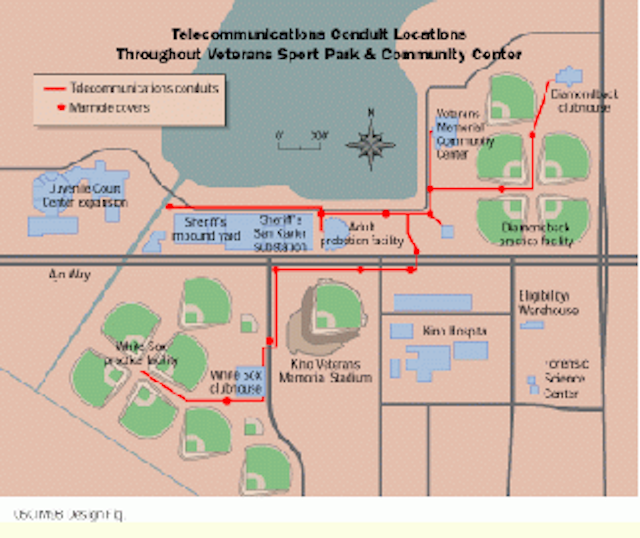 Click here to enlarge image
Carol Everett is a freelance technical writer specializing in cabling installation and maintenance.