The incredible shrinking fiber-optic connectors
It`s no accident that noticeably bulky fiber-optic connectors are trimming down; it`s by design and by necessity. That`s because fiber connectors are seen as one of the most important elements in fiber cabling`s overall acceptance as a viable alternative to copper in the office. But unless these small-form-factor connectors can provide greater simplicity, lower cost, and higher density, the race to run fiber from the backbone to the office will continue to move at a snail`s pace, no matter how h
May 1st, 1998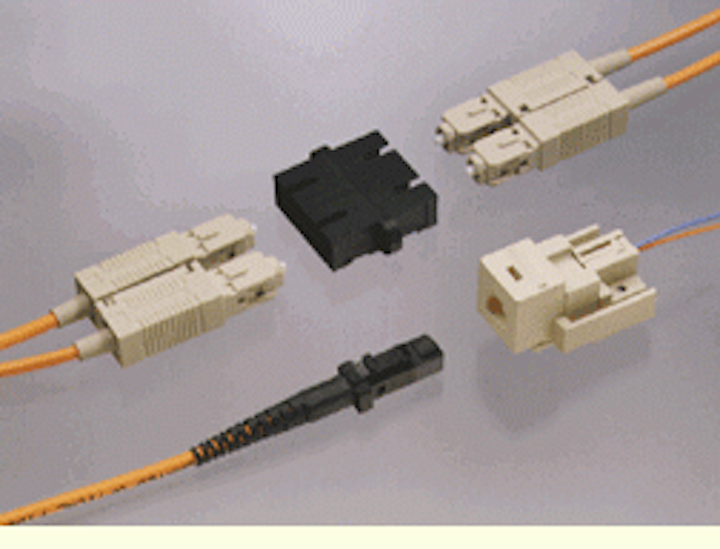 Small-form-factor connectors promise more simplicity, lower cost, and higher density than the SC.
Ron Karjian
It`s no accident that noticeably bulky fiber-optic connectors are trimming down; it`s by design and by necessity. That`s because fiber connectors are seen as one of the most important elements in fiber cabling`s overall acceptance as a viable alternative to copper in the office. But unless these small-form-factor connectors can provide greater simplicity, lower cost, and higher density, the race to run fiber from the backbone to the office will continue to move at a snail`s pace, no matter how high the bandwidth and how fast the transmission speed.
Five major manufacturers have tried to get a jump out of the starting blocks by challenging the duplex SC. They put their new and improved fiber connectors to the test before the Telecommunications Industry Association`s (tia--Arlington, VA) TR-41.8.1 Working Group, which is developing the ansi/tia/eia-568b standard to update the ansi/tia/ eia-568a Commercial Building Telecommunications Cabling Standard. The five connectors "battled" at a tia meeting last November to be specified in the new tia/eia-568b standard. The companies not only wanted to get a leg up on other companies that are developing connectors but also to have the edge in dictating which adjoining hardware--and, in essence, which premises cabling system--would be positioned to win the horizontal fiber cable system-to-the-desk relay race.
At least that was the plan. But when the dust settled at a follow-up tia meeting last February, none of the five competitors had won the standards, so none of them really lost, either. All agreed by default that it was perhaps realistic to let the market decide what to do--and to see which connectors best stand the test of time and best serve the numerous real-world applications for now. So cabling-system designers, installers, and contractors are left with the comparatively bulky, slow to install, and expensive SC fiber-optic connector as the tia/eia-568a premises-cabling standard to which all comers must be compared.
All five small-form-factor fiber connectors--the mt-rj by a consortium of amp Inc., Siecor Corp., Hewlett-Packard Co., usconec, and Fujikura; Lucent Technologies` Optispeed LC; Panduit Corp.`s opti-jack; the scdc/scqc from Siecor Corp., Siemens, and ibm; and 3M Telecom Systems Div.`s Volition VF-45--are about half the size of the duplex SC for higher-density installations. These companies claim that their connectors have the look and feel of the RJ-45-type modular telephone plug and jack for familiarity and easy mating. They also say their connectors conform to tia/eia-568a performance standards. Most of these manufacturers report that their connectors have significantly fewer parts for greater simplicity and lower cost. Practically all claim that their connectors can be installed in about one-fifth the time of the SC to significantly reduce the cost of labor. And practically all have or will have end-to-end fiber-cabling systems to push with their new-generation small-form connectors.
The mt-rj
Modified into an 8-position modular plug-and-jack interface, the mt-rj version from amp Inc. (Harrisburg, PA), Siecor Corp. (Hickory, NC), Hewlett-Packard Co. (San Jose, CA), usconec (Hickory, NC), and Fujikura (Atlanta, GA) is a multifiber ferrule-type connector that`s based on a high-fiber-count counterpart--the MT array connector--developed by Nippon Telegraph & Telephone in Japan. The MT technology has been around for a while, having been field-tested in high-bandwidth applications ranging from data-center connectivity to Japanese home telecommunications applications.
The mt-rj device was the only connector that received the necessary votes to be carried forward as a possible new small-form-factor fiber-connector standard by the tia at last November`s meeting. But at the February meeting`s final vote, it was a near-miss. During the November tia voting, the mt-rj received the highest rating among the five connectors in several categories, including size and improvement over the SC. As one of the largest producers of SC connectors, amp is in a good position to make design improvements over existing SC technology.
According to Ken Hall, registered communications distribution designer (rcdd) and amp`s global systems marketing manager, some of mt-rj`s improvements over the SC connector include one-fifth the installation time for two fibers; a no-polish, no-epoxy design; about half the jack/connector depth; more than double the return-loss performance at -44 decibels; and an RJ-45-type latch that`s intuitive to installers.
Hall also claims that the mt-rj is backward-compatible to existing copper outlets and patch panels, as well as "on the network-electronics hub cards where real estate is at a premium. The biggest issue is coexistence: multiple copper and fiber ports in the same outlet. The media choice should merely be a port selection for the user. It should not require an interior designer to make it look acceptable. The mt-rj enables that transition with the least overall impact on the existing environment."
The mt-rj, he adds, fits into a single-gang box with copper media and has an electronics density equal to 8-position modular copper, or 12 ports per hub card. The SC, on the other hand, requires a special faceplate, cutout, and patch panel; typically needs a surface-mounted outlet due to connector length; and has electronics density equal to half that of 8-position modular copper, or 6 ports per hub card.
Hall also admits that the mt-rj is similar to the SC. Both connectors, he says, handle singlemode and multimode applications; can use existing fiber cable; have a transceiver interface; are duplex in polarity; comply with tia/eia-568a and iso-11801 performance requirements; meet the license requirements of the American National Standards Institute, tia, Electronic Industries Alliance, and the Institute of Electrical and Electronics Engineers (ieee--New York City); and both have dust protection.
Simplicity of field-terminating the mt-rj was an important design consideration for amp. Explains Hall: "Traditional fiber terminations include stripping the fiber, some form of epoxy, cleaving the fiber, inserting one or both fiber strands, and then polishing. The mt-rj uses pre-polished fiber stubs within the ferrule that mate to a mechanical splice on the field-termination side. This termination method takes the guesswork out of the equation and provides consistent performance, including multimode return loss--a requirement that is critical for next-generation protocols but not easily field-tested without proper equipment." The connector, he adds, can be fitted to existing off-the-shelf fiber-optic cable, requires no special cable, and works well in retrofit applications.
The mt-rj also is designed to handle ribbon fiber as duplex technology evolves. It can be dropped into existing copper-based systems without retooling, so it can accommodate the large installed base of copper products--from the patch panel in the telecommunications closet to the faceplate at the workstation outlet. The jack snaps into existing openings in faceplates as well as patch-panel knockouts.
Hewlett-Packard and amp have developed transceivers that are compatible with the mt-rj interface, and at the Conference on Optical Fiber Communication--held February 22 to 27 in San Jose, CA--Cabletron, Cisco, and xlnt announced that their next-generation local area network electronics would use the mt-rj interface. Also, amp just announced its own end-to-end fiber-cabling system, Solarum, in which the mt-rj plays a very significant role.
Lucent`s Optispeed LC
When the Optispeed LC connector was introduced earlier this year, Lucent Technologies (Murray Hill, NJ) said it was developed "in response to customer needs for smaller and easier-to-use fiber-optic connectivity." Created by Bell Laboratories (Murray Hill, NJ) as an improvement over the much larger and slower-to-install, but popular, ST connector, the LC features not only a smaller body but also a smaller ferrule. It is used with Lucent`s established systimax Structured Connectivity Solution and has found a home in organizations such as the Washington Post, Georgetown University, Baylor Medical Center, and Australia`s anz Bank.
"The LC performs better than the ST, both in terms of insertion loss and return loss," says systimax fiber-optic manager John George. "We achieved better results with the smaller ferrule. The time to connect or disconnect a duplex connection is much lower with the LC because it`s simultaneous. The STs have to be handled individually."
The LC works well with multimode and singlemode fiber--a feature that did not go unnoticed by members of the tia`s TR-41.8.1 Working Group last November when they rated the LC the best of the five connectors in this particular performance category. "It really comes down to density and performance," says LC product manager Dan Hendrickson. "We had a lot of requests in the singlemode world for density, and we found that multimode really has the same requirements. If you go into an old closet or an old building and you want to retrofit fiber or upgrade, you can go in with an LC without having to rearrange or expand the closet. You can double your density with the LC throughout the network on panels, at outlets, and in closets."
For field-mounted connectors, the LC`s average insertion loss ranges from 0.1 to 0.2 dB, and minimum return loss is -20 and -40 dB for multimode and singlemode, respectively, according to Lucent`s literature. Lucent LC jumpers provide 0.1-dB average insertion loss for both singlemode and multimode fiber, and minimum return loss is -20 and -55 dB for multimode and singlemode fiber, respectively. "The connector insertion-loss performance is very crucial to the viability of systimax and the positioning of our Optispeed channel performance," notes Hendrickson.
LC`s ceramic ferrule has an outer dimension of 1.25 millimeters, an important factor in speeding installation time, according to George. "It`s basically simple math. There`s less surface area to polish--less epoxy and less adhesive that must be polished off the connector. The ferrule is half the diameter of a standard- ferrule connector, and the surface area of the end of the ferrule is half of the LC`s outer diameter. So the total polishing time for the LC is actually one-eighth that of a standard 2.5-mm connector. I`ve heard from end-users that the total polishing time--the total prep time--has been reduced by about 40%."
The LC design is modeled after the RJ-45, and when engaged, it makes an audible click. It plugs into the adapter in one orientation only and maintains transmit-and-receive polarity. It is designed to be field-mounted on a 900-micron buffered fiber in behind-the-wall applications. "The LC is certainly based around the RJ-45 footprint," says George. "The LC led the market with that type of design, and then we saw the other competitors imitating that with lesser effectiveness. The LC`s thumb-activated latch is very user-friendly. It`s a pull-proof connector and very robust, and when the latch is depressed, the LC actually pops out of the adapter." LC`s associated cabling hardware includes field-mountable simplex patch cords, duplex patch cords, hybrid patch cords, pigtails, duplex adapters, liu and lgx panels, collar with adapters and outlets, tools, and consumable kits for the installation process.
Lucent says that the LC complies with tia/eia-568a, iso/iec-11801, and Bell Communications Research performance standards. In addition, the LC is designed to work with Gigabit Ethernet and other gigabit applications coming to the market this year, according to Lucent, whose literature notes the LC was recently selected as the recommended optical connector for the ieee 1394B S-800 glass-fiber residential connector standard.
Panduit`s opti-jack
Panduit Corp.`s opti-jack connector already has a track record in real-world applications. "opti-jack has been in worldwide distribution and in use for over 14 months," says Richard Akins, fiber-optic product manager at Panduit Corp. (Orland Park, IL), calling it "the first [small-form-factor] connector designed specifically for premises cabling." opti-jacks are in the offices and backbones of Motorola, Sprint, Northwest Airlines, Indiana State University, and the State Department.
opti-jack has the same footprint as the RJ-45-type modular jack and less than one half the width of a standard duplex SC connector, notes Akins. It provides higher-density terminations than the SC and ST at the workstation outlet and in the telecommunications closet and requires fewer cable-management products, he adds. opti-jack terminates two fibers that are 1/4 inch apart--or half the center-spacing of the duplex SC connector.
"The connector design," says Akins, "is based upon the proven reliability and termination techniques associated with 2.5-mm ferrules, as installed by the tens of millions each year in ST and SC connectors. Existing ST and SC termination tooling can be used with minimal retraining. Multiple termination styles developed for the ST and SC, such as stub connectors and hot-melt connectors, can be implemented with opti-jack."
opti-jack has about half the separate parts of the duplex SC--25 parts for a full-duplex plug-and-jack termination with no adapter versus up to 45 parts for some duplex SC connectors that use an adapter and include up to four simplex plugs. opti-jack, says Akins, "terminates in the same way as the LC connector and, therefore, in the same amount of time."
Part of the Panduit`s OptiCom and Mini-Com Network Cabling Systems from opti-jack works with all common singlemode, 50/125-micron multimode, and 62.5/125-micron multimode fiber cables and can be used throughout the entire horizontal network and backbone to provide end-to-end connectivity. The typical insertion loss is 0.19 dB for singlemode and 0.16 dB for multimode. Return loss of better than -20 dB for multimode and -40 to -45 dB for singlemode is reported. "Since high-traffic desktop environments are not as well- protected as cabling closets," Akins says, "opti-jack uses the RJ-45-type latching system that mates with a simple push and click. This non-optical disconnect design allows end-users to pull on the cables without separating the mated pairs and offers improved protection against network outages and disruptions when cables are disturbed accidentally."
The field-termination option for the plug and jack also eliminates the need for preterminated cable lengths that can be damaged during cable pulling. A fast-curing, anaerobic adhesive is used for termination. There is no adapter between the plug and jack, so unterminated jacks remain flush and out of the way. Since the small-form-factor connector has the same mounting dimensions as the RJ-45 modular jack, opti-jack can be swapped out quickly for existing copper connectors in both modular outlets and patch panels.
opti-jack complies with the optical, mechanical, and environmental tia/eia-568a performance requirements for fiber-optic connectors, according to Akins. The connector was introduced more than a year ago and has progressed on several standards fronts, including iso/iec New Work Items, vesa Home Networking, and the atm Forums for 155-Mbit/sec physical-layer and 52-Mbit/sec residential-broadband specifications, as well as the tia focis 6, Standards Ballot SP-3871.
Issued as an addition to eia/tia-604, Fiber Optic Connector Intermateability Standard, focis 6 "defines the intermateability of fiber-optic connectors and ensures that any combination of plugs and sockets conforming to the requirements of focis 6 will mechanically terminate." These types of connectors will be commercially designated as "FJ" (fiber jack). Panduit is enthusiastic about the proposed standard, which, Akins says, "is in its final round of balloting and nearing approval as a national standard." He notes that opti-jack "was the model for the FJ design at the tia" and "is the first FJ-style duplex fiber-optic connector as defined by the focis 6 standard."
opti-jack includes housing, a cover, two ferrule assemblies, two crimp sleeves, a dust cap, two 900-micron boots for buffered fiber, and two 3-mm boots for jacketed fiber. It can be used with Panduit`s wall-mount enclosures that manage fiber terminations at a building`s transition points; rack-mount enclosures and patch panels for handling fiber terminations at a building`s distribution points, and outlets and faceplates for handling high-density fiber installations in the work area for fiber-to-the-desk applications.
scdc and scqc
Presented jointly by Siecor Corp. (Hickory, NC), Siemens (Berlin, Germany), and IBM (Poughkeepsie, NY), the scdc and scqc connector designs use the same ferrule technology and housings as the SC connector. Siecor plays up the similarities rather than the differences between the scdc/scqc and the SC and even goes so far as to use the two-letter SC acronym in its own product names. Nonetheless, Siecor applications engineering supervisor Herb Congdon says that the scdc and scqc "offer an improvement over the standard duplex SC or single-fiber SC in the number of fibers terminated in each ferrule." The scdc contains two terminated multimode or singlemode fibers, and the scqc has four terminated fibers in the same 2.5-mm round ferrule that`s used in the standard SC connector.
"The duplex SC is basically two single-fiber SC connectors clipped together," explains Siecor product manager Markus Giebel. "The scdc uses the same footprint and housing as a single-fiber SC connector, yet still terminates two fibers, both in one ferrule, instead of one in each of two ferrules. This basically doubles--or quadruples in the case of the scqc--the density as compared to the duplex SC."
Since the 2-fiber scdc and 4-fiber scqc are housed in the same footprint as the single-fiber SC, "the installation practices and tools as well as the hardware that supports the SC connectors will support the scdc/scqc," notes Giebel. In addition, transceiver manufacturers are able to incorporate these connectors into their components because of the SC-like technology. And just like the SC, the scdc and scqc connectors are symmetrical--connectors can be mated to each other, unlike a plug-and-socket design.
"In other words," Giebel explains, "any scdc can mate to another scdc connector with a simple adapter, just like the SC connectors. There are no separate plug-and-socket designs or guide pins, and an scdc can be terminated in the field as a jumper or a pigtail or installed in the backplane of a wallplate. There are no proprietary or sole-source fibers, jumpers, or components required to install a network using an scdc/scqc." Congdon says that these characteristics mean less inventory, better economies of scale, and fewer related problems.
The scdc/scqc footprint is similar to the RJ-45`s, but, Congdon qualifies, "there is no external latching mechanism since it is not needed to engage the connection: The internal design used in all SC connectors provides the latch. The scdc and scqc designs use the simple push-pull arrangements common to most optical-fiber connectors. To disconnect, the housing is pulled from the adapter, which is advantageous for high-density applications, where an external latching mechanism can complicate moves, adds, and changes."
The scdc and scqc accept single fibers--either 900- micron buffered fibers or 250-micron fibers--as well as 2- or 4-fiber ribbon. They incorporate two new internal features: an offset keyway to prevent mating a single-fiber SC with a multiple-fiber SC and alignment grooves to maintain the fiber plane alignment of the mated connectors. Testing shows that the scdc/scqc connectors meet the optical, mechanical, and environmental performance requirements of tia/eia-568a for multimode and singlemode fibers, according to Giebel.
The connectors are available in a connectorized cable assembly and as a field-installable version. "For large volumes of connectors," notes Giebel, "it might be advantageous to purchase bag-of-parts products and install these using the standard epoxy and polish methods. Time savings are realized, because two fibers--or four for the scqc--are polished simultaneously as compared to polishing two or four separate SC connectors." The 2-fiber field-installable versions, when coupled with mechanical-splice and factory-polished fiber stub technologies, he says, can be terminated in the field in less than one minute.
3M`s VF-45
The Volition VF-45 from 3M Telecom Systems Div. (Austin, TX) is a two-part plug-and-socket interconnect and the only one of the five connector designs that does not use conventional ferrules. Instead, it relies on a V-groove technology that has been time-tested and proven for mechanical splicing. But as a connector technology that requires achieving and maintaining perfect fiber alignment, it has been called radical and risky in some circles. Can V-grooves work in a connector? "Yes," says 3M local area network market-development manager Dan Silver, who points to VF-45 installations at Argonne National Laboratory, the University of Texas, and the National Center for Manufacturing Sciences.
"It`s a very legitimate question because V-grooves are such a radical departure from the way you bring together fibers in a ferrule," he explains. "However, if you look back at splicing, all fibers in singlemode and multimode fusion splicers use a V-groove to align the fibers. And V-grooves in mechanical splices have been used by 3M and other vendors for at least 12 to 13 years. It is from that long-term history of splicing that we`ve learned to hold and align fibers in a V-groove. And we`ve been able to extrapolate that technology and use it in our Volition VF-45 socket. In effect, we were doing a connector-type operation with our splice in a V-groove."
Consisting of a plug and socket, the VF-45 is designed to have the same size, footprint, look, and feel of the RJ-45 latch-style copper connector, according to 3M. "Our VF-45 will snap right into several commercially available wallplates, including a Leviton wallplate," says Silver. Using a simple mechanical connection, the VF-45 is constructed of a few basic parts made from injection-molded plastic. Precision alignment is built into the mold, Silver notes, and the mold produces millions of parts, making the connector cheaper and less complex.
There are no adhesives required for installation, no curing time, and no precision parts that have to be carefully aligned. Therefore, Silver adds, termination is simpler and quicker with the VF-45 than with ferruled connectors. At their meeting last November, tia`s TR-41.8.1 Working Group members agreed, giving the VF-45 the highest rating of the five small-form- factor connectors in the low-complexity category, followed very closely by the scdc/scqc and mt-rj. "We don`t have to have an adapter or a coupler," adds Silver. "We have one self-contained unit that installs two fibers simultaneously in two minutes. We don`t need to splice. There`s no ferrule to thread the fiber into."
A standard SC connection typically has more than 40 parts that the installer must field-assemble, while the VF-45 plug and socket has only eight parts, with no precision components such as ferrules, alignment sleeves, or pins, and no couplers or adapters. The VF-45 plug consists of four basic parts: a fiber holder that secures two or more fibers in place; a shroud and boot that protect the fibers and secure the cable to the connector; and an integral hinged door that acts as a dust cover and contributes to the connector`s durability in the field. Socket construction includes a fiber holder that secures the fibers and simplifies termination; a main body that houses the special V-grooves to ensure exact fiber alignment, as well as an integral hinged door to provide dust protection; and a housing base that snaps into place to complete the protective shell.
The VF-45`s dust-protection mechanics easily out-distance the other four connectors, according to TR-41.8.1 member voting. "When you remove the plug," says Silver, "the hinged door automatically closes, not only providing protection from dust, but also protecting installers from having direct eye contact with the source."
The VF-45 interconnect, says Silver, is the heart of the Volition Fiber Optic Cabling System, which includes standard 62.5- or 50-micron multimode fiber-optic cable. "We have been able to put together for the first time a very good end-to-end solution, including the electronics," he says. "We don`t want to focus only on the interconnect, but VF-45`s form and fit of the RJ-45 are very critical and important." Silver says VF-45`s insertion loss averages 0.3 dB, and its return loss is "better than -20 dB."
According to Silver, the VF-45 also provides seven times the savings in installation cost per termination compared to the duplex SC connector. Based on the cost of connector, plugs and socket, labor, and coupling, the total cost per installation is $30 for the SC versus $4.10 for the VF-45.
VF-45 sockets can be field-terminated at wall outlets, computer workstations, and patch panels in the telecommunications closet or equipment room. The mating plug is designed for factory termination onto patch cords that provide interconnection from socket to socket or socket to transceiver. Along with transceiver receptacles, fiber patch cords, rack-mounted patch panels, and wall outlets, the Volition cabling system includes faceplates, termination kits, media converters, fiber installation tools, and test equipment.
Factory-terminated hybrid patch panels also are available to allow connection between an installed SC or ST connector and the VF-45. Terminations can be consolidated on a 24-port rack, where the fiber can convert to RS-232 10- or 100-Mbit copper cabling.
Tested to iso-11801 and tia/eia-568a premises cabling standards and the corresponding component standards, the VF-45, according to 3M, was adopted by the Fibre Channel Association`s asc-x3t11 Technical Committee in May 1997 as the new small-form-factor fiber-optic interface for future variants of Fibre Channel. That standard operates over copper and fiber-optic cabling at distances to 10 kilometers.
Staying connected
Will these new-generation fiber-optic components and systems be the catalyst in bringing fiber to the desk? "Two simple stumbling blocks have been responsible for keeping fiber away from the desk: higher initial installation costs and lack of fiber- cabling-system components designed specifically for the premises-cabling environment," says Panduit`s Akins. "The cost gap between fiber and Category 5 copper cabling systems has diminished, thus making fiber a more acceptable option."
"Cost has been the primary obstacle," adds 3M`s Silver, "but recent improvements in the supporting electronics and infrastructure, plus increased volume of fiber production, are causing the per-port cost of fiber to fall rapidly and become more comparable to copper."
According to Lucent`s George, "Increasing the density of the port from the hub--for example, being able to put 12 ports on the hub that previously could hold only 6 SC ports--lowers the overall cost of the electronics to the end-user. And in reviewing and analyzing the total installed-system cost of the fiber-optic system, the electronics primarily dominates that cost. So, by lowering that electronics cost, the total system cost will go down and the attractiveness of fiber-to-the-desk will increase for the end-user."
Concludes amp`s Hall, "The optical-fiber interface is no longer a limiting factor for the real estate on the printed-circuit board. Fiber and copper can be implemented in the same number of hub cards."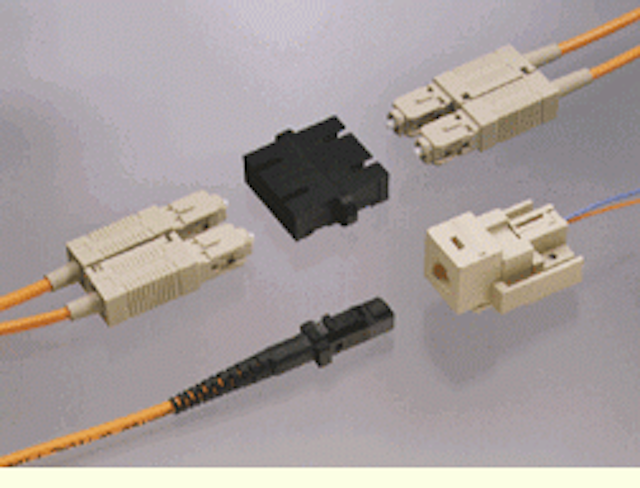 Click here to enlarge image
The mt-rj 2-fiber connector (lower portion), with its no-polish, no-epoxy design, speeds installation and takes up half the space of the SC connector (upper portion). The mt-rj connector was developed by a consortium consisting of amp, Siecor, Hewlett-Packard, usconec, and Fujikura.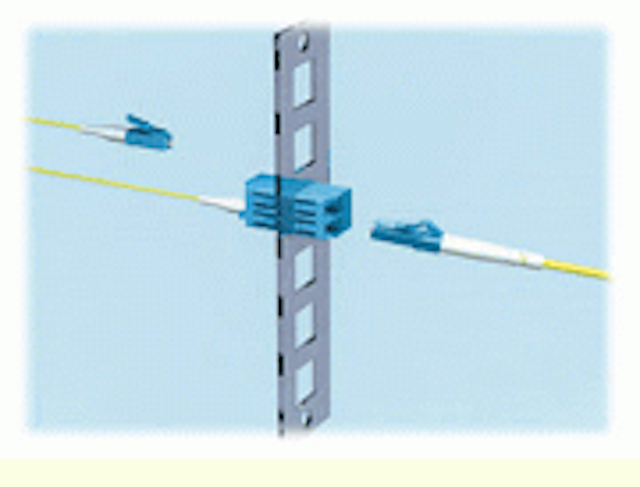 Click here to enlarge image
Lucent`s Optispeed LC claims the lowest insertion and return losses.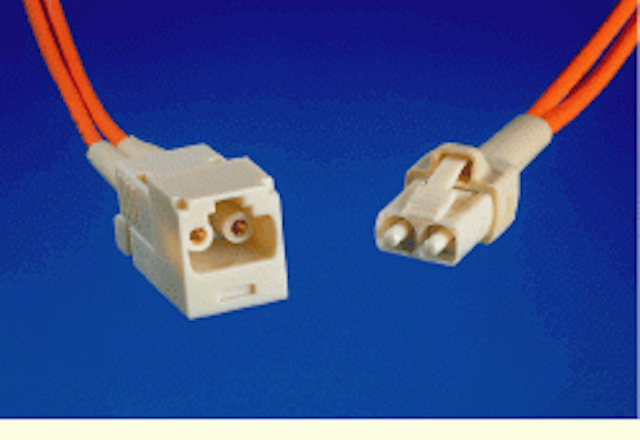 Click here to enlarge image
Panduit`s opti-jack already has more than a year`s worth of office installations under its belt.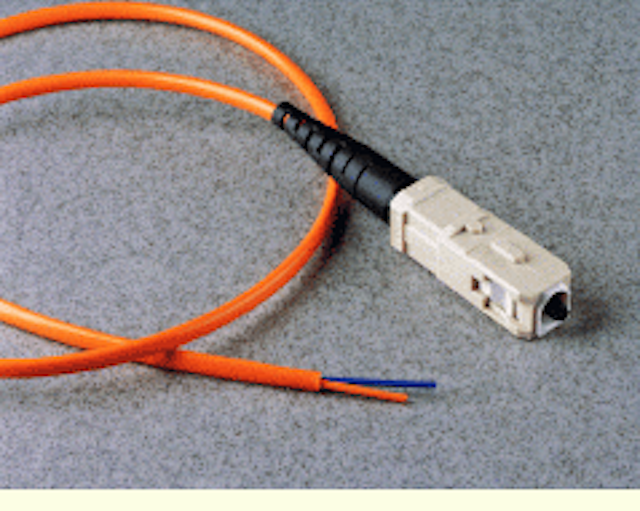 Click here to enlarge image
The scdc/scqc from Siecor, Siemens, and ibm contains 2- or 4-fiber ferrules in the same single-fiber SC footprint.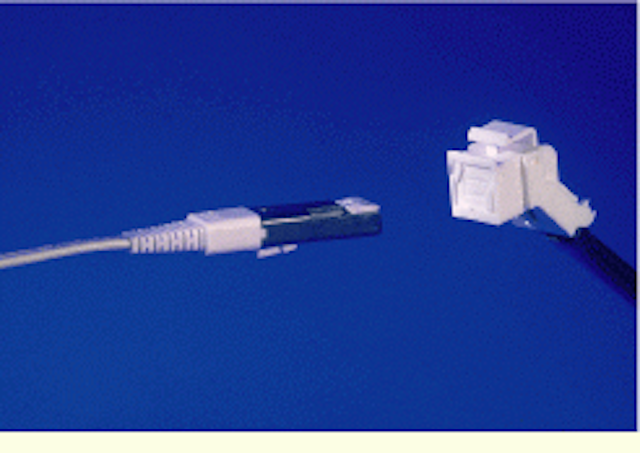 Click here to enlarge image
3M`s ferrule-less Volition VF-45 holds and aligns fibers with V-grooves.