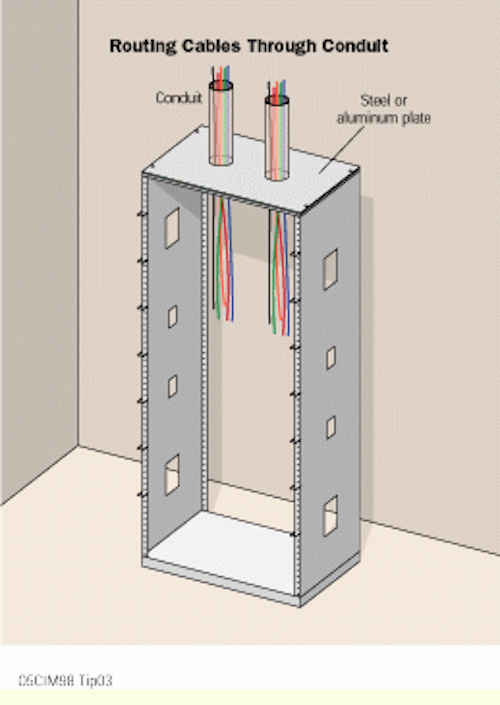 Use conduit to route cables to an open rack
David W. Maston,
Network Dynamics Cabling Inc.
Problem
Cables routed through a dropped ceiling to an open rack can be unsightly, with cables often lying on the floor. One solution is a channel that runs alongside the rack (see "Keeping up appearances in the equipment room," June 1997, page 50), but a more aesthetically appealing and less obtrusive option is available.
Solution
Feed the cable from the ceiling to the rack through 2- to 4-inch conduit. Mount a 1/8-inch-thick plate of aluminum or steel to the top of the rack, then bring the conduit from the ceiling to the plate. From there, route the cables to the appropriate spots on the rack.
Procedure
1) Measure the top of the rack to determine the proper size of the plate.
2) Order the plate from a steel or aluminum manufacturing company. Specify whether you want one or two holes in the plate to accommodate the conduit, and also specify the hole sizes. In my experience, the average cost of a plate is about $20.
3) Mount the plate to the top of the rack using nuts and bolts. You will have to drill holes in the plate for the bolts; you may also have to drill holes in the rack.
4) With the plate in place, run conduit from the ceiling to the rack. Then route cables through the conduit to the appropriate positions in the rack.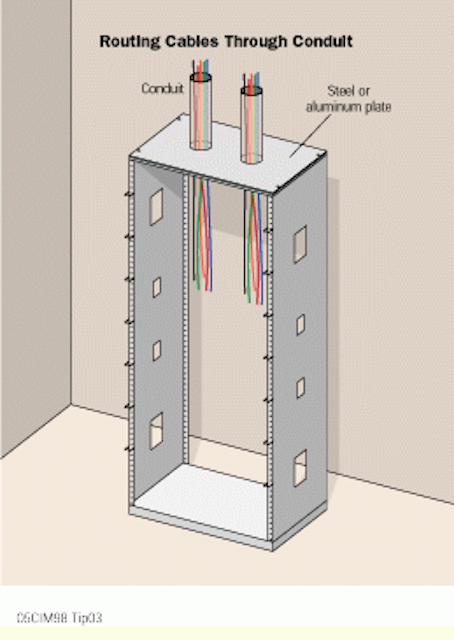 Click here to enlarge image
This view shows two pieces of conduit running from the ceiling to a plate mounted to the top of a cable-management rack. Cables are routed through the conduit and to the appropriate points on the rack.