Patch cord manufacturers strive to differentiate products
Patch cords, often referred to as the network`s missing link, are also called equipment or work area cords and constitute the most overlooked part of most cable plants. Representing the network`s last unconquered frontier, patch cords do not yet have a standard, despite years of work by standards organizations such as the Telecommunications Industry Association and the Electronic Industries Association (tia/eia--Arlington, VA).
Mar 1st, 1998
Karen Graziano
Patch cords, often referred to as the network`s missing link, are also called equipment or work area cords and constitute the most overlooked part of most cable plants. Representing the network`s last unconquered frontier, patch cords do not yet have a standard, despite years of work by standards organizations such as the Telecommunications Industry Association and the Electronic Industries Association (tia/eia--Arlington, VA).
Although standards-makers may not have made much progress, manufacturers are moving forward with new patch cord products (see Product Update table, page 80). In the process, they are creating their own proprietary testing methods and are fashioning new ways to differentiate what many installers label as a commodity item.
So why is it so difficult to create a standard for the most inexpensive link in the network? The answer to that question is simple, but solving the problem is difficult. Gregg Lafontaine, senior product manager at Hubbell Premise Wiring, explains: "The patch cord has become the most difficult part of the cabling system to characterize because it is the last part to be defined and is complicated by the present approach to characterizing connecting hardware." Because it is more difficult to test patch cords than cables, the tia has not yet reached a consensus on the best test method to include in the forthcoming standard.
Patch cord problems
Patch cords are a vital link in any network, and an inferior device can wreak havoc on data transmission. Michael Kerwin, a designer at Cablenet Systems Inc. (Woburn, MA), says, "They cause poor data quality through the connection and bombard the network with increased error rates and junk traffic." They can also cause crosstalk and attenuation problems.
Another problem with patch cords is that, although they may not bring the network down, they can still degrade its performance. "A poor connection caused by a defective patch cord can bring your system below Category 5," states Tony Beam, director of systems marketing at amp Inc. Adds Kenneth Thompson, vice president of marketing and sales at Adirondack Wire and Cable, "When an installer makes a large investment in the wall, the last thing that he or she wants to throw off the system is a small patch cord. It`s like having a Formula 1 race car with regular passenger tires on it."
Most manufacturers would welcome a patch cord standard to address these problems. Thompson says, "I think a good firm specification would eliminate a lot of the inferior cables out there, including many of the imports. Everyone will tell you that his cable is better--but the real purpose of developing a standard is so you can judge patch cords by their performance, not by their marketing value."
If there is no standard, then the manufacturer`s reputation and other subjective criteria become the determining factors in purchasing patch cords. Sam Parthemer, project engineer at Datalink Solutions Inc. (San Diego, CA), says, "When I buy patch cords, I look for good electrical performance, but most patch cords have that, so then I look for durability and functionality." Functionality relates to the distinctive features--such as color coding--that are now available.
Product differentiation
Despite the absence of a standard today and the patch cord`s reputation as a commodity item, manufacturers are striving to differentiate their products through testing, performance levels, tolerance buffers, strain-relief boots, snagless features, quick turnaround, colors, icons, cost, and even by their "made in the usa" labels. Most manufacturers focus on making user-friendly products.
Not all users think these features are a good thing. "Manufacturers shouldn`t differentiate patch cords," says Kerwin. "They are supposed to be network- and device-independent. Patch cords are like motor oil; they all have the same properties."
Today, most manufacturers offer patch cords in a variety of colors. amp offers up to 10 different colored jackets with matching strain-relief boots. Hubbell Premise Wiring manufactures colored Category 5 patch cords because, according to Lafontaine, different colors are requested in the larger jobs, where installers and users assign colors to denote specific functions.
Larry Kendall, president of Quiktron, adds, "Quiktron stocks everything from pink to violet to green. Our customers want to color-code their networks to make them aesthetically pleasing. For example, an installer wanted to put green and black patch cords in a school because green and black were the school colors."
However, not all installers are fans of colored patch cords. "Colors are not necessarily of value," says Kerwin. We`re getting away from totally mixed networks in my installations. There is no reason to have different colors. All it does is increase your inventory problem." Also, for a small job, there may be no need for colored patch cords. "You`re falsely assuming that the client has mis staff, which is not always the case, and then you`re assuming that that staff will follow your color standards," adds Kerwin.
Installers and manufacturers alike have lauded the invention of the strain-relief boot. Now it is a commonplace in the industry, and installers consider it a required feature. Parthemer explains, "Patch cords with strain-relief boots are important because they prevent the 8-pin modular connector from being pulled off the jack." Salvador Lara, marketing coordinator at icc--Premise Wiring Div., says, "The boot also covers the plug so that when you pull the cable down, the tab doesn`t get hooked onto another cable and break off."
icc`s Premise Wiring Div. has created a colored icon as an alternative to color coding the patch cord itself. The icon attaches to the company`s patch cords so installers can distinguish network functions. icc patch cords, themselves, are blue--the corporate color. "Icons are so easy to use," says David Roe, engineer at icc, "because you can just sit there and snap on any icon that you need. It is helpful for people who are doing administration and those who are doing the actual color coding." icc`s Lara adds, "You just replace the icon on the boot without changing the color of the wire. The icons come in nine colors, or you can choose a computer symbol or text."
Advanced performance
Manufacturers are also designing patch cords with higher performance levels. amp`s Beam states, "amp now offers the Category 5, Enhanced Category 5, and the new Quantum Quasi- Category 6 patch cord." Category 5 patch cords meet the Category 5 requirements specified in tia/eia-568a, while higher-level patch cords exceed the tia`s specifications in measurable ways.
icc`s new Enhanced Category 5 patch cord is what the company calls "tuned for Category 5 connecting hardware." "By tuning our patch cords we have guaranteed compatibility with all Category 5 modular connectors and will pass any requirements tia creates for modular patch cords," says Lara. "We`re trying to stay ahead of the game with this product by creating a tolerance buffer that will make an installer feel very comfortable that his or her installation will pass specifications when they come out."
Cost also differentiates patch cords. Parthemer explains, "Bids usually won`t request a particular brand, so the installer has to decide. Sometimes there is a line in a bid for patch cords; other times you figure it into the total." Parthemer recommends shopping around for patch cords. "We used to buy cords from a large manufacturer, but we tried cords from a small local manufacturer who kept calling us. We liked their product and switched to it. The bonus was the price--it was cheaper."
The patch cord`s future
While manufacturers anxiously wait for the tia to develop a standard, they continue to find new ways to market and design their products. Hubbell Premise Wiring is investigating selling patch cords as part of a system. "To meet performance levels, you`re going to have to try to control all the parts," says Lafontaine. "In the past, people would mix and match products. But in the future, you will have a shopping list that says to buy specific products together if you want optimal performance. I think there will be a trend toward selling the patch cord as part of a system, rather than as a component."
amp`s Beam believes we will soon classify patch cords by performance level. "You should match the patch cord to the system, like you match Category 5 jacks to Category 5 cables," he says. "You can`t just say that one patch cord works for all systems. The customer should focus on the channel`s performance. It will become more critical as Ethernet becomes more predominant to the desktop and as we move toward Gigabit Ethernet."
For a list of manufacturers and their products, see the Product Update table, page 80.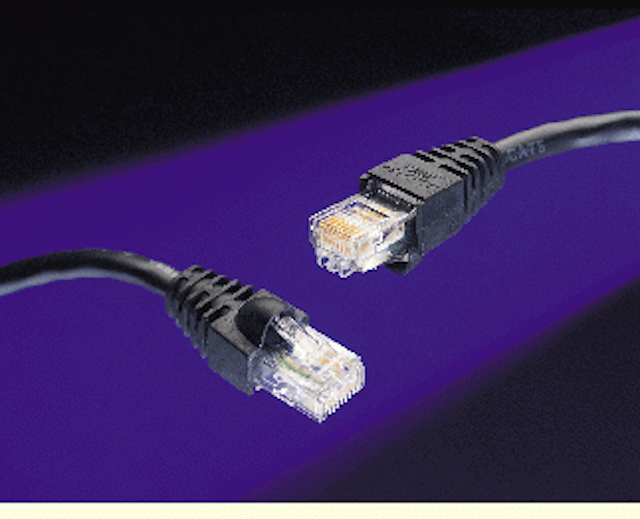 Click here to enlarge image
amp Inc. now offers enhanced Category 5 patch cords that are compatible with all Category 5 modular connectors.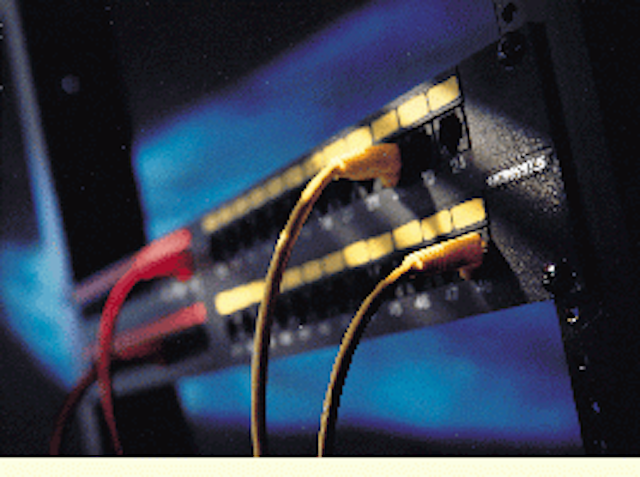 Click here to enlarge image
Interlink Technologies manufactures Category 5 snagless patch cords in nine colors.