Installing next-generation residential wiring
By integrating home-management systems such as security, lighting, heating, and ventilation with a sophisticated voice and data cabling infrastructure, the latest generation of residential wiring systems is designed to meet all the homeowner`s building, information, and entertainment needs.
Mar 1st, 1998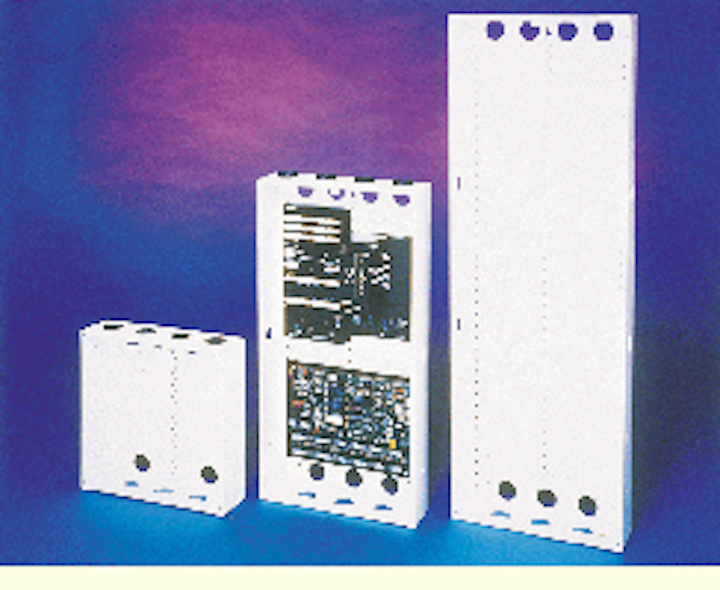 Structured wiring is the next wave in residential cabling systems.
Lynn Haber
By integrating home-management systems such as security, lighting, heating, and ventilation with a sophisticated voice and data cabling infrastructure, the latest generation of residential wiring systems is designed to meet all the homeowner`s building, information, and entertainment needs.
The first generation of home-automation systems was introduced about a decade ago. These high-end systems used electronics to provide homeowners with centralized management and control over multiple electronic systems. Among the big players in what was called the smart-house concept was amp Inc. (Harrisburg, PA). While the marketing of the concept itself was successful, many of the associated products tended to be too cumbersome, too far out, and too expensive, resulting in limited success for the idea, says Doug Fikse, division manager for amp`s building systems division.
Despite this, residential automation systems for specific applications, such as security, video, and audio, managed to gain momentum and have now become commonplace. But these systems alone don`t provide all the functions required by today`s homeowners, thanks in large part to several recent trends and developments, including the rise in use of the Internet, home-office telecommuting equipment, and the introduction of other sophisticated home electronics.
Driving services home
One of the strongest drivers toward more-sophisticated residential wiring systems is the need for delivery of information services to the home, primarily over the Internet. The Internet is still growing, and providers are promising the delivery of many new features and services. "The Internet is something most homeowners can grasp for both education and entertainment purposes," surmises Fikse.
Most new home builders tout construction that includes a home office. Today`s installed residential wiring, however, generally isn`t suited to the needs of the home-office worker or the corporate enterprise with which the worker is affiliated. By sheer necessity, though, that wiring deficiency is being addressed because the number of people expected to work from their homes will at least quadruple to about 100 million worldwide by the year 2002, reports Mark Fabbi of Gartner Group Inc. (Stamford, CT), a market research and consulting organization.
Home-based workers typically need multiple telephone lines, a computer with modem, and office equipment offering fax/copy/print capabilities. The quad wiring in existing residential systems can`t support the high-speed services hitting the market, and the traditional daisy chain architecture of a home telephone wiring system has limited flexibility.
The new generation of residential wiring systems goes well beyond previous systems by providing new cabling in addition to electronics. "These systems affect the underlying organization and infrastructure of how the wire is routed to different rooms," explains Fabbi.
Most residential wiring system manufacturers recommend Category 3 unshielded twisted-pair (utp) wiring as a minimum, or even Category 5 utp wiring, to create a home local area network (lan). The lan allows a homeowner to plug into any outlet in the house to access bandwidth and the services of any devices on the lan. So, for example, Joe Smith may work on his portable computer from his bedroom but print to a device located in his study, and his son, Brian, can download a large computer game over Joe`s faster office computer, and then transfer it to his bedroom computer to play it.
Homeowners aren`t the only ones looking for familiar office conveniences in their homes. Corporations are beginning to examine the legal and liability issues associated with telecommuters. "It`s becoming increasingly important that the home office be cabled appropriately so that there are no safety hazards," says Fabbi. Structured wiring systems are designed to fit the needs of the home-office worker by providing flexibility, high-speed access to resources, and safety, the latter by eliminating nests of cables.
Along with the need for business equipment in the home goes the demand for electronics to provide security, whole-house music, entertainment, and informational applications. Most of the systems in use today have been installed haphazardly by any number of contractors. A structured residential wiring solution gives homeowners a cohesive infrastructure for all low-voltage applications, now and in the future.
For broadband applications, residential wiring system manufacturers recommend RG-6 quad-shield coaxial cable for maximum performance--a move away from standard RG-59 coaxial cable. Homeowners must move to a more robust coaxial cable for televideo, cable modems, and home-office applications, remarks Frank Murawski, president of ftm Consulting (Hummelstown, PA). "The commonly used coaxial cable supports only about 3000 hertz, whereas a cable modem requires cable that supports 50 megahertz," he adds.
Not only does RG-6 coaxial cable provide higher bandwidth to transmit and receive information and entertainment, but this more robust cable also provides better shielding against interference from other electronics.
Launching the next generation
A handful of manufacturers already provide next-generation residential wiring systems. These companies include amp, Intelligent Electronic Solutions (ies) Inc. (Sandy, UT), Lucent Technologies Inc. (Murray Hill, NJ), mod-tap Residential Cabling Systems (Harvard, MA), and UStec (Canandaigua, NY).
In late 1995, amp introduced a home-management system, the OnQ Structured Wiring System. Today, OnQ is a third-generation product that gives homeowners control of security, energy, and lighting within the home or remotely via touchtone telephones, according to amp. Fikse says amp recommends Category 3 utp or Category 5 utp wiring for the telephones, and RG-6 coaxial cable for broadband services.
The amp product takes a modular service-center approach. A low-voltage distribution box available in three sizes of enclosure can handle any number of modules, including fax lines, satellite TV, cable TV, security, telephone, modems, lighting control, heating/ventilation/air conditioning, Ethernet lans, Integrated Services Digital Network, and energy management. "The modular approach allows customers to select the services they need today and upgrade in the future," says Fikse, who adds that amp differentiates its product by the breadth of applications it offers and its modular approach. amp also "manufactures many of the components," he says.
OnQ is distributed through two channels: select organizations that work with large home builders and, more recently, large security-system distributors. Product pricing begins at $400 to $600, which includes four telephone connections, four video connections, the basic service center, Category 5 utp wiring and RG-6 coaxial cable, and a home- office connection. A high-end system, by comparison, runs about $4000 for eight rooms with video, telephone, and home-management applications, according to the company.
Lucent Technologies offers the HomeStar Wiring System for the residential market. HomeStar is a low-voltage electronic wiring system providing integrated access to multiple applications. It comprises a network of copper cabling, a server unit, and distributed wall outlets capable of carrying high-speed data and video signals, according to Lucent. The system supports the Consumer Electronics Bus (cebus) standard for home automation and control, and meets the tia/eia-570 residential wiring standard of the Telecommunications Industry Association and Electronic Industries Association (Arlington, VA).
The system includes both Category 5 utp and RG-6 coaxial cable and is based on a home-run or star-wired architecture. Typical cable runs include two RG-6 coaxial cables and one Category 5 utp cable installed to multiple access points throughout the home. The cost of a system installed in an average 2000-square-foot home is about $1000, including installation, according to Lucent. The system is available through distributors.
mod-tap`s Residential Cabling System (rcs) unit got involved in residential wiring systems several years ago. At that time, both vendors and products catered to the upper-end residential market. But more recently, the company has seen the market change.
"Now we`re seeing communications systems with the correct wiring for good telephone and Internet connections," says mod-tap rcs regional manager Patrick Donnelly. The company offers the rcs through distributors as a whole-house cabling solution.
The mod-tap rcs approach to residential cabling systems is to provide an open-architecture solution, explains Donnelly. Installers can design systems to meet customer needs and leave room for future growth. The rcs consists of a four-part approach to structured cabling, composed of drops, feeds, systems, and interconnect panels that serve as central termination points.
Drops are equipment connection points located throughout the house for telephones, computers, video connections, and other devices. Each drop consists of a faceplate, including the application interface--jack or video connector, for example--and one or more cables run to the panel.
Feeds are gateways for telephone and cable-TV services, an air antenna, a satellite dish, and other services or devices. A feed consists of one or more cables run to the panel. System equipment can include telephone key systems, door intercoms, video distribution panels, and computer lans, as well as lighting, security, and other control systems.
Systems are cabled to the panel, which is the heart of the rcs. The panel is a central termination point for all residential twisted-pair, coaxial, and fiber-optic cabling. That`s where all interconnections between drops, feeds, and systems are made.
Another veteran player in the residential wiring market is UStec. The company offers the teclan II residential structured wiring network, featuring high bandwidth and access points to electronics, telephones, and TVs in multiple locations throughout the house.
"Our thrust is to give the homeowner similar access points in all rooms in the house," explains UStec vice president David E. Marshall, who says the potential market for these systems is huge.
There are 90 million homes in the United States, and 1.5 million new ones are being built annually, according to Marshall. While the availability of products and the sales approach for residential cabling systems hasn`t changed much over the years, customer awareness has, he adds. The forces behind this increased awareness, he believes, are home automation and, to a greater degree, telecommunications.
A key component of the teclan II system is the hub or tecGate server, the place to which all the lines are brought and connected. The tecGate server includes dual coaxial broadband distribution, audio distribution, and Category 5 utp cable for voice and data. The system is based on a home-run design, with runs from the server to each wall-plate location. The focus is on wire management, appearance, a modular design, and upgradability, according to Marshall.
UStec prefers face-to-face marketing and sells direct to customers. "This is a tough market," he explains, "and the demand that you get is the demand that you develop."
While these five manufacturers provide products today, other vendors are expected to enter the market soon. For example, Leviton Manufacturing Co.`s Telecommunications Business Unit (Bothell, WA) is playing catch-up, according to the company`s residential marketing director, Mike Shatzkin. Leviton Telcom sells many but not all of the components that make up a residential wiring system, and it was expecting to launch its own system by the first quarter of this year. Ortronics (Pawcatuck, CT) is also developing a line of products for the residential wiring market, according to Ortronics marketing research analyst Rick Hoelzel.
Opportunity for low-voltage installers
Manufacturers report a big opportunity for low-voltage installers in the residential wiring market. Contractors who already have been installing security systems and other low-voltage systems in homes have a leg up in this market, as do electricians--especially those professionals who have an eye to the future. Data-communications installers, although interested in the residential market, often bring to the field a higher level of technical expertise and thus demand installation fees higher than homeowners typically are willing to pay. But as products become more sophisticated, amp`s Fikse believes data- communications installers will play a larger role.
Many vendors, sometimes in collaboration with distributors, offer training on residential wiring systems. amp, for example, offers a free four-hour introductory class covering OnQ, as well as a free one-day home wiring class covering design, system layout, and basic installation skills for Category 5 utp punchdown blocks and termination of coaxial cable. UStec also offers a free one-day product and installation training program covering the residential market.
For $595, amp teaches a basic class on home-management design, installation, and products. Also included is a take-home demonstration kit with an active cabling system. The fee can cover several people from one company. "It`s meant to weed out the non-serious players," says Fikse.
Lynn Haber is a freelance writer specializing in networking and telecommunications issues.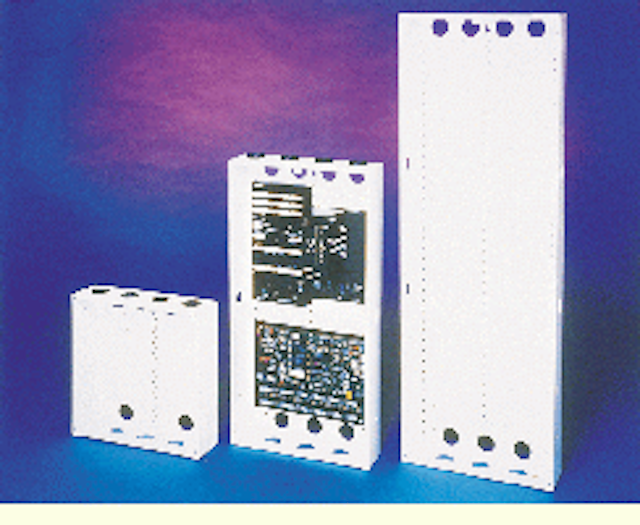 Click here to enlarge image
The OnQ Structured Wiring System enclosures from amp Inc., available in 14-, 28-, and 42-inch sizes, hold discrete modules to connect whole-house wiring systems for security, energy, lighting, data transmission, and cable TV.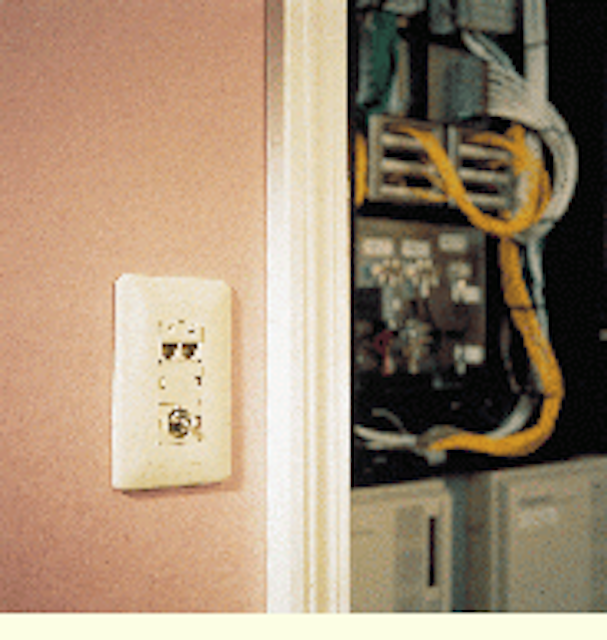 Click here to enlarge image
The mod-tap rcs sports an open architecture, so installers can design systems to meet customer needs and leave room for future growth.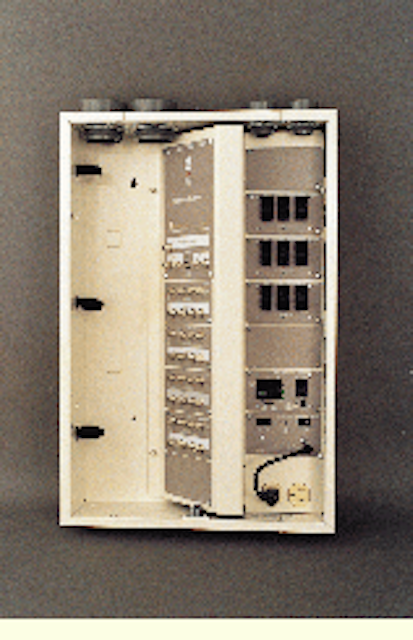 Click here to enlarge image
The hub of UStec`s teclan II residential system, the tecGate server, is based on a home-run design, with runs from the server to each wall-plate location.