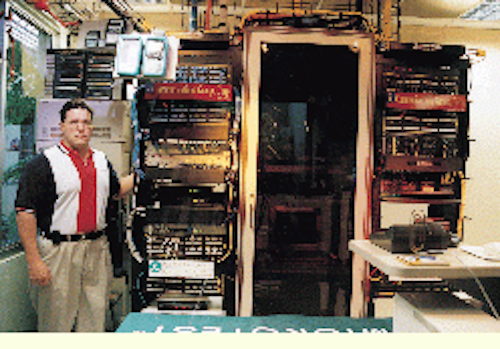 Supply facility exposes installers to electrical and communications installations.
Carol Everett
There`s a famous saying in Puerto Rico: "En casa de herrero, cuchillo de palo," which translates: "In the house of a blacksmith, the knives are made of wood." Glenn International, a major manufacturers` representative located in Carolina, outside of San Juan, PR, wanted to dispel that myth in the telecommunications industry by designing and building a technologically advanced in-house showplace for electrical and telecommunications installers, integrators, and end-users.
With the emergence of growing networking applications in many manufacturing facilities, financial institutions, and other businesses in the Caribbean and Latin American marketplace, the 33-year-old supply company has become an icon to network integrators as a total systems solution provider.
Glenn`s new facility, which took five years to design and just six months to build, boasts an advanced modular cabling infrastructure, a totally equipped multimedia training facility, and a fully stocked multilevel warehouse complete with laser-guided forklifts. All the bells and whistles of electrical systems, power cables, and telecommunications networking systems can be found in this location, believed to be the first full-service full-stocking representative servicing the Caribbean area and Latin America.
Glenn is one of the largest suppliers of electrical, lighting, and communications products for the Caribbean. In the face of natural disasters--annual hurricanes and tropical storms--common to Puerto Rico, Glenn also is fully equipped with back-up generators and water reserve tanks. This generator will operate for more than 30 days, making Glenn totally self- sufficient during severe storms.
The building itself is constructed of reinforced concrete and security bars, so it is hurricane-proof as well as structurally sound against flying debris. When Puerto Rico is down and out after a disaster, Glenn is in position to immediately service and supply all the necessary electrical, lighting, and telecommunications products needed to get the area up and running with minimal downtime.
The Carolina complex was designed to display--in action--a variety of electrical equipment and lighting that Glenn supplies. Each office has different lighting fixtures controlled by Novitas sensors; the room lights up when someone enters. The electrical room can be activated by telephone or a mobile phone through an Ortronics Series II surface-mount interface box, using a dual-port 8-pin modular jack for controlling the lights or other electrical equipment such as air conditioning.
With electronic voice and data being combined with electrical systems during installation, Glenn decided to supply both data and voice communications using electrical supplies. The company then selected quality suppliers of copper and fiber cable, cable-management systems, networking hubs, routers and switches, as well as other voice and data equipment.
From the grounding up
For its new complex, Glenn wanted the ability to create and modify an operational infrastructure as a model for installers and end-users. Through careful planning, the company created a flexible modular cable system based on Ortronics components that can be updated with evolving technology to keep the showroom and operating system current.
"You can do anything in any closet with the right mix of products and careful planning," states Ignacio Diaz, Glenn International`s vice president. "We planned a flexible infrastructure for both the electrical and communications divisions in order to use it as a model for all levels of customers to learn from." For example, in Puerto Rico it`s very important to have primary and secondary protection devices installed because of environmental extremes that are common during late summer and early fall.
After the telephone company`s primary protection and itw Linx secondary protection, all the telephone trunk lines are terminated in a series of wall-mounted mini-patch panels, which serve as the initial phase of the modular showroom. From this point, the data and telephone connections are modular for easy use. All cables that come from the telephone company--before they enter the secondary protection devices--are black. From this mark forward, all cables throughout the premises are color-coded. For instance, the entrance cables into the digital telephone system, as well as cabling for fax machines, use red stranded cable. From the panels to workstation outlets, cables are in four colors--black, yellow, blue, and white--to make the cabling easy to identify.
When designing the data-communications center and developing the wiring schematic for the main telecommunications closet, Glenn chose a modular system that could provide 320 drops for copper cable connections and 12 drops of fiber while providing for additional fiber in the future. The cable comes into the building through conduits and goes to the telecommunications closet; then it goes out to the workstations through GS Metals FlexTray cable-tray systems, which can be viewed through the showroom`s see-through ceiling. The telecommunications closet is a working showcase, with a Plexiglas ceiling to show how the flex trays route the distribution cables throughout the ceiling and down to the Ortronics Mighty Mo cable-management racks. This exhibit illustrates an optimum way to use existing space and trays.
R2 Communications Group Corp. designed and installed the structured cable-management system. "With Ortronics`s total end-to-end solution and products, we could methodically lay out four separate cable types for Glenn`s needs and keep the cables well-organized for easier moves, adds, and changes," explains R2 Communications president Ruben Rodriguez, an Ortronics Certified Plus Installer.
The main wiring closet houses the four types of color-coded networking cable: black for primary voice, yellow for secondary voice, blue for primary data, and white for secondary data. Primary and secondary data cables are Enhanced Category 5 with 350-megahertz capability. The primary workstation cabling (blue) connects to a 100-megabit-per-second switch operating transmission control protocol/Internet protocol (tcp/ip) and Netbeui protocol. All workstations are equipped with Intel`s Pro 100 Ethernet adapters, which can autoswitch between 10 and 100 Mbits/sec, depending on the hub or switch. The secondary data cable is used for Ethernet connections to individual laptops, printers, and serial devices, which are in turn, connect to the ibm Unix system.
The data travels through four servers--three ibm-320s running Windows NT 4.0 and one ibm risc-6000 running Unix aix. "We wanted to have the data run through a switch and not a hub," says Diaz. "The difference is the throughput of the data transfer. With a 100-Mbit/sec, 24-port regular concentrator port, you`re sharing 100-Mbit/sec capacity with the 24 ports, which gives you less than 5 Mbits/sec per port or workstation. With a switch, each of the channels gets a full 100 Mbits/sec dedicated to each port or workstation."
"The result of this is a substantial increase in throughput, thanks to the NBase 1-gigabit-per-second backplane," adds Rodriguez. "To organize these cables and the routing from the telecommunications closet to the workstation, we installed Mighty Mo cable-management racks, 12-port Ortronics high-density fiber distribution cabinets, 48-port Category 5 patch panels, management panels, and Category 5 8-pin modular jack 106 duplex-type receptacles and Series II Category 5 8-pin modular jack workstation outlets. All ports, icons, patch cords, and labeling are color-coded to comply with the tia/eia-606 standard for station identification, allowing for easy moves, adds, and changes and troubleshooting."
Greenhouse to schoolhouse
Glenn also wanted an all-inclusive training facility for its employees and customers. "We believe that education about our products starts with the knowledge of our own employees," says Diaz. "Therefore, when we looked at how to keep our largest asset--our employees--happy, we looked at two factors: a pleasant working environment and constant training."
Many office complexes have hallways or outside areas that could be incorporated into the working environment with the right creativity and design. Glenn used those spaces to make sure that each office has garden access. Each office or common area connects to an arboretum, which includes local island plants, fountains, and even tropical birds.
Designing a training facility took a little more planning and outside help from manufacturers with large training centers in the United States. Glenn became the first company in Puerto Rico to offer electrical, lighting, and communications training courses in both Spanish and English and provide hands-on instruction ranging from basic electrical requirements to advanced training by Ortronics instructors to certify installers.
The training center is multifunctional because it also serves as a place to conduct software training sessions for Glenn employees. "All of the individual workstations through the premises are mounted into modular Anthro Desks, which have wheels," says Diaz. "This allows us to schedule software training sessions for Windows 95, Office 97, or any other software and have the employees wheel their own computers into the training center and connect through the backbone into the NT domain. All printers, fax servers, CD servers, and other resources are available, just as if the employees were sitting at their own private offices. The training is in a virtual-office environment, with the trainees using their own computers."
The training room, a $90,000 investment, is a fully functional multimedia facility with its own telecommunications equipment and system. It can accommodate up to 80 people per session. "We thought it was important to make the investment in a training facility for both our own use and for the use of customers," Diaz notes. "By holding training sessions here, we can save customers time and money. Before building our in-house facility, training sessions had to be held at hotels, which would cost about $11,000 per session. With our own training capabilities, we only have to pay for catering, which adds up to about $2000 per week."
Because the company also wanted the training room to be a showcase for products, there is a variety of lighting in the space as well as an operational telecommunications cabinet. The wall-mounted cabinet opens up at the back to demonstrate the wiring and crossconnect: the fiber backbone, Category 5 terminations, patch panel, and connection into the 10Base-T concentrator dedicated to the training center. All the fiber in the building runs from the main telecommunications closet into the training center, and much of it is exposed to serve as a learning tool during training sessions. In addition, flexible design allows for future upgrades to any new technology, thanks in part, to the FlexTray cable-tray system. The training center`s cabinet also contains the controls for a stereo, video, paging, and wireless microphone system, as well as for a complete multimedia center supporting audio and visual presentations.
The floor boxes in the training room contain receptacles with four jacks at each location. At the desk are Ortronics Series II single-gang faceplates with 8-pin modular snap-in jacks. Glenn encourages trainees to bring in their own office PCs to learn real applications on the computers they`ll be using. In fact, the computers at Glenn are mounted on carts, not only to be mobile for training but also for use in other offices, which is made possible by universal wiring found at each office port.
"We not only train ourselves and our customers, installers, and end-users on products that they are using, but we also do comparative training," explains Diaz. "For example, when we train for proper cable installation and maintenance, we review each location and needs on that particular installation. If all air conditioning is serviced through ducts, then we recommend using riser-rated jacketing on the cabling, which cuts cable costs in half. We try to save time and money, which can be used on other products, in order to enhance the installation. We also take competitive products and compare quality by performing random testing. We believe we have selected the most reliable products, and we demonstrate this to our customers."
Taking stock
Glenn also has a 60,000-square-foot on-site warehouse that stocks products in seven rows, with each row seven levels high. Access to the levels is via computer-guided forklifts that move quickly and quietly through the narrow aisles and rise swiftly up the levels. Although much of the stock is for the electrical division, there are also telecommunications cable and networking supplies on consignment for local distributors to sell to installers and end-users. Communications customers cannot wait a few days to receive products from the United States, and because local distributors do not have large warehouses, Glenn supports and services them by having inventory ready for customers when they need it. "Turnaround time for products is immediate, and in many job-bidding cases, the product lines represented by Glenn International win due to its fast and efficient delivery capabilities," says Diaz. To accommodate shipping and receiving, five trailer bays are dedicated to receiving and five are dedicated to dispatching.
The mezzanine above the warehouse is set aside for smaller items and also houses a full-sized literature room and sample room. "As in every construction job, upon completion, you think, `What did I leave out?` We say, `What more can we add?` " remarks Diaz. "Because of the modularity of our facility, we will be able to add and upgrade as each new technological advancement comes along, provided that we feel it would be worth while to install in our model environment."
Carol Everett of Everett Communications (Holliston, MA) is a freelance writer for Ortronics Corp. (Pawcatuck, CT).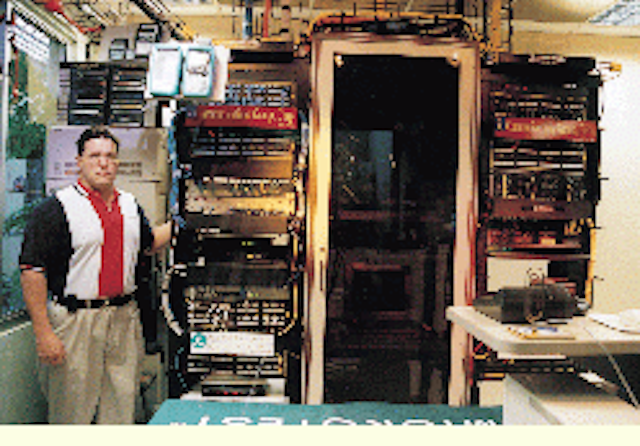 Click here to enlarge image
Ignacio Diaz, Glenn International`s vice president, is in the company`s main telecommunications closet that houses one of the Mighty Mo cable-management racks from Ortronics.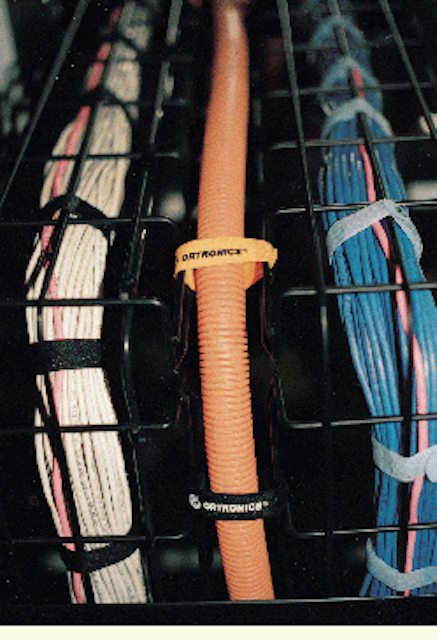 Click here to enlarge image
The cable that travels on trays through Glenn International is separated into secondary data (white), fiber (orange), and primary data (blue).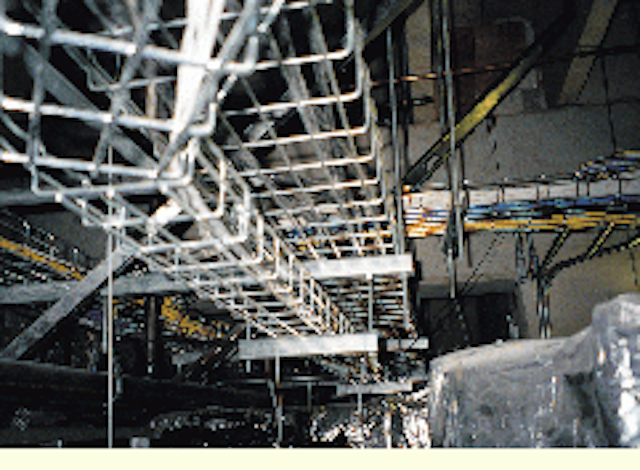 Click here to enlarge image
Above the ceiling tiles at Glenn International is a highway of cable trays, neatly bundled and organized for easier routing.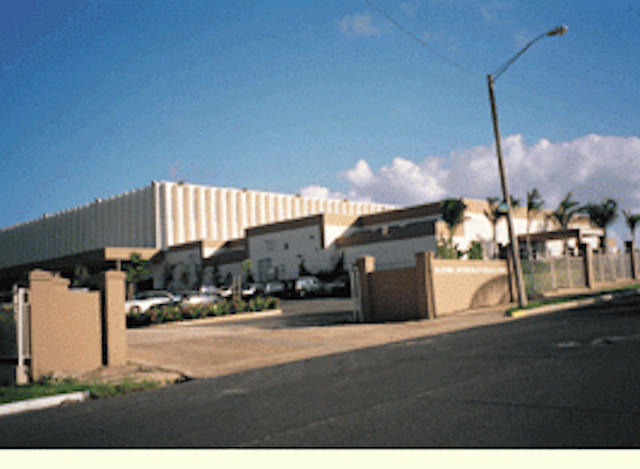 Click here to enlarge image
Glenn International`s training center in Puerto Rico is a fully functional multimedia facility with its own telecommunications equipment and networking system.