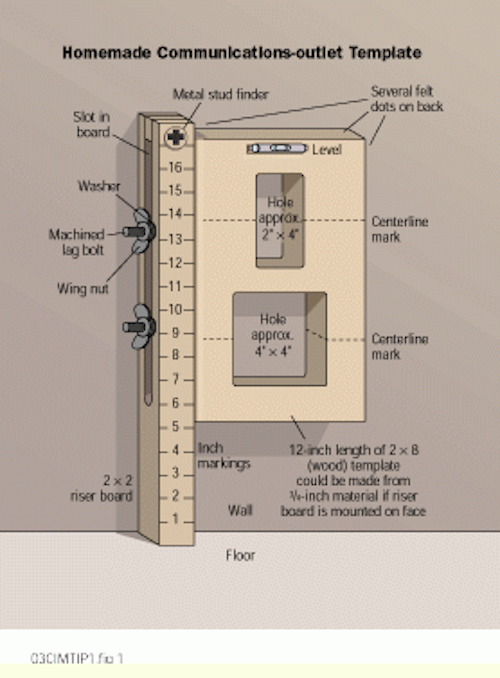 Dave Keele, State of Nebraska
Problem
Inconsistent placement of communications outlets is common in cabling installation projects. Outlets are often installed at different heights than electrical outlets, and frequently the communications outlets themselves are at different heights. Another problem is that, if the install-ation is not done carefully, the outlets may not be level. Unlevel, inconsistently placed outlets are unsightly and can present a sloppy image in a work area.
Solution
Make and use a template to mark walls for hole patterns before you cut the holes into which communications outlets will be placed.
Procedure
1) Construct the template using a 2 x 2 piece of riser board, a 12-inch length of 2 x 8 wood, washers, bolts, wing nuts, and a level. The diagram shows what a finished template should look like. Not shown in the diagram are several felt dots, which should be applied to the back of the 2 x 8.
2) When you need to install a communications outlet during a cabling installation, adjust the template to the desired height, or match the height of the existing outlet(s).
3) Using the stud finder on the template, locate the stud within the wall.
4) Level the template.
5) Using a pencil, mark the wall by tracing either the 2 x 4- or the 4 x 4-inch hole in the template.
6) Cut a hole in the wall using a keyhole saw.
7) Install the communications outlet into the wall. The outlet will be level and at the same height as either existing outlets or the other outlets you will install using the same template.
In addition to using the template to mount surface-mount boxes, you can also use it for brackets and wire raceways. However, if you intend to use it to mount a raceway, make sure you put notches on its edge to allow you to position the raceway against the wall.
Dave Keele is a telecommunications field-services manager for the State of Nebraska`s Division of Communications (Lincoln, NE).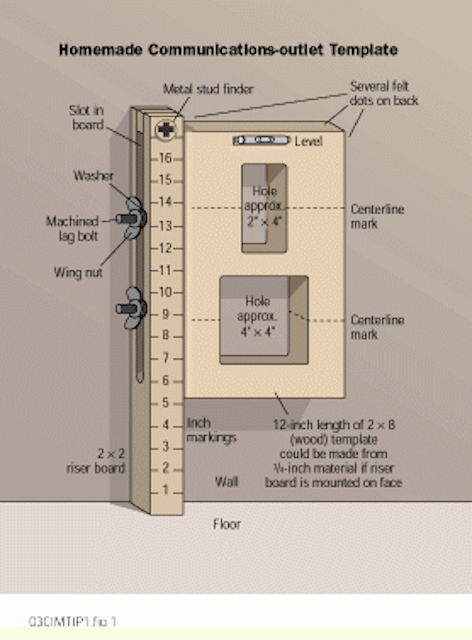 Click here to enlarge image
This diagram details the construction and components of a homemade template that can be used during communications-outlet installation.