Next-generation fiber-optic connectors will have a smaller footprint.
Tony Beam
AMP Inc.
Dan Silver
3M Telecom Systems Div.
During the last decade, premises cabling has evolved greatly, and part of that change has been an increase in the use of optical-fiber cabling media. Going hand-in-hand with this increase in fiber use has been the development of optical components that support fiber-optic cabling installed in high-speed local area networks (lans).
As the data-communications industry has turned increasingly to optical fiber for intrabuilding backbones and even fiber-to-the-desk networks, we have seen new optical cable designs--such as tight-buffered configurations--become the standard. At the same time, optical connectors have become more sophisticated and easier to use. The latter development is a critical one, because only when craftspeople can connect optical fibers quickly and efficiently can lan users take advantage of the tremendous bandwidth and network-design flexibility offered by fiber-optic cable.
When fiber-optic connectors were introduced in the early 1980s, premises cabling was still in its infancy, and cable and connector designs were geared toward outside-plant applications. At that time, fiber-optic connectors were difficult to install. They came with many small parts, installation required epoxy and curing, and procedures for cleaving and polishing were still evolving.
Today`s optical connectors have fewer parts, and the procedures for termination are well-understood. Craftspeople are aided by simple but reliable polishing fixtures and curing ovens, so the job is quicker and easier.
Better yet, in the opinion of some installers, are quick-cure epoxy and adhesive connectors. These have reduced curing time to approximately one minute, lessening overall installation time dramatically, especially in low-fiber-count applications. Recently, epoxyless connectors have been introduced; they eliminate both the mess of using epoxy and the extra time needed to cure it. Polishing is also becoming a simpler and more straight- forward procedure, with no-polish/no-epoxy connectors starting to be available.
More choices, fewer trade-offs
For premises cabling, two types of fiber-optic connectors--the ST-type and the duplex SC (also known as the 568SC)--are most frequently used. Both connector designs use ferrules that are 2.5 millimeters in diameter and that are typically made of ceramic, polymer, or stainless steel. The main difference between the two designs is in the latching mechanism. The ST-type connector latches by making a quarter-turn of the bayonet, while the duplex SC connector has a push-pull latching mechanism. Both connector types are available in several different installation formats, including heat-cure, quick-cure epoxy, no-epoxy, and no-epoxy/no-polish.
The use of high-performance materials is another area in which connector technology has improved recently. Ceramic ferrules, for instance, were once decidedly superior in optical performance to polymer and stainless-steel devices for multimode-fiber applications, but today this performance gap has virtually disappeared.
Improvements in polymer materials and better process controls in the manufacturing process make some of today`s polymer-based fiber-optic connectors equivalent in performance to many products with ceramic ferrules. In addition, polymer-ferrule connectors are usually less expensive than their ceramic and stainless-steel counterparts. This is only true today for multimode applications, however. Because singlemode connectors require greater precision in alignment, ceramic is still the preferred choice for ferrule materials.
Design differences
ST-style connectors use a quick-release bayonet coupling action to seat the device, so installing or removing them is a simple quarter-turn operation. The connector is keyed so that it always mates with a coupling`s bushing in the same way; this allows the connector to provide consistent performance. For these reasons, among others, the ST was the connector most often installed during the 1980s, and it remains the pre- dominant style in use today, despite the fact that the U.S. commercial building telecommunications cabling standard, ansi/tia/eia-568a, and the equivalent international standard, iso/iec 11801, both recommend the duplex SC style.
SC connectors were introduced in 1993 and are the devices specified in international and domestic building cabling standards. They are also the recommended interface for low-cost Fiber Distributed Data Interface, 100-megabit-per-second Ethernet, and Asynchronous Transfer Mode applications. The main reason the SC is recommended so widely is that it is a duplex connector that maintains polarity between transmitting and receiving fibers. However, the cabling industry has been slow to adopt the SC because it is so much more familiar with the ST and because of the price premium charged for the SC.
Installation techniques
Now that several different connector designs offer excellent performance, there has been a shift in technological advances toward improving ease of use. In premises-cabling and fiber-to-the-desk applications, for example, a shift to quick-cure and epoxyless fiber-optic connectors is making it easier for contractors to train their installers. These devices also increase productivity significantly, and as a result, they smooth the migration from copper to fiber technologies.
Quick-cure and epoxyless connectors have found favor with contractors because they can reduce the time it takes to install a single device from 10 minutes or more to 5 min or less. Also, there is no mess involved in applying the epoxy, minimal or no waiting time for epoxy to cure, and no need to carry a bulky curing oven.
Another class of connectors recently introduced to the market eliminates both the use of epoxy and the need for field-polishing. No-epoxy/no-polish connectors further reduce installation time and offer savings on labor, especially for low-fiber-count applications. Quick-cure, no-epoxy, and no-epoxy/no-polish connectors are available from several manufacturers in both ST and duplex-SC styles.
In deciding which connector type to use, the installer typically looks at both material cost and labor rate. Quick-cure and no-epoxy connectors are usually priced at a premium over traditional heat-cured devices, while no-epoxy/no-polish connectors are priced higher still. The benefit of installing these devices, then, results from easier and quicker installation that lowers labor costs, offsetting their higher cost. Savings on labor cost will vary, depending on labor rates in a particular area and the type of installation--specifically, the number of fibers being installed at a given job site.
Looking to the future
The trend toward taking fiber to the desktop continues to drive changes in fiber-optic connector technology. In addition, the slow pace at which duplex SC connectors have been adopted by the cabling industry has led a number of manufacturers to develop and propose new connector types for premises-cabling and lan applications.
One need voiced by the cabling industry--that for a smaller connector footprint--was not addressed by the duplex SC design. Both the duplex SC and the ST connectors are presently about twice the size of the 8-pin modular jack used to connect twisted-pair copper wire. The larger size of these fiber-optic connectors calls for larger outlets, patch panels, and lan electronics, and increased size equates with increased cost, especially for active lan electronics such as hubs and switches.
The TR-41.8.1 committee of the Telecommunications Indus-try Association (tia--Arlington, VA), which is responsible for revisions to the ansi/tia/eia-568a building wiring standard, has adopted a work item to review fiber-optic connector types for possible inclusion in the standard. The committee has developed a list of criteria to use in evaluating connectors and has established a selection process that should result in a recommendation by February 1998.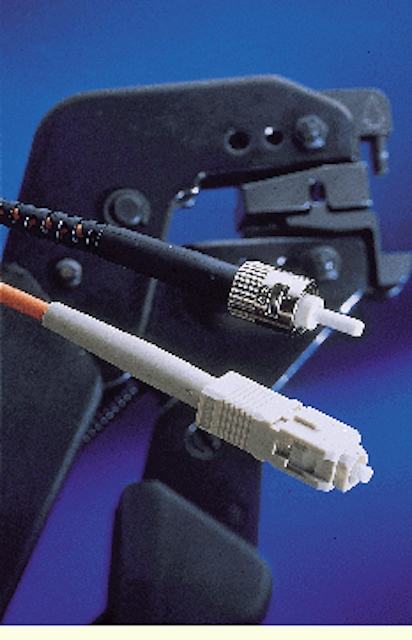 Click here to enlarge image
AMP`s LightCrimp fiber-optic connectors feature quick, epoxyless termination and low cost. They are available in both SC and ST styles.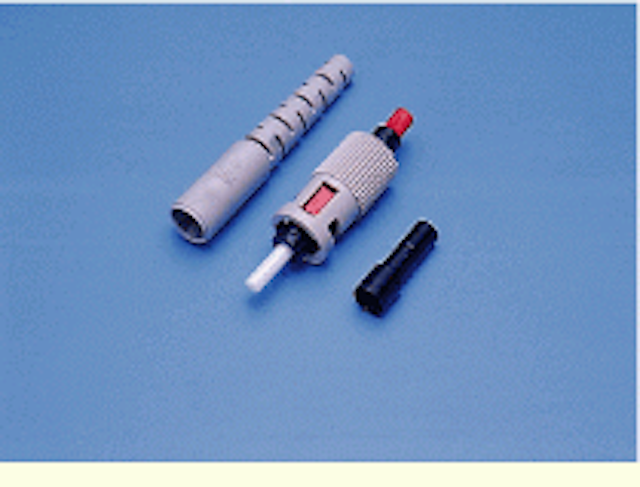 Click here to enlarge image
3M`s Crimplok connector features an adhesiveless design that makes for easy installation and quick mounting in the field.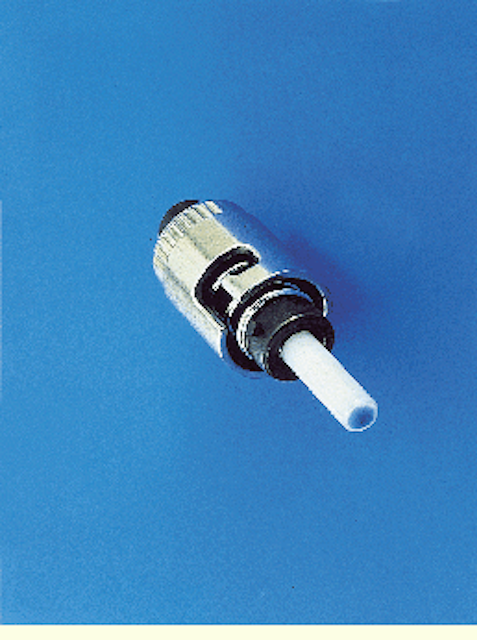 Click here to enlarge image
The 3M Hot Melt fiber-optic connector provides quick, accurate and permanent field termination. It is suitable for intrabuilding lan environments.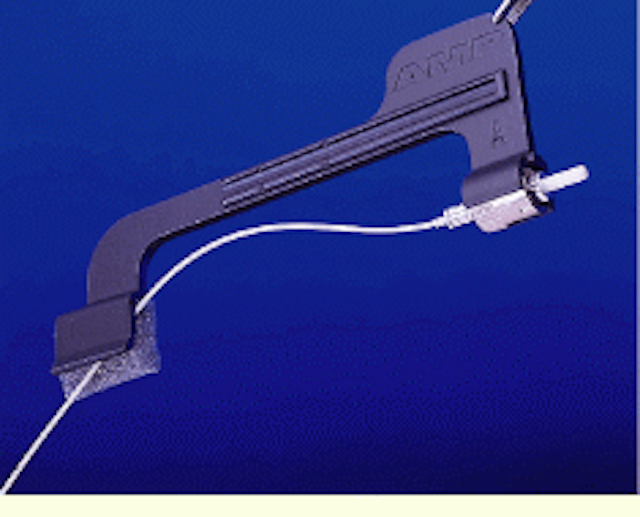 Click here to enlarge image
AMP`s LightCrimp Plus provides an easy, no-epoxy, no-polish termination. Users simply strip, cleave, and crimp.
Tony Beam, registered communications distribution designer (RCDD), is director of netconnect systems marketing for AMP Inc. (Harrisburg, PA).
Dan Silver is a market development manager at the 3M Telecom Systems Div.`s Austin Center (Austin, TX).
Both are their companies` representatives to the TIA Fiber Optics LAN Section. Other members include Allied Telesyn International, Belden Wire & Cable, Berk-Tek, CommScope/General Instrument, Corning, Siecor Corp., SpecTran, and Sumitomo Electric Lightwave.