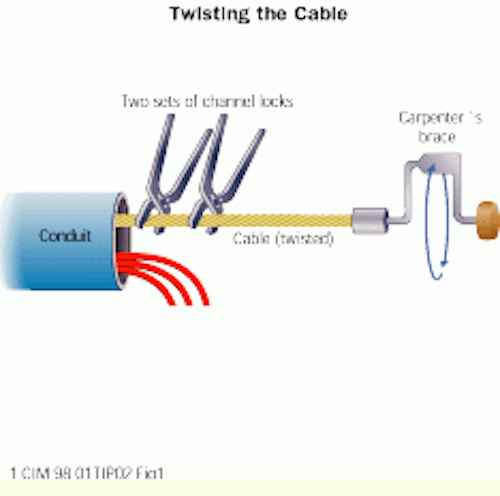 Michael Zaeske,
Big-Z Cable & Networking Services
Problem
Old 25- or 50-pair cable often sticks tightly to the inside of old conduit and cannot be removed by pulling. For this reason, many users abandon the use of the conduit.
Solution
The stuck cables can be freed by a twisting motion, rather than by a straight pull. An effective twisting motion can be achieved by using a carpenter`s brace--without a bit--and channel locks. This procedure requires at least two people, preferably three.
Procedure
1) Secure the free end of a single cable in the carpenter`s brace.
2) Near the conduit opening, clench the cable in two places with the channel locks.
3) Slowly turn the brace clockwise while, at the same time, a second person lifts and twists the cable with one set of channel locks.
4) A third person should use the second set of channel locks to hold the cable, while the second person repositions the first set. Always keep twist tension on the cable with at least one set of channel locks.
5) The process may take some time, but the cable will eventually break free from the side of the conduit. Do not attempt to remove the cable until you can pull it relatively easily.
6) Repeat the procedure for each of the remaining cables.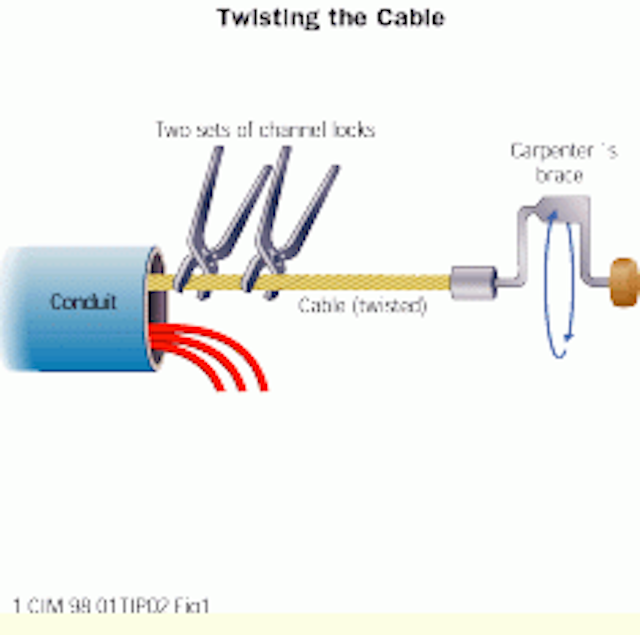 Click here to enlarge image
While the brace twists the cable, one set of channel locks is used to lift and twist the cable. The other set of channel locks is used to hold the cable while the first set is being repositioned.
Michael Zaeske is a supervisor with Big-Z Cable & Networking Services (Kalamazoo, MI). This tip was a runner-up at the Installer Tips Contest at Cabling Installation Expo `97, held in Charlotte, NC, last October.