Conduit and duct provide new pathways for expansion
The explosion of growth in outdoor communications systems requires the constant installation of new cable. Customers and contractors are demanding greater capacity and easier placement methods, and conduit and duct manufacturers are introducing products to meet those demands.
Aug 1st, 1998
Susan Fogarty
The explosion of growth in outdoor communications systems requires the constant installation of new cable. Customers and contractors are demanding greater capacity and easier placement methods, and conduit and duct manufacturers are introducing products to meet those demands.
Continuous duct supplied on reels can be plowed into the ground or pulled through a directional bore. When a trench is necessary, conduit with multiple cells or several innerducts inside it can maximize capacity for today while leaving room for expansion.
Selecting conduit
Conduit, duct, and innerduct protect cables from damage and facilitate new cable installation and old cable replacement. Conduit is installed in underground trenches and can also be used in aboveground applications such as bridge crossings. Exposed or high-risk areas often call for metal or fiberglass conduit for extra protection, says David Kendall, technical specifications expert at Carlon Telecom Systems. Polyvinyl chloride (PVC) plastic, however, is the material of choice for most conduit installations because of its low cost, resistance to breakage, light weight, and low friction during cable pulling.
Typical PVC rigid conduit has a 4-inch nominal diameter and is manufactured in 20-foot sections that are connected with solvent cement or mechanical couplings. The wall thickness varies according to application and is described as the conduit`s "schedule." In the telephone industry, the "type" of the conduit refers to its wall thickness. "Type B is a thin-walled product used for concrete encasement, type C is the most common and approved for concrete encasement or direct burial, and type D has a thick wall and is used for aboveground applications," Kendall explains.
Continuous duct
Alternatives to traditional conduit are continuous duct and innerduct, which are available in diameters from 1 to 6 inches. "It`s used in place of rigid conduit," says Eric Hall of Dura-Line Corp. "Flexible duct is a more efficient product to use for directional bores, plowing, and trench applications. Because it`s continuous and flexible, your system has better integrity from point to point, eliminating voids at joints that are not properly glued where water can intrude or air can leak during install-ation of cable." Continuous duct enables contractors to quickly lay large amounts of duct by plowing it into the ground instead of digging a trench. "Many long-haul cable placements along railway and highway easements are covering hundreds of miles across country," says Hall. "They rely on duct on reels for their plow applications."
Pyramid Industries Inc. recently introduced toneable duct, which incorporates a copper wire in the wall of the duct. After the duct is buried, technicians can locate it using conventional location-detection equipment.
The flexibility of continuous duct allows it to bend around rocks and obstructions and avoids the preformed bends and sweeps that are needed in a rigid conduit system. A drawback to flexibility is the likelihood that the duct will undulate in the ground, forming a wavy path instead of a straight line. Undulation can make cable pulling or blowing more difficult. Bob Washburn, technical director at Arnco Corp., explains, "When a duct is not straight, the cable will pick up contact points along the duct, increasing friction."
Multiduct advantages
The increasing desire to blow or jet cable through long distances of duct has contributed to the development of multiduct conduit with pre- installed innerduct. "In a jet system," explains Kendall, "high-pressure air suspends the cable within the innerducts and allows it to flow down the run. Coupling bodies in each segment have gaskets that minimize leakage and maintain airflow. You also need a path as straight as possible if you want to shoot a cable 5000 or 6000 feet, and that`s where this product applies."
Multiduct conduit also offers the ability to maximize capacity with only one installation. Contractors can avoid labor-intensive installation of individual innerducts and include an extra innerduct for future expansion with no extra cost or effort. It is common for contractors to install three-way Multi-Gard from Carlon with one innerduct for cable TV, one for telephone, and one for future use, says Kendall.
Hex-Line from Dura-Line is a multiduct innerduct product that maximizes space inside existing conduit with a single pull. "Multiple ducts are pulled off a reel and fed into a collector that snaps them together. They enter the conduit as one solid configuration that eliminates the twist and turn experienced pulling individual innerducts," reports Hall. Contractors normally put three 11/4-inch innerducts into a 4-inch conduit, but four or six 1-inch Hex-Line inner-ducts can fit into the same space. Four 1-inch ducts can also make efficient use of old 31/2-inch square telephone conduit, Hall says.
Flexible innerduct
Most innerduct and continuous duct are extruded from high-density polyethylene (hdpe) plastic, which is more flexible and offers less friction than PVC. The SDR (standard dimensional ratio) reflects the strength of an hdpe duct by comparing the thickness of the duct`s wall to its diameter. The larger the sdr, the thinner the wall. Contractors should consider the sdr when selecting innerduct as well as large-diameter duct, since many innerducts can be buried, bored, or plowed into the ground and must withstand harsh conditions. "A duct with a heavier wall will have more resistance to crush problems, better longevity, and [the ability to] produce a straighter path," advises Washburn.
Duct manufacturers include several options that make cable pulling easier and longer pulls possible. Ribs extruded into the duct and pre-installed lubrication help to prevent damage to the cable and innerduct during pulling and allow cables to be pulled with less force. Ribbed duct, says Hall, "lowers the coefficient of friction by reducing contact between the inside of the duct and the cable itself." Several manufacturers also produce duct with a solid silicone or Teflon lining co-extruded inside the duct wall to permit cable to slide through easily.
Duct options
Because continuous duct and innerduct do not need to be assembled in the field, manufacturers can incorporate features that must be installed in segmented conduit after assembly. Continuous duct is commonly available with a pre-installed pull line. "A reel plow can place a whole reel of product, as much as 6000 or 8000 feet, without interruption," says Washburn. "Getting a pull line in over that length would not be very easy, so it`s typical to have a pull line already installed."
Contractors also have the option of cable in conduit, which can be ordered with cable to suit the installer`s needs. Says Hall, "Cable in conduit will lower labor costs because it allows you to place the cable and conduit as one operation." It also places minimum stress on the cable by reducing handling and pulling. Figure-8 duct for aerial applications has a messenger strand attached to the outside of the duct, eliminating lashing a duct to an existing strand.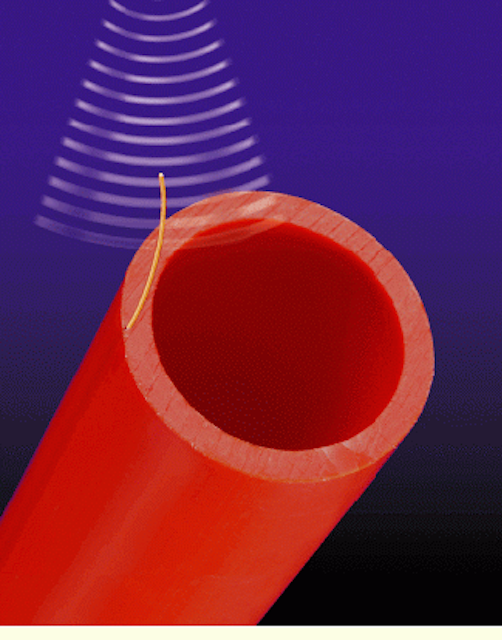 Click here to enlarge image
Multiduct conduit offers contractors a way to place conduit and several innerducts to maximize capacity in one step. Multi-Gard conduit from Carlon Telecom Systems comes with three 11/4-inch innerducts or four 1-inch innerducts already installed.
Susan Fogarty is assistant managing editor of Cable Foreman magazine, another PennWell publication. This article originally appeared in Cable Foreman`s May 1998 issue.