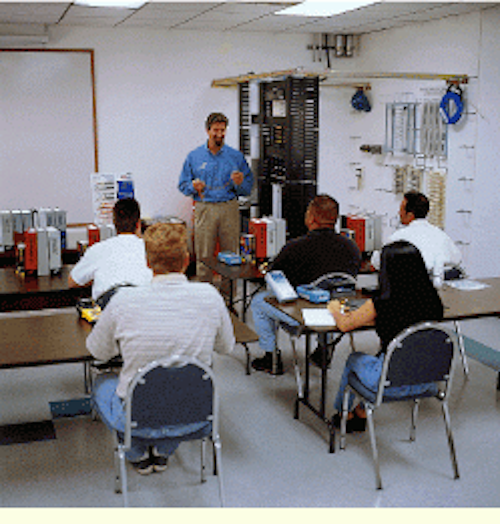 Mark A. DeSorbo
Syzygy Network Solutions (Orange, CA) says its California dreamin` is becoming reality. The data-communications company recently announced that it would open the West Coast`s first BICSI (Tampa, FL) Training Center for registered cabling installers.
"We`ve wanted to do this since we opened in 1996," says Corey Silverberg, president and chief executive of Syzygy. "Originally, we wanted to have a training center to make sure our technicians were among the best trained in the industry. Later on, we decided to offer training not only to our employees, but also to people in the entire industry."
Michael Schnautz, one of 36 certified BICSI trainers in the country, serves as Syzygy`s director of training. Although he had 17 years of experience, Schnautz still had to be prequalified based on his knowledge. He then had to complete an intensive two-week training class to become a certified BICSI trainer.
Client-specific solutions
"We had to meet BICSI`s stringent requirements to get this training center up and running," Silverberg adds. "Like BICSI`s mission of providing quality services and methods, we too share in that mission of providing state-of-the-art, client-specific solutions."
The training center, which will be in Orange, will take trainees through the apprentice, installer, and technician stages of certification.
At the apprentice level, those with little or no experience enter a 40-hour class that outlines safety, the basics, and the proper methods of installation. Upon successful completion of hands-on and written tests, trainees must complete six months of field work and the exercises in an on-the-job training book before they can become eligible to move on to the installer level. That level involves a more detailed look at the basics as well as cable placement and blueprint reading. Installer trainees must complete one-and-one-half years of field training as well as the exercises in an on-the-job training book before moving on to the technician level.
Syzygy has already trained people from Blue Cross, a subsidiary of Wellpoint Health Services, in Woodland, CA. The company is also talking with corporations that have budgets for such training.
"It`s very important in today`s world that the technician understand the network behind the cabling. That`s one of the reasons why we established the training center," Silverberg says. "Another reason was that this was a way to help increase the awareness of the installation staff that`s out there, because without what we do, businesses would not operate."
For more information, contact Syzygy Network Solutions at tel: (714) 685-3131 or fax: (714) 685-3144. The company`s Web site at www.syznet.com is presently under construction.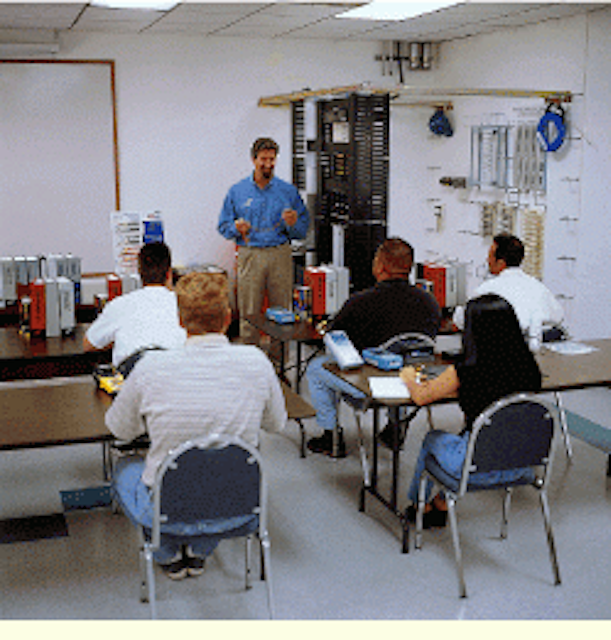 Click here to enlarge image
Michael Schnautz, one of 36 BICSI-certified trainers in the country, serves as the director of training at Syzygy Network Solutions (Orange, CA). Here, he is instructing an apprentice class in the first fully certified operational BICSI training center on the West Coast.