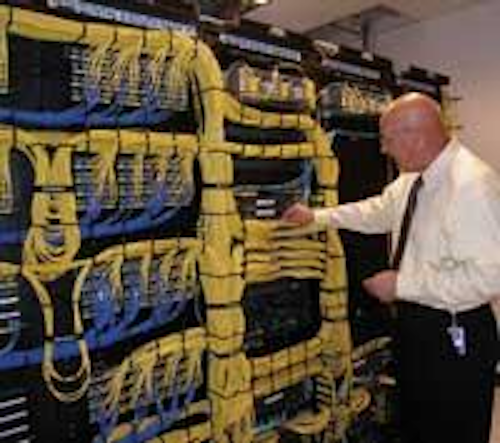 The world's largest educational publisher follows an established set of criteria for new installs and maintenance.
Recently, Pearson Education, the world's largest education publisher, relocated its secondary school division from Needham Heights, MA into a renovated high-rise in downtown Boston.
"For this location, we wanted to be able to provide 4 Gbits to the desktop with 100% uptime," states John Murphy, global telecommunications vice president. "So, we made sure that not only would we install a reliable cabling system, but that we would integrate the telecom closets and equipment into dedicated UPS [uninterruptible power supply] systems."
The Boston facility has two telecommunications rooms (TRs) per floor, including a main server room that houses the data and voice cabling and active equipment for 300 users.
Murphy's Law of cabling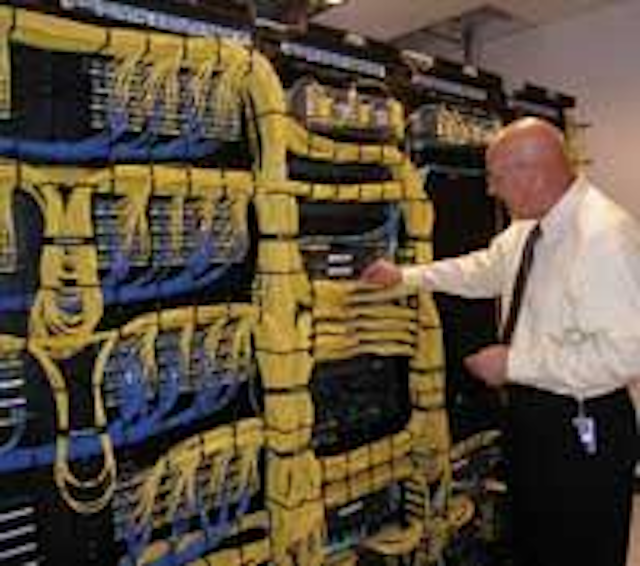 John Murphy, global telecommunications vice president for Pearson Education, organizes the data and voice cabling in one of Pearson's telecommunications rooms.
Click here to enlarge image
Ten years ago, Pearson's Murphy designed a basic layout for the TRs and cabling infrastructure that still holds true today. More than 100 Pearson Education facilities worldwide are cabled according to those specifications, known internally as "Murphy's Law." But unlike the term implies, this layout is tried and true, and has proven itself at Pearson.
"The design and layout are the same, using Berk-Tek (www.berktek.com) cable and Ortronics connectivity," Murphy explains. "But with each location, I specify the most updated cabling products, which in 10 years has progressed from 'category nothing' to Category 6 for voice and data."
For this site, Murphy specified Berk-Tek's LANmark-1000 Category 6 cable for all the horizontal runs.
Murphy's telecom rules are distinguishable by the appearance of a sea of organized blue and yellow cable patched neatly in the Ortronics Mighty Mo 16-inch-deep channel racks, which more than compensates for the wide cable bend radius of Category 6. The blue cable denotes voice, while yellow is for data.
Another key to Murphy's law is never mixing active equipment in the same rack as the patch panels. Within the racks, the patch cables' pathways from the active equipment to the patch panels vary. All the blue patching goes from Clarity 6 patch panels down and to the left from the horizontal patch panels on the voice riser. The yellow data cables go up and over to the switches, which are always situated on the far right Ortronics rack.
This approach minimizes any crossing of cables and applications. And because the cables are highly visible, it makes locating the cables for moves, adds, and changes simpler.
"I work very closely with the architects and facilities managers at all the locations, and they know what I need for my closets for the data and telecommunications equipment," explains Murphy.
TR space is delineated for either 8x10 feet or 8x12 feet, depending on how many patch panels and terminations will be necessary in each location. Each TR is specified to contain sufficient power and air conditioning.
Murphy also specifies the TRs to meet industry standards, so the horizontal cable runs are shorter than the maximum allowable 100 meters. From the TRs, Murphy determines how many workstation outlets are needed per floor and then maps out the cable runs and terminations.
Telecom Infrastructure of Brewster, NY (www.telecom-wiring.com) has coordinated many previous installation sites with Murphy, and was hired as the project management and installation team for the information cabling infrastructure at the Boston facility. "As project manager, we shepherd between the architectural and facilities teams to make sure that everyone is working off the same set of prints, which seem to constantly change," states Shannon Geronimo, project coordinator for Telecom Infrastructure. "This becomes a major task of coordination since the deadline never changes."
Ed Donelan, RCDD/NTS Specialist, president of Telecom Infrastructure, notes, "At a job site, the general contractor does not get involved in information transport, since they are mainly focused on the transport of energies, such as water, heat, and lighting. Therefore, the network infrastructure becomes a client/vendor relationship."
But Donelan adds, "As the convergence of applications occurs, with applications such as access control and security systems being placed on the network, general contractors will embrace distribution design and installation."
Sterile pathways
Since the core areas in the access ceilings were prioritized for mechanical, electrical, and plumbing (MEP), Donelan and Geronimo creatively designed a unique pathway system. "Because this was a fast-track install, and at any given point there were 100 tradespeople on site, we chose the safest sterile pathway to let the other MEP trades stay close to the center of the building," Donelan says. "'Sterile' means that we wanted to avoid electromagnetic interference and any radio-producing interference, as well as keeping the communications cable out of harm's way. By pulling the cable through its own pathway, we would avoid any disruptions that could occur if other tradespeople need to access the BAC in the future."
Pearson's telecommunications rooms are distinguishable by the appearance of a sea of organized blue (phone) and yellow (data) Category 6 cables patched neatly in cable-management racks. Pathways between active equipment and patch panels diverge, with voice patch cords routing down and to the left from the horizontal to the voice riser, while data patch cords route from patch panels up and over to the switches.
Click here to enlarge image
Most of the 525 horizontal LANmark-1000 cables run along the perimeter. More than 90% was placed overhead in unlimited ceiling distribution, while the remainder was installed in a header trench duct, six feet wide by three feet high, for outlets that need to be placed on the floor in proximity to objects such as conference room tables. This design combines the new technique of cables running around the perimeter secured with hook-and-loop fasteners as well as hooks, with the old technique that includes the trench header duct and poke-thrus.
"The perimeter pathway meant that we had to run extra cable lengths, but we were able to do this and still stay well within the 300-foot standards," notes Murphy.
Sensible numbering system
The two TRs on each floor divide the floors into north and south sections. The architecture nomenclature for the office's numbering system, however, is east and west. The reason for separate numbering systems is that the office system is not sequential and some rooms are not even accounted for. "We couldn't use the same numbering system because facilities skip numbers, and each of our outlet and location labels correspond to the ascending numeric system back at the ports in the patch panels," explains Geronimo.
Cable labeling does not address people, but rather outlets. As a result, Pearson employs three different numbering systems at this location-one on the architectural plans, another for facilities, and a sensible sequential cabling numbering system. Both labeling and color-coding, which were handled by Ortronics' LabelMo software-based system, are consistent with Pearson's standards.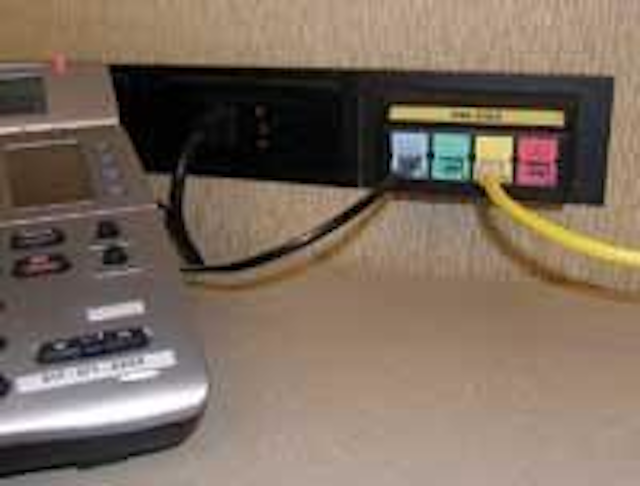 Clarity6 TracJack outlets were surface-mounted in the modular furniture or installed in wall outlets at each workstation. Each outlet is equipped with two data and two phone ports and are color-coded blue for primary voice, green for secondary voice, yellow for primary data, and red for secondary data.
Click here to enlarge image
From the TRs, all the horizontal runs are terminated into Ortronics four-port Clarity TracJack workstation outlets, either surface-mounted in the modular furniture or wall outlets. Each outlet is equipped with two data ports and two voice ports, and are color-coded as blue for primary voice, green for secondary voice, yellow for primary data, and red for secondary data.
"Many of our users have both PC and MAC-based computers, so we had to allow for multiple applications at each outlet," explains Murphy.
From bare bones to books
In four months, the Pearson facility went from a gutted, bare-bones, concrete shell to completed office areas including cubicles, hard-walled offices, conference rooms, and an extensive in-house library. Because of Murphy's pre-existing specifications and the cooperation among the trades on the site, Telecom Infrastructure met the stringent deadlines and provided Pearson with all cabling tests, ensuring a 25-year product and labor warranty through Ortronics' Certified Installer Program.
"To keep up with the streaming bandwidth technologies, as well as the convergence of applications such as voice and data with Voice over IP, along with BAS [building automation system] functions, I need to assure that our system is warranted," states Murphy. "With the combination of Murphy's laws and standards with Ortronics' warranted products and our certified installation, Pearson's investment in future applications is secure," adds Geronimo. "Their proven 100% uptime speaks for itself."
CAROL EVERETT OLIVER, RCDD, is principal of Everett Communications and a freelance writer covering the cabling industry. She wrote this article on behalf of Ortronics/Legrand (www.ortronics.com). ARLENE FRANCHINI is director of communications for Ortronics/Legrand.