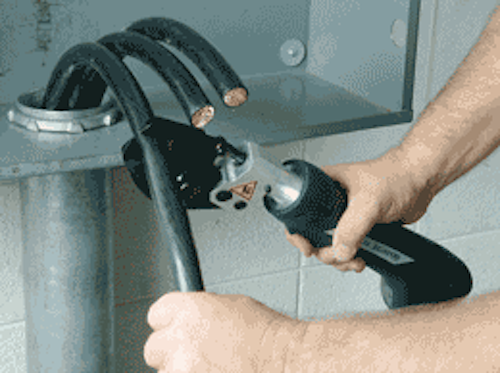 Available in various sizes, some are just right for cutting out abandoned cable.
Cable cutters may not be the most interesting tools used on the jobsite, but they are an absolute necessity to install network cabling. The job simply cannot be done without them.
Moreover, an industry-wide focus on abandoned cable removal calls for more cable cuts than ever before, bringing the cable cutter back into focus as a jobsite tool. Cutting out abandoned cable may eliminate the need for precise, clean cutting, but it also introduces the challenge of cutting multiple abandoned cables in often-cramped spaces and pathways inside a building.
Whether you're cutting one UTP cable at a time to prepare for stripping and termination, or cutting out hundreds of abandoned cables, having the right cable cutter for the job can ensure performance, save time, reduce hand stress, and prolong the life of the cutter. (For a list of cable cutter vendors, see page 50.)
Critical cutter considerations
When choosing a cable cutter, size is the foremost consideration; that is, make sure that your cutter will cut the diameter of your cable. "Size is definitely the most important characteristic," says Ken Grey, director of marketing for Ripley (www.ripley-tools.com). "There's a significant difference between cutting a large utility cable and cutting a coaxial cable, and there are specific tools made for specific cable."
Another key consideration is the cable material being cut. "Any kind of steel component is the biggest limiting factor for cutters," says Les Shutts, engineering manager for Paladin Tools (www. paladin-tools.com). "The steel center conductor, like that of some coax, is typically harder than the steel blade of the cutter. That creates nicks in the blade that can wear the cutter out much faster."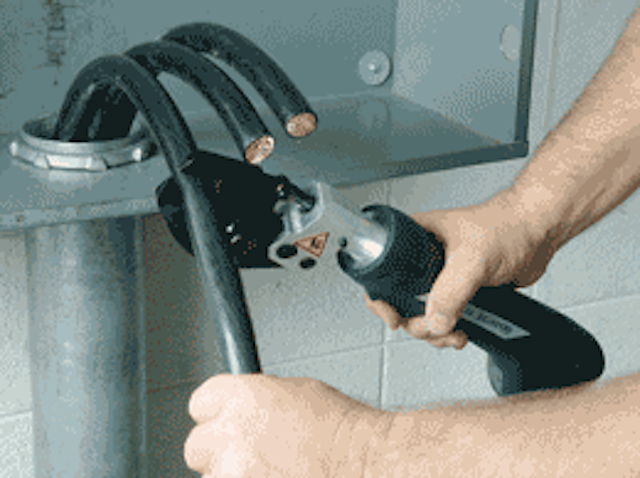 Greenlee says its Gator ES32, a small battery-powered cutter that reduces hand fatigue, is ideal for cutting out hundreds of abandoned communications cables.
Click here to enlarge image
You should also consider how well a cutter does its job. While not an issue for cutting out abandoned cable, it is vital for new cabling installations where performance is essential. "Whenever you're cutting a round cable, you want to maintain as round of a shape as possible," says Shutts. "If the cable is compressed during the cutting process, it can change the electrical characteristics of the cable and make it difficult to install connectors." Shutts points out that contoured cutting blades are best for maintaining the cable's round shape while flat-edge blades can flatten out the wires.
Blade sharpness is another feature that affects how well a cutter cuts. "If the cutter blades are not sharp enough, it can cause the individual pairs of communications cable to become caught between the blades and pulled out of the cable, which distorts the pair twist and affects performance," says Rob Bentley, product manager for Greenlee (www.greenlee.com).
The tool's overall construction should also be considered when selecting a cable cutter. "In any hardware store, you can find a number of tools for cutting; these tools have truly become a commodity, but the difference is in the quality of the tool," says Ripley's Grey. "You want a good, solid cutter from a reputable manufacturer."
Undersized universal utensils
Small cutters for severing a single cable are the most common type used by network technicians. Tools like Ripley's Miller #60 Utility Cutter, which cuts 22 AWG to 12 AWG wire, and Greenlee's 8 AWG Cutter (#45482), are small, lightweight, and can be found in most network installers' toolboxes.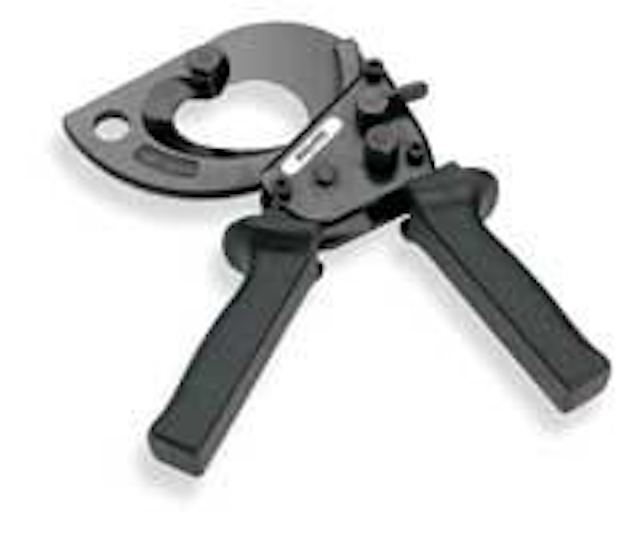 Most ratcheting cable cutters, like Ripley's UtilityTool RCC, are close-ended and have a blade that is flipped around to fully encircle the cable.
Click here to enlarge image
Many installers will also use a stripper/cutter for cutting network cabling. Ripley's Clauss 821 Multi-Wire Strippers/Cutters and Greenlee's #1917 Wire Strippers/Cutters are examples of tools that cut and strip 26 to 16 AWG wires, which includes Category 5e and Category 6 UTP. These tools have a cutting blade and small stripping grooves for specific sized wires.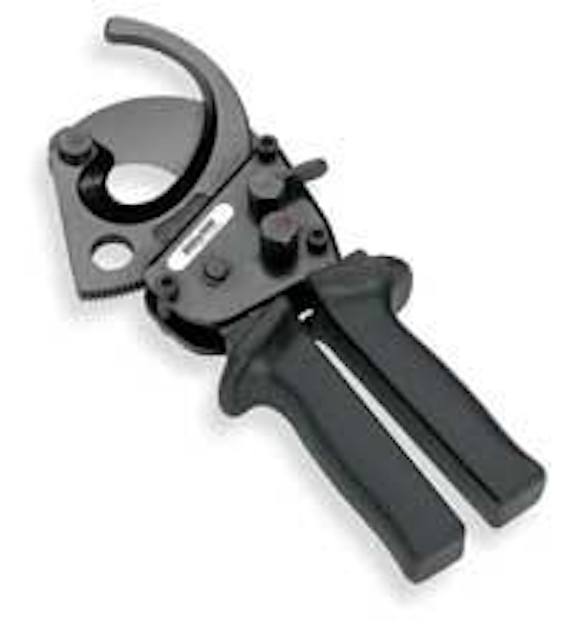 Click here to enlarge image
"In the premise environment, we see a lot of stripper/cutters used because most installers are cutting and stripping the cable to prepare for termination," says Ripley's Grey. "A true cutter, however, will give you better cutting access and a more precise cut. If you're just cutting cable and leaving it for someone else to strip and terminate, a cutter makes more sense than a stripper/cutter."
Paladin Tools' Shutts says that installers will typically get a longer life span out of a cutter than a stripper/cutter because many strippers/cutters have thin blades that will wear out over time. He also says that many strippers/cutters use a flat-edge blade that can compress the cable. "Our Data SureStrip cuts Category 3, 5, 5e, and 6 shielded and non-shielded cable without compressing the cable," says Shutts. "The tool has a unique, patented design with a recessed area and a single blade that slices completely through the cable instead of coming down on a flat edge."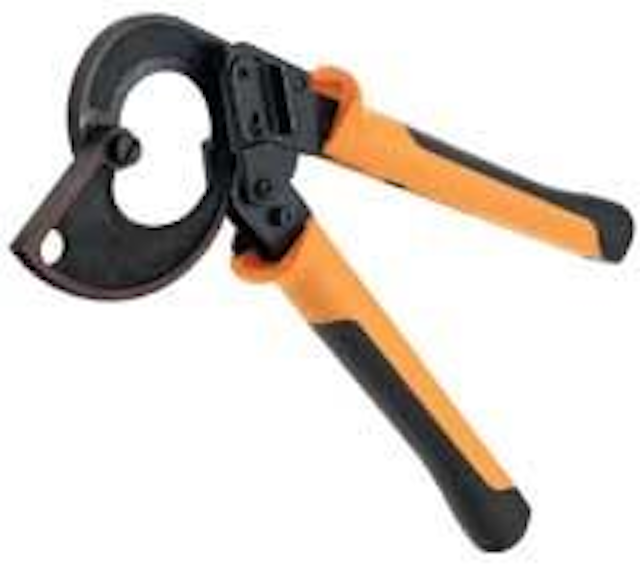 Paladin Tools' KT 35 ratcheted cutter puts hand force into the tool's ratchet, offering the benefit of one-handed operation.
Click here to enlarge image
Strippers/cutters typically cannot handle the internal conductor of coaxial cable, and some manufacturers offer cutters specifically designed to cut coax and maintain its round shape with no cable distortion. Ripley's Cablematic CXC and CXC-1 are lightweight, compact cutters for cutting up to 0.7-inch and 1.00-inch coax respectively. Paladin Tools' KT-8 is their number one seller for cutting coax and UTP. "The KT-8 is a hefty, cast steel tool with fine contoured blades that create a smooth cut and maintain the shape of the cable excellently," says Shutts.
Ample and adaptable
Cutters for larger cable diameters are normally used for cutting outside-plant high-pair cables, but are also ideal for cutting 100- or 300-pair copper riser cable. These tools may also be the ultimate solution for cutting out in-building abandoned cable.
Large manual cutters require the use of hand and arm force to slice through the cable. Many larger cable cutters today are ratcheting to reduce the hand force and ease the cutting of larger cables. "A ratcheted cutter takes all the hand force and puts it into the ratchet of the tool," explains Shutts. "The user lightly squeezes the tool repeatedly, and the gearing on the tool advances the blade with each squeeze and latches it in place so it can't back out of the cable." According to Shutts, a ratcheting tool provides a cleaner cut and offers the benefit of one-hand operation, which is ideal when working in high or tight spaces.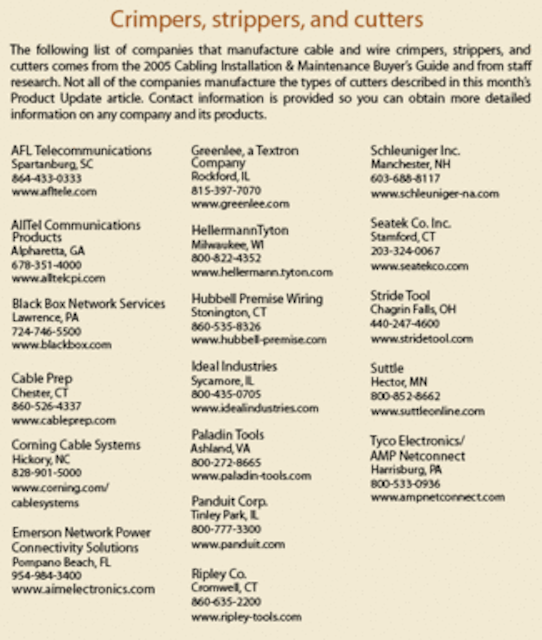 Click here to enlarge image
Ripley offers a manual UCC utility cutter and an RCC Ratchet cable cutter designed to cut up to 1.75-inch diameter cable. Paladin Tools' KT 35 is a ratcheted cutter for cutting stranded and flexible copper, as well as aluminum cable up to a diameter of 1.40 inches (35mm). Shutts believes the KT 35 is ideal for multipair UTP. Paladin Tools also offers the KS 42, which is a much larger ratcheted cutter designed for cutting up to 1.77 inches.
Greenlee offers several large manual and ratcheting cable cutters, but also offers battery-powered cable cutters to further reduce hand fatigue. "For the most part, larger battery-powered and ratcheting cutters are typically overkill for the premise environment," says Greenlee's Bentley. The company's Gator ES32 is a smaller, battery-powered cutter, which the company says is more appropriate for the premise environment. "The ES32 is one of the smallest battery-powered cutters on the market, and it's received a lot of attention from communications cabling installers," Bentley claims.
With the removal of abandoned cable now required under NEC 2002 (Articles 800.2 and 770.2), some installers are being faced with having to cut out hundreds, or even thousands, of old cables. Some are even making the task into a moneymaking opportunity.
"There's a lot of money in copper, and some of these guys are cutting out abandoned cable, stripping off the insulation, and selling the copper," says Bentley. "It takes very little hand pressure to cut through communications cabling, but if I had to cut out multiple abandoned cables, I wouldn't want to use a typical small cutter or stripper/cutter. I would treat the old cables as if they were one large diameter cable." Bentley says that a Greenlee battery-powered cutter would be a good choice in that situation.
Abandoned cable removal can also mean cutting multiple cables in cramped spaces and pathways. "Our RCC and UCC utility cutters can be used to cut multiple abandoned cables, but some of the larger tools could be an issue for getting into tight spaces," says Ripley's Grey. "In the removal of abandoned cable, however, there is no need for a clean, precise cut because the integrity of the cable doesn't matter. In that situation, most will use whatever they can to cut through the abandoned cable."
"As long as all of the cables are being removed, it's okay to just grab a bundle and cut them all at once with a larger cutter," says Shutts. "If you can't get your tool in there, you may have to use something smaller, but most will try to pull as much of the bundle as possible out of the ceiling to an open area for cutting."
Playing their part
While cable cutters may not be the most glamorous tools in the toolbox, they are definitely a necessity, and large outside-plant cutters appear to be the ideal solution for cutting abandoned cable. "When you think about all the tools needed for installing premise communications cabling-strippers, crimpers, punchdown tools, etc.-cutting is the last thing that most people think about," says Greenlee's Bentley. "If we thought there was a huge market for cutting out abandoned cable with larger cutters, we'd give it more attention. But there are so many cutters to choose from already for that task."
With the number of cutters available for cutting all types and sizes of cable, future cutter innovations will likely be few. Some tool manufacturers, however, are looking ahead. "There's a lot of convergence going on, and installers today are dealing with several types of cable," says Ripley's Grey. "We're just starting to look at convergence in the tool industry, and in the future, we could see multi-use tools that span various markets."
Paladin Tools' Shutts says that the industry may see new ratcheting technology in the future. "Most ratcheting tools are close-ended, where the blade is flipped around to encircle 360-degrees around the cable," he explains. "It's also difficult to remove the cable," says Shutts. "Open-ended ratcheting tools, just entering the market from Germany, enable cutting in tighter spaces because the blade does not have to be looped around. It is also easily removed off the cable."
The popularity of open-ended ratcheting tools has not grown in the U.S., but Shutts believes the benefits will catch on eventually. "Cutting is not an exciting world, but it has its part," says Shutts. "You just can't do anything with the cable if it isn't cut, including removing it."
BETSY ZIOBRON is a freelance writer covering the cabling industry, and a regular contributor to Cabling Installation & Maintenance. She can be reached at: bziobron@camcast.net