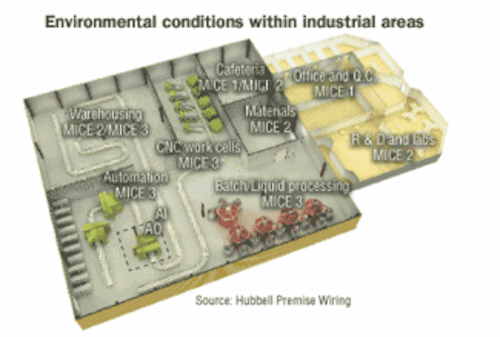 A look at recent decisions, ongoing issues, and progress.
Ethernet is the most prevalent LAN application worldwide, offering the benefits of low-cost components, standardization, high-performance switching technology, easy configuration and installation, and convergence.
In the 1990s, end users in industrial environments began demanding Ethernet for automation and industrial-control systems to enable easier configuration and communication with distributed components. A shift from proprietary fieldbus systems to Ethernet on the factory floor also enables integration of corporate and manufacturing LANs for gathering real-time production information and streamlining operations.
Today, Ethernet is becoming a characteristic of modern industrial-control systems, and the constant demand for network expansion has also given rise to Ethernet in other harsh environments (like the outdoors) as well as food-service and medical facilities. Because these environments typically exhibit exposure to dust, water, humidity, chemicals, extreme temperatures, vibrations, or heavy electromagnetic interference (EMI), they require more-robust cabling and connectivity products.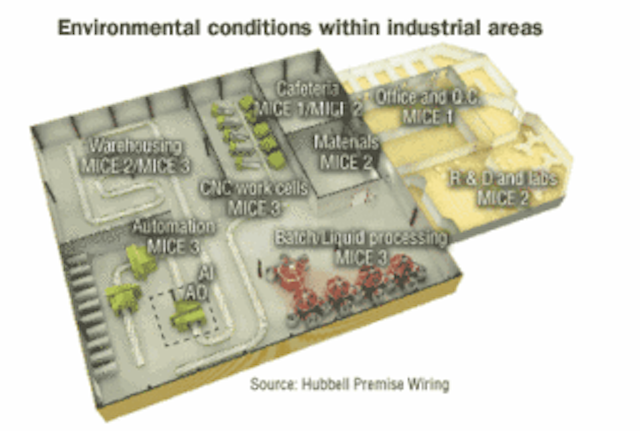 MICE tables describe various degrees of environmental conditions within industrial areas, with MICE 1 describing a typical office environment, MICE 2 describing a slightly harsher environment, and MICE 3 describing heavy industrial. A cabling run can pass through multiple MICE environments in a facility.
Click here to enlarge image
At the request of several manufacturers and industrial-application providers, the TR-42.9 Industrial Telecommunications Infrastructure subcommittee was formed to develop the TIA-1005 standard that will specify Category 5e and Category 6 infrastructure requirements (cabling, pathways, and spaces) within and between industrial buildings, and support a range of applications within industrial environments.
MICE tables decisively defined
To describe possible environmental conditions within industrial sites, the TR-42.9 subcommittee created Mechanical, Ingress, Climatic/Chemical, Electromagnetic (MICE) tables. MICE levels 1, 2, and 3 describe various degrees of environmental conditions, with MICE 1 describing a typical office environment, MICE 2 describing a slightly harsher environment, and MICE 3 describing heavy industrial.
The MICE levels were designed to cover the majority of industrial applications. Although this addresses approximately 80% of environments, extreme or specialized environments that exceed MICE level 3 are not included in the standard.
MICE tables provide a means for end users to select cabling systems compatible with a specific environment. While a cabling system may be compatible with the environmental classification, the MICE tables do not constitute a set of requirements for cabling components. The actual design criteria or testing necessary to establish how cabling components or channels would function properly under those environments is covered elsewhere, such as under the International Electrotechnical Commission (IEC) Ingress Protection (IP) rating. At present, the subcommittee has agreed, in close cooperation with several other organizations and international standards bodies, upon the values specified in the MICE tables. No major changes are foreseen.
The Mechanical section provides values for shock/bump, vibration, tensile force, crush, impact, and bending/flexing. Each level increases in severity. For example, M1 vibration displacement amplitude in a 2- to 9-Hz spectrum is up to 1.55 mm, which describes the level of vibration caused by minor equipment, such as a vacuum cleaner or pencil sharpener. The M2 vibration displacement is 7.0 mm, and M3 is 15.0 mm, which describes much higher levels of vibration caused by larger machinery.
The Ingress section provides values for particulates (dust) ingress, which is defined by the maximum diameter of a particle. It also includes specifications for liquid immersion. While the IP rating is not called out in the standard, an IP67/IP65-rated connector that denotes total protection against dust ingress and ability to withstand immersion for 30 minutes in up to one meter of liquid will function properly in an I3 environment.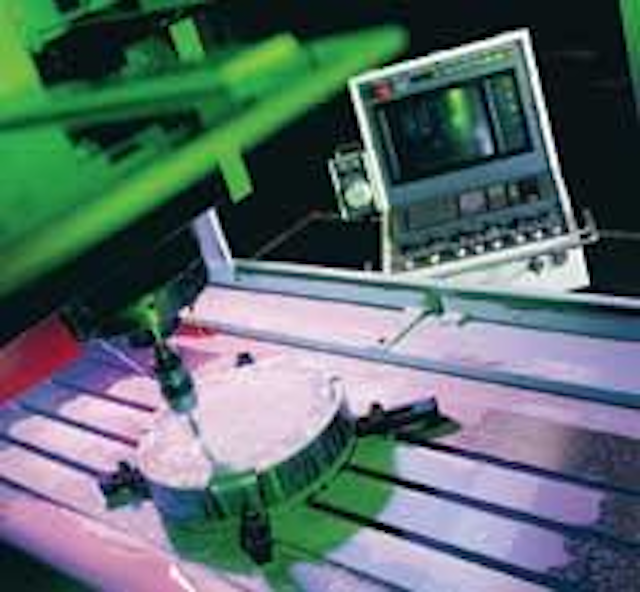 In industrial environments where exposure to dust and water is common, end users must be concerned with the levels of particulate and liquid ingress that cabling and connectivity components can withstand, which is described under the Ingress section of the MICE tables.
Click here to enlarge image
The Climatic/Chemical section provides values for temperature, humidity, radiation, and liquid and gaseous pollution from common industrial contaminants. The chemicals called out in the MICE tables include common liquid contaminants, such as sodium chloride (sea water), oil, soap and detergent, and gaseous contaminants like sulfur dioxide, chlorine, ammonia, and nitrogen oxides.
The Electromagnetic section provides values for electrostatic discharge, radiated and conducted radio frequency (RF), surge (transient ground potential difference), and magnetic field. These values are based on noise sources found in many industrial environments, such as welding, relays, motor starts and stops, printing and spooling processes, two-way radios, and overhead controls.
Connectivity, cabling virtually resolved
Technical issues being sorted out in the standard-development process include the selection of a connector type for the automation outlet (AO). The AO services the non-MICE 1 automation island (AI) of a factory floor and can facilitate a tradition of non-generic cabling systems, or cabling that is not 4-pair TIA-568-B cabling.
At this time, the subcommittee has agreed that if an 8-position modular connector is used at the AO, the connector encapsulation method shall be Variant 1 of IEC 61706-3-106. Because of its legacy and installed base in the industrial marketplace, the 4-pin M12 D-coded connector that supports Ethernet, as defined in IEC 61076-2-101, is also being allowed at the AO with some "informative" guidance provided for its use. The M12-4 D-coded connector likely will only be allowed at the AO when a 2-pair, non-8-position modular connector is desired.
For other connections in an industrial facility or harsh environment, any 8-position modular encapsulation suitable for the specific MICE environments can be used. Several vendors offer encapsulated 8-position modular Category 5e and Category 6 connectors ideal for harsh environments, such as outdoor facilities, food service, and medical facilities. All outlets must meet the performance requirements of TIA-568-B.
A specific optical-fiber connector has not yet been chosen, but the subcommittee is leaning toward the LC connector because it is easy to connect and disconnect while maintaining performance. The use of optical fiber in an industrial environment will have limitations due to dust and vibrations, but in an environment of high EMI, fiber may be the best choice.
Recognized cable types for use in industrial systems will include 4-pair UTP and ScTP, multimode and singlemode fiber, and 2-pair UTP and ScTP (for use with the 4-pin M12 D-coded connector).
Location of 2-pair and 4-pair systems continues to be debated. Some subcommittee members would like to expand the use of 2-pair systems while others would like it completely eliminated. The current objective is to maintain the 4-pair TIA-568-B generic cabling environment throughout a facility, with exceptions and guidance included in the standard for the use of 2-pair systems.
The subcommittee recently agreed to limit 2-pair cabling beyond the telecommunications outlet (TO) for use on or between machines and factory-floor work areas. All copper cabling from the TO back to the telecommunications room (TR) likely will remain 4-pair UTP or ScTP per the standard.
Consensus, publication promising
The TR-42.9 subcommittee is working closely with other consortia and standards groups to ensure interoperability and harmonization. Some members of the TR-42.9 subcommittee are also members of Open DeviceNet Vendor Association (ODVA), which comprises representatives from automation companies. This association has given ODVA an indirect voice in the development of the TIA-1005 standard, and these members have provided valuable input for defining industrial environments and requirements for robust cabling and connectivity.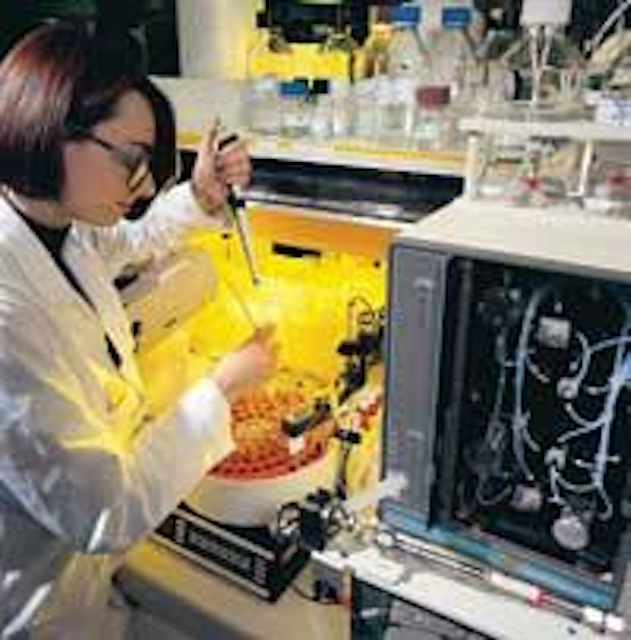 The constant demand for network expansion has given rise to Ethernet in harsh environments, such as laboratories where encapsulated 8-position modulaCategory 5e and Category 6 connectors can prevent contamination and corrosion of network connections.
Click here to enlarge image
The TR-42.9 subcommittee also has constant communication with the IEC and the International Organization for Standardization (ISO)-the leading global organization that prepares and publishes international standards for electrical, electronic, and related technologies. TIA TR-42.9 is working closely with the ISO/IEC SC25 and SC65C joint working groups, which are developing similar international industrial standards. The subcommittee and international standards bodies compare notes, report progress, and agree on issues whenever possible. The concurrent completion of the MICE tables is an example of how successful this process can be. All three organizations now have identical MICE tables.
TR-42.9 is currently working on Draft 5 of the standard and recently completed the first internal ballot. If all comments are resolved, the draft could become a full industry ballot later this year. This will greatly depend on the subcommittee's level of comfort to share the document with the industry. It is imperative that the information is not confusing or misleading in any way, and as close to a final draft as possible.
If all issues are resolved and agreed upon, a secondary ballot could be released in February 2006. A final ballot could potentially follow in June 2006, with publication of the standard hopefully taking place in the third or fourth quarter of 2006; however, a technical no-vote or lack of agreement on any technical issue could result in extra balloting that would delay publication.
As is true with all standards development, nothing is set in stone until the standard is published.
SHADI ABYGHAZALEH, PhD, is chair of the TIA TR-42.9 Industrial Telecommunications Infrastructure subcommittee and manager for research and technology at Hubbell Premise Wiring (www.hubbell-premise.com). JANET CROOK is a marketing communications professional with Hubbell Premise Wiring. The information and opinions herein are provided by the authors and are not the opinions of the TIA.
---
Considerations for cabling an industrial facility
When it comes to cabling an industrial facility, many factors must be taken into consideration before choosing systems and components.
It is imperative that you determine the maximum conditions for the environment that you plan to cable. Any cabling run can actually pass through multiple MICE environments. Establish environmental boundaries to minimize the need for the highest-rated cabling throughout an entire facility and to create the lowest possible MICE environments for your cabling pathways.
Using an enhanced, higher-rated cabling system is not the only means of dealing with harsh environments. Consider using a combination of separation, isolation, and enhancement. For example, when there is a risk of liquids, separation can be achieved by running cabling in cable trays at ceiling height as opposed to floor pathways. Isolation can be achieved by using appropriate conduits or raceway, such as properly grounded metal conduit that helps isolate some electromagnetic noise. The lowest-cost and highest-performing combinations may not be the most obvious.
Many cabling and connectivity vendors have experience and expertise in cabling an industrial facility. Consult with these vendors to select the most cost-effective solution for your needs, and remember that your total cost includes installation, maintenance, and replacement costs.
As much as possible, end users should try to select cabling and connectivity products that meet their needs for today and in the future. While the standard offers a minimum set of recommendations and requirements, it does not necessarily specify the duration that the cabling has to continue operating in a specific environment. For example, oil-resistant cables may be able to withstand an oily environment anywhere from a few months to a couple of years before the chemicals infiltrate the outer jacket of the cable and affect the electrical or physical characteristics.
When operating under harsher environments (MICE 3), regularly replacing patch cords and connectors well before their rated life is a preventative measure that can help avoid interruptions and downtime.