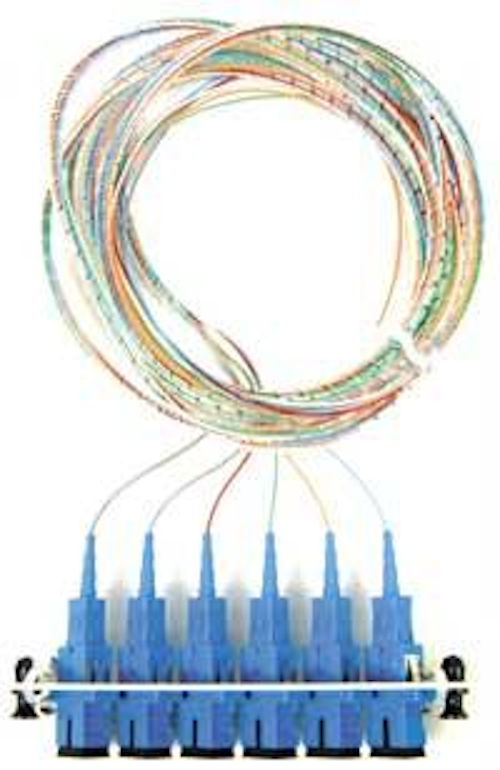 Pre-terminated panels for cable management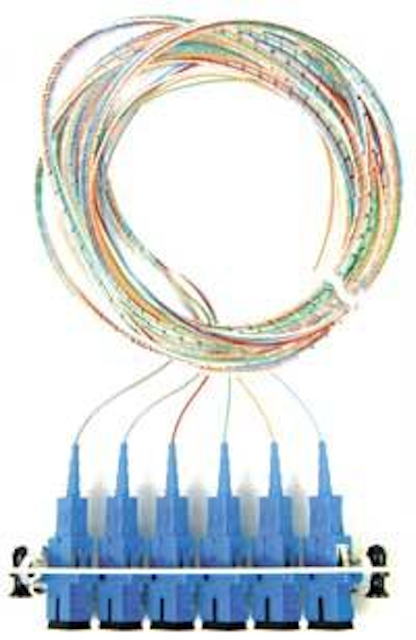 Click here to enlarge image
Snap Packs are pre-terminated adapter panels designed to provide convenience when splicing into fiber distribution frames. Available in 6- or 12-fiber bundles with TIA-598-A standard color code, Snap Packs provide cable management from the patch panel to splice bays. Custom lengths and a variety of connector style panels are available.
FIBER INSTRUMENT SALES
www.fiberinstrumentsales.com
Single-action fiber cleaver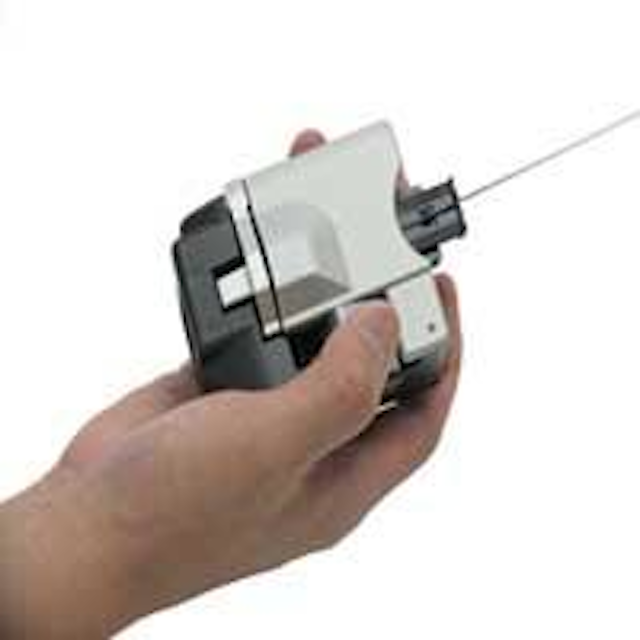 Click here to enlarge image
The Fitel S325A single-action fiber cleaver combines all four steps of a proper fiber cleave into a one-step button press that applies tension to the fiber, scores the fiber, precisely breaks it, and disposes of waste. Especially designed for challenging LAN and fiber-to-the-home installation, the S325A features a wide lid top for easier loading and an integrated, high-capacity waste fiber chamber. According to the company, the tool can precisely cleave single fiber or up to 12-fiber ribbon utilizing fiber holders.
FURUKAWA AMERICA INC.
www.FurukawaAmerica.com
Customer-assembled 42U rack
Click here to enlarge image
With 42U of racking capacity and 680 Kg/1500 lbs. of static load capacity, the HP 5642 customer-assembled rack is designed for value-minded customers desiring a reliable industry-standard rack that will meet most installation requirements. The rack features industry-standard dimensions of 19 inches between the two front RETMA rails, a lockable and perforated rear door, side panels, and leveling feet. Stabilizing feet, baying kit and a front door are optional.
HEWLETT-PACKARD CO.
www.hp.com
Ethernet, serial data multiplexer for fiber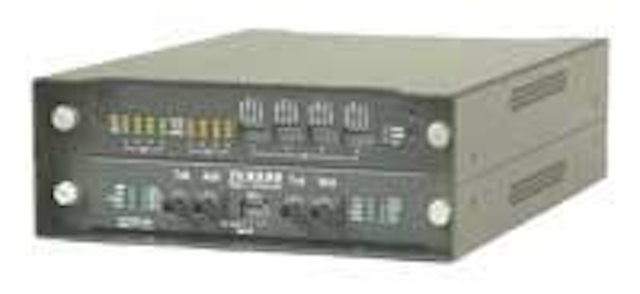 Click here to enlarge image
The TC8530 Ethernet and serial data multiplexer is designed to multiplex one 10/100 Ethernet and four channels of RS-232, RS-422, TTL or dry contact interfaces over singlemode or multimode fiber. A one-fiber, two-way communication option doubles existing fiber usage. According to the company, the device can efficiently integrate networks having devices such as remote terminal units (RTUs) and controllers with Ethernet and serial interfaces over a single fiber. Built for extreme industrial environments (-40° to +80°), the multiplexer supports distances to more than 100 kilometers, and offers redundant power and optics, including automatic switchover. The Ethernet port auto-negotiates at 10/100 with full 10-Mbits/sec throughput, and enables rate control in increments of 32-Kbits/sec. The unit is IEEE 802.3/802.3u/802.3x-compliant. Setup, diagnostics and control are accessed via serial terminals, telnet, or SNMP ports.
TC COMMUNICATIONS INC.
www.tccomm.com
Heating tool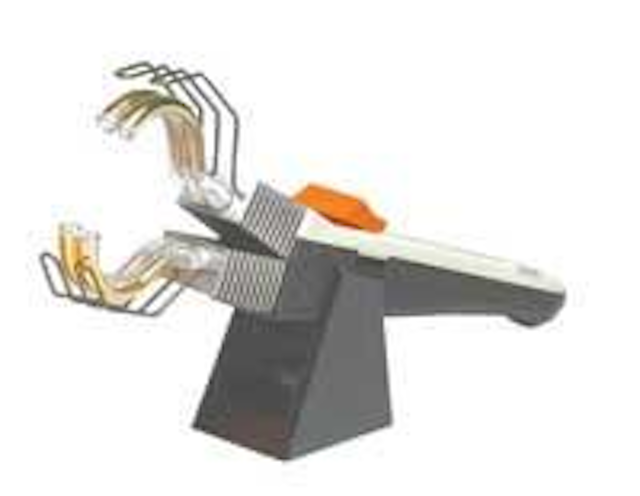 Click here to enlarge image
The handheld Glo-Ring infrared heat tool can be used for a variety of applications, including plastic conduit bending. Quartz-encapsulated heating elements open and close to surround the work piece, delivering quick and even heating. Elements are available in sizes ranging from ½-inch outside diameter to 3-inch outside diameter, and produce heat at temperatures up to 1500° F. Operation is silent.
ERASER CO.
www.eraser.com
G-shaped tray for tight spaces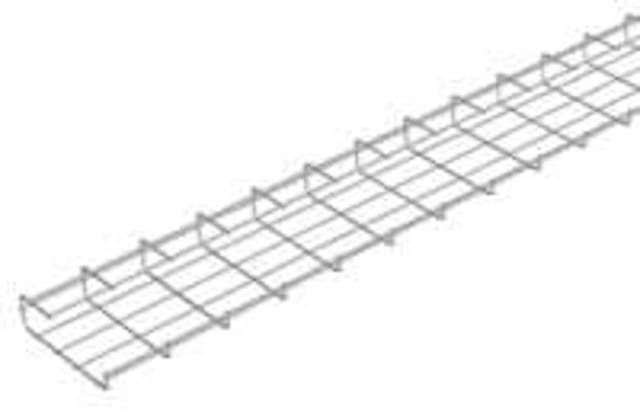 Click here to enlarge image
A "G" shape to the G-Tray lets you install it in tight-fitting spaces and is designed to provide additional protection for use in areas where cables risk being damaged. G-Tray mounts directly to walls, ceilings, and web joists, and also fits under conveyors or other trays. When mounted to wall or ceiling, the G-shaped enclosure is built to provide continuous support and protection with no need for additional accessories. By ceiling-mounting the G-Tray, you can use the underside as an uninterrupted surface for lighting fixtures or other devices. The product is available in standard 10-inch straight sections in 2×4, 2×8, and 4×6-inch sizes.
CABLOFIL
www.cablofil.com
Structured cabling systems catalog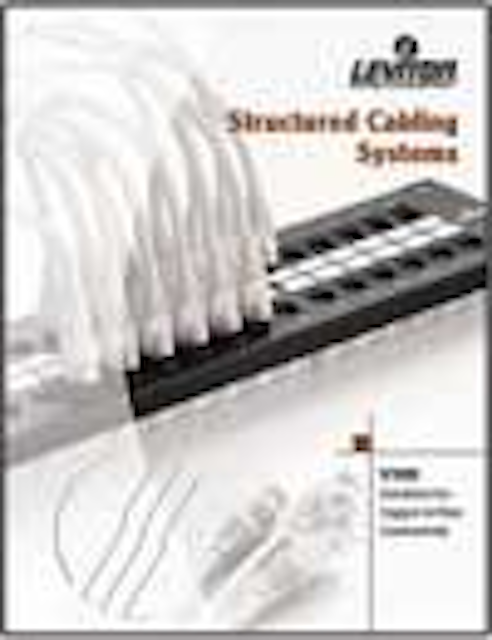 Click here to enlarge image
The V100 Structured Cabling Systems Catalog features extensive copper and fiber connectivity solutions for enterprise, data center, service provider, and residential networking applications. New and expanded sections include power management, industrial connectivity, residential solutions, and optical-fiber products.
LEVITON VOICE & DATA DIVISION
www.levitonvoicedata.com
Active VGA over Cat 5
Designed to streamline cabling in such applications as security video and videoconferencing, the Active VGA Balun Kit (500035, 500036) lets you replace passive video cable with Category 5 copper for up to 500 feet at UXGA (1600 × 1200) for applications that require greater resolution and distance. The kit includes a VGA transmitter and receiver, and features adjustable gain control designed to compensate for smearing, propagation delay, and phase deviation (depending on cable length). The active VGA balun supports high-quality performance over 330 feet at 1800 × 1440 resolution.
MUXLAB
www.muxlab.com
Slide-out rack for fiber enclosures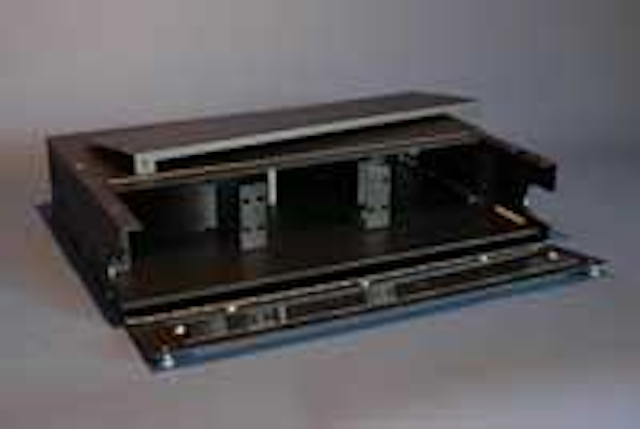 Click here to enlarge image
Rack-mount fiber enclosures for 19-inch or 23-inch relay rack feature a front slide-out tray for easy access to fibers. When the tray is completely pulled out, it locks in place to assure no strain on fibers. The enclosures are also equipped with cable management and routing accessories for maintaining proper bend radius and strain relief control. The 1U enclosure (FERM18S) accepts three adapted panels and one splice tray while providing enough room to accept up to 36 fibers. The FERM36S 2U enclosure includes a tinted window, and can be fitted with up to six adapter panels and two splice trays, allowing 72 fibers in a low-profile unit. The 3U (FERM54S) and 4U (FERM72S) feature a raised front edge to assist tray pull-out. The 54S holds nine adapter panels and three splice trays, and accepts up to 108 fibers; the 72S accepts up to 144 fibers and holds 12 adapter panels and four splice trays.
HELLERMANNTYTON
www.htamaericas.com
Crimper and cutter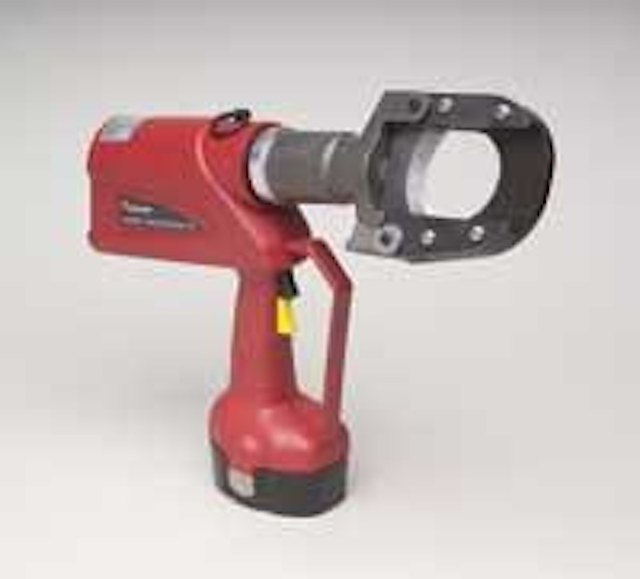 Click here to enlarge image
The PATCUT, part of the company's Patriot line of battery-actuated hydraulic cutters and compression tools, is designed for one-hand operation. It incorporates a latch-style cutting head designed for interference-free closure for mid-span cuts, and rotates 180° to let you get into tight areas easier. The New PATCUT245CUAL-18V is designed especially for copper and aluminum cable, and is capable of cutting up to 2.45 inches in diameter. For crimping, the PAT750-18V, 600-18V and 644-18V all feature a high-capacity 18-volt NiMH battery that is capable of eliminating voltage compression, thereby maximizing the number of crimps. An audible "pop-off" and visual crimp indicator are also featured.
FCI-BURNDY
www.fciconnect.com
Aluminum cable fittings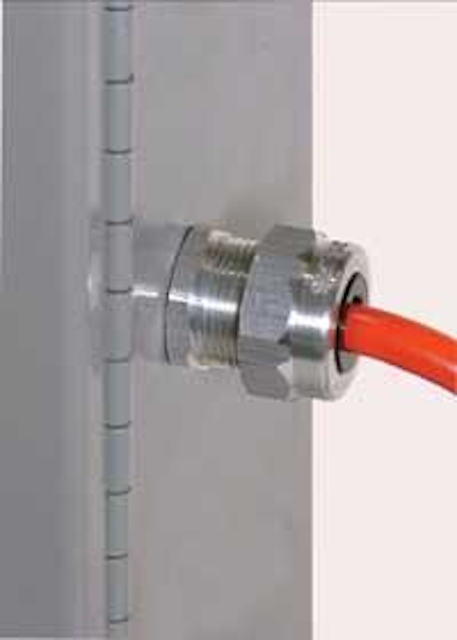 Click here to enlarge image
Ranger aluminum cord and cable fittings feature an improved gland nut design for easier installation in tight spaces. Designed to terminate portable cord into enclosures, the Ranger devices' new hex gland makes it easier to grip with pliers or channel locks, minimizing slipping. A splined design lets you use a screwdriver to easily tighten the fittings once they are installed, even in cramped locations. The fittings have a beveled moisture- and oil-resistant synthetic rubber bushing system, intended for exceptional sealing performance. Nine sizes, from ½-inch to 1-inch, are available.
THOMAS & BETTS
www.tnb.com
Passive transceiver for fiber-to-the-home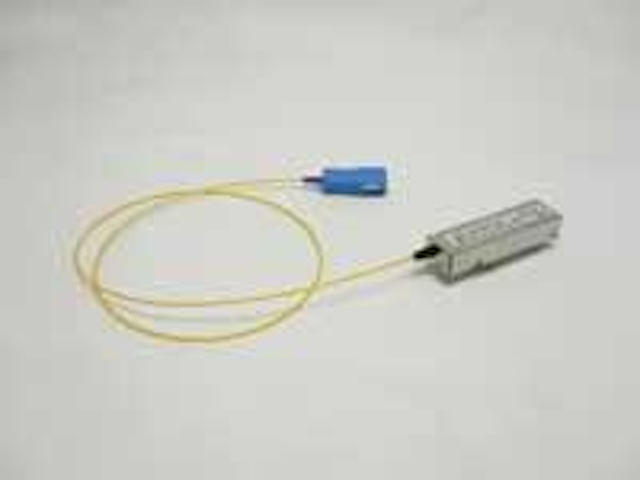 Click here to enlarge image
A line of Ethernet passive optical network (EPON) transceivers is especially designed for fiber-to-the-home installations. These small-form-factor transceivers feature a point-to-multipoint architecture designed to provide low-cost, high-speed Internet protocol video transmission, Internet connections, VoIP, and other broadband services over a single optical access system. The device is capable of error-free reception of upstream Ethernet packets within the 400-ns range as stipulated by IEEE 802.3ah.
FUJIKURA EUROPE LTD.
www.fujikura.co.uk
Handheld core alignment fusion splicer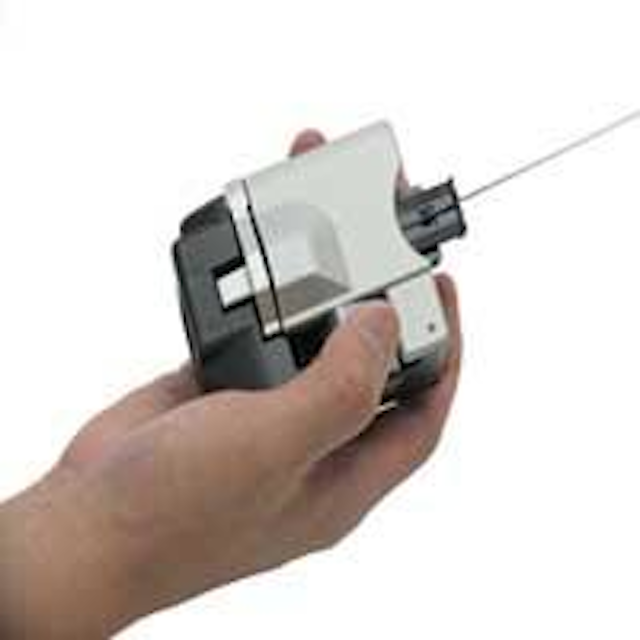 Click here to enlarge image
Designed for fiber-to-the-home, LAN, and trunk line intallation, the FITEL S177A is billed as the first handheld core alignment fusion splicer. Half the size of conventional splicers, the S177A incorporates an enhanced heating design that the manufacturer says will cut splice-to-heat time by 40%, achieving a 9-second splice time and 37-second heat time. Especially suited for fast field use, the S177A reduces the fiber length required for splicing by 30%. The company claims fiber magnification power is an industry-leading 608×. The unit includes a transflective LCD screen for a clear view of splicing operation under all conditions. In addition to AC and DC input power options, the splicer's built-in lithium ion battery automatically recharges during operation.
FURAKAWA AMERICA INC.
www.FurakawaAmerica.com
Cable management system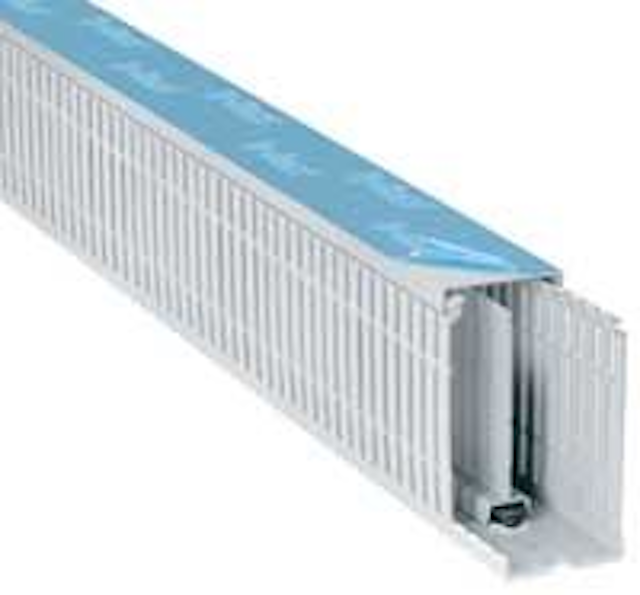 Click here to enlarge image
A management system for controlling cables in point-to-point installations, the Ty-Duct wiring duct is designed for data communications panels and closets, and electrical enclosures. With a two-point contact design and triple restricted slots, Ty-Duct features easy installation and improved cable retention within the duct. A universal mounting clip lets you snap the divider into the base or on two slot sizes to accommodate nylon cable ties or hook-and-loop fasteners. Embossed holes enable combo buttons to be installed after the duct has been riveted to the panel. The system is designed of temperatures ranging from -40° F to 140° F, has a UL 94 flammability rating of V-O, and conforms to NFPA 79-2002 Section 14.3.1 for flame-retardant material.
THOMAS & BETTS
www.tnb.com
Labeling know-how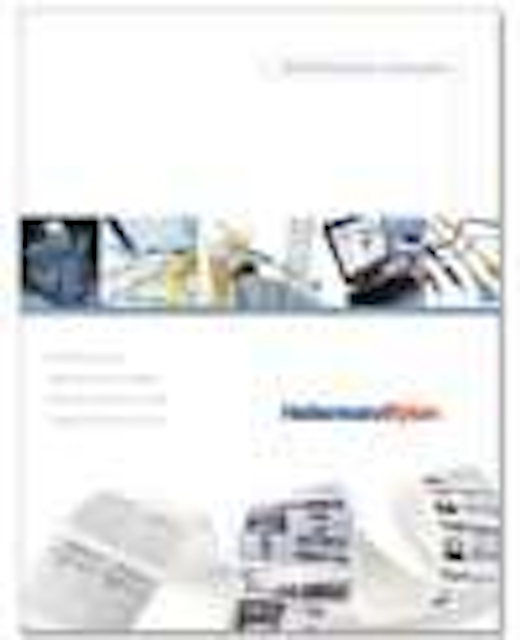 Click here to enlarge image
The free Identification Solutions catalog features the company's label-creation software, thermal transfer printers, and computer-printable labels. Specific solutions in the catalog include: TagPrint Pro label creation and printing software that can be used with laser, ink jet, dot matrix, and thermal transfer printable labels; ShrinkTrak heat-shrinkable markers for wire and cable, military specified and designed with side slits for easier application; Durattach label and ribbon combination, which the company claims achieves the most permanent mark available.
HELLERMANNTYTON
www.hellermann.tyton.com
Bundling simplicity

Click here to enlarge image
Adjustable and re-useable Slap Snap cabling bundles are designed to let you wrap your cables three to five times faster than with traditional tie wraps. Slap Snap is made of lightweight nylon and comes in sizes ranging from ½-inch to 2 inches. When you need to add more cable to the bundle, Slap Snap can be easily unclasped without special tools. There are no sharp edges that can cause installer injury.
WAYTEK INC.
www.waytekwire.com
Security system surge protection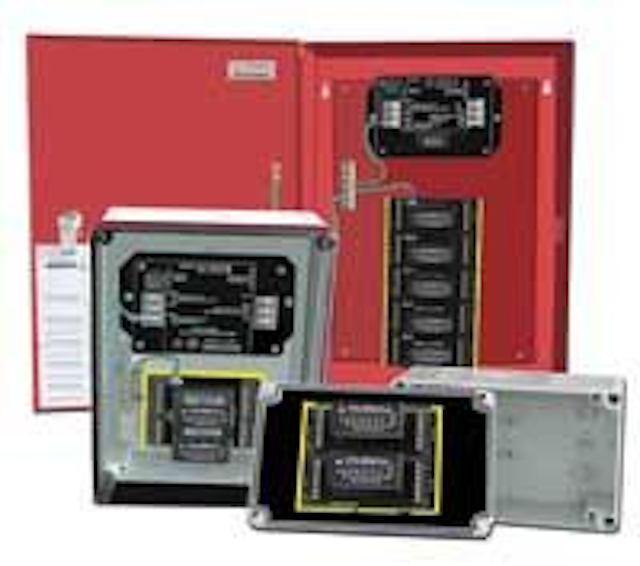 Click here to enlarge image
The Total Surge Solution (TSS) series for addressable and conventional security system protection covers 120-V system power and up to ten pairs of SLC, IDC, and NAC circuits. The company promises complete protection, simple installation, and high-quality modules that are field-replaceable.
DITEK CORP.
www.ditekcorp.com
Re-designed angled patch panels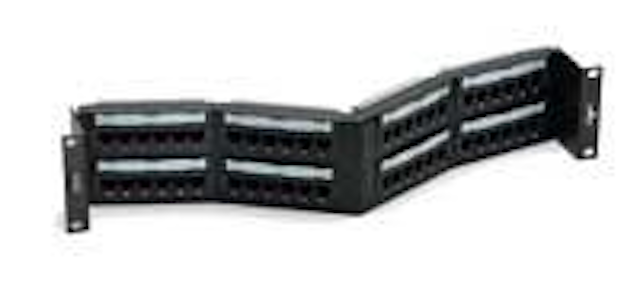 Click here to enlarge image
A completely re-designed line of the company's angled patch panels and accessories features a dual-angle design that can provide optimal rack density, an improved punchdown accessibility, and simplified cable and patch cord management. These low-profile panels are designed to keep terminations within a standard 3-inch deep rack while providing more aisle space in small closets. All panels-eXtreme 10G, eXtreme 6+, GigaMax 5e and QuickPort-have been upgraded in response to customer input.
LEVITON VOICE & DATA DIVISION
www.levitonvoicedata.com
Cat 5 PS/2 converter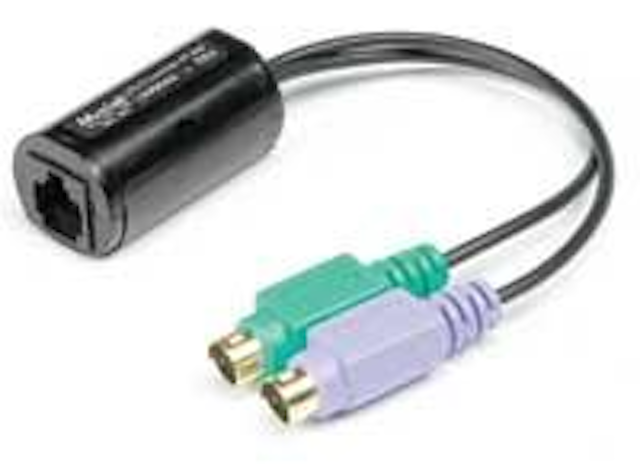 Click here to enlarge image
Designed for audio-video and custom home installations, the company's PS/2 converter lets you connect one PS/2 keyboard and one mouse via Category 5 cable in a point-to-point configuration. Requiring no power, the PS/2 converter lets you locate devices up to 350 feet from a PC. Model 500045 features two female color-coded PS/2 connectors, while Model 500046 features two built-in color-coded 6-inch male PS/2 cable leads for connection to the PC.
MUXLAB
www.muxlab.com
Custom fiber couplers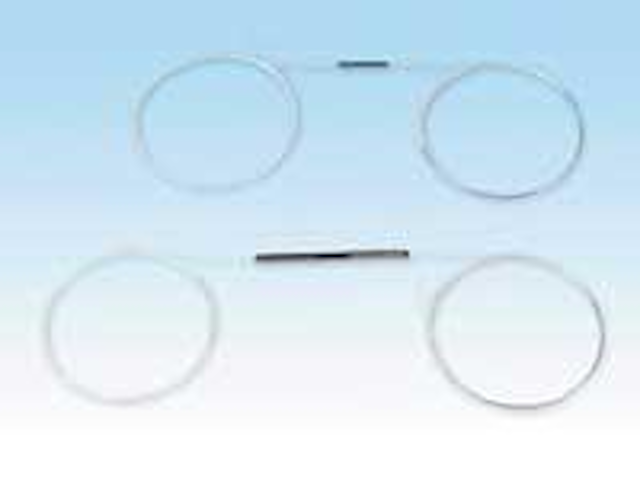 Click here to enlarge image
Along with a variety of its in-stock split ratio optical-fiber couplers, the company offers custom coupler configurations. The line includes WDMs, rack-mountable coupler modules, planar lightwave circuit splitters, and optical isolators.
FIBER INSTRUMENT SALES
www.fiberinstrumentsales.com
Video over Ethernet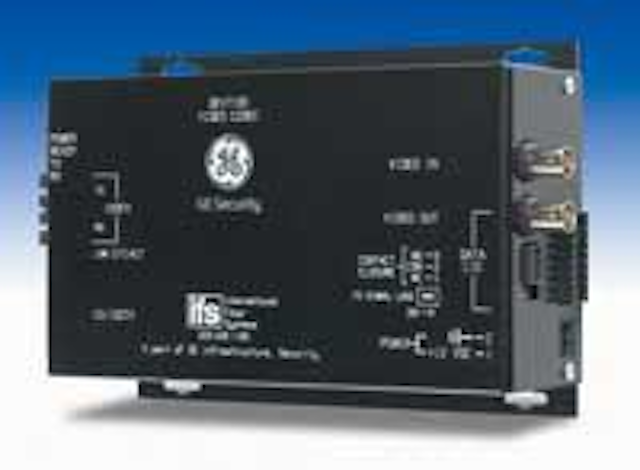 Click here to enlarge image
The new EtherNav DEV7100 Series is an MPEG-4 video CODEC that's designed to allow a single baseband NTSC video, camera-control data and audio signal to be IP-encoded and transported on a 10/100 Base-T Ethernet network through a standard electrical and optical output. Typically, comparable CODECs require an additional media converter to accomplish optical output. The unit is controlled with GE Security Symnet software that allows monitoring and remote pan/tilt/zoom control via a central monitoring station, or any computer with an Internet connection. Output can be 10/100TX electrical, 100 FX optical, or baseband video output connection. It can be remotely configured via the Internet, features standard, medium and high-quality settings designed for bandwidth conservation, and functions as both an encoder and decoder.
INTERNATIONAL FIBER SYSTEMS INC.
www.ifs.com
Fiber that moves video
The FT85041/FR85041 optical-fiber-based video transmitters and receivers are designed to carry four channels of digitally encoded video with bidirectional data. The company's FT85081/FR85081 models, meanwhile, are designed to carry eight channels. Both devices offer 8-bit digitally encoded video designed for high-quality, multi-channel transmission over a single fiber. Unlike coaxial systems where video/data can begin to degrade when transmitted beyond 300 meters, the company says its fiber-based devices support distances up to 2 kilometers (km) in multimode and 30 km in singlemode. The units can be wall- or rack-mounted, feature LED indicators for immediate visual monitoring of signal status, data activity, and operating power, and are compatible with NTSC, PAL and SECAM video standards.
PELCO
www.pelco.com
Industrial connectivity
Factory-terminated Industrial LC Fiber-Optic Cable Assembly and Adapter products are designed for the factory floor and other harsh environments where moisture and dust protection are of concern. The devices are especially suited for industrial systems control, warehouse connectivity, outdoor systems connections, environments with high EMI or RFI, medical applications, food service or processing, and mobile broadcasting or AV equipment applications. The products, available in all multimode and singlemode fiber types, offer a sealed panel feed-through design for easy enclosure installation, and push-pull insertion with bayonet style mechanical latch. Cable assemblies are built to the customer's required length.
MOLEX INC.
www.molex.com