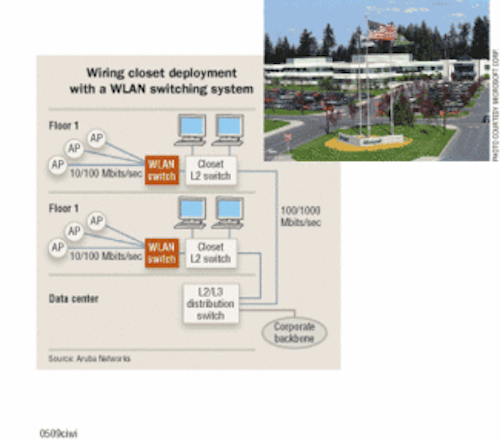 Software behemoth Microsoft chooses Aruba Networks to upgrade its wireless network.
In June, Microsoft Corporation (www.microsoft.com) selected Aruba Networks (www.arubanetworks.com) to provide the network equipment for its wireless local area network (WLAN) upgrade. Considered the largest enterprise wireless deployment in the world, Microsoft's WLAN will serve more than 25,000 concurrent daily users located in 277 buildings in 60 countries around the world.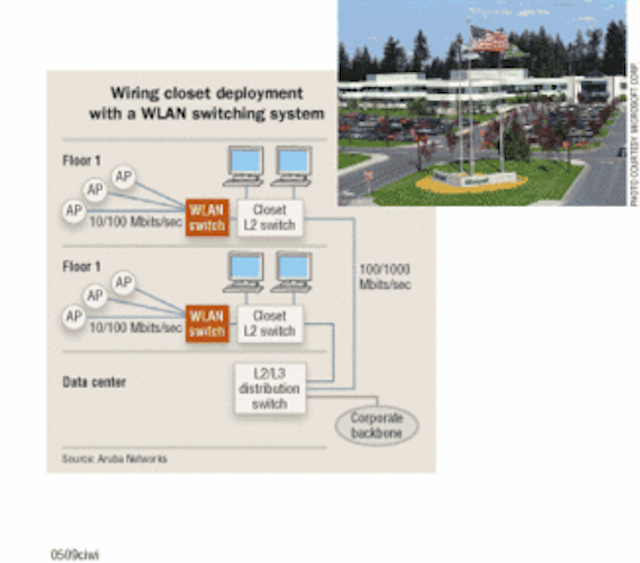 Microsoft will deploy a centrally managed wireless LAN, such as the one depicted in this illustration.
Click here to enlarge image
While the announcement is an enormous success for fast-growing Aruba Networks, it is not great news for incumbent Cisco Systems. When Microsoft's existing Cisco WLAN was installed in late 1999, Microsoft was considered a pioneer in the deployment of WLAN technologies. But a little more than five years later, the system is due for a full upgrade, and extensive evaluation and testing went into choosing the right vendor for the job.
Out with the old
In 1999, Microsoft's WLAN deployment consisted of more than 3,200 Cisco Aironet 340 and 350 Series wireless access points (APs), and after initial deployment at the Redmond, WA campus, it was the largest WLAN worldwide. The WLAN was initially offered as a supplement to wired connectivity with an average of 2 to 4 users sharing 11 Mbits/sec per AP and a throughput fluctuation of 4 to 6.5 Mbits/sec. John Albertson, mobility architect for Microsoft, says although it was not designed as the primary network connection, the WLAN quickly became the connectivity of choice.
"We've surveyed our employees, and they are pretty ardent about the WLAN," says Albertson. "It's relevant to them, they use it constantly, and they use it in unique ways. Applications are constantly being leveraged because of its mobility aspect."
Surveys demonstrate that 40% of Microsoft employees use the WLAN for a quarter of their workday, 93% have used their computers in locations other than their office, and 72% could work without a wired connection. Employees also prefer wireless both at work and at home, and 88% of them have purchased WLAN equipment for their personal use.
Fueled by employee preference and the growth of mobile devices, approximately 43% of Microsoft's campus data cabling is now vacated, the company says. "People worry about ROI [return on investment] of WLAN infrastructures, but being able to back away from use of our existing wired infrastructure and ports has easily helped pay for WLAN deployment," says Albertson. "Every day that goes by, we leave more and more wired router ports stranded in the wake, along with the cabling."
With 60,000 mobile PC clients and 35,000 handheld wireless devices globally, and more being added every day, it's no wonder that the Microsoft WLAN is due for an upgrade.
The existing Microsoft WLAN has also offered limited guest access, which the company plans to modify. "We've joked about the fact that we invite people out here, but we're poor hosts in letting them get back to their own set of resources," says Albertson. "With the upgrade, it's our intent to put up about 66% of our footprint worldwide in improved guest access infrastructure, using one-time password issuance for their length of stay."
According to Albertson, the future model for guest access will require guests to connect through their own network servers rather than just providing raw access to the Internet. "We really want people to responsibly commute and be subject to how they operate through their own corporate resources," he says. While the existing WLAN is highly secure and reliable, Microsoft's upgrade will provide improved security, management, performance, and support for emerging technologies. "We're going to continue to improve security techniques as we go forward," says Albertson. "The network has to be highly available, and we feel strongly enough about the security mechanisms we will leverage with our upgrade that we will be building more outdoor campus wireless infrastructure."
Microsoft's goals also include moving to a more centrally managed WLAN infrastructure to reduce the number of devices that have to be managed, increasing flexibility through the use of virtual networks, and leveraging the ability to rotate and re-authenticate users quickly to enable real-time communication, such as voice. "It's important to have a straightforward management approach to be able to make changes as needed," says Albertson. "This also will lead us to have fewer control points and not so many distributed APs. In the future, we also hope to achieve roaming and handoff in a very transparent way for voice."
Despite the fact that Microsoft's WLAN is due for a complete upgrade, the company says it received many benefits from its existing WLAN. Because employees used Windows to connect to the WLAN on a daily basis, they realized firsthand the improvements that were needed, which resulted in Windows XP's improved handling of Wi-Fi.
Put to the test
Microsoft selected Aruba Networks' wireless equipment only after an extensive technical evaluation that placed four vendors through rigorous security, scalability, performance, and functionality testing. Testing included performance of 802.11 APs, performance and conformance of network access switches to 802.1D (MAC layer bridges), 802.1X (authentication) security conformance, quality of service, voice transmission, usability (load balancing), radio frequency testing, management, rogue and intrusion detection, and mobility via roaming.
Testing took place at three locations: Iometrix Labs in San Francisco (www.iometrix.com), the University of New Hampshire's InterOperability Laboratory (UNH-IOL, www.iol.unh.edu), and by Microsoft engineers at the Redmond campus.
"Microsoft informed us that four vendors would be submitting their products for testing, and that their new WLAN was to be built around standards, security, and management," says Jeremy Kent, senior technical staff, R&D, at UNH-IOL. "Microsoft wanted a system [that] was extensible with a minimum five-year hardware lifetime and firmware upgrades that could be supported throughout the system's lifetime."
According to Kent, the current Microsoft WLAN features manual configuration controls, no centralized management, lack of troubleshooting tools, and manual planning and verification that require a number of dedicated full-time operations personnel. "One of the key features Microsoft was looking for was manageability via thin APs," says Kent. "Intelligent APs perform all wired-to-wireless packet conversion, encryption, quality of service, and RF monitoring, which makes it more expensive to migrate to newer technologies since APs typically need to be replaced. Thin APs, on the other hand, centralize the intelligence in the switch, allowing 'simple' APs to share features with wireless switches optimizing the performance. The benefits include faster roaming and reduced system complexity." According to Kent, thin APs are more cost effective because they are less expensive to manufacture, upgrade, and migrate to future technologies.
Testing at UNH-IOL was in a laboratory setting to find out how well devices met IEEE 802.11 standards. "Microsoft really wanted something that was standards-compliant," says Kent. "There are proprietary solutions that claim higher throughput, but our understanding was that Microsoft wanted to shy away from any proprietary issues. We tested to find out if the products transmitted and received at the rates they're supposed to, and if they switched properly between an 802.11a and 802.11g network. We also looked at power levels and channel usage per the standard."
Additional testing delved into throughput of APs for various data-packet sizes, roaming times between APs, and the ability to detect rogue APs and denial-of-service attacks. The system was also tested for its ability to accurately and quickly locate specific APs, wireless laptops, or any other 802.1 device within the building or campus.
According to Iometrix, Aruba Networks' WLAN system demonstrated the ability to pinpoint a single rogue AP within less than four feet. Microsoft also tested voice over wireless by monitoring for authentications per minute, data transfer rate, jitter, delay, roaming time, and dropping of any voice calls. Microsoft was also concerned with supporting Power over Ethernet.
Up to the challenge
The combination of performance and conformance testing resulted in Microsoft selecting Aruba Networks for the WLAN upgrade, which will include Aruba's mobility controllers, software, and 5,000 ultra-thin wireless APs. According to Aruba Networks, Microsoft will be able to centrally control and secure wireless users and devices anywhere, resulting in reduced operational costs and complexity.
"Microsoft's decision to migrate to the next-generation wireless technology indicates a shift toward the centrally managed infrastructure for the mobile workforce," says Don LeBeau, chief executive officer of Aruba Networks.
"The Microsoft initiative validates some of the unique technologies, including groundbreaking innovation in multilayer security, adaptive RF control, and global network management-all deployed in a centrally managed way," adds LeBeau.
The Microsoft WLAN upgrade, which has already begun and is expected to take 18 to 24 months to complete, will not be without challenges. "While we'll be adding a lot more APs and functionality, we will encounter challenges and complexities," says Microsoft's Albertson. "But our IT engineers are up to the task." Aruba and Microsoft also plan to develop and test future products together to provide customers with the best possible interaction and interoperability between Microsoft and Aruba products.
Aruba Networks, a privately help company founded three years ago, is just a fraction of the size of incumbent Cisco Systems with 170 employees (compared to Cisco Systems' 37,000). With Microsoft added to its list of customers, which include the likes of Yahoo!, eBay, Google, Dartmouth College, and Amazon.com, Aruba Networks is making a name for itself.
"This is not just a major milestone; it's a watershed moment for the industry," says LeBeau. "Microsoft is truly leading by example, implementing on a massive scale technology that is redefining corporate networks. Aruba is really proud to be part of this initiative."
BETSY ZIOBRON is a freelance writer covering the cabling industry, and a regular contributor to Cabling Installation & Maintenance. She can be reached at: bziobron@comcast.net