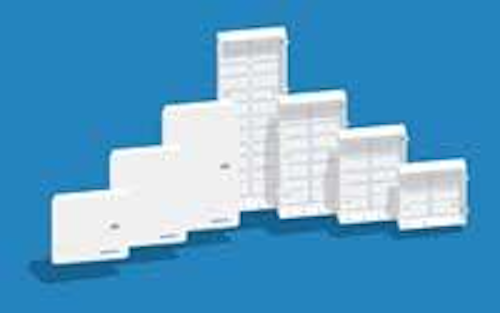 Enclosures for structured cabling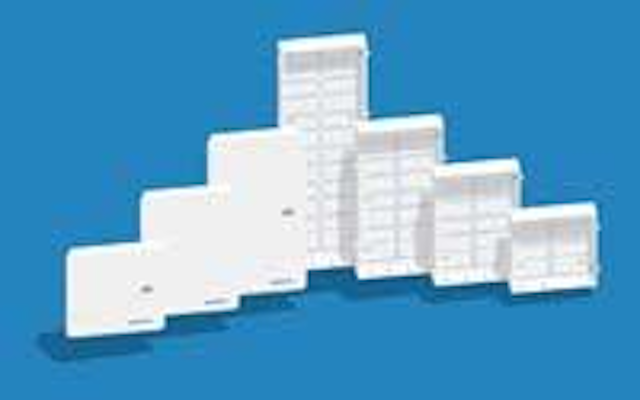 Click here to enlarge image
The latest generation of SOHO Access structured cabling enclosures meet TIA-570-B requirements and include new features designed to speed installations and provide improved versatility for a central distribution device. The enclosures have been resized to 14-, 21-, 28-, and 42-inch models. A new grid pattern for vertical and horizontal module mounting is designed for improved cable management, increasing capacity within the enclosure. Flush-mount keyholes let you set the screws and slide the enclosure in the studs. Recessed flush-mounting lets you mount and set the box at the correct depth to allow for wallboard thickness.
SUTTLE
www.commsysinc.com
Residential cabling solutions catalog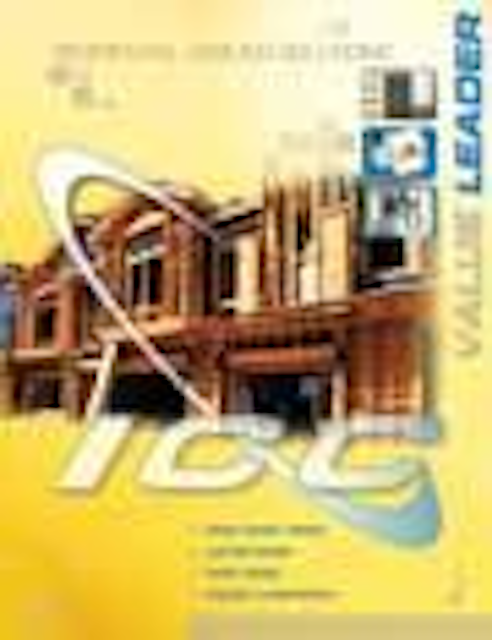 Click here to enlarge image
The 2005 ICC Residential Cabling Solutions Product Catalog offers product descriptions and ideas for connecting the digital home. The catalog offers suggestions for distributing multi-line telephones, multi-user networking, multi-room video, whole house audio, and security. Highlighted products include the company's voice, data, audio and video wall outlets, mini-style distribution centers, modules for data, audio and cable TV distribution, and multi-room/home theater audio and video distribution systems.
ICC
www.icc.com
Enhanced T-1 verifier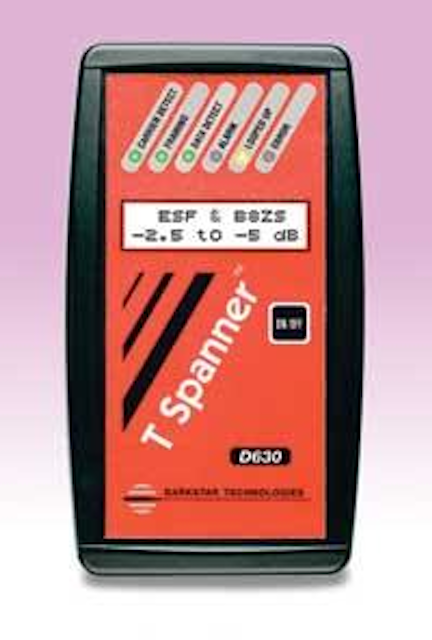 Click here to enlarge image
The upgraded D630 T-Spanner handheld tester is designed to simplify T-1 circuit verification in networks. With the touch of a single button, the D630 will indicate whether a T-1 carrier is present, display the signal strength, identify the framing and line coding, and detect whether payload data is changing. In addition, the device is designed to indicate standard network alarm conditions, and when framing is present, display cumulative counts of line code and path code violations. All functions are automatic once you activate the power switch. You can also use the tester to verify operation of a CSU/DSU by using a T-1 crossover cable. The D630 will let you know if your cable appears to be properly connected to a T-1 port, as well as warn you if the connection appears to be open or shorted. The tester operates from a standard 9-volt battery (included) and includes a one-year warranty.
DARKSTAR TECHNOLOGIES
www.darkstarinc.com
Fiber cleaver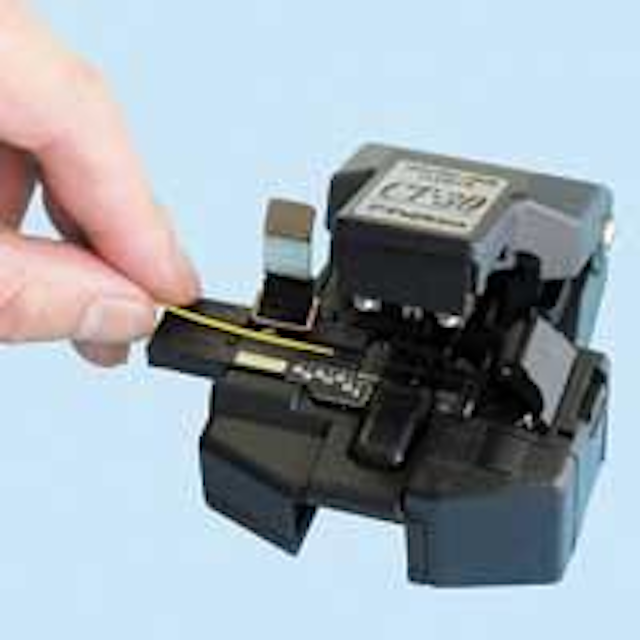 Click here to enlarge image
The CT30 series high-precision fiber cleaver is half the size of its predecessor (CT20), and features preloaded spring action designed to provide more consistent and reliable repeatability. Built for up to 12-fiber ribbon clean, the CT30 includes improved clean angles-16 rotating positions and three heights, ranging from 6- to 16-mm cleaving. The mechanically controlled blade has a lifespan of 48,000 cleaves.
FUJIKURA EUROPE LTD.
www.fujikura.co.uk
Low-bend, full-spectrum singlemode fiber
BendBright optical fiber, says its manufacturer, is the first singlemode fiber to combine low-bend sensitivity with full-spectrum performance. The cable is designed to provide enhanced bend performance across the entire 1310 to 1625-nm spectrum, reducing operational costs. BendBright is built to support bends and loops half the diameter required by conventional fibers at traditional wavelengths used in many fiber-to-the-home passive optical network (PON) systems. The cable also supports bend diameters down to 15 millimeters without diminishing performance, permitting the use of more compact splice trays, pedestals and access terminals. Compliant with ITU-T G.652.D, the fiber is said to be fully compatible with other conventional singlemode and full-spectrum fibers.
DRAKA COMTEQ
www.drakacomteq.us
Training for fiber, structured cabling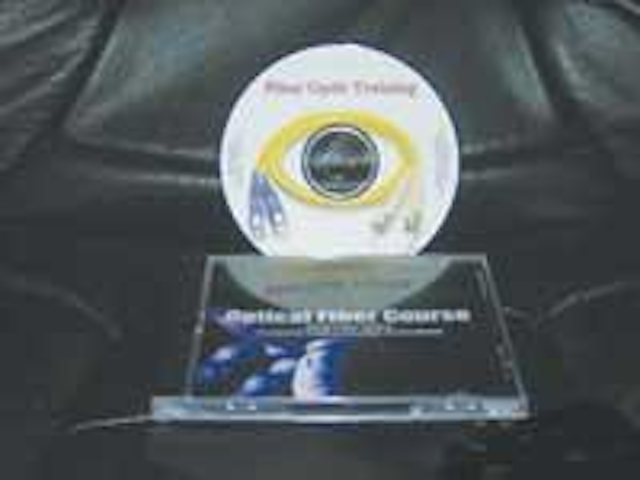 Click here to enlarge image
Training solutions for all levels of optical-fiber and structured cabling installation are available on CD-ROM. The optical-fiber training disc contains 14 sections and self-evaluation tests on topics ranging from theory and fiber preparation to fusion splicing and system design. The structured cabling disc contains eight sections ranging from basic theory and LAN topology and equipment to testing and international standards-based installation.
RWM COMMUNICATIONS TRAINING
www.rwmonlinetraining.com
Cat 5 passive CCTV hub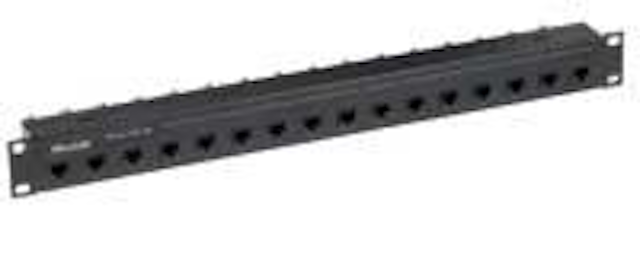 Click here to enlarge image
The passive CCTV hub series (5000130, 500131) for video security installations centralizes management of video, remote power, and PTZ control over Category 5 cable. A passive balun lets each camera connection support video only, video and remote power, or video, remote power and control via Category 5. The hub supports up to 16 security cameras, and each port can be individually configured to transmit any combination of video, remote power and control. This 1U, 19-inch rack-mountable series features BNC connectors for video for installation near the DVR equipment (500130), or twisted-pair output for video so the hub can be installed in a telecom room away from the DVR (500131).
MUXLAB
www.muxlab.com
More tools for estimating
Version 2 of Pocket Bid and Pocket ChangeOrder job-estimating software include a new Material Adjustment column on the Extension screen, support for drawing, area and phase breakdowns during takeoff, and the ability to sort the extension by drawing, area and phase. With Pocket Bid, you can perform a complete estimate, generate a bill of materials, and produce a final price while at the jobsite. With Pocket ChangeOrder, you can get on-the-spot pricing info as the job plans change. Both run on any portable device that uses Microsoft Pocket PC 2002 or Windows Mobile 2003 operating systems.
ACCUBID SYSTEMS
www.accubid.com
How to clean hard to reach connectors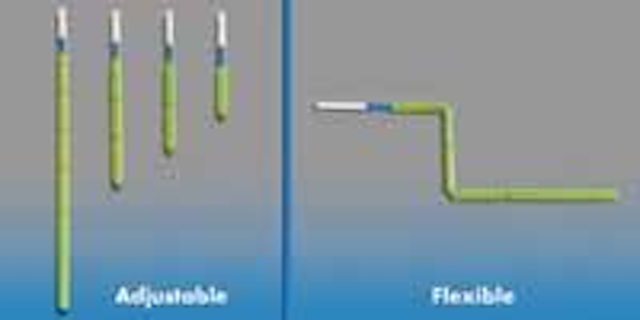 Click here to enlarge image
Cleaning sticks are designed to clean oil and debris on single-fiber connector interfaces that are recessed within bulkheads, face plates, adapters, and optical transceivers and lenses. The polymer shaft can be quickly shortened or bent without the need of tools, while the cleaning cloth is debris-free and anti-static. Sticks are available for 1.25-mm and 2.5-mm ferrule diameters.
US CONEC LTD.
www.usconec.com
High-, low-voltage infrastructure rack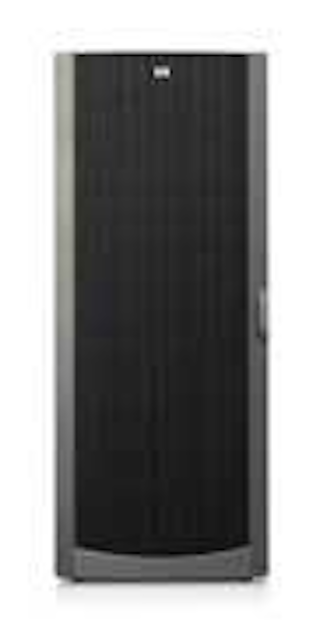 Click here to enlarge image
Available in high-voltage and low-voltage configurations, this 42U infrastructure rack includes the company's HP 10000 Series rack, power distribution, switches, keyboard and monitor, and other products required for deploying racks in the data center.
HEWLETT-PACKARD CO.
www.hp.com
Ultra-mini coax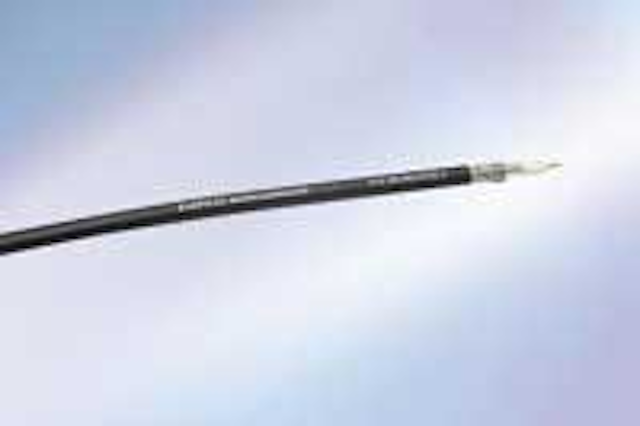 Click here to enlarge image
The VDM260 is an ultra-miniature, high-definition coax cable designed to achieve exceptionally low weight and small size without sacrificing critical electrical and mechanical properties required for reliable broadcast transmission. Featuring a 26-gage solid conductor designed to provide lower attenuation and outstanding mechanical integrity, the VDM260 is especially suited for mobile production trucks. Because of its ultra-thin profile and low weight, the VDM260 is easy to terminate. Its broadband foil and braid shield offer improved RF/EMI protection and structural integrity. With a precision 75-Ω impedance and low structural return loss up to 3 GHz, the coax exceeds bandwidth required for a 1.485-Gbit/sec high-definition video transmission. In addition, the VDM260 can be used with SDI digital video, analog video, and digital audio formats.
GEPCO INTERNATIONAL
www.gepco.com
Network management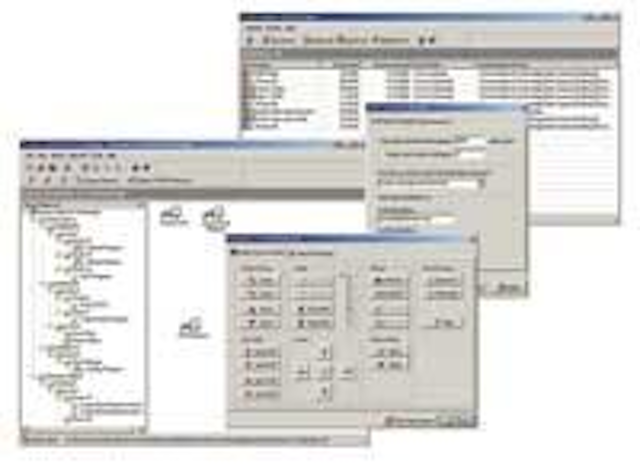 Click here to enlarge image
NetControl Advanced 1.8 is the latest version of this audio/visual-control software for LAN/WAN environments. It includes driver support from the latest network projectors from Eiki, Epson, Hitachi and Sharp, and is designed to significantly increase asset management and monitoring capabilities so that you can control projectors and LCD monitors with a true software-based solution. Key features include tight integration of two new Lantronix network interfaces (UDS-10 and UDS-100) into the automated search function, plus new driver support for more than 130 new network projector models, bringing the total driver support to more than 380 different projectors. When security is violated, the software sends out e-mail alert messages to cell phones, security systems or other first-response systems. The software also offers an event management system for scheduling such tasks as a remaining projector lamp time summary or projector status read. You can directly control one project or as many as needed, simultaneously, over the network connection.
BITLOGIX SOFTWARE LLC
www.bilogix.com
Catalog features infrastructure solutions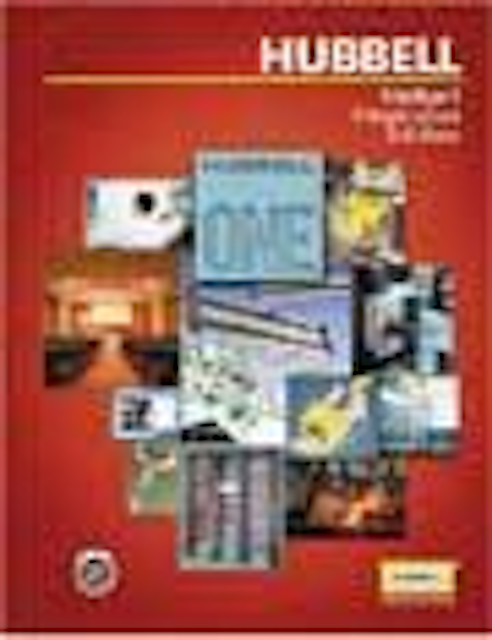 Click here to enlarge image
Hubbell Premise Wiring's updated catalog details its expanded line of commercial, industrial, residential and network infrastructure solutions. Featured are an expanded line of audio/video modules, zone cabling devices, and solutions designed to ensure protection in harsh environments.
HUBBELL PREMISE WIRING
www.hubbell-premise.com
Flame-retardant loom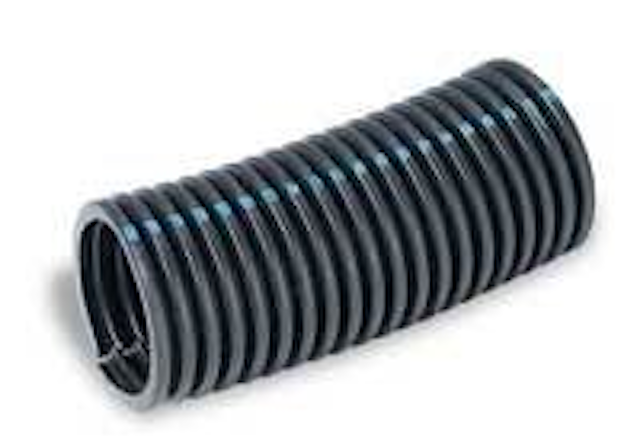 Click here to enlarge image
The company's latest addition to its corrugated loom product line is a flame-retardant polypropylene slit loom (fire-rated to 275°) designed to protect cables, wires, and hoses. The convoluted surface of this lightweight loom is designed to provide heavy-duty protection from abrasion and pinching. A full-length slit is designed to slide easily over your cabling, with the slit closing to make a permanent covering. A variety of sizes and styles are available.
WAYTEK INC.
www.waytekwire.com
Fiber bend radius limiter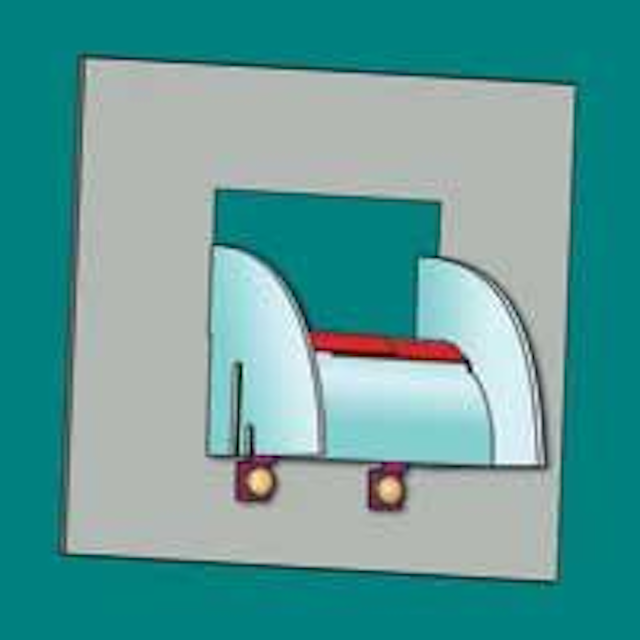 Click here to enlarge image
The Fast Drop Fiber Radius Limiter Module product line now includes larger bend-radius control (1.5 inches, or 39 mm). The device, designed for patch panels, interconnect panels, switches, routers, and multiplexers, will accommodate larger diameter fiber as well as manage larger bundles of up to 200 fibers. The BICSI-compliant device is made of lightweight, impact-resistant polycarbonate, and is available in 3-, 1.75, and 1-inch widths. It snaps or screws onto any sheet metal edge for typical cabinet egresses. An alternative installation method is a perpendicular orientation through punched or drilled holes to create fiber loops within patch panels or splice tray applications. The product is TIA/EIA-568-B bend radius-complaint to standard TIA/EIA 1U, 2U (or greater) panels within 19- and 23-inch racks.
DEVICE TECHNOLOGIES INC.
www.devicetec.com
Configuration panel for OSP applications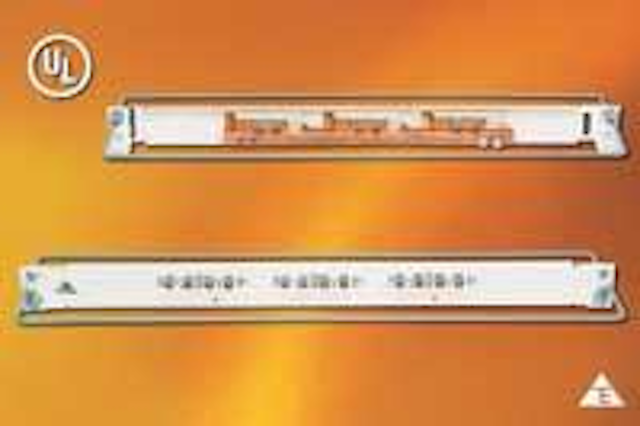 Click here to enlarge image
Designed in response to outside plant (OSP) customer preference for 3-module panels that match OC3 optical data deployments, the DDPM-2GT is a grounded, panel-mount configuration for deployment of DS3 beyond the boundary of the central office. The 1U-high panel features a bus bar grounded to each of the three modules, and each module is equipped with lightning surge protection-including a self-reset on the fuse itself. The panel also includes "towel bars" for cable management, which are mounted laterally to the rack panel.
TROMPETER
www.trompeter.com
Residential tester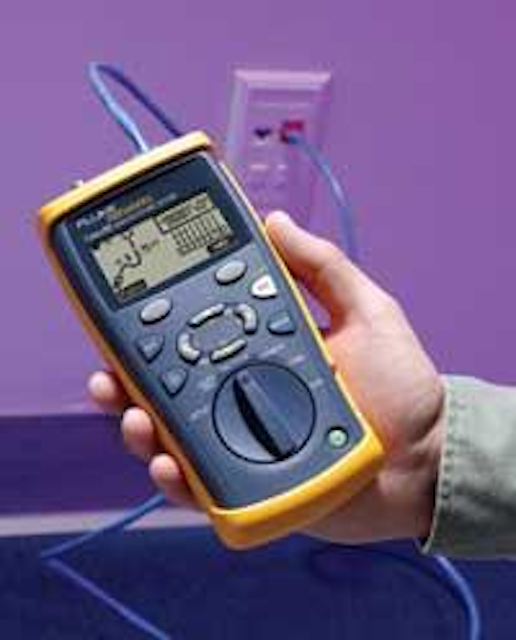 Click here to enlarge image
The CableIQ Residential Qualifier tester is designed specifically to provide residential installers and systems integrators with an economical way to document systems that are defect-free and compliant with TIA-570-B for quality. Its qualification testing will confirm that any cabling installation will support voice, VoIP, 10/100/100 Ethernet, or CATV. The testing helps reduce callbacks, and replaces the need for multiple tools, letting you test, document, and ID-tag the most common residential cabling media. Features include data cable bandwidth testing, CATV coax qualification and signal strength testing, voice cable wiremapping and ID-tagging through bridge taps, security wire continuity toning, and speaker installation testing. A number of troubleshooting features are also available.
FLUKE NETWORKS
www.flukenetworks.com
Tamper-resistant surface raceway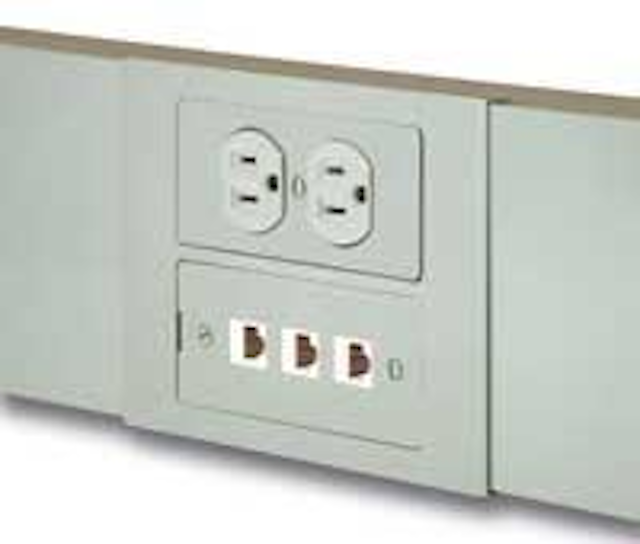 Click here to enlarge image
Steel City non-metallic overlapping faceplates for the SR600 metallic surface raceway offer increased tamper resistance for school and municipal building installations. The faceplates feature a one-piece design with patented two-step latches for easy installation. They can accept two device plates for power and data connections, and are especially suited for dual-voltage applications that feature the SR600 raceway with a factory-installed voltage divider.
THOMAS & BETTS
www.tnb.com
Telescopic cabinet rails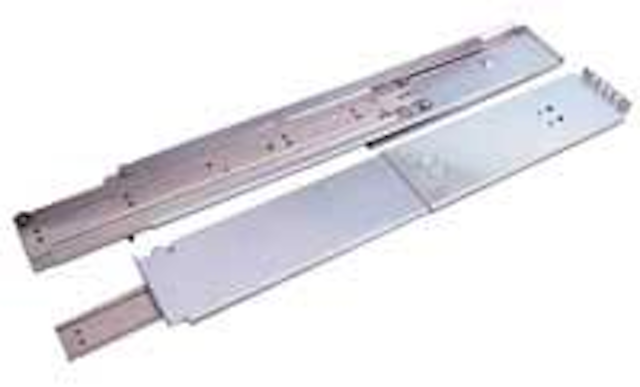 Click here to enlarge image
Ultra-thin (7-mm wide) telescopic rails enable full-size 84HP wide sub-racks to be mounted in 19-inch enclosures. The roller-assisted rails are rated to 90 Kg dynamic loading per pair, with up to 566-mm extension. For safety, the rails can be locked when at full extension. Adjustable mounting brackets suit cabinet depths from 582-mm to 1001-mm, with standard fixing kits and closed fixing holes designed to ensure secure mounting in high-density telecommunications and other installations.
ELMA ELECTRONIC INC.
www.elma.com
Gigabit-enabled Industrial Ethernet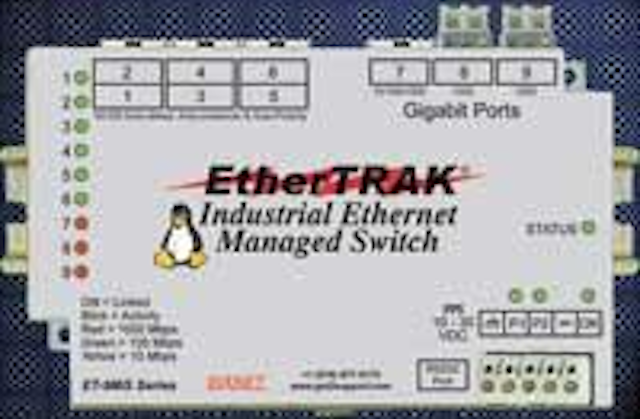 Click here to enlarge image
A new line of Gigabit-enabled Industrial Ethernet switches is designed to provide 10x higher data throughput. The switches offer six 10/100 RJ-45 ports, one 10/100/1000 RJ-45 port, and two flexible Gigabit ports for copper or fiber, supporting connections up to 70+ kilometers. The 9-port Managed Gigabit Switch offers real-time secure performance, achieved with Rapid Spanning Tree, SNMP, priority queuing, IGMP, plus the power and security of open-source Linux. Gigabit versions of the 9-port Ring Switch offer real-time, fault-tolerant rings with back-up paths that are designed to quickly restore connections in 5-ms per hop. These switches are especially designed for deterministic systems, real-time control, and outdoor or marine locations.
SIXNET
www.sixnetswitch.com
Dual port EMI cage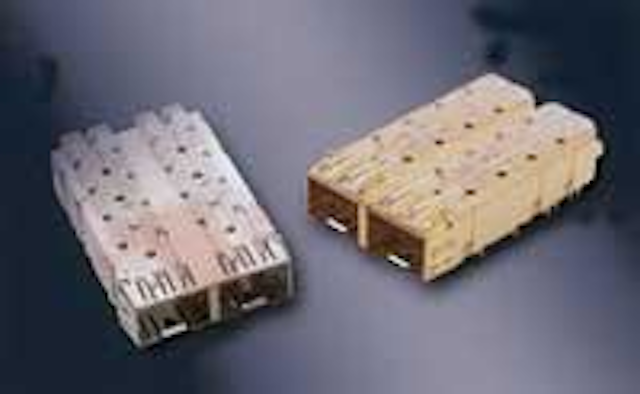 Click here to enlarge image
The Dual Port SFP (small-form-factor pluggable) EMI Cage is designed for use with both copper and optical SFP transceivers for Fibre Channel, Gigabit Ethernet, and Infiniband applications. The two-piece hybrid design incorporates a solid die-cast body with locking tabs, spring tabs, and press-fit pins that are all part of a single stamped bottom piece. The two ports are mechanically locked and joined with lead-free solder. Multi-port configuration options include 3-port and 4-port modules. Lightpipes can be added to the cages to display LEDs from the host board to the chassis bezel, and conductive elastomers can be used to make a tight seal from the cage assembly to the host bezel to improve EMI performance.
DATAMATE/METHODE ELECTRONICS
www.methode.com
Cooled enclosure system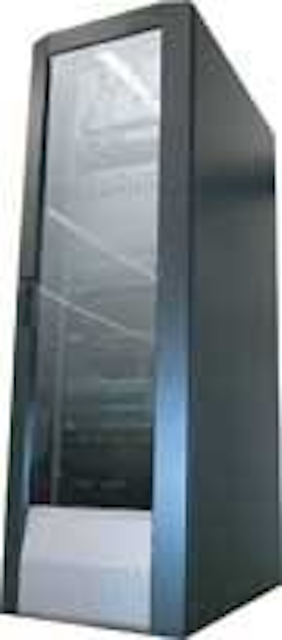 Click here to enlarge image
CyberChill enclosures are designed to cool enclosed servers rather than the room, optimizing room energy efficiency. The cooled enclosure system, available in either 15 or 20-kW, features a proprietary closed-loop chilled water design that extracts heat from within the cabinet. CyberChill is designed to provide uniform vertical cooling with no hot spots. It includes variable-speed temperature controlled EC fans, high-temperature triggered door release, redundancy of DC power supply and fans, alarm management of temperature and fans, solid doors and multi-hinged panels to reduce dust ingress, low acoustic noise emission, and smoke and fire monitoring (optional).
STULZ-ATS
www.stulz-ats.com
Flexible aerial conduit
Strand-Guard FlexCor is a figure-eight conduit with a flexible corrugated liner that is designed especially for aerial installations. Built to withstand tough environmental conditions, the corrugated conduit liner, smooth outer wall and strong web disperse the expansion and contraction forces resulting from wide temperature ranges. The sunlight-resistant outer jacket provides UV protection to protect cable for life, and the high-strength steel strand features a moisture-resistant flooding compound. Especially suited for limited access areas, the conduit can be used at water crossings and interstate highway crossings, or in heavily wooded areas where additional cable protection is necessary. Manufactured of black polyethylene, Strand-Guard FlexCor is available in 1-, 1¼-, 1½- and 2-inch sizes. Installation is via standard pole-mounting hardware.
ARNCO CORP.
www.arncocorp.com
Ethernet media converter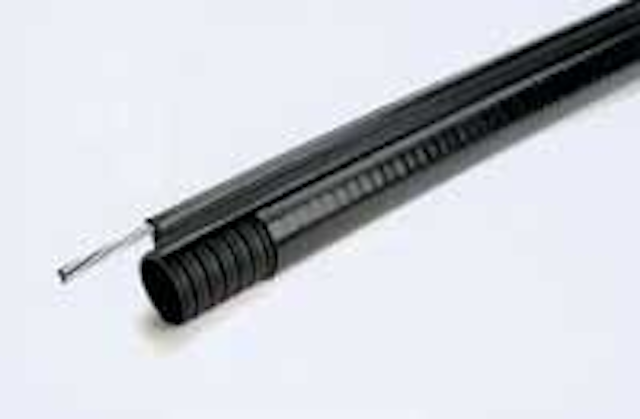 Click here to enlarge image
This high-performance line of Ethernet media converters offers 10/100Base-TX and 100Base-FX with MDI/MDI-X auto-negotiation. The devices feature a full set of LED indicators, with 10/100-Mbits/sec and full/half duplex automatically configured in twisted-pair port. Multimedia converters have a range of 2 kilometers (km) and singlemode models have a range of 20 km.
FIBER INSTRUMENT SALES
www.fiberinstrumentsales.com