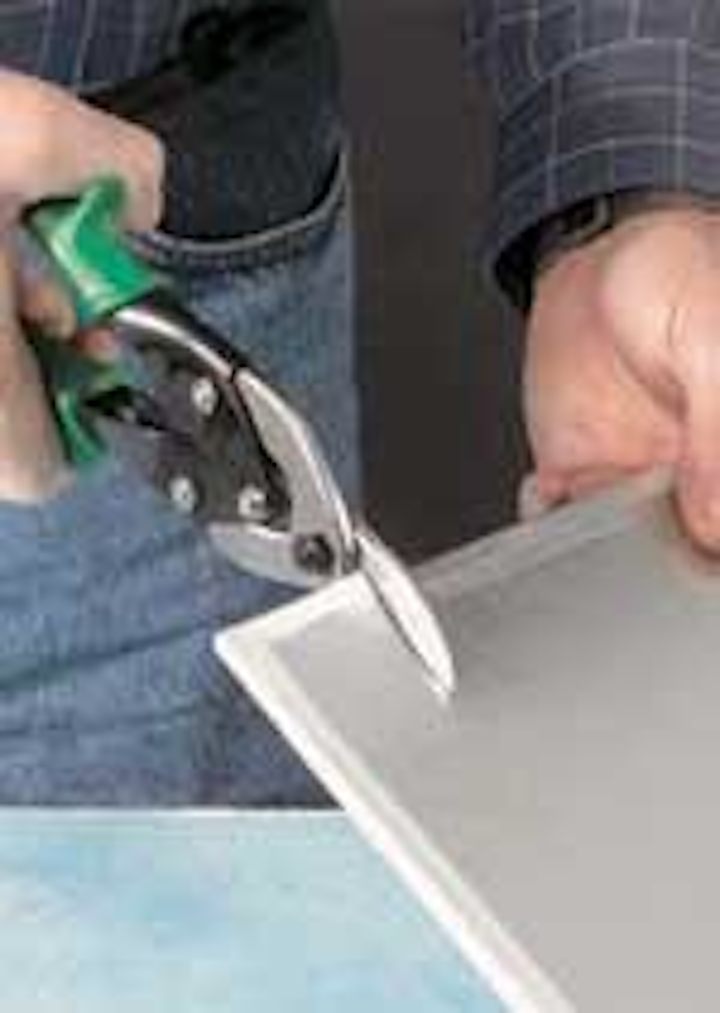 Thin, light firestop sheet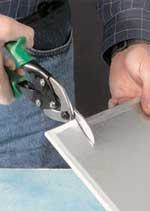 Click here to enlarge image
The SpecSeal composite firestop sheet is a lightweight yet rigid device designed to seal medium to large openings in fire-rated walls and floors. The sheet is comprised of an intumescent layer bonded to a galvanized steel sheet that's reinforced with steel-wire mesh and covered with aluminum foil. Because the technology eliminates the use of heavier elastomerics found in comparable products, the company says that SpecSeal is approximately half the weight and thickness of other brands. When exposed to temperatures of 350° F, SpecSeal expands up to 15 times its original size to form a dense, insulative char that minimizes heat transfer.
SPECIFIED TECHNOLOGIES INC.
www.stifirestop.com
Test, PON training
The Fiber Optic Test Equipment and Testing Fiber Optic Links instructional DVD covers basic fiber test equipment used by installers and technicians for acceptance testing, troubleshooting and link documenting. The DVD includes training on: multimode and singlemode optical loss test sets, reflectometers, visual tracers, visual inspection equipment, talk sets, testing of multimode/singlemode premises applications and singlemode outside plant applications, and developing proper documentation. A Passive Optical Networks CD-ROM provides computer-based training on PON installations and requirements. The disc's topics include: new PON/FTTP recommendations and standards; how to design and install a FTTP/PON network; FTTP variations and architectures; components and their significance; wavelength division multiplexing (WDM); testing and troubleshooting, challenges in the outside plant; and business issues.
THE LIGHT BRIGADE
www.lightbrigade.com
Distribution devices for OSP applications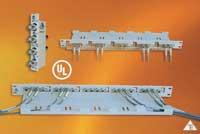 Click here to enlarge image
The DDPM-2GT, DDPM-2, DDM-2GT, and DDM-2 digital distribution modules (DDM) for outside plant (OSP) applications are UL-approved and designed for mounting on the company's JSDDF2 panels. The modules provide full protection for DS3 circuits deployed in huts or remote terminals. The DDPM-2GT modules features integral gas-tube protection and separate copper bus bars designed to ensure grounding. The company claims the devices deliver the highest protection at half the cost of traditional OSP surge protection solutions. Access modules/panels are available in various configurations, including rack panel, wall-mount bracket, and coaxial- or fiber-loaded wire distribution box for network point-of-termination.
TROMPETER
www.trompeter.com
Server rack with ventilated door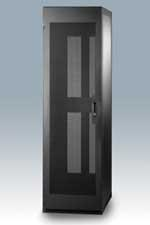 Click here to enlarge image
Designed to more precisely direct the flow of cooling air into the front-to-back direction used by many servers and electronic equipment products, these server racks feature fully ventilated front and rear steel doors with optional top-mount exhaust fan. The top of the rack features multiple cable access ports, while a large cable-access hole is located in the bottom. Mounting for 12- and 18-inch wiring ladders is incorporated into the top of the rack, with grounding studs located at both the top and bottom. Panel-mounting rails have separate provisions for vertical cable management and four adjustable 19-inch panel-width mounting rails (per EIA-310A requirements).
BUD INDUSTRIES
www.budind.com
Handheld VoIP tester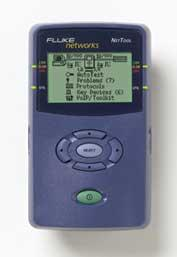 Click here to enlarge image
NetTool VoIP combines cable, network, IP phone and PC configuration testing into a single device. The handheld tester lets you monitor VoIP service at the edge so you can see into VoIP calls by connecting between the phone and the network. Designed to cover the entire spectrum of tasks required to deploy IP phones to the desktop so that network managers can realize faster, less expensive IP deployments, NetTool VoIP decodes and displays critical boot events, call control, and call quality information. The device also features Key Device Watch software, which lets you discover and monitor your top 10 critical devices-such as e-mail or Web servers-and receive alerts about any problems via e-mail, sound, or visual pop-up. A trend analysis feature tracks network diagnostics and displays graphical reports and charts of historical data.
FLUKE NETWORKS
www.flukenetworks.com
Endface inspector for fiber connectors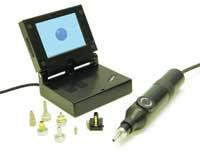 Click here to enlarge image
The Lightel CI-1000 video microscope is designed as an eye-safe and easy-to-use tool for inspecting optical-fiber connectors. The LCD model is a self-contained system with a 3.5-inch LCD screen and rechargeable battery power supply. The USB model, for viewing images on PC screens, includes a video capture device that lets you save images to your computer in selectable graphics formats. The handset model is for working with external video monitors. Multiple probe tips are available to accommodate various types of connectors, including male or female.
LIGHTEL TECHNOLOGIES INC.
www.lightel.com
Cable management tools and tips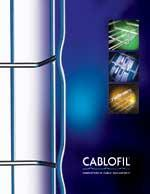 Click here to enlarge image
A new 88-page catalog from Cablofil features 58 cable management products, including the new Faslock Splice that's designed to speed the fabrication of bends and sweeps within a wire cable tray installation. All products in the catalog are displayed in application style. Also included are a section of full-color installation examples as well as step-by-step instructions for cutting Cablofil wire cable tray and forming bends and sweeps.
CABLOFIL
www.cablofil.com
Expandable sleeving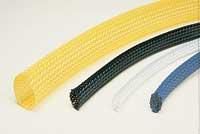 Click here to enlarge image
For bundling cable, this expandable sleeving is made from braided polyester yarn, and is designed to easily slip over a cable harness by bunching it together and then stretching it. The standard version is 10-mil. thick while the heavy wall is 15-mil. thick. The product is available in five sizes and four colors, is designed to be cut easily with a hot knife or scissors, and is rated to 257° F.
WAYTEK INC.
www.waytekwire.com
Automatic switching saves voice, data
For users with T-1/E-1 lines, the T-APS switch provides automatic protection by connecting one phone or data system to alternate links. It then automatically toggles to the redundant link when the line quality begins to fail. Through local and remote configurations, you can manually select the quality level at which the line will activate the switch. The unit also features a terminal and SNMP management, plus status relay alarms that notify administrators in the event of line failure or service degradation. An LCD display, front panel buttons, and LED indicators enable complete local programming, status monitoring, and manual control. The T-APS can be powered by AC or 48-V DC sources, and is designed for data or fractional voice applications in standard RJ-45 T-1 and E-1 connections.
DATAPROBE INC.
www.dataprobe.com