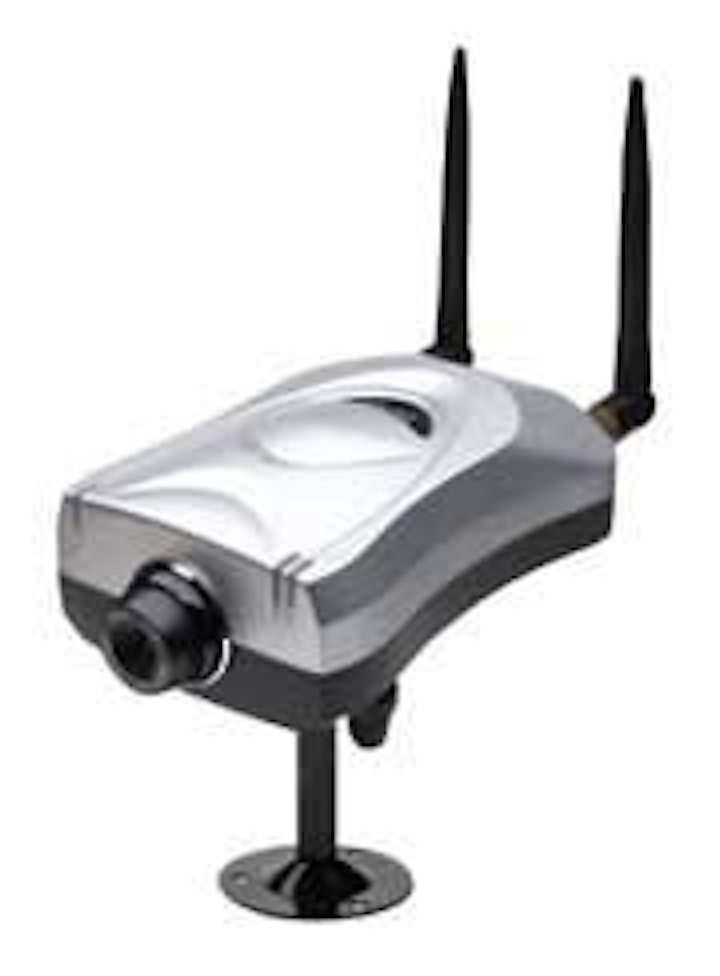 Improvements mark a shift toward digital-based surveillance.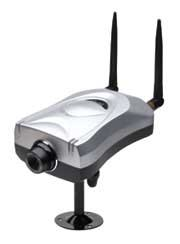 Wireless IP cameras have become popular in the small office/home office market where security is less of a concern and wireless has become prevalent. (Source: IC Intracom)
Click here to enlarge image
When market researchers originally predicted Internet Protocol-based (IP) camera sales to reach $800 million by 2005, reports were based on a thriving economy that no one foresaw would decline. While IP camera sales have yet to reach the $800 million mark, and may not experience numbers even close to that for another couple of years, the technological advancements in IP cameras over the past year are noteworthy. Several new features bring these devices even closer to taking over analog market share.
"More has changed in the last year than in the two to three years prior," says Fredrik Nilsson, general manager of IP camera manufacturer Axis Communications (www.axis.com). "If you had asked me a year ago, I would have said that IP cameras addressed about 50% of the needs. Today, it's about 80%, and by year-end it will be 90%."
Keeping up with the times
Ratification of the IEEE 802.3af Power over Ethernet (PoE) standard has provided the means to deliver direct-current (DC) power to several types of devices over the network. IP cameras are no exception, and PoE may even be a driving force for customers to move from analog to IP-based surveillance systems.
"Power over Ethernet is a huge cost saving for customers," says Nilsson. "Instead of needing power and coax for analog cameras, they can get by with just a network drop, which in most cases is available anyway. Power over Ethernet also makes for a more reliable system because the cameras are backed up by the same power supplies that back up the network switches." Rarely would separately run alternating current (AC) power lines for non-PoE cameras connect to an uninterruptible power supply (UPS) backup system.
Wireless IP cameras were also introduced this year, becoming popular in the small office/home office market where data security is less of a concern and wireless has become prevalent. "The percentage of wireless IP cameras for professional use is quite small, and I don't believe we'll see it go beyond 10%," says Nilsson. "I do foresee wireless IP camera being used more for monitoring highways or other difficult-to-wire areas that don't have [data] security issues."
Earlier this year, IP camera manufacturer IC Intracom (www.icintracom.com) added an IEEE 802.11b wireless IP camera to its Intellinet Active Networking professional series. The Intellinet wireless camera offers advanced features, but the company admits that wired IP cameras still provide the most reliability. "Wireless cameras will become popular as more access points are added to networks, and in some cases, it may prove more cost effective than hiring someone to come out and run a drop to a remote location," says Dave Sousa, the company's director of global product management. "But typically, we see situations where someone who might need 25 IP cameras wants 23 of those to be wired."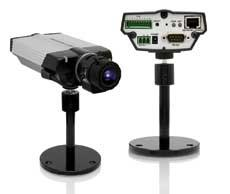 The new AXIS 221 Day & Night network camera offers 60 fps at 320x240 resolution and 45 fps at 640x480 and includes infrared sensitivity for producing quality images in low-light conditions.
Click here to enlarge image
Many of the features added to IP cameras in the past year are not in the cameras themselves but in the software interface. Included among the advances are features like security filters and advanced remote capabilities. "The latest generation of IP cameras are more focused on network security by means of built-in filtering, which enables setting up cameras to only send video to specific addresses," says Nilsson. "In critical homeland security applications, where video may be sent from one location to another, it's important to take any measure to protect the video and prevent unauthorized viewing of sensitive areas."
IC Intracom recently added a new application program interface (API) to the Intellinet active networking IP camera. "The API enables users to remotely adjust brightness and set specific on-and-off times for features like motion detection," says Sousa. "The API functions can be directly controlled through http commands, so users don't have to log into the camera's administrative menu."
Another recently added feature includes audio, which is ideal for applications requiring the ability to speak and listen, such as informing an intruder that they have been viewed in an unauthorized location. Motion detection has also become a popular feature on IP cameras, enabling event-driven surveillance where system alerts can be sent to either an e-mail address or mobile telephone.
Bringing quality under control
Image quality concerns may have kept customers away from IP cameras in the past, but it is no longer an issue. "Early adopters of IP technology had to live through lower image quality than they had with analog," explains Rob Morello, product sales manager of digital systems with Pelco (www.pelco.com). "Security-industry veterans who were diehard supporters of analog would not consider digital because of the image-quality issues," he says. With its latest introduction, the Endura system, Pelco has "cracked the code of image quality," Morello says. Endura incorporates more than 30 pending patents, many of which specifically enhance image quality.
"Image quality on IP cameras have now surpassed the quality of analog," says Axis' Nilsson. "People are used to interlaced scanning that has served analog cameras, but we now have a technique that makes for a better quality picture."
The interlaced scanning method scans first the odd lines and then the even lines of the 576 visible horizontal lines on a screen. Progressive scanning used in the digital world scans the entire picture line by line every sixteenth of a second. "As long as nothing is moving, the quality of analog is fine, but the time between the scan of line one and line two in analog is about 17 milliseconds, which creates distortion of movement," says Nilsson. "This is no longer a concern with progressive scanning."
The quality of the image is also based on frames per second (fps), which recently surpassed the previous maximum of 30 fps. The new Axis 221 Day & Night network camera offers 60 fps at 320×240 resolution and 45 fps at 640×480 resolution. While higher frame rate means more bandwidth consumption, the latest Mpeg 4 compression technique has resulted in a smaller file size for live viewing and for applications where bandwidth and storage limitations are important factors. "Mpeg 4 compression is done in the camera, and at high frame rates of 30 fps or more, this compression can reduce bandwidth consumption by about 75%," says Nilsson.
IC Intracom had added frame rate control to its Intellinet camera, which makes it possible to assign different frame rates to various users. "Some users don't need to see the 30 fps resolution, and being able to assign different frame rates can keep bandwidth consumption down," says Sousa. "If you just want to see if someone is in a room, you only need one or two frames per second, but more critical users may need to see every little thing that goes on."
"Until recently, there always had been a compromise on frame rate," says Pelco's Morello. "Today, users can take advantage of a full 30-fps rate." With Endura, Pelco's approach to storage capacity gives the customer flexibility. Morello explains with an example: "If a pharmacist takes inventory every two weeks and discovers shortages of, for example, Vicodin or Valium, that pharmacist can monitor the facility at a crisp, 30-fps rate for two weeks. After that footage is reviewed, the file can be ratcheted down to 2-fps for storage."
Other image-quality advancements include infrared sensitivity for producing quality images in low-light conditions. The Axis 221 Day & Night camera filters out infrared light, resulting in high quality pictures when light conditions are too dark to render colors. Image enhancement has also been added to the software interface for foggy or snowy conditions. "The image enhancer uses algorithms to filter out fog and snow and essentially view more than the human eye can see in those conditions," says Nilsson.
Separate networks, or not?
The potential exists for IP cameras to consume large portions of network bandwidth, and most IP camera manufacturers recommend separating the physical computer and IP-surveillance networks into two independent networks depending on the number of users and image quality required. "It's a misconception that larger IP-based surveillance systems can run over existing networks," says Nilsson. "If you deploy a 2 or 3 fps rate, and have less than 10 cameras, you may not need a separate network. But if you need 50 cameras with anything above 10 fps, I would absolutely recommend a separate network."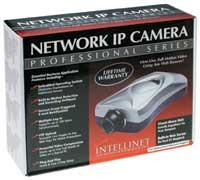 IC Intracom recently enhanced their Intellinet active networking IP camera with a new application program interface, frame rate control, and direct image access for integration into any Web page.
Click here to enlarge image
IC Intracom's Sousa refers to applications where implementing IP cameras on an existing data network is not a problem. "We have 15 cameras on a 100Base-T network with more than 100 nodes, and we have no issues. Our cameras require 1- to 2-Mbits/sec when accessed, and they're not all being accessed all the time," says Sousa. "As the gigabit transition occurs, IP cameras won't be an issue-unless you're running 200 cameras at the highest possible frame rate or require a separate secured internal network for security reasons."
Morello describes Pelco's Endura system as "infrastructure agnostic, by design." He says that Endura does require specific functionality and capability of the network switches to which it will connect, but nothing out of the mainstream.
Cabling and connectivity manufacturers have little concern when it comes to implementing IP-based cameras because the camera vendors strive to ensure their products work over the installed base.
"It's the network, not the cabling, that has an effect on image quality and the number of cameras one can implement-and users need to make sure they have the right protocol to support the bandwidth requirements of the cameras," says Asef Baddar, application engineer for cable manufacturer General Cable (www.generalcable.com). "If you have a Category 6 network, but are only running 100Base-T, you're limited by 100Base-T. With many cameras, a network can get congested, and the data could be affected. That's when the cameras should reside on their own network with their own set of cables and active equipment-basically, a mirror image of the data LAN but maybe scaled down."
Heading toward the shift
Morello says Pelco has spent the past 30 to 36 months developing techniques to address the convergence of analog- and digital-based security. "The security industry has followed the momentum of the IT industry," he says. "There has been a significant swing from analog to digital. The vast majority of our customers today are asking about digital."
Morello continues, "Thirty-five to 50 percent of customers are adopting IP. Pelco has implemented two strategies for this industry trend. One is the hybrid strategy, to allow the existing analog/coaxial systems to convert to digital. The other strategy is Endura, our system that allows users to start off digital." He says the security industry in general and Pelco in particular learned a lot from watching the pain and suffering of the telecommunications industry when it switched from analog to digital PBX systems, and those lessons helped the company to develop its two strategies for the analog-to-digital security conversion.
IC Intracom says its sales have doubled for two consecutive years, and the entire security industry is now buzzing about IP-based surveillance. But a complete shift from analog to IP-based surveillance is still off in the distance. "Some people are just more comfortable using a technology like analog CCTV that has been around for many years, rather than using technology they just heard about," says Sousa. "IT managers are a driving factor, but many security professionals are still making the decisions."
Analog cameras have a 5- to 10-year lifetime, and Sousa admits that not everyone will move to IP-based systems. "If someone has a good working traditional system like we might see in a casino, they may not bother spending the money to switch over," he says. "But if they need to install a new system or expand an existing system, IP is definitely the way to go. It comes down to cost in the long run, and IP means a less expensive installation, remote monitoring, and advanced capabilities."
One product helping customers make the shift from analog to IP-based surveillance is the IP-based video server, which compresses and digitizes analog video signals and sends them over a network. "Our sales for video servers have done well, which shows us that many are converting their analog over to IP," says Axis' Nilsson. "Once they make that switch, they typically add IP cameras as needed and end up with a hybrid system."
While IP-based systems make up only 10% of the surveillance market today, research analysts predict IP-based systems to make up 50% of the market by 2008, which Nilsson says means incredible growth over the next few years. "We had to launch all of the mainstream products first, but the technology is getting there," says Nilsson. "We're making sure that there is a range of network cameras to address all the specific needs, and every week that range grows." Some of the analog features IP camera manufactures have their eye on include tiny pinhole cameras and a wider variety of dome cameras. "We have two dome cameras, and we should have five or six to address all the market needs," says Nilsson.
As IP cameras continue to advance and gain more market share, those still promoting and installing analog systems may also need to make a shift if they want to remain successful. "Security system integrators who are not familiar with IP technology are going to experience competition from IT system integrators," says Nilsson. "When they see they are losing business, they'll wake up and start being interested in learning about IP."