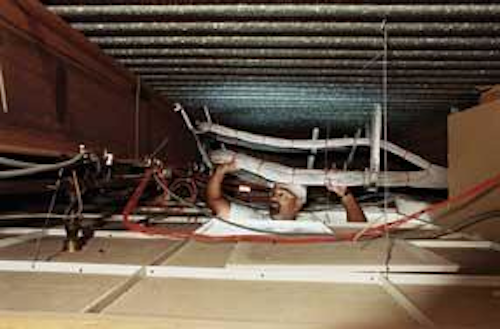 At last month's BICSI Spring Conference, DuPont (www.dupont.com) launched DuPont Abandoned Cable Services, a program it says is designed to make compliance to changing building safety codes and cabling standards simple and affordable.
Through the program, DuPont will provide assessment services for identification and reporting of abandoned cable hazards in office buildings, planning for infrastructure improvement and management, connections with local labor, and removal and recycling logistics. The packaged offering is available to building owners, property managers, tenants, and corporate network engineers responsible for ensuring that facilities meet the National Fire Protection Association (NFPA-www.nfpa.org) National Electrical Code (NEC) requirements to remove abandoned cable from buildings.
"The NEC requirement clearly recognizes that generations of abandoned wires and cables needlessly increase the fire load on commercial buildings," said Pat Lindner, global business manager with DuPont Communications Cabling Solutions.
The NFPA has estimated that 60 billion feet of communications cable have been installed in the United States. It is commonly held that some significant percentage of this cable has been abandoned in buildings, meaning it is no longer in use.
In many buildings, the plenum or air-handling space is small and often exists above a tile ceiling structure. Cable abandoned here can affect a building's airflow, and can create a fire hazard because of the combustible materials within the cable. Cautious observers maintain that even though the cable in this area of a building is plenum-rated, and therefore passed stringent tests on flammability and smoke propagation, the cumulative effect of massive amounts of this cable left in place poses a risk. NFPA members who drafted the 2002 NEC saw enough merit in that stance to require such cable's removal.
The Abandoned Cable Services program is delivered through professional auditors, local DuPont preferred network contractors, and exclusive recycling technology. The DuPont preferred contractor network is available in all major metropolitan areas in North America, including the Washington, D.C./Baltimore area, New York City, and Chicago. The contractors within the network are trained on responsible removal practices and efficient "removal-for-recycling" techniques, DuPont said. End-of-life abandoned cables are recycled from the client's site into reusable streams of copper and separated plastics.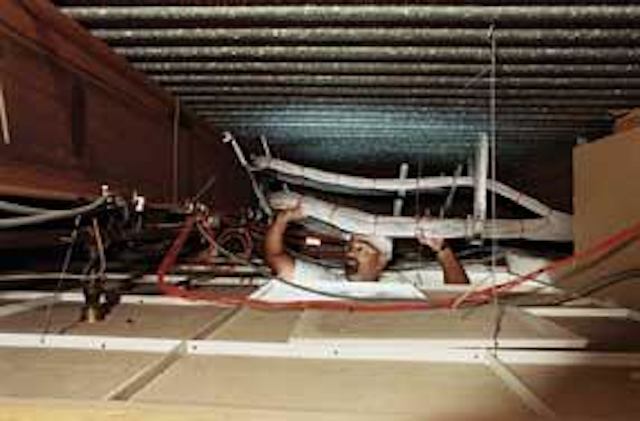 In this photo, provided by DuPont, a worker installs cable in an above-ceiling plenum that is free of abandoned cable. Adding piles of abandoned cable to a tight space like this one would increase the difficulty of a cable installation, in addition to the increased fire hazard it imposes.
Click here to enlarge image
In an interview with Cabling Installation & Maintenance, DuPont's Lindner explained the program's three-step process. "Step one is the assessment, which will cost the customer approximately $5,000. [Documentation available from DuPont estimates the assessment fee for a large commercial office building to be $4,800.] It yields an existing-conditions report and recommendations for abandoned cable removal. Step two, if the building owner chooses to move forward, is to hire a contractor to remove the old and install new cabling. In step three, the removed cable goes to a recycle center.
"Upon completion of the program, DuPont issues the building owner a certificate of waste diversion."
Lindner pointed out that the program carries out at the customer's (usually the building owner's) discretion. After investing in the assessment, the customer can decline to proceed with steps two and three.
Abandoned-cable removal, mandated whenever any new cable is being installed per the 2002 edition of the NEC, is required within those jurisdictions that have adopted the 2002 NEC into law. So, in some areas of the country, it is not required. On the flipside, municipalities anywhere, whether or not the 2002 NEC is applicable, can impose stricter standards than those specified in the Code. And some have done exactly that.
"The City of Houston has mandated cable removal with or without new cable installation," Lindner pointed out. "San Francisco is taking similar measures."
The recycling aspect of the Abandoned Cable Services program is noteworthy as well, because it differs from most cable-recycling efforts by focusing on plastics in addition to metals. "When the cable comes out of a building, it goes to a metal scrap dealer, who is looking for the copper," Lindner explained. "To do something responsible with the entire cable, you have to separate and deal with the plastics as well. DuPont has worked with a couple of our partners to develop the capability to separate the plastics from each other."
Typically, when a contractor takes old twisted-pair cable to a recycling center, the plastics are discarded and only the copper recycled. DuPont, as a producer of some of the plastics used to construct communications cable, has taken this interest in reclaiming those plastics.