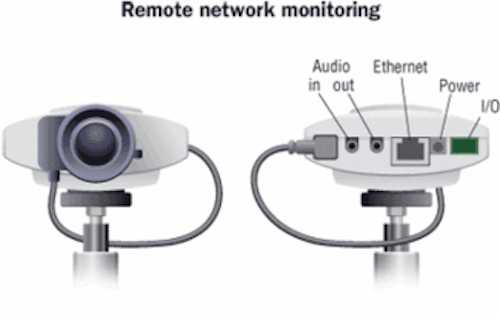 The availability of money in IT departments and the onset of broadband-and video that rides on that broadband-are driving the growth of Internet Protocol (IP) video in the security market.
But according to speakers at ISC West 2005, held in April in Las Vegas, it's a market that is still slowed by a lack of knowledge on the part of enterprise end users, a lack of partnerships between manufacturers, and a nagging lack of standards for the industry.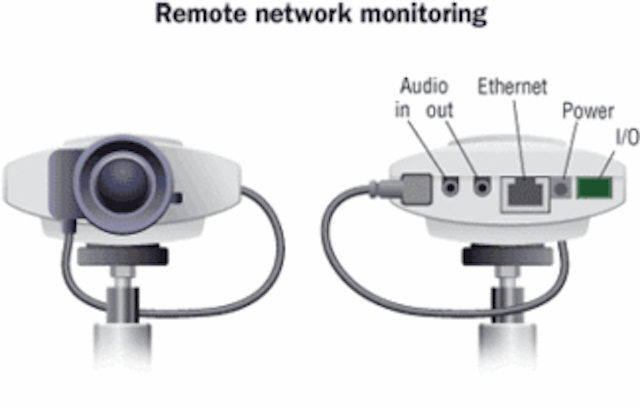 The AXIS 211A Network Camera lets remote users see, hear and speak over IP networks. It is suitable for surveillance and remote monitoring applications.
Click here to enlarge image
Joseph Freeman, CEO for J.P. Freeman (Newton, CT; www.jpfreeman.com), Fredrik Nilsson, general manager of AXIS Communications (Chelmsford, MA; www.axis.com), and Scott Harkins, vice president of sales, NA Video Systems for Honeywell Automation and Control Solutions (Yardley, PA; www.honeywellvideo.com) detailed what they see as an "explosion" of IP video in security-related applications.
All spoke of how the security market is seeing an evolution of products, moving from the antiquated VCR to the Digital Video Recorder (DVR) and Network Video Recorder (NVR). And all three had high optimism for the market.
Nilsson describes 2002 as the "what?" year for IP video technology, with enterprise end users having a limited understanding of IP video security systems. He says 2003 was the "why?" year, when end users knew about the technology but were not convinced why they needed it. But 2005, Nilsson says, is the "when?" year, because end users want to know when they can get the technology. And that demand will only grow, he says.
"This market will evolve," predicts Nilsson.
IP video solutions drive all-video over an IP-based network, and it's a technology that represents a new and growing form of revenue to companies and the contractors who will install it. Manufacturers like AXIS Communications are making network cameras. BroadWare Technologies (Cupertino, CA; www.broadware.com), Honeywell and DuTEL Telecommunications Inc. (Hollywood, CA; www.dutel.com) are making security software applications. EMC Corp. (Hopkinton, MA; www.emc.com) and Dell Computer Corp. (Round Rock, TX; www.dell.com) are making storage applications. Ingram Micro (Santa Ana, CA; www.ingrammicro.com) Tech Data (Clearwater, Fl; www.techdata.com) and Anixter (Glenview, IL; www.anixter.com)are providing distribution channels for these products.
Those who use the systems are reporting lower hardware costs, and lower administrative and service management costs. "These are all companies that are driving the change," says Nilsson. "IP video to them is a new form of revenue."
Harkins says the market is now in the early stages of the distributed IP solution. At one end of this solution is the IP camera. At the other end is the software that drives it. If there is indeed an "explosion" of this technology, Freeman says, it represents a change from the past five years when a "cautious" economy led to slow growth for IP video.
"Five years ago, the stock market crashed, and there was a lot of concern on the part of corporate management," says Freeman. "There was no capital investment." Today, he says, end users are seeking solutions that offer ease of use and enterprise-wide control.
Freeman says aging analog devices and the allure of new DVRs are driving the shift. Video is playing a bigger role in disaster recovery and other areas. He says 40% of enterprise end users who have security solutions are using out-of-date VCRs. "This is a huge market," says Freeman.
The inherent benefit of an IP video system is economics. "We are seeing that the technology will cost less than the video system now being used," says Freeman.
Wired and wireless systems are rapidly converging, and departments that once worked separately are now working together. Cameras are now integrated with intrusion systems and biometric systems. PDAs can now show images from video cameras. As a result, IT workers are having greater decision-making leverage when it comes to choosing security technology.
"If you are selling video to a security user, you're going to get the IT executive into the meeting," says Freeman. "He has the influence once handled by security officers. Security is moving toward the IT channel."
Looking at the five-year trend, Freeman says no one is buying analog recorders, that the DVR has taken over, and sales are steadily moving upward. Harkins says, for example, that Honeywell began to see an impact of digital IP cameras two years ago. Now, he says, CCTV cameras are starting to become secondary sellers to these cameras.
Freeman says Network Video Recorders, likewise, will see explosive sales as the market moves away from analog. NVRs are a $4 billion business globally. In five years, they are expected to be a $10 billion business with expected sales growth of 50% to 80% per year.
But for every step forward, Nilsson cautions, there are factors of resistance that include the prevailing analog dominance among incumbent end users, a lack of knowledge about the systems, and a fragmented manufacturing market.
"We need to educate the market," says Nilsson. "People are saying that video can't run over IP networks."
Nilsson believes there is a need for better communication among manufacturers, contractors and, ultimately, end users. Manufacturers also need to provide better communication between products, and he says there is a strong need for partnerships between manufacturers. More open solutions and less end-to-end or proprietary systems are also needed.
Then, there is the need for written guidance for this segment of the security industry. As Harkins notes, "There are virtually no standards today."