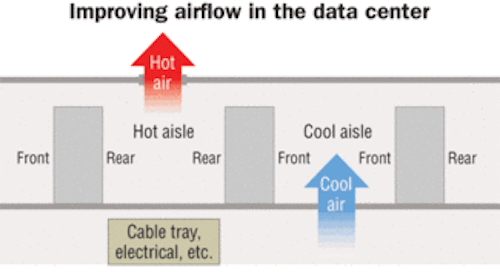 A variety of cool design choices can help you keep high temperatures from impacting cables.
An Uptime Institute (www.upsite.com) survey conducted three years ago revealed that the average power dissipating in an enclosure was 1.2 kilowatts (kW). By this year, that dissipation has doubled to a steep increase of 2.4 kW. A fully-loaded blade server enclosure today could reach 18 kW, and Uptime Institute projections see dissipations of 24 kW in power in the near future.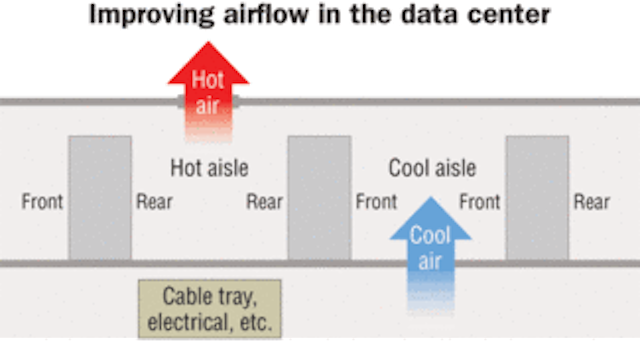 You should limit the number of vented floor tiles by arranging cabinets so that the fronts of cabinets in adjacent aisles face a common "cool aisle" (above). Place vented floor tiles in "cool aisles" only to increase the volume of air delivered to the cabinet. Services, if any, should route only under the rear-facing "hot aisles."
Click here to enlarge image
"That's a real problem," says Robert Sullivan, senior consultant with The Uptime Institute.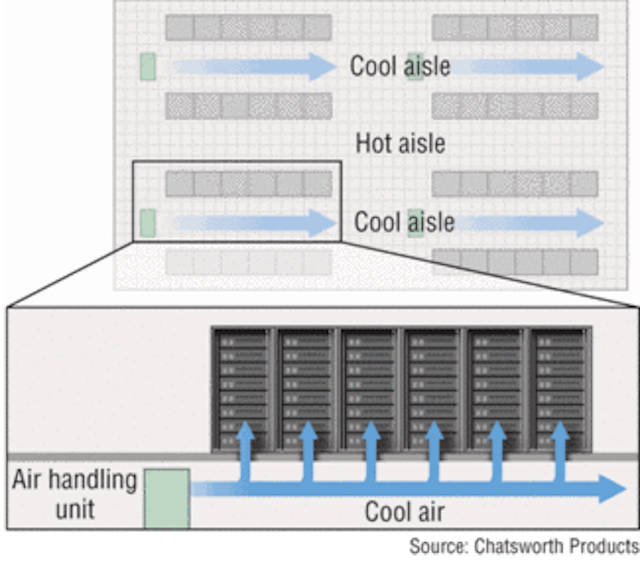 Airflow from the air handling unit should be concentrated under the "cool aisles" where the fronts of cabinets face. Cabinets should be arranged in rows that are parallel to airflow from the air handling unit. Airflow should travel in the same direction across the entire room.
Click here to enlarge image
In data center applications, a basic principle is "power in equals heat out." In other words, every kilowatt of power put into a cabinet is a kilowatt of heat you have to be able to dissipate. The kilowatt levels noted by the Uptime Institute are akin to having small ovens inside of your cabinet. High temperatures affect electronics, and can definitely have an effect on a cabling system.
Turning up the heat
Enclosure manufacturers agree that the challenge seems to get bigger by the day. With the amount of power to be delivered and dissipated having considerably increased from past years, data center managers face the challenge of addressing the amount of cable under the raised floor and behind each cabinet. (Slack cables can be located directly behind the servers and their exhaust.)
A variety of data center design options, however, can help you beat the heat. For example, cold air can be brought in through a vented tile under the floor in front of a cabinet. Some enclosures are being designed with front-to-rear cooling systems that use fans to pull this cooled air from the front of the enclosure, effectively directing cold air through perforated front doors and exhausting hot air out the back, redirecting it into the air conditioner. This "hot aisle/cold aisle" approach lets you keep the heated air from hitting the cables by routing them around the sides of the cabinet and into a plenum floor or overhead cabling tray.
But the dynamics can be tricky. Cool air must be introduced in a way so that it is focused up toward the cabinet. Airflow paths must come from raised floors in a way that does not release any cool air into the wrong places.
Manufacturers are offering different enclosure designs to aid in the cooling process. Hubbell Premise Wiring (www.hubbell-premise.com) has integrated its cabinets with power and data delivery components that let more you easily coordinate cables in the space behind the cabinet's servers-minimizing the amount of cable and freeing up space for airflow.
"We eliminated all the cabinet structure and framework behind the servers so that space is wide open and there is no framework behind the servers," says Robert Baxter, director of datacom marketing for Hubbell Premise Wiring.
The Hubbell design also offers vertical power distribution, with a vertical patch panel running from the cabinet's back, top to bottom. This lets you run short patch cords from the data port to the server, and it means extra cable does not occupy the space behind the servers, thereby clearing a path for exhaust from the server fans.
Cooler at the top?
While Superior Modular Products (www.superiormod.com) also offers a front-to-rear ventilation style enclosure, it has introduced an enclosure design that takes the "chimney" approach, with ventilation and fans at the top. This design features additional ventilation through mesh doors. "We are driven by what our customers need," explains Ed Henderson, general manager, Rack Technologies Division, Superior Modular Products.
Rittal Corp. (www.rittal-corp.com), however, believes that the front-to-rear cooling approach is the optimal design for data centers, and its enclosure model uses fully-perforated doors (front and rear) for server installations to support lateral cooling across the servers. The Rittal model features an active ducting scheme to assist airflow and draw air through the cabinet.
But not everyone agrees that there can be a one-size-fits-all approach to data center design and enclosure design. Some argue that, depending on the types of equipment being used in the data center, different installations should call for different data center management strategies. That is, data center and enclosure designs should be tailored individually.
"Anytime you use a term like 'all,' that is too general," says Jim McGlynn, director of engineering for consulting firm Engineering Plus LLC (www.220221.com), and who helps oversee data centers for several clients. "There are different scenarios for different load< applications."
Rittal counters that cabinets designed for front-to-rear cooling of servers and storage devices are most effective at evacuating heat loads. Herb Villa, Rittal field technical manager, says the company is pushing for a cabinet design that will handle tomorrow's expected heat loads.
"Moving forward is really what we are trying to get to," says Villa. "This is not so much for today's data center, but for what happens tomorrow. As the heat loads increase, will enclosures be able to handle the increased heat densities? The answer is 'no.'"
Rittal's position is based on a study it conducted on validating configuration options in air-cooled data centers, where computer room air conditioners are sufficient for heat removal.
In a program that included 24 thermal dissipation tests, Rittal set out to compare industry practices for heat removal. Three enclosure configurations were tested for a minimum of 20 hours in an active data center environment: Server cabinet with fully perforated doors front and rear; equipment cabinet with solid front door and perforated rear door; and equipment cabinet with solid front door, solid or perforated rear door and roof-mounted exhaust fans.
Results revealed that server enclosures with perforated doors, and thus front-to-rear cooling, performed best, with exhaust temperatures consistently within 10° F (5.5° C) of server inlet temperatures.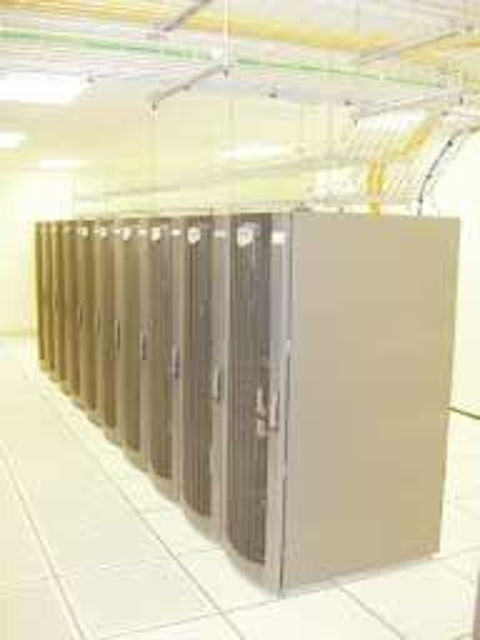 Rear-facing enclosures are shown making up a "hot aisle," while mirrored front-facing enclosures would form a "cold aisle."
Click here to enlarge image
Rittal claims this front-to-rear design works best in any data center because, as Villa explains, aside from size, most data centers can be easily seen as sharing a common set of components and adhering to the same installation standards.
"More of them are willing to go to a more consistent installation, and we are seeing the hot aisle/cold aisle as the de facto standard," Villa says. "We see underfloor airflow paths running perpendicular to cabinet rows, and we are seeing minimal usage of the underfloor spaces for cable."
The half-full argument
The Uptime Institute counters that, ironically, if there is a common thread between today's data centers, it's that many of them have room to spare, and many of the enclosures are only half full. In addition, the Institute says, the enclosure and A/C unit layout vary significantly from computer room to computer room.
In fact, McGlynn says enterprise end users are using many different types of designs. For instance, raised-floor depths can vary from one center to another, he asserts. In a high-density data center that does not provide enough air, data center managers are forced to deepen, say, a 24-inch raised floor to 36 inches deep.
Such a move can allow for up to 5 to 6 kW per cabinet without leading to heat load problems. Supplemental overhead "ducted" cooling solutions are then added to accommodate the newer load densities of 12 to 24 kW per cabinet.
In other centers, McGlynn says data center managers may be forced to find alternate or supplemental cooling measures, such as adding an overhead cooling system. The point being: Data centers differ from one to the other, and so do the cooling strategies that will work well with them.
McGlynn is not alone in this assertion. Brad Everette, director of marketing for Superior Modular Products, says one need only look around at data centers being used by enterprise end users to see the differences.
"They are not all the same," says Everette. "There are a lot of data centers out there that are on concrete slabs rather than a raised floor."
Sullivan also says many data centers are unique, with some having greater demand for raised-floor space and higher-cabinet density, while others may require fewer cabinets that are spread out with ample space between them. Some, too, require higher-density cabinets than others.
Sullivan says other data centers have more difficult obstacles to overcome. For example, a low raised-floor height-such as a 12-inch raised floor-compared to a typical 24-to 30-inch raised floor. Others may have lower-ceiling heights that provide less than 3 feet of space between the tops of enclosures and the dropped ceiling. Some feature misplaced cooling units, while others have uniformly-distributed cooling around all four walls. And some data centers feature non-uniformally distributed heat loads.
"I'm in 25 or better computer rooms per year, and very few of them are the same," sums Sullivan.
Some practical steps
These arguments beg the question: What role does the data center manager have to play in enclosure layout and design?
A few logical and simple steps include:
• Make efficient use of floor space, despite the style of enclosures you are working with. This means that if you've got the room, you need to spread out the enclosures in it.
• Manage available power, circuit utilization and cooling capacity by area of the room.
• Employ a hot aisle/cold aisle layout, and then manage and monitor it.
• Make sure that cooling air currents are focused on the specific area of heat-generating components while you utilize the ambient temperature for patch fields and other passive devices.
"Like any other component of a data center, it's about control," says Everette. "In this case, controlling the cooling function given your individual situation."
Dennis VanLith, product manager for enclosed systems, Chatsworth Products (www.chatsworth.com), says data center managers should distribute the servers across the data center so that not all heat loads are in one area. This means working with a facilities manager to effectively deliver cooled air to cabinets.
"If you put too much cold air on one, you will rob the other of the cold air it needs," says VanLith.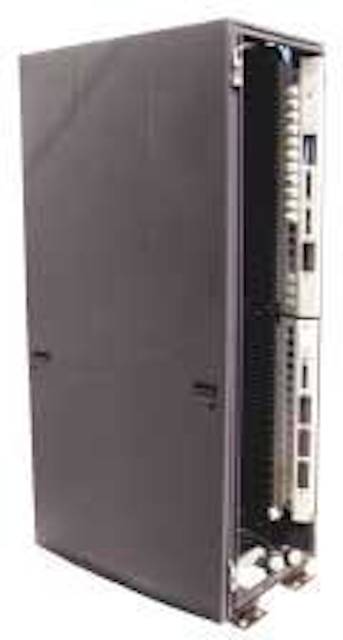 Hubbell Premise Wiring's data center enclosure design offers vertical power distribution, with a vertical patch panel running from the cabinet's back, top to bottom so you run short patch cords from the data port to the server and free up space behind the servers for exhaust from the server fans.
Click here to enlarge image
Henderson believes that, most importantly, you need to consider the future of the data centers in which you are working: "(You need to ask) 'how much do you plan to grow and how much do you plan to expand the facility?' The manager needs to be a visionary in all of this, and see what the extent of the problem is so they can address that."
Instead of a one-size-fits-all approach, Everette says, make sure that all important functions in the data center-including fire suppression, data cabling, security, airflow and cooling-complement each other.
BRIAN MILLIGAN is senior editor for Cabling Installation & Maintenance.
---
Enclosure manufacturers
The following companies manufacture enclosures, many of which employ airflow schemes and other methods of dissipating heat generated from networking equipment. The list comes from the 2005 Cabling Installation & Maintenance Buyer's Guide. Contact information is provided here so you can obtain more detailed information on any company and its products.
AFL Telecommunications
Spartanburg, SC
864-433-0333
www.afltele.com
AMCO Engineering Co.
Schiller Park, IL
847-671-6670
www.amcoengineering.com
APW Enclosure Products
Mayville, WI
800-558-7297
www.apw-enclosures.com
AWC/US Fiber Optics
Woonsocket, RI
401-769-1600
www.awcacs.com
Black Box Network Services
Lawrence, PA
724-746-5500
www.blackbox.com
Cables To Go
Dayton, OH
937-224-8646
www.cablestogo.com
Carlon
Cleveland, OH
800-322-7566
www.carlon.com
Champion Computer Technologies
Beachwood, OH
216-831-1800
www.cctupgrades.com
Chatsworth Products Inc.
Westlake Village, CA
800-834-4969
www.chatsworth.com
CMP Enclosures
Gurnee, IL
847-244-3230
www.enclosures.com
CommScope
Claremont, NC
800-544-1948
www.commscope.com
Connectivity Technologies
Carrollton, TX
888-446-9175
www.contech1.com
DAMAC Products Inc.
La Mirada, CA
714-228-2900
www.damac.com
Data Connections Inc.
Greensboro, NC
336-854-4053
www.dataconnectionsinc.com
Electrorack Enclosure Products
Anaheim, CA
714-776-5420
www.electrorack.com
Fiber Connections Inc.
Schomberg, Ontario, Canada
800-353-1127
www.fiberc.com
Fiber Optic Network Solutions Corp.
Marlboro, MA
508-303-9352
www.fons.com
Great Lakes Case & Cabinet Co. Inc.
Edinboro, PA
814-734-7303
www.werackyourworld.com
Hendry Telephone Products
Santa Barbara, CA
805-968-5511
www.hendry.com
Hewlett-Packard Co.
Houston, TX
281-370-0670
www.hp.com/products
Hoffman
Anoka, MN
763-421-2240
www.hoffmanonline.com
Homaco
Chicago, IL
312-422-0051
www.homaco.com
Hubbell Premise Wiring
Stonington, CT
860-535-8326
www.hubbell-premise.com
Hyperlink Technologies Inc.
Boca Raton, FL
561-995-2256
www.hyperlinktech.com
ICC
Cerritos, CA
562-356-3111
www.icc.com
InnoData Ltd.
Casa Grande, AZ
888-334-3930
www.ezmt.com
Knurr
Simi Valley, CA
805-915-3700
www.knurr.com
Leviton Manufacturing Co.
Bothell, WA
425-415-7611
www.levitonvoicedata.com
Lowell Manufacturing Co.
Pacific, MO
636-257-3400
www.lowellmfg.com
Middle Atlantic Products
Riverdale, NJ
973-839-1011
www.middleatlantic.com
Ortronics Inc.
New London, CT
860-445-3900
www.ortronics.com
Panduit Corp.
Tinley Park, IL
800-777-3300
www.panduit.com
Polygon Wire Management Inc.
Port Coquitlam, BC, Canada
604-941-9961
www.softcinch.com
Premier Metal Products
Norwood, NY
201-750-4900
www.premiermetal.com
Rittal Corp.
Springfield, OH
937-399-0500
www.rittal-corp.com
The Siemon Co.
Watertown, CT
860-945-4200
www.siemon.com
Sumitomo Electric Lightwave
Research Triangle Park, NC
800-358-7378
www.sumitomoelectric.com
Superior Modular Products
Swannanoa, NC
800-880-7674
www.superiormod.com
Systimax Solutions
Richardson, TX
800-344-0223
www.systimax.com
Tripp Lite
Chicago, IL
773-869-1111
www.tripplite.com
Unicom
City of Industry, CA
626-964-7873
www.unicomlink.com
The Wiremold Co.
West Hartford, CT
800-621-0049
www.wiremold.com
Wright Line LLC
Worcester, MA
800-225-7348
www.wrightline.com
X-Mark
Washington, PA
800-793-2954
www.metalenclosures.com