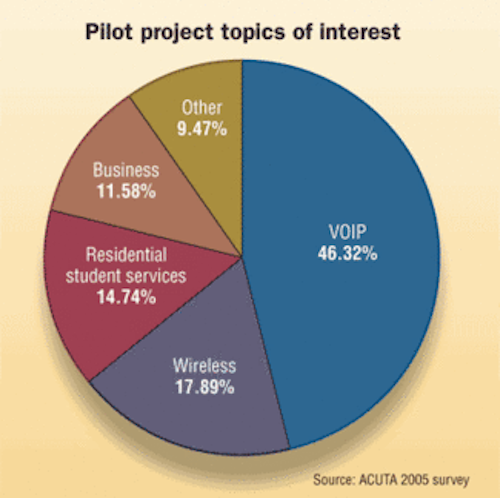 ACUTA, the Association for Communications Technology Professionals in Higher Education (www.acuta.org), plans to form a database that will help colleges and universities learn about the benefits and drawbacks of Voice over Internet Protocol (VoIP).
The Lexington, KY-based organization has formed a special VoIP interest group that will focus on the implementation of converged networks in colleges and universities. The group, called the VoIP Community of Interest, now has more than 50 members and is charged with providing ACUTA members with in-depth information about VoIP-best practices, vendor relationships, installation requirements, successful projects and user experience.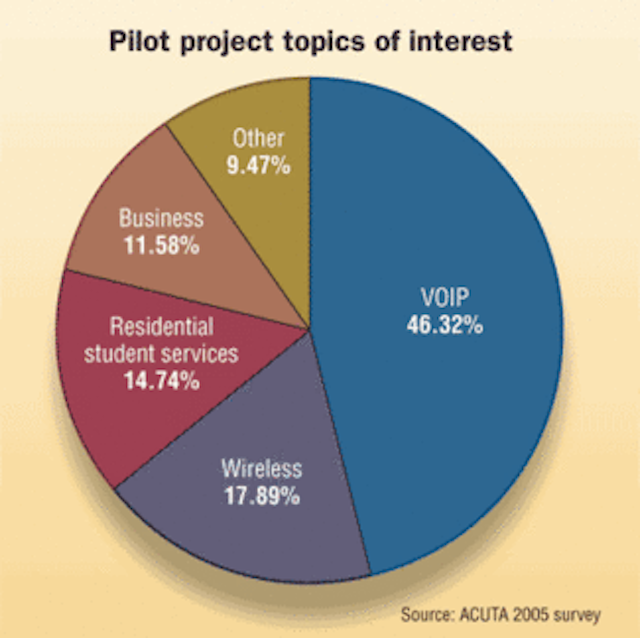 Click here to enlarge image
The group will meet at ACUTA events and meet with hundreds of the association's nearly 2,000 members from 825 institutions. It will provide a forum for the interchanging of information among members by creating a Web-based resource library. Members will be able to interact through the site. They will also speak at ACUTA events, conduct seminars, and seek outside speakers who will address ACUTA members on the topic and write articles for journals and publications.
The group will specifically try to discover the colleges that have experimented with VoIP, and learn from their experiences. The group will also try to learn about tips on solving technical challenges with VoIP and the cable infrastructure required to handle it. In addition, members will exchange information on vendors and products.
"They will learn what works, and what doesn't," says Jeri Semer, executive director for ACUTA. "They will also learn how the products interconnect."
But providing information is as far as ACUTA will go. The association does not plan to make any recommendations about VoIP adoption. It will simply provide the schools with an avenue to obtain information so that they can make their own decisions.
Semer says the time is right for such an avenue. "VoIP is an area that a lot of colleges are exploring right now," explains Semer. "They need to know that the technology won't be obsolete in six months."
Semer adds that many colleges have been expressing an interest in VoIP. Colleges and universities, she says, are searching for communications technologies that will best fit their campus yet be the most cost-effective in the long run. Semer says VoIP is attractive because the technology provides opportunities for converged networks, such as video and instant messaging. It uses a single network and so lowers network maintenance costs, and also makes moves, adds and changes (MACs) simpler. Since VoIP uses this one converged LAN, it also offers the added benefit of fewer cable drops.
Traditional phone service provides one phone line for each user. But a VoIP system is designed to let users aggregate at a remarkable rate. Companies can optimize switch access by bringing in the whole user group to a limited number of lines, making it viable to install. Some analysts say VoIP can reduce a phone service bill by 20 to 35%-a statistic that has especially sparked the interests of colleges and universities.
Semer says many institutions are either creating new buildings, which will require new networks, or updating existing networks in old buildings. And those that are replacing PBX or Centrex systems, she says, are finding that VoIP can be a potentially cost-efficient option.
"There are economic and technical advantages to converging voice and data networks," says Semer. "Each campus needs to look at their own unique needs and see what works best for them."
But Semer says the members must also learn about VoIP's shortcomings as well as its benefits. It is hoped that the Web forum will provide that opportunity.
"It's important that every college and university understand the advantages and disadvantages of VoIP, and through our community they will have a forum to exchange information with their peers who have some experience with VoIP already," she says.
The VoIP Community of Interest grew out of a 2005 survey among members. Forty-six percent of those who answered the survey indicated that VoIP was their preferred topic for a special interest group.
"Most universities are looking at it for the potential for cost savings," says Theresa Rowe, assistant vice president of Oakland University (www.oakland.edu). "Universities are pressured to do everything they can to cut costs, and this may have potential."
Rowe, who is heading the interest group, also has a vested interest in VoIP. She says Oakland University has an aging fiber- and copper-structured cabling system, and new campus buildings are planned for the future. "I need a seamless communications environment that supports the entire campus," she says.
But while interest may be growing, Semer says the actual adoption of VoIP infrastructures on college campuses is moving at a slower pace. While there are some limited scope VoIP trials taking place, few campuses have implemented larger scale programs, she says.
Semer believes one reason may be a lack of student interest because cell phones are their communication technology of choice. But while the student community may be less interested in VoIP, Semer believes the faculty and administrative community may be much more intrigued.
Rowe also believes that the mobility offered by VoIP applications will be attractive to college and university staffs, who could be reachable wherever they carry their laptops.
"If you can route office calls to wherever you might be, and if you are carrying a laptop and have phone connectivity through that, it would take a burden off you," says Rowe. "And students wouldn't have to call six different campus phone numbers to reach you."