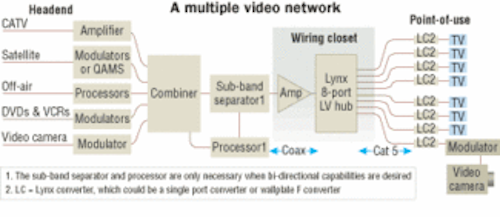 Unshielded twisted pair cable (UTP) is being used to deliver cable TV to 25 display systems in the Applied Computational Engineering and Sciences (ACES) building at the University of Texas in Austin.
Kurt Bartelmehs, the technologist at the university, has a passion for UTP: "When you have a UTP infrastructure, the sky is the limit for what you can do. It can transmit voice and data; it can transmit video; and it can even be used for cable TV."
Bartelmehs is using a Lynx Video Network manufactured by Lynx Broadband for the installation. Lynx Broadband is a division of BH Electronics (Burnsville, MN; www.lynxbroadband.com), which manufactures high-frequency electro-magnetic components for the electronics and telecommunications industries.
"Lynx is everything I thought it would be," Bartelmehs says. "It lets me maximize the capabilities of my UTP infrastructure by delivering additional services."
The Lynx Video Network installation is part of a program to upgrade the technology in the ACES building so that it remains state-of-the-art. "It lets me do everything on UTP cable," he adds. "That gives me lots of flexibility for implementing moves, adds, and changes for any of the three services."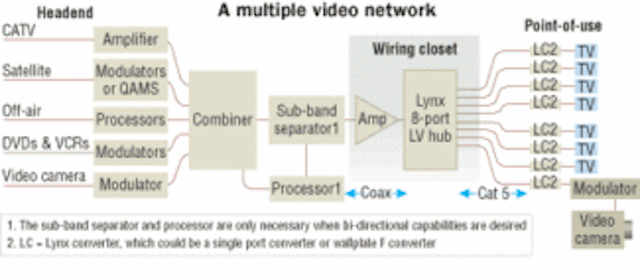 Click here to enlarge image
This typical Lynx Video Network diagram shows multiple video sources, including cable TV, satellite, off-air, DVD or VCR entering a faciltiy, such as the ACES building at the University of Texas at Austin. Signals from those sources are fun via coax cables into a wiring closet where they are connected to a Lynx Video Distribution hub. Lynx hubs come with eight ports or 16 ports, like those used in the ACES building. Since each port is connected to a TV via UTP cable, multiple hubs are needed to deliver a video signal to all TVs in a building. Each hub uses patented broadband baluns to convert unbalanced coaxial signals into balanced signals that travel on pair four of the UTP cable. An identical balun at the point-of-use converts the CATV signal back to coaxial from just before it enters a TV.
ACES is the technological flagship facility for the University of Texas, supporting interdisciplinary research in all things related to computer technologies. The 176,000-square-foot building is equipped with more than 1.3 million feet of UTP cable connected to presentation facilities and labs for more than 300 graduate students and 70 faculty. It supports graduate study in computational science and engineering, mathematical modeling, applied mathematics, software engineering, and computer visualization. ACES includes a 2,900-square-foot visualization lab, bandwidth-intensive research space for graduate students, electronic seminar and videoconferencing rooms, and offices for visiting researchers.
Among its various user groups are members of the university's Department of Computer Sciences, which is recognized as one of the top 10 computer science programs in the nation.
Bartelmehs has a doctorate in mathematical crystallography from Virginia Tech University and has been associated with the University of Texas for 10 years. He designs, installs and programs integrated audio video control systems, and provides technical support for a broad range of programs.
Thanks to the installation, students and faculty can now access programming from Time Warner Cable, as well as assorted university channels.
"We have tremendous interconnectivity," Bartelmehs says. "If anybody wants cable TV in their classroom, all I have to do is patch in a signal from the Lynx hub, install a converter in the classroom, and they are good to go."
In January 2003, Bartelmehs purchased three 16-port Lynx video hubs and 48 Lynx converters from Industrial Audio Video in Houston. The hubs use patented broadband baluns to convert unbalanced coaxial signals into balanced signals that travel on pair four of the UTP cable. The high-frequency baluns are analog devices, so nothing is digitized and the process does not tie up any bandwidth on the data network. At the point-of-use, an identical balun converts the CATV signal back to coaxial form just before it enters the TV.
"The cost savings on the front end and the back end are immeasurable," claims Bartelmehs. "The convenience is unparalleled because I don't have to worry about having to pull a piece of coax to new locations."
Every location in the ACES building is now capable of receiving broadband video. Bartelmehs says, "Many people think you're turning a video signal into ones and zeroes, but in fact you are not digitizing anything. You are just passing electrons over a piece of copper."
As a measure of forward-thinking, extra UTP cable was installed throughout the facility when it was constructed five years ago. Bartelmehs says the advanced planning has paid off: "I was very interested in doing audio/video over UTP. I had an intuitive feeling that it would be smart to install extra UTP runs to all the rooms. Now these runs are extremely useful.